November 21, 2016
by Kevin Kendro, Guest Blogger, The City of Irving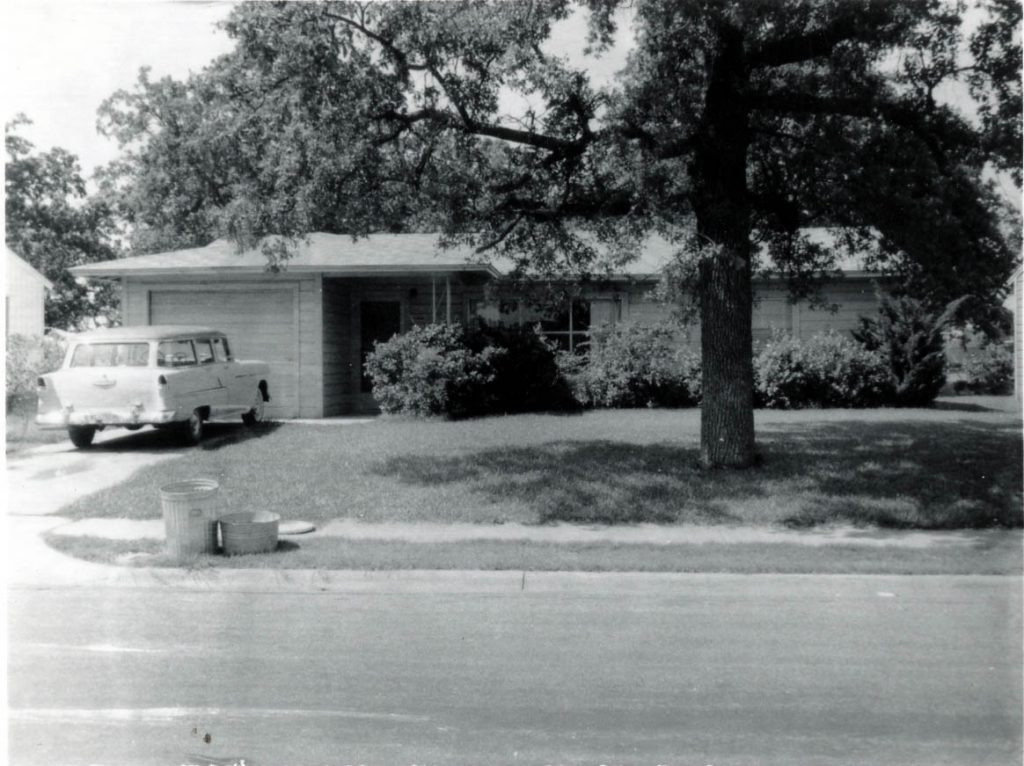 Ruth Paine and Marina Oswald met at a party in February 22, 1963. Exactly nine-months later, on November 22, 1963, Marina's husband, Lee Harvey Oswald, was arrested for assassinating President John F. Kennedy.
Ruth and Marina
Ruth Hyde Paine became a Quaker while she was in high school in the early 1950s. She believed strongly in the Quaker philosophy. One Quaker belief is that people must be able to communicate with their enemies in order to better understand them and thereby reduce disagreements that lead to war. America's greatest enemy during the 1950s was the Soviet Union. While attending college Ruth took courses in the Russian language because she hoped that at some point she might be able to, in some small way, help with relations between the U. S. and the U.S.S.R.
Ruth had little reason for using her Russian language skills when she moved to Irving, Texas, in 1959. However, in early 1963, a friend of hers, who was acquainted with a number of Russian émigrés in the Dallas area, thought Ruth might enjoy practicing her Russian and invited her to a gathering of his Russian friends at his house.
She met Lee Oswald at the party, but found his conversation too political. She found Marina Oswald in one of the bedrooms of the home and struck up a conversation with her in Russian. The two young mothers, both with small children and in troubled marriages, hit it off immediately.
Over the next months, Ruth visited Marina at the Oswalds' apartment on Neely Street in Dallas and had the Oswalds come to dinner at her house on 5th Street in Irving. When Lee lost his job in Dallas in April 1963, he decided to move to New Orleans and look for work.  Ruth offered her home as a place for Marina and her daughter June to stay until Oswald found a job and got settled in New Orleans. For two weeks in May, Marina, Ruth and their children enjoyed a pleasant time together in Ruth's home.
Then Lee called to say he'd found a job and an apartment in New Orleans and was ready for her to come join him. Ruth Paine drove Marina and June to New Orleans the next day.
In September of 1963 Lee lost his job in New Orleans. Marina, now eight months pregnant, moved back in with Ruth in Irving until her husband could find a new job and place to live. During this time Lee is alleged to have gone to Mexico City. Back in Irving, Marina found she enjoyed living in Ruth's tidy suburban home when compared to the run-down apartments she had shared with Lee. She and Ruth developed a strong bond as they helped each other in caring for their children. Marina had her second daughter at Parkland Hospital in October, while she was staying with Ruth.
Lee Harvey Oswald returned to Dallas in early October 1963, and, on a tip that Ruth received from one of her neighbors, he got a job at the Texas School Book Depository.
Throughout the fall of 1963 Oswald spent the work week in a rooming house in the Oak Cliff section of Dallas just outside of downtown. On Friday evenings he caught a ride to Irving and spent the weekends with his wife and children at Ruth Paine's house.
This was the standard routine throughout October and November until Thursday, November 21. On that day Ruth came home to find Marina and Lee standing in her front yard.  Marina told Ruth that she thought he had come out to apologize for a fight they had over the phone earlier in the week.
Lee Harvey Oswald stayed that night at the Paine house. He left for work the next morning carrying a package.
After its investigation of the assassination, the Warren Commission concluded that Oswald came to Irving Thursday evening to retrieve a rifle he had stored in the garage of Mrs. Paine's house and that he had used it to kill President Kennedy during a motorcade through downtown Dallas on Friday afternoon.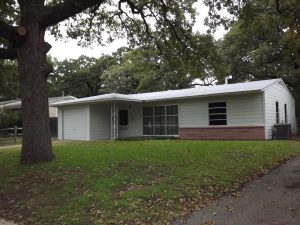 Ruth Paine House Museum      
The City of Irving purchased the Ruth Paine House in 2009 to preserve its historical significance. The house has been restored to its 1963 look and now serves as a museum that tells the story of Ruth and Marina's friendship and the events that occurred there that swept the small home and its occupants up in the whirlwind of history.
For more information about the museum please go to http://cityofirving.org/490/Museums or call 972-721-3729.
Guest blogger Kevin Kendro is the archivist for the City of Irving.
November 10, 2016
by Krishna Shenoy, Librarian/Archivist, The Sixth Floor Museum at Dealey Plaza
In September of 1960, school had just started for the Kilgore College freshman Betty (Klutts) Barton. She had spent two weeks trying out for the nationally recognized Kilgore Rangerettes drill team and was thrilled to pass the auditions. From a young age, she  had dreamt of high-kicking in the red, white and blue uniform and cowgirl hat.
The Kilgore Rangerettes started in 1940 and are known as "the first precision dance team in the world." The Rangerettes continue to perform to the present day. In the early 1960s, the length of their uniform skirts – shortened to above the knee since the program's inception in 1940 – was a subject of some local controversy.
Just weeks after earning her uniform, Mrs. Barton and the Rangerettes were called upon to travel to Dallas and march in two parades in two days. The parades celebrated presidential candidates Richard Nixon and John Kennedy, who both made campaign stops in the Dallas-Fort Worth area on September 12 and September 13, 1960.
In an oral history interview recorded with Mrs. Barton on October 5, 2016, she revealed that the parade on September 12th for Richard Nixon was her first parade performance as a Kilgore Rangerette. The Rangerettes performed a hand-jive routine as they marched through downtown Dallas. The Nixon parade ended at the doors to Dallas Memorial Auditorium; the poised Rangerettes split into two lines and waited to shake hands with Vice-President Nixon and his wife Pat. Mrs. Barton believes the spirit of the Rangerettes and the festive parade must have touched Mrs. Nixon, because she handed each girl she passed a red rose from the bouquet she had been carrying. Mrs. Barton was on the side with the vice-president and was thrilled to shake his hand, but recalls her disappointment at not receiving a red rose like the other girls.
That evening, the Rangerettes spent the night at the White Plaza Hotel in Dallas and awoke the next morning for a repeat performance, but this time for Senator Kennedy. Mrs. Barton did not get to meet the senator, however she clearly recalls the Rangerette routine flowing smoothly and the crowds enjoying the revelry.
You can learn more about Kennedy and Nixon's 1960 election campaign and even see a photo of the Rangerettes marching in the parade in our special election year exhibit, A Time For Greatness. But don't wait too long, the exhibit closes next Sunday, November 13!
October 31, 2016
by Stephen Fagin, Curator, The Sixth Floor Museum at Dealey Plaza
Who are you going to be for Halloween this year? If you were a youngster in October 1963, you might decide to go as a monster, a witch, Donald Duck, Bugs Bunny, that brand new superhero Spider-Man, or perhaps John or Jackie Kennedy. While not at the top of the Halloween costume list, a fair number of young people did indeed go trick-or-treating as the President and First Lady less than a month before the assassination.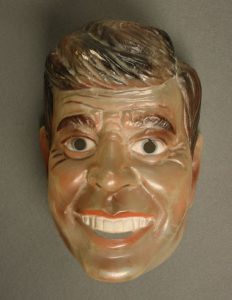 There were different types of John and Jackie Kennedy masks on the market. In our collections at The Sixth Floor Museum at Dealey Plaza, for example, we have a semi-translucent John F. Kennedy mask that was meant to blend in with the skin tone of the person wearing the mask—though the effect is deeply unsettling.
For children, the best option was a boxed costume by Ben Cooper, Inc. of New York. Cooper, a onetime costume designer for the legendary Ziegfeld Follies, launched his Halloween costume company in 1937. By the early 1960s, Ben Cooper, Inc. was one of the most prominent manufacturers of costumes in the United States. The company produced classics such as Frankenstein and the Mummy, as well as popular licensed characters including Howdy Doody, Gumby, Bozo the Clown, George Jetson, and a wide range of Disney characters. One particularly relevant costume at the time was simply called "American Hero Astronaut."
For Halloween 1963, Ben Cooper, Inc. seized upon the broad popular appeal of the Kennedys and created children's costumes called "Mr. President" and "First Lady." Each came with a vinyl face mask with string and a one-piece rayon costume. As part of the Magic-Glo brand, the masks glowed in the dark when exposed to "electric light or sunlight for two or three minutes before wearing." (We tried this with the masks in our collection, but sadly they no longer glow.)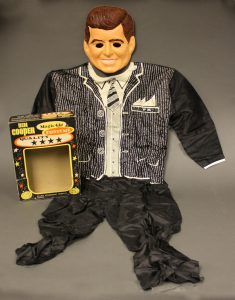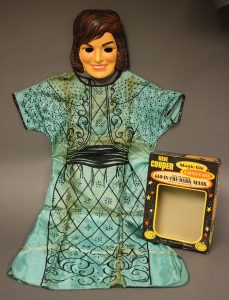 Our "First Lady" costume has an original price sticker for $1.79, which is about $14 today. Ben Cooper costumes tended to be pricier options for parents, yet the company was known for their quality. Packaging on "Mr. President" and "First Lady" boasted that they were "double stitched for longer wear" and "treated to temporarily retard flame."
Eight-year-old David Sherman of Rochester, New York, was a big fan of President Kennedy. "I think he was only two years maybe older than my dad," he recalled in an oral history interview.  "It was a White House that was like our house." For Halloween 1963, he decided he wanted to go as the President. "I just purchased it, or you know, my loving parents did….  I remember being really cold because I got sick afterwards." Weather reports showed a low in the upper 30s in Rochester, but David resisted wearing a heavy coat that night. "I went door to door as the President. I think people liked it.  I think people laughed." On November 22, 1963, young David thought back to his Kennedy mask when he heard the tragic news. He remembered, "I went into my room, and I just broke down and cried."
Once designed and manufactured, Ben Cooper costumes would typically be sold year after year. After the assassination, however, thousands of surplus "Mr. President" and "First Lady" masks were destroyed, and the costume was never offered for sale again. Today they are of great interest to Kennedy collectors and Halloween enthusiasts. Beyond that, they offer a unique glimpse at the movie-star-like popularity of the Kennedys during their brief time in the White House.
Explore our online collections database to see other interesting pop-culture artifacts in the Museum's collection.
October 17, 2016
by Amy Yen, Marketing Manager, The Sixth Floor Museum at Dealey Plaza
Employee Spotlight: Megan Bryant
Title: Director of Collections and Interpretation
Worked at the Museum: 20 years this month(!)
Hometown: Evanston, Illinois
1) Congrats on reaching 20 years at the Museum! Did you think when you started here, that you'd be here that long?
No, not at all. It doesn't seem possible! I was 26 years old when I started here, or 7 days removed from my 27th birthday, very early in my career, and I thought, five years – tops. I wasn't from Texas and it was just my second professional museum job after a short-term position in Illinois.  I thought, I'll be there five years, then I'll move on. And 20 years later…
2) How did you get your start here?
The Museum had only been open seven years when I started here, so still relatively new. At that time, I'd been working as a temporary project curator at a small museum in Illinois, and I was looking for something more permanent in museum collections. The Sixth Floor Museum at the time was looking for their first museum registrar, and so I applied. As registrar, I oversaw the Museum's collections management systems and practices and developed policies and procedures for the care and documentation of the collections.  In simple terms, I kept track of the collection—physically, intellectually and legally.
3) What's the biggest change you've seen since you've been here?
It's a completely different place. The Museum has grown and evolved so much since I've been here. There were 20 people working here when I started—today, we have more than 50. We didn't have the offices we're in now. Most of us were in the basement of the Visitors Center. We had a collection of about 15,000—it's up to more than 50,000 today, and we're still growing! The Museum was so young when I started, so of course there's growth and development, and it's been pretty cool to witness that.
4) What's your fondest memory?
I remember in 2008, when we developed an exhibit about Bob Jackson called A Photographer's Story. It was very shortly after I was promoted to Director of Collections, and it was the first exhibit we'd put together with me in that position. We completely developed that exhibit in house, and it was a project I oversaw. When it was finally done, it was a great feeling of accomplishment. I remain very proud of that exhibit and the work our team did to put it together.
Similarly, when we did the updates on the Sixth Floor for the 50th anniversary in 2013. Even though it involved a week of overnight work because the Museum would be open during the day, so we could only work on the updates at night. We had some late nights and even two all-nighters. It was difficult and a challenge, but it was great when it was all done.
5) What's your favorite object in the collection?
My favorite object in the collection is this little medal commemorative coin from a company called The Southern Rock Island Plow Company. They were the first business that was in the building at 411 Elm Street. The original building was built in 1898 and it was a five-story building, and it was occupied by the Southern Rock Island Plow Company. The building was struck by lightning and burned to the ground in 1901, and the building that came to be known as the Texas School Book Depository was built on its foundation, as a seven-story building. This little medallion has an engraving of the five-story building on it. It's the oldest item in our collection, and every time I see it, I think about, if that building hadn't burned down, there only would have been a five-story building here. It's possible a company called the Texas School Book Depository could have still been there in 1963, but what might have been different, if there were no sixth floor? I love that it's the oldest item in the collection—it's even older than the building!
6) If you could say something to your younger self of 20 years ago when you first started here, what would you say?
You have no idea what you're in for! And who are you kidding that you're only going to be there for 5 years? Dallas will become your home. You'll meet some great people. You're going to be part of the growth of an incredible museum. Brace yourself, it's going to be an interesting ride.
Congrats to Megan on 20 amazing years at The Sixth Floor Museum! Want to join Megan's team? We're hiring! Check out JFK.org/careers for open positions.