October 31, 2016
by Stephen Fagin, Curator, The Sixth Floor Museum at Dealey Plaza
Who are you going to be for Halloween this year? If you were a youngster in October 1963, you might decide to go as a monster, a witch, Donald Duck, Bugs Bunny, that brand new superhero Spider-Man, or perhaps John or Jackie Kennedy. While not at the top of the Halloween costume list, a fair number of young people did indeed go trick-or-treating as the President and First Lady less than a month before the assassination.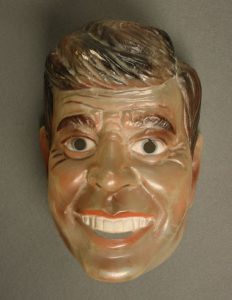 There were different types of John and Jackie Kennedy masks on the market. In our collections at The Sixth Floor Museum at Dealey Plaza, for example, we have a semi-translucent John F. Kennedy mask that was meant to blend in with the skin tone of the person wearing the mask—though the effect is deeply unsettling.
For children, the best option was a boxed costume by Ben Cooper, Inc. of New York. Cooper, a onetime costume designer for the legendary Ziegfeld Follies, launched his Halloween costume company in 1937. By the early 1960s, Ben Cooper, Inc. was one of the most prominent manufacturers of costumes in the United States. The company produced classics such as Frankenstein and the Mummy, as well as popular licensed characters including Howdy Doody, Gumby, Bozo the Clown, George Jetson, and a wide range of Disney characters. One particularly relevant costume at the time was simply called "American Hero Astronaut."
For Halloween 1963, Ben Cooper, Inc. seized upon the broad popular appeal of the Kennedys and created children's costumes called "Mr. President" and "First Lady." Each came with a vinyl face mask with string and a one-piece rayon costume. As part of the Magic-Glo brand, the masks glowed in the dark when exposed to "electric light or sunlight for two or three minutes before wearing." (We tried this with the masks in our collection, but sadly they no longer glow.)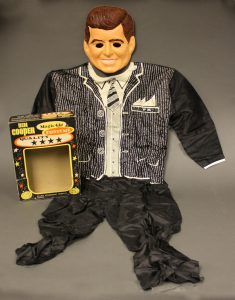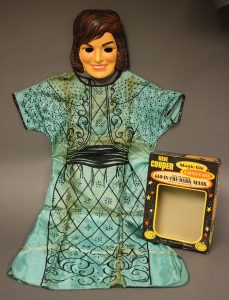 Our "First Lady" costume has an original price sticker for $1.79, which is about $14 today. Ben Cooper costumes tended to be pricier options for parents, yet the company was known for their quality. Packaging on "Mr. President" and "First Lady" boasted that they were "double stitched for longer wear" and "treated to temporarily retard flame."
Eight-year-old David Sherman of Rochester, New York, was a big fan of President Kennedy. "I think he was only two years maybe older than my dad," he recalled in an oral history interview.  "It was a White House that was like our house." For Halloween 1963, he decided he wanted to go as the President. "I just purchased it, or you know, my loving parents did….  I remember being really cold because I got sick afterwards." Weather reports showed a low in the upper 30s in Rochester, but David resisted wearing a heavy coat that night. "I went door to door as the President. I think people liked it.  I think people laughed." On November 22, 1963, young David thought back to his Kennedy mask when he heard the tragic news. He remembered, "I went into my room, and I just broke down and cried."
Once designed and manufactured, Ben Cooper costumes would typically be sold year after year. After the assassination, however, thousands of surplus "Mr. President" and "First Lady" masks were destroyed, and the costume was never offered for sale again. Today they are of great interest to Kennedy collectors and Halloween enthusiasts. Beyond that, they offer a unique glimpse at the movie-star-like popularity of the Kennedys during their brief time in the White House.
Explore our online collections database to see other interesting pop-culture artifacts in the Museum's collection.
August 27, 2016
by Krishna Shenoy, Librarian/Archivist, The Sixth Floor Museum at Dealey Plaza
In the immediate aftermath of a national tragedy, the reaction of a president can set the tone for how a nation will heal and the magnitude of the scars that will remain. In the hours after the assassination of President Kennedy, that task was given to Lyndon B. Johnson.
Only two hours after the fatal shot, on Air Force One, Johnson took the oath of office with Mrs. Kennedy by his side. When the plane landed in Washington, D.C., his statement to the American people was brief: "This is a sad time for all people. We have suffered a loss that cannot be weighed. For me, it is a deep, personal tragedy. I know the world shares the sorrow that Mrs. Kennedy and her family bear. I will do my best; that is all I can do. I ask for your help…and God's." In his book Flawed Giant, historian Robert Dallek called Johnson a "master therapist, soothing the nation with sincerity and wisdom."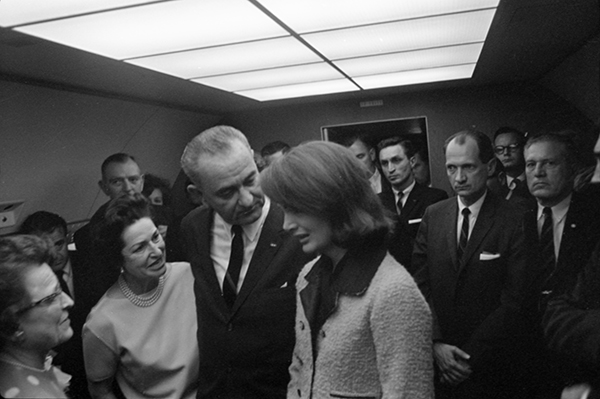 In Washington, Johnson found himself with the burden of moving a grieving nation forward. On November 23, 1963, (the day after the assassination) after viewing the fallen President's body with other Congressional leaders, Johnson issued a proclamation declaring November 25, 1963, as a National Day of Mourning for President Kennedy. On that day, schools, businesses and government offices closed in observance. Many watched the funeral on television, while others followed Johnson's call to attend memorial services. Johnson's actions and words promoted feelings of continuity and unity.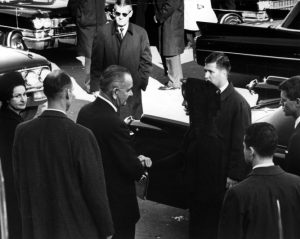 One week after the assassination, on November 29, Johnson issued an executive order appointing a commission (Warren Commission) to "evaluate all the facts and circumstances surrounding such assassination, including the subsequent violent death of the man charged with the assassination, and to report to me its findings and conclusions." Johnson believed it essential to provide the nation with a convincing explanation of why and how Kennedy was killed. "A troubled, puzzled and outraged nation wanted to know the facts," he wrote in his memoirs.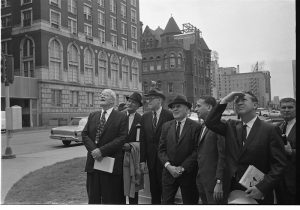 Ten months later in 1964, the Warren Commission submitted a report concluding that Oswald had acted alone and there was no evidence of a conspiracy. Johnson could not have predicted that despite his attempt to assuage the public with this investigation, the findings would ultimately exacerbate the nation's wound and leave scars of suspicion and doubt in the minds of people for decades to come.
Visit the Museum's Reading Room to learn more about the days following the assassination, Lyndon B. Johnson or any of the books mentioned.
August 4, 2016
by Lindsey Richardson, Curator of Collections, The Sixth Floor Museum at Dealey Plaza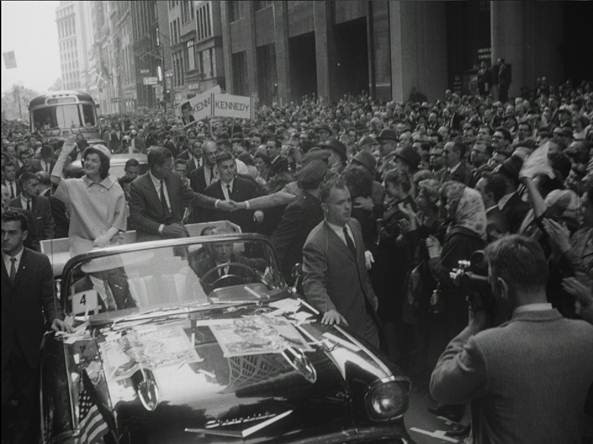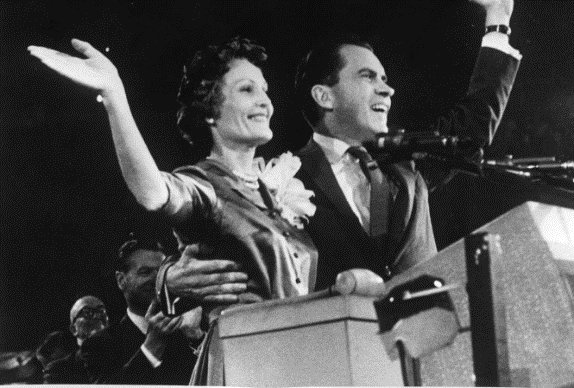 Jacqueline Kennedy and Pat Nixon both supported their husband's campaigns to become President of the United States, but they did so in very different ways.
In early 1960, Jackie Kennedy discovered that she was pregnant. She had had difficulties in the past and her doctor recommended that she take it easy. Because of this, Jackie did not take to the campaign trail at her husband's side very often, in fact less so as the year progressed.  Kennedy's sisters accompanied him on the campaign trail in her stead.
Although she did not accompany him on campaign stops around the country, Jackie supported her husband's campaign in other ways. She did cover stories for magazines such as Look or Life in the months leading up to the election, and in October 1960 she sat down for a number of television spots and commercials including an interview with leading pediatrician Dr. Benjamin Spock. Jackie also recorded the first American presidential campaign commercial in the Spanish language. It's included in the video that accompanies our exhibit A Time for Greatness.
Perhaps Jackie's greatest contribution and success as a partner to her husband during his presidential campaign was through her syndicated column "Campaign Wife" that ran weekly in newspapers across the country from September 17 to November 1, 1960. Using personal stories and her own perspective on campaign issues, Jackie wrote primarily for the audience of women who were interested in her role as the candidate's wife. She addressed a wide variety of topics, including writing about her interest in education as a campaign issue, responding to remarks about her appearance, and encouraging voters to "Call for Kennedy" and to arrange debate-watching parties.
Pat Nixon was in many ways a younger version of the then-current First Lady, Mamie Eisenhower. She had a great deal of enthusiastic support from many women and girls, as demonstrated by the many versions of the pin to the right that proliferated during the campaign, and the vocal supporters who greeted her during campaign stops.
At the Republican National Convention in July, Richard Nixon promised that he would visit all 50 states before Election Day. This was the first federal election in which 50 states would vote – Alaska and Hawaii had both joined the union in 1959 – so this was a big promise for a candidate to make. He did visit all 50 states and Pat accompanied him.
Although Pat was accustomed to traveling with her husband – she had made many trips with Nixon during his Vice Presidential trips from 1952 to 1960 – she had already made her strategy of political campaigning clear to members of the press: "I don't answer political questions." She told an Associated Press reporter in 1960 that she liked to keep her role "strictly to handshaking and small talk." She said she didn't want to know any secrets of state: "I wouldn't want the responsibility of knowing."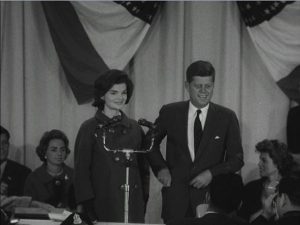 In the end, Kennedy very narrowly defeated Nixon, and Jackie Kennedy became First Lady. Eventually Pat Nixon also became First Lady and both women influenced public perception of the White House, their husbands' presidencies, and popular opinions both of themselves and of their husbands.
Don't forget to check out our full 1960 election exhibit, A Time For Greatness, on display until November 13 in our Seventh Floor Gallery. If you're at the Museum this Friday, stick around for our Gallery Talk on the 1960s Campaign Wives at noon! It's free with Museum admission or $5 for the talk and exhibit admission.
July 29, 2016
by Krishna Shenoy, Librarian/Archivist
Money in politics can often be a lightning rod issue during a presidential election, casting a reflection of a candidate's character and influence. Today, we live with unprecedented access and discovery of a candidate's fundraising operations – large or small contributors, soft money versus hard money– but that was not always the case.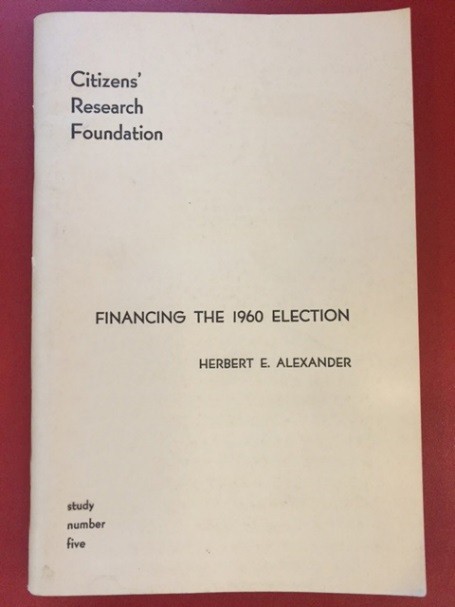 While disclosure of campaign finance information was enacted in 1910, it was not enforced until 1967. However, in 1958, when little information concerning campaign finance was available, a group called the Citizens' Research Foundation (CRF), a non-partisan, non-profit organization, began collecting financial data on national-level politics. The Foundation issued a series of studies on presidential campaign financing, starting with the 1960 presidential election. This original, staple-bound issue of Financing the 1960 Election (which sold for 50 cents at the time) from our collection gives details about the financial operations related to Richard Nixon and John F. Kennedy.
In campaigns, no expense is spared when votes are at stake. During the 1960 election, Vice-President Nixon made a $35,000 flight to Alaska and Ohio, the weekend before the election, which paid off for Nixon, when most had predicted both states to go to the Democrats. The campaign staff of Senator Kennedy included a speech professor to teach the candidate voice control, a psychologist to evaluate the size, composition and reactions of campaign crowds, and an official photographer (Jacques Lowe). Both candidates hired stenographic teams to catch and transcribe ever word the candidate uttered to make accurate transcripts available to reporters within minutes after a speech.
Such expenses revealed the high stakes and great lengths each candidate went to gain the winning edge. Financing these endeavors was no easy task. In 1960, both political parties attempted to broaden their financial base with fundraising drives and dinners. In Syracuse, the "Kennedy for President Club" gave trading stamps in return for contributions at the rate of 10 stamps per dollar. The CRF study reported 213 (142 Republican and 71 Democratic) fundraising dinners, luncheons, breakfasts and cocktails parties. Other fundraising innovations included the Republican party's "Dinner with Ike," a series of dinners being held simultaneously in numerous cities and linked via television, with a price per plate ranging from $5 to $100. As Charles Grutzner, New York Times columnist and reporter once said, "The knife and fork are mighty implements in the Presidential campaign."
In 1860, Abraham Lincoln's winning general election campaign reportedly cost about $100,000, and his opponent Stephen Douglas's campaign about $50,000. One hundred years later, John Kennedy's campaign spent about $9.7 million to defeat Nixon, whose campaign cost about $10.1 million. In 2012, Barack Obama spent $985 million to defeat Mitt Romney, who himself spent $992 million.  Our current election in 2016 is bound to exceed these numbers and in 2017, after the final tally is done, we will pause to consider what the rising cost of presidential campaigns means for the direction of our democracy.
To learn more about the 1960 election, click on JFK.org/ATimeForGreatness or visit the Museum's Reading Room and its latest exhibit, A Time For Greatness: The 1960 Kennedy Campaign, open through November 13.