June 24, 2016
by Stephen Fagin, Curator, The Sixth Floor Museum at Dealey Plaza
Today, June 24th, marks the 46th anniversary of the dedication of the John F. Kennedy Memorial in Dallas. Designed by noted American architect Philip Johnson, this cenotaph—or empty tomb—consists of a roofless room, 30-feet tall and 50-feet square. Composed of seventy-two white concrete columns, most of which appeared to float above the ground, the memorial's walls are supported by eight pillars, two in each corner. Inside the structure, visitors find a simple, black granite slab bearing the president's name in gold letters. Johnson characterized it as "something very humble and spartan…a memorial for one whose remains lie elsewhere."
Although it was not completed and dedicated until 1970, work on Dallas's official memorial to President Kennedy began less than one month after his assassination with the establishment, by County Judge Lew Sterrett, of the John F. Kennedy Citizens Memorial Committee. Their task was to gather suggestions for some type of memorial to the fallen president and recommend a plan of action.
This proved controversial, with some, including respected former Dallas Mayor R.L. Thornton, opposing a physical reminder of such a dark moment in the city's modern history. Nearly two hundred people suggested a Kennedy scholarship, educational grant or monetary contribution to the arts instead of an actual memorial structure. Even those in favor of a memorial began arguing if Washington, D.C., rather than Dallas, was a more appropriate location.
After the Kennedy family expressed a desire for a simple, modest memorial, the Dallas County Commissioners Court designated an appropriate site, across from the city's new courthouse and approximately two hundred yards from where the assassination took place. Between 1964 and its dedication in 1970, the memorial experienced extended delays during fundraising efforts and the construction of an underground parking garage beneath the site (which needed to be completed before work on the memorial could begin).
The Kennedy Memorial is often misunderstood, likely because of its simplicity and the esoteric notion of a cenotaph. Many are surprised to see a plain granite slab inside rather than a statue, inspirational quotes or even an eternal flame. During restoration efforts around the memorial's 30th anniversary, The Sixth Floor Museum at Dealey Plaza installed interpretative signage to explain the meaning behind Philip Johnson's design.
Despite lingering confusion for some, in the middle of a heavily-trafficked urban environment, the Memorial provides a quiet place for reflection and remembrance steps away from the landscape of Dealey Plaza. And embodying the idea of a "living memorial," it has also served as an important backdrop for numerous rallies and demonstrations over the years as social activists, from gay rights to immigration, have utilized the site to link their efforts to the memory—and the unfulfilled promise—of John F. Kennedy.
For more on the John F. Kennedy Memorial, visit JFK.org.
May 29, 2016
by Stephen Fagin, Curator, The Sixth Floor Museum at Dealey Plaza
It was ninety-nine years ago, in a two-story, nine-room house at 83 Beals Street in Brookline, Massachusetts, that John Fitzgerald Kennedy was born to businessman Joseph P. Kennedy, Sr. and Rose Fitzgerald-Kennedy on Tuesday, May 29, 1917.
As we look ahead to the Kennedy Centennial in 2017—marking the one hundredth anniversary of President Kennedy's birth—it is worth looking back at that significant year, 1917, and the world that greeted the infant who would become the first president born in the 20th century.
When John F. Kennedy was a mere six days old, the first-ever Pulitzer Prizes were awarded. They began when newspaper publisher Joseph Pulitzer allocated in his will $250,000 to Columbia University to establish awards covering journalism, letters and drama, education, and traveling scholarships. Those first prizes were awarded on June 4, 1917. Forty years later, Senator John F. Kennedy received the Pulitzer Prize in Biography for his best-selling book, Profiles in Courage, the stories of eight U.S. senators noted for their bravery and integrity.
On October 19, 1917, Dallas Love Field opened in Dallas, Texas. The site, recognized worldwide following the Kennedy assassination in 1963, looked quite a bit different 46 years earlier. The 700-acre Love Field was established as an Air Service Field to train pilots after the United States entered World War I. The 136th Aero Squadron was the first unit stationed at Love Field. The airport would later be used for training and ferrying during World War II, while young John F. Kennedy was serving in the U.S. Naval Reserve.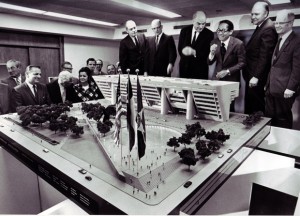 Of course, John F. Kennedy was not the only notable figure born in 1917. Other individuals who share the president's birth year include actor and entertainer Desi Arnaz (a future Kennedy supporter); jazz singer Ella Fitzgerald (who performed at President Kennedy's famous Madison Square Garden birthday salute in 1962); award-winning architect I. M. Pei (who later designed the John F. Kennedy Library and Dallas City Hall); Rat Pack star Dean Martin (who campaigned for Kennedy in 1960); Special Assistant to the President Lawrence O'Brien (who was traveling with President Kennedy on the Texas trip); and Doctor Who creator Sydney Newman (who had the premiere episode of his long-running BBC series delayed by assassination news coverage on November 23, 1963).
Also born in 1917, in the city of Floresville, Texas, was another significant figure: future Texas Governor John B. Connally.