September 5, 2019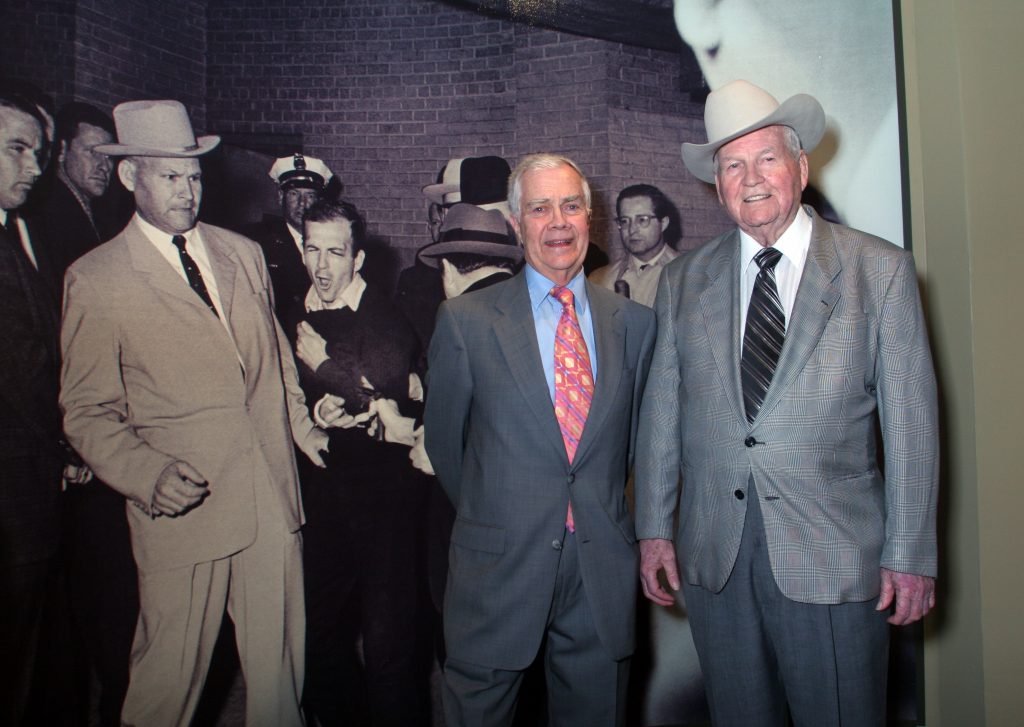 By Stephen Fagin, Curator
Dallas police homicide detective Jim Leavelle recognized the potential for danger on Sunday, November 24, 1963. As suspect Lee Harvey Oswald prepared to make the routine prisoner transfer from city custody at Dallas police headquarters to the Dallas County Jail, Leavelle made a remark that he would vividly recall for the remainder of his long and legendary life: "Lee, I hope if anybody shoots at you [that] they're as good a shot as you are."  Oswald, according to Leavelle, chuckled. It was the only time Leavelle ever saw the alleged assassin of President Kennedy crack a smile. And then, alongside detective L.C. Graves, they made their way downstairs to the basement of police headquarters and stepped into history.
We lost our friend, James R. "Jim" Leavelle on August 29, 2019, just a few days following his 99th birthday. Around the world, people recognize the veteran Texas lawman because of a single photograph that captured a moment in time and came to embody the chaos, violence and uncertainty of a weekend that defined a generation.  Wearing a light-colored suit and cowboy hat, Leavelle twisted his body, still handcuffed to Oswald, with a look of shock and horror on his face. Jack Ruby, local Dallas nightclub owner, had leapt out from a crowd of reporters and shot Oswald at point-blank range. That iconic photograph, taken by Dallas Times Herald staff photographer Bob Jackson, would go on to win the 1964 Pulitzer Prize.
That moment may have made Jim Leavelle famous, but it was his extraordinary life, dry wit and wonderful storytelling that made him a living legend. In my personal experience, I have rarely encountered an assassination researcher, author or dedicated student of the subject who did not meet and visit with Jim Leavelle at some point. Many of them enjoyed lively meals with him at his favorite Dallas restaurant, El Fenix. To say that Jim was giving with his time is an understatement. He was dedicated to honoring interview, program and meeting requests, and he never tired of detailing the same stories over and over again for the benefit of history. Whether it was an audience of one, including at times young elementary school students, or an auditorium full of interested listeners, Jim Leavelle was a gifted storyteller.
He described the shooting of Lee Harvey Oswald like this, during a 2002 oral history with the Museum:
I could see [Jack Ruby's] pistol.  I saw all of that in a flash because remember, I'm alert for these guns because I'm expecting somebody to shoot at him anyhow but not necessarily in the basement….  Of course, I had Oswald right up against me, and I tried to pull him behind me, but all I succeeded in doing was turning his body, so that instead of hitting him dead center, it hit him just about four inches to the left of the navel.  Then, of course, by that time, the officers gathered around there had piled on him and pushed him to the ground.  I reached over and grabbed Ruby by the shoulder, by his left shoulder, and shoved back and down on him, but by the time that happened, the officers had swarmed on him and crushed him to the ground, and so I released him and returned my attention to Oswald….  And when the ambulance pulled in, why, we loaded him in the ambulance, and I crawled in there with him and so did the doctor, and we rode to Parkland with him. 
Jim never subscribed to conspiracy theories, and he often delighted in debating the topic with interested researchers. He even served as a technical consultant to filmmaker Oliver Stone during the making of his 1991 movie, JFK.  He described his on-set experience like this: "Well, I have found out what a technical advisor is.  When they ask you how a certain scene should be played or how it was done…you describe to them the setting of it. If it don't suit their idea, they'll go ahead and do it the way they want to."  Years earlier, Jim even portrayed himself in the 1978 TV movie, Ruby and Oswald.
The Museum will sincerely miss our friend, Jim.  He was truly one of a kind. We extend our sincere condolences to his family and friends, and we are grateful that he shared so many memories with us.
You can see a number of public programs featuring Jim Leavelle on our YouTube Channel.
December 20, 2018
By Stephen Fagin, Curator
The Sixth Floor Museum at Dealey Plaza has lost a dear friend and an important part of early institutional history with the passing of Nancy Goff Cheney. A founding board member of the Dallas County Historical Foundation (which later became The Sixth Floor Museum at Dealey Plaza), Nancy served a vital role as the Dallas County Historical Foundation's direct conduit and liaison to the Kennedy family during the critical development of The Sixth Floor exhibit in the mid 1980s.
Cheney's first encounter with John F. Kennedy took place when the young senator visited Dallas on the 1960 presidential campaign trail; three years later she and one of her daughters, Allison, watched the presidential motorcade pass by on the day of the assassination. In 1979 Allison was responsible for introducing her mother to the Kennedy family after meeting Senator Edward Kennedy at the University of Oklahoma. The Cheney family helped open Ted Kennedy's Dallas campaign office, and Allison worked on Kennedy's staff during his unsuccessful bid for the Democratic presidential nomination in 1980. At the Democratic Convention in New York City that year, the senator invited the family to visit his campaign suite at the Waldorf Astoria.
After learning of Nancy Cheney's connection to the Kennedy family, Lindalyn Adams, a local preservation activist who was spearheading The Sixth Floor Project, briefed her on the plan to open a historical exhibition on the sixth floor of the former Texas School Book Depository building and asked if Nancy would consider passing along information about the Dallas endeavor to Senator Kennedy. Initially, Cheney was hesitant to approach the late president's brother about the exhibit, but out of respect for Adams, she agreed to tour the space and learn more about it. The experience changed her mind, and she immediately agreed to speak with Senator Kennedy in his Washington office.
According to Cheney's oral history with the Museum, when she nervously broached the subject of The Sixth Floor exhibit with Ted Kennedy in his private office, the senator's face "turned the color of a [white] sheet." She explained that hundreds of thousands of individuals visited Dealey Plaza every year in memory of the late president with flowers and prayers, wondering "why Dallas hasn't done something at this place to honor the president." When she finished her presentation, Kennedy replied, "Nancy, I have all the confidence in the world in you, and if you say it's going to be all right, I know that it will be."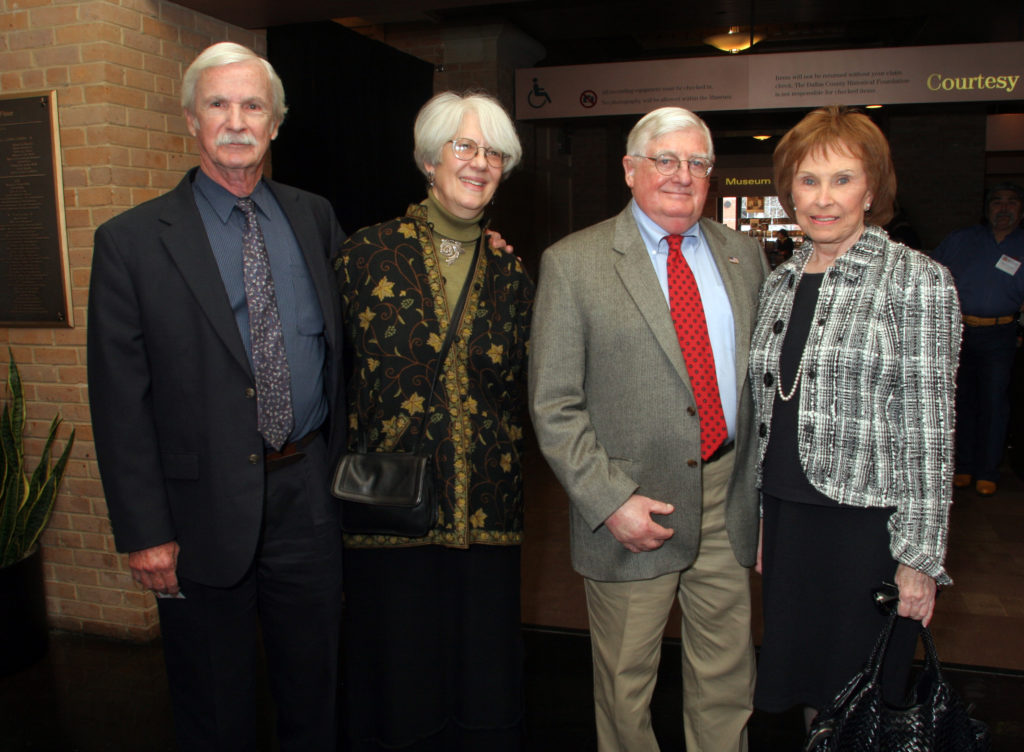 After that meeting, Cheney regularly briefed Melody Miller, the senator's senior aide, who compiled a file for Kennedy's perusal. Before returning to Dallas, Cheney also briefed Senator Kennedy's brother-in-law, Stephen Smith, who volunteered to inform Jacqueline Kennedy Onassis about the planned exhibit in Dallas. When Cheney returned home, she accepted a position on the foundation's board, and, feeling a sense of great personal responsibility because of the faith that the Kennedys had placed in her, decided "to take a very active role in the planning of the exhibit."
In the years since the 1989 opening of The Sixth Floor, Nancy Cheney remained a good friend to our institution and a familiar face at exhibit openings and programs. Her presence here will be missed. The Sixth Floor Museum at Dealey Plaza is grateful for her many contributions to our institutional history, and we offer our sincere condolences to her friends and family members.
September 15, 2017
By Stephen Fagin, Curator, The Sixth Floor Museum at Dealey Plaza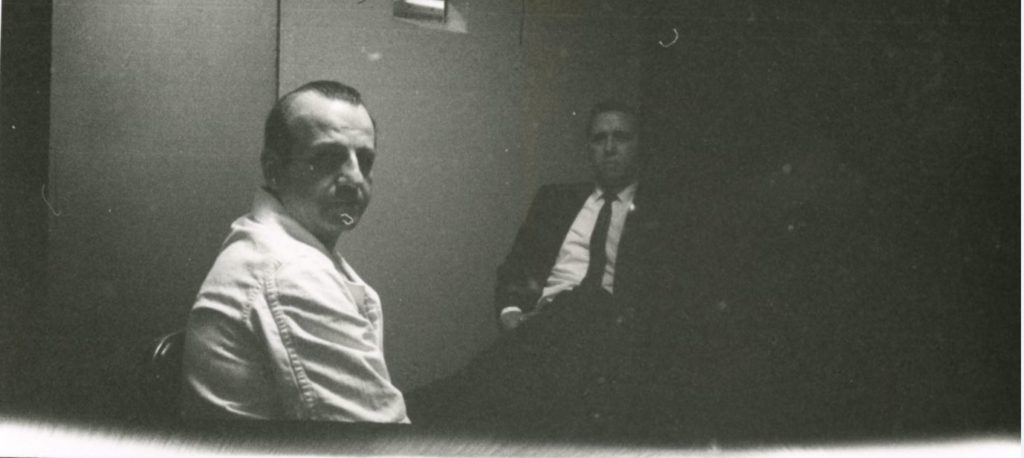 "Whatever happened to Jack Ruby?" It remains one of the most frequently asked questions we receive from Museum visitors and students. Most are surprised to hear that Ruby spent the remainder of his life incarcerated in a building adjacent to Dealey Plaza. After being found guilty of murder with malice on March 14, 1964, Ruby remained in a cell on the sixth floor of the Dallas County Criminal Courts building while his attorneys appealed the verdict, which was ultimately overturned by the Texas Court of Criminal Appeals. Had he not passed away on January 3, 1967, Ruby would have received a new trial in Wichita Falls, Texas later that year.
Jack Ruby was a unique prisoner. In addition to regular jail personnel, Sheriff Bill Decker assigned deputy sheriffs to "babysit" the high-profile prisoner to make sure he stayed safe. "You just had to sit there and hopefully get along with him," recalled deputy sheriff Benny Bob Barrett in his oral history, "and most of us did." Ruby's well known respect for law enforcement continued during his incarceration as he engaged his "babysitters" in conversation, sometimes planning future business opportunities.  "Ruby [had] the idea that he could manufacture this stuff to keep people's hair from coming out, and wanting me to go into business with him," explained Barrett. [He] never gave up his desire to make money."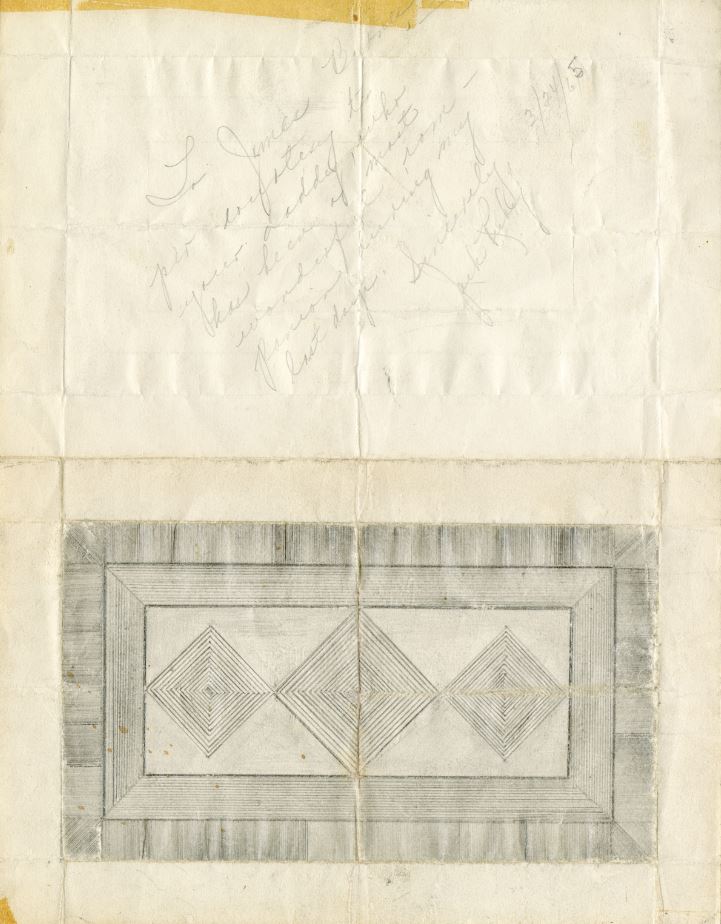 Deputy sheriff Archie Barnes played dominos and other games with Ruby. Ruby once presented Barnes with a geometric drawing—one of countless intricate doodles he made in jail—for the deputy's children. Barnes also recalled, "We both read a lot during this time… and especially on deep nights when the lights wasn't as bright… I got to where I couldn't see good." Ruby loaned Barnes his eyeglasses and later insisted that the deputy keep them.
According to Ruby's optometrist Dr. Thurman Ray, Ruby went through several pairs of glasses while at the Dallas County Jail. Ruby kept "breaking them, flushing them down the commode," said Ray in his oral history. "I always said… 'Only a crazy man would do this.'" Researchers continue to speculate on Jack Ruby's mental state during the final years of his life. Deputies were aware that Ruby was suicidal at times, and Benny Bob Barrett heard that Ruby once "jumped up and stuck his finger in that socket of the light bulb supposedly."
In an oral history recorded less than two months before his death in 1995, Ruby's longtime attorney Phil Burleson bluntly stated that during this period Ruby "was totally out of it" and often made bizarre allegations. Ruby shared with deputy sheriff Al Maddox his fears that he was being injected with cancer cells. While this has persisted as a conspiracy theory for many years, it is medically impossible to contract cancer via injection.
However, as with most aspects of the Kennedy assassination story, there are still lingering questions associated with Jack Ruby, his colorful past which included low-level mafia connections, and the shooting of Lee Harvey Oswald. Following a court appearance during his appeal process, Ruby famously told reporters, "The world will never know the true facts of what occurred, my motives." He further suggested that people in high positions "had so much to gain." This statement, among others made in these final years, continue to interest (and perplex) researchers who believe that there is more to the story of Jack Ruby.