June 28, 2018
By Stephen Fagin, Curator
The assassinations of Martin Luther King Jr. and Robert F. Kennedy impacted millions around the globe, bookending for many a five-year period of violence and social unrest that began with the tragic death of President John F. Kennedy on November 22, 1963. Although Martin Luther King Jr. and Robert Kennedy are not often associated with the Dallas/Fort Worth area, which remains so intrinsically linked to the assassination of President Kennedy after nearly fifty-five years, the lives—and deaths—of these extraordinary leaders touched the local community in unique and profound ways.
Robert Kennedy never came to North Texas after his brother's tragic death in 1963. However, while serving as counsel to the Senate Labor Rackets Investigating Committee in 1959, Robert Kennedy spoke in Dallas at a conference of the Texas Junior Bar Association. It was his only known visit to the city.
In 1959, Dr. King visited Fort Worth and spoke to a crowd of 400 at the Majestic Theater. King's only speech in Fort Worth was one block away from where President Kennedy would deliver his last speech at the Hotel Texas four years later. Speaking invitations brought Dr. King to Dallas four times between June 1957 and September 1966. His earliest visit, before a crowd of more than 10,000, took place at Memorial Auditorium—the same venue where Senator John F. Kennedy would speak to local supporters three years later during the 1960 presidential campaign. Dr. King also spoke at the Texas State Fair Music Hall and at Southern Methodist University, where he concluded his remarks to a standing-room-only audience by quoting the same spiritual he cited during the March on Washington: "Free at last. Free at last. Thank God Almighty we are free at last."
Following their assassinations in 1968, both Martin Luther King Jr. and Robert Kennedy were mourned by the local community in large and small ways. Three days after King was assassinated, an interfaith memorial service was held in his memory at the Peoples Baptist Church in Dallas on April 7, 1968. Attended by thousands, the program featured many of the same speakers who had paid tribute to President Kennedy in 1963, including Mayor J. Erik Jonsson, Rabbi Levi Olan and Reverend Louis Saunders, who had performed Lee Harvey Oswald's funeral services in Fort Worth. Prior to this official interfaith service, a group of approximately 300 marched around El Centro College in downtown Dallas in memory of Dr. King.
In Fort Worth, a wave of emotional shock and sorrow spurred concerned civic leaders to create a committee for coordinating city agencies in a unified effort to address race relations. Memorial observances were held at Texas Christian University where 300 students and faculty eulogized Dr. King and established a scholarship for an African American student in his honor. On Palm Sunday, April 7, approximately 2,000 gathered for a citywide memorial service held in the Daniel-Meyer Coliseum at TCU.
Reporting from Memphis, where Dr. King was assassinated, United Press International reporter Louis Cassels briefly turned his thoughts toward Dallas, noting that the Memphis community was experiencing firsthand how Dallas felt following the death of President Kennedy. Acknowledging that "it could happen anywhere," Cassels wrote that "it takes just one hate-filled man with a rifle to plunge a nation into tragedy and a city into shame—as Dallas learned before Memphis."
Cassels was prophetic in the idea that violence could happen anywhere, as the assassination of Robert Kennedy in Los Angeles sadly proved just two months later, on June 5, 1968. Upon news of Robert Kennedy's death, officials in Fort Worth set up a memorial fund to provide an avenue "for those who wanted to express their faith in the ideals of Kennedy." In Dallas, Kennedy was memorialized at an interfaith service similar to that of Dr. King, as hundreds gathered at St. Matthew's Episcopal Cathedral to pay their respects. Elsewhere in the community, the local chapter of sorority Theta Nu Sigma turned their scheduled Citizenship Award Banquet into a tribute to the late senator by specifically honoring African American activists. Jewel Williams, president of the organization, spoke for many in Dallas when she noted that "real mourning is a vital expression that moves people forward and pushes them into the challenges with which they live."
These artifacts are on display as part of Rebel Spirits: Robert F. Kennedy and Martin Luther King Jr., a special temporary exhibit on the Museum's seventh floor. Copies of the news clippings referenced above are also available for viewing at the Rebel Spirits exhibit. On view through September 3, 2018, Rebel Spirits is included with Museum general admission.
April 13, 2018
President John F. Kennedy said in his message on the "Occasion of National Library Week" in April 1961,
"[b]ooks and libraries and the will to use them are among the most important tools our nation has to diffuse knowledge and to develop our powers of creative wisdom."
As part of The Sixth Floor Museum's vision to be an impartial destination and forum for exploring the events surrounding the assassination of President Kennedy, the Museum opened the Reading Room in 2010 to meet the needs of researchers around the world. This non-circulating library provides public access to the Museum's vast resources, including rare and out-of-print bibliographic materials; current and historic films, music and photographs; rare artifacts and more than 1,700 oral histories.
An integral component of the Museum's permanent collections, The Reading Room's cache of over 8,000 items continues to expand and evolve to include the latest iterations of scholarly research and trending topics in popular culture.
Over the past eight years, the Reading Room has served diverse needs of 2,000 researchers, from international patrons to individuals, classrooms or groups that visit in person.
In celebration of National Library Week, The Sixth Floor Museum's Reading Room is sharing seven exceptional stories of how a visit to the Reading Room changed the course of a life, helped fulfill a dream or fostered an ongoing relationship. To protect researcher confidentiality, individuals' names are excluded from this blog.
Man Who Marched in Kennedy's Funeral Procession Finds Himself on Film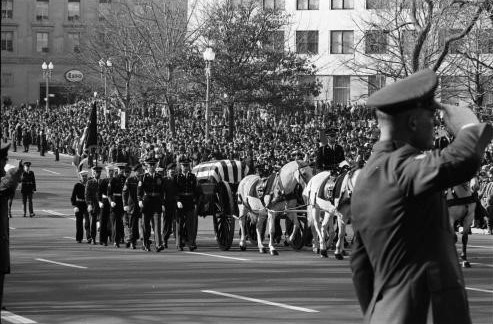 ©Donald Eugene Hughes. Donald Hughes Collection/The Sixth Floor Museum at Dealey Plaza
As a member of the U.S. Army Reserves, this man marched in the funeral procession for President Kennedy, but had little evidence of his involvement. His quest for more information about the funeral led him to the Reading Room, where he examined collections of historic photographs, listened to the oral history interview of another military service member who was in the funeral procession and perused hard-to-find books about the funeral. After searching the Museum's extensive collection of home movies, the Museum's curator located the reservist's unit in a film from the funeral procession. The Museum also documented his story by recording his oral history.
Oral History Collection Informs Dissertation Research on LGBT History of Dallas
Intrigued by the depth of the Museum's Oral History Collection, this doctoral student visited the Reading Room in 2016 and 2017 for resources to support his dissertation on the history of the LGBT community in Dallas. He listened to oral history interviews and the program Gay Rights Movement in Dallas from the Museum's 2006 Call to Action series.
Desire for Understanding Becomes Part-Time Hobby
Donated to the Reading Room collection by a regular patron
and friend of the Museum/The Sixth Floor Museum at Dealey Plaza
At the time of the Kennedy assassination in 1963 and Jack Ruby trial in 1964, this individual managed a temporary Time-Life office out of Dallas hotel suites. Wanting to expand upon her first-hand knowledge, she became a regular visitor to the Reading Room, spending hours reading and listening to oral history interviews about reporters, particularly women, who covered the assassination. Visiting often to access the collections to support her interest in Dallas history and genealogy, she has also donated nearly 250 bibliographic items to the Reading Room, including the Goals for Dallas series with issues dating from 1966 to 1982.
International Visitor Explores Museum Collections
This British woman surprised her husband, a "lifelong JFK fan," with a trip to The Sixth Floor Museum as a gift for their twenty-fifth anniversary. In her Reading Room appointment request she wrote, "it took eight years to save up for this trip and sadly, I can only send him alone, but I know that the sheer excitement and joy it will bring him is enough for me. I can only imagine how he will feel actually being in your wonderful building and at the utter thrill he will have from touring your museum and reading room." Her husband was fascinated with the events surrounding the assassination in Dealey Plaza. After touring the Museum, he spent hours in the Reading Room exploring seminal first-edition works in assassination research that he had never seen before.
Former Parkland Doctor Completes Research for Book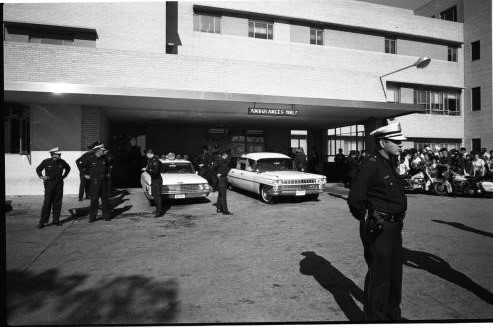 Dallas Times Herald Collection/The Sixth Floor Museum at Dealey Plaza
A former Parkland Memorial Hospital doctor and author did considerable research in the Reading Room in 2014 for his book, to which the Museum's late curator Gary Mack was a contributor. In 2017, the author hosted twenty international delegates from West Lothian, Scotland for a museum tour and question-and-answer session with the Librarian/Archivist.
Scientist Researches Gunshot Dynamics at Assassination Site
A scientist conducted research in the Reading Room by listening to oral history interviews with ballistic experts. He also used the Museum's collection of home movies to inform his article about gunshot-wound dynamics. His findings are soon to be published in an open-access academic journal.           
Program Attendee Turns Museum Donor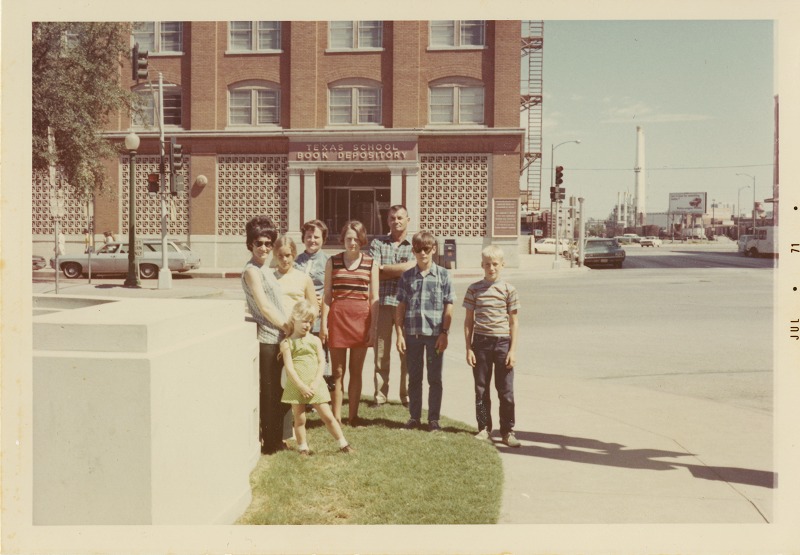 Betty Wisner Collection/ The Sixth Floor Museum at Dealey Plaza
This person's interest was piqued after attending the Museum's Five Days in November public program, and she later visited the Reading Room to listen to the Clint Hill oral history. After learning about the Museum's extensive collections, she was inspired to donate two personal photographs from 1971. One photo depicts her family in front of the former Texas School Book Depository building and another inside the former John F. Kennedy Museum in Dallas, which closed in 1982.
President Kennedy called libraries "…one of the richest and more enduring aspects of our historical heritage." The Sixth Floor Museum at Dealey Plaza is honored to preserve and provide public access to its research library so others can develop their own "powers of creative wisdom." To learn more about the type of materials available email readingroom@jfk.org. The Reading Room is open by appointment, 9:30 a.m. to 4 p.m. Monday through Friday.
April 4, 2018
By Dr. W. Marvin Dulaney, Associate Professor Emeritus of History at the University of Texas, Arlington
Fifty years ago, on April 4th, the civil rights movement ended. That was the day that James Earl Ray assassinated Dr. Martin Luther King in Memphis, Tennessee and ended Dr. King's larger- than-life role in and influence on the civil rights movement.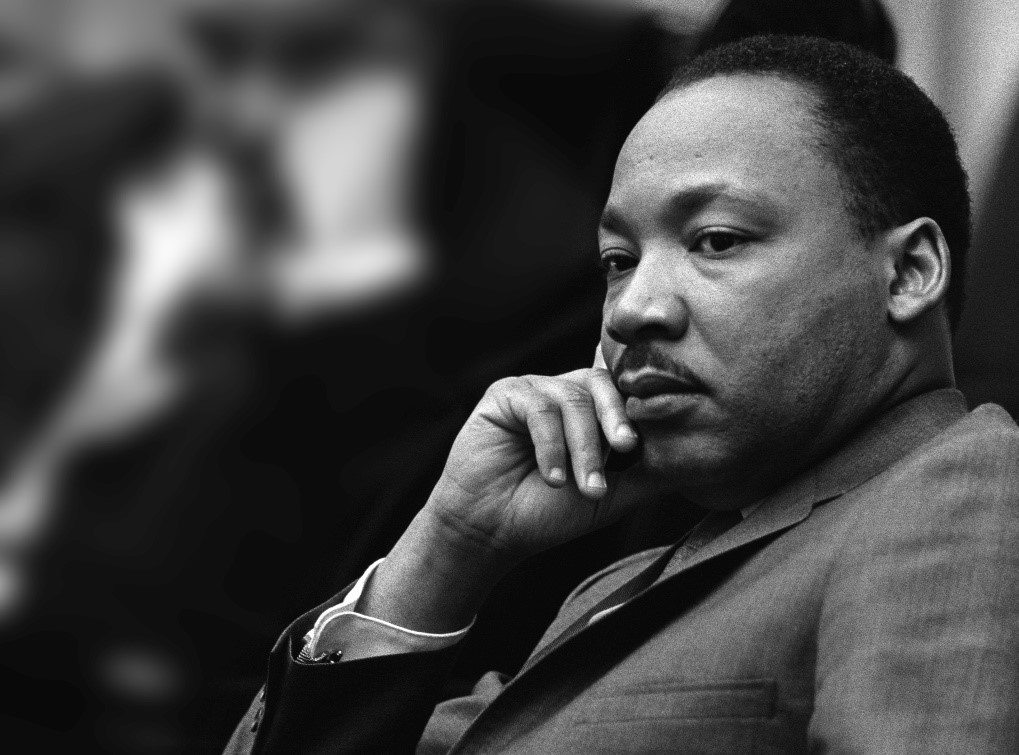 Photo credit: Yoichi Okamoto/LBJ Presidential Library and Museum
Of course, some historians, as well as others, argue that the civil rights movement ended before Dr. King's assassination. They cite the backlash that the movement endured after Stokely Carmichael, the chairman of the Student Nonviolent Coordinating Committee (SNCC), made his infamous "Black Power" speech in Greenwood, Mississippi during the "March Against Fear" in 1966. Dr. King was on the stage with Carmichael when he gave the speech and tried to change the shouts by the crowd from "Black Power" to "Freedom Now," but failed. "Black Power" became the new slogan of the movement and it alienated many whites who supported and participated in the movement as well as many of the foundations and organizations that provided financial support to the movement. Opponents of the "Black Power" slogan equated it with black violence against whites. Given the ongoing use of violence by whites against blacks to maintain white power and white supremacy, it was logical for the opponents of Black Power to conclude that the movement would evolve to their worst fear. But they were wrong.
Several of Dr. King's biographers also argue that the movement ended in April 1967 when Dr. King gave his famous "Beyond Vietnam: A Time to Break Silence" speech at Riverside Baptist Church in New York opposing the war in Vietnam. In the speech, Dr. King indicted the United States as "the greatest purveyor of violence in the world" and noted that the U.S. government sent young black, brown and poor men to Vietnam to fight in an imperialistic war, but did nothing to improve their lives at home. The Johnson administration, most of the media and even some of Dr. King's allies in the civil rights movement condemned him as a traitor for speaking out against the war. His critics condemned him and warned him that he should stay away from foreign policy and confine his efforts to fighting only for "civil rights."
In 1968, despite the continued resistance to civil rights by those who opposed the movement as well as the actions by the federal government to undermine Dr. King and the movement itself, Dr. King had not given up on it. In his last book, Where Do We Go from Here: Chaos or Community? (1967), Dr. King wrote about expanding the movement from civil rights to human rights and addressing the fundamental issue of economic justice. He wrote that the wealthiest country in the world should address poverty by providing every citizen a livable income, affordable housing and a decent standard of living. He expanded his efforts to address the nation's rampant poverty by supporting the sanitation workers' strike in Memphis and by planning a Poor People's March in Washington, D.C. for the spring of 1968. He also believed that a government and society dominated by institutional racism should provide "affirmative action" to provide special support to those whose lives had been historically circumscribed by individual and institutional racism.

Where Do We Go from Here: Chaos or Community? by Dr. Martin Luther King Jr, 1967
But Dr. King's assassination ended not only his efforts to expand the movement from civil rights to human rights; it ended the movement itself.
With the assassination of Dr. King, the fissures in the civil rights movement expanded and broke it. White Americans acted on Richard Nixon's "southern strategy" in 1968 to elect him president. For African Americans, the assassination of Dr. King sent a clear message: his strategy of moral suasion, nonviolent social change and his efforts to form a "beloved community" were pipe dreams. Many young African Americans increasingly supported organizations that advocated "Black Power" and "Black Nationalism." While the FBI and the media sought to paint organizations and individuals who advocated these two ideas as violent, anti-American revolutionaries, young African Americans like me (I was 18 in 1968) rallied behind these ideas as the natural evolution of the ongoing struggle for black liberation.
Indeed, the assassination of Dr. King made it very clear to my generation that "loving your enemies," "turning the other cheek" and adopting nonviolence as tactics would get us killed. While we loved and honored Dr. King, we saw that the resistance to his very mild and legitimate demands for the nation to honor its own creed of equality of opportunity, voting rights and basic human rights were demands that the nation could not fulfill. Armed self defense and even urban guerilla warfare seemed more plausible as strategies and tactics to win our freedom and to change the inherent racism in American society than moral suasion.
Based on the "wars of national liberation" that we saw being waged in Vietnam, Angola, Mozambique and in other colonized nations in Africa and Asia, we romanticized that we could do the same thing in the United States. But after COINTELPRO (Counter Intelligence Program) and the bloody war that the FBI and the police carried out against the Black Panther Party for Self Defense and other Black Nationalist organizations after Dr. King's assassination, we came to our senses. We realized that the civil rights movement was over, but we had to survive in order to take the movement to the next level. In addition, we knew that we had to educate the next generation to continue the struggle beyond civil rights.
We adopted the slogan: "a luta continua" (the struggle continues) from FRELIMO (Frente de Libertação de Moçambique (Mozambique Liberation Front) in honor of Dr. King who gave his life and inspired us to find new ways to fight oppression, racism and white supremacy. Indeed, as we have seen, the civil rights movement is over, but we continue to struggle against some of the same issues (political disfranchisement, police brutality and economic discrimination) that confronted Dr. King.
The views and opinions reflected in the Museum's Guest Blog are those expressly of the author alone, and not of The Sixth Floor Museum at Dealey Plaza.
March 14, 2018
by Stephen Fagin, Curator
In the days following the Kennedy assassination, more than 300 members of the world press crowded the corridors of Dallas police headquarters, shouting questions at suspect Lee Harvey Oswald and pressing law enforcement for opinions on the case. The Warren Commission in 1964 criticized the media for their part in a frenzied, largely unchecked situation that climaxed with Jack Ruby's shooting of Oswald. City leaders, fully aware of Dallas's tainted reputation following the events of that fateful weekend in November 1963, hoped that Ruby's 1964 murder trial would be handled with far more decorum and security.
Recognizing that hundreds of journalists would cover the trial, Sam Bloom, president of a prominent Dallas advertising agency, offered his services to Judge Joe B. Brown of Criminal District Court No. 3. It was unprecedented for a PR firm to represent a judge, and Bloom faced direct criticism when he testified at a change-of-venue hearing prior to the trial. With more than 300 requests for only forty-eight seats reserved for media, Defense attorney Joe Tonahill accused Bloom of favoring reporters "sympathetic to Dallas." Bloom denied this, noting that his firm merely handled logistics and credentials, though Bloom employee Helen Holmes did advise Judge Brown and draft his public statements. Media pressure ultimately led Brown to use a larger courtroom for the trial where at least 150 reporters could be seated.
This photograph, taken through the window of the courtroom door, shows defense attorney
Melvin Belli questioning PR executive Sam Bloom on the witness stand.
The day press credentials were issued, Helen Holmes recalled, "there was a stampede." For added security, journalists were required to wear photographic identification badges, though only the largest news organizations could quickly produce small ID photos for their reporters. The courthouse arranged a checkpoint where everyone, including press, was searched before entry. Though commonplace today, this type of security was new in 1964; some, including syndicated columnist Dorothy Kilgallen, found the whole process comical. Early in the trial, deputy sheriffs confiscated a pocketknife from KRLD-TV sketch artist Ken Hansen, which he needed to sharpen his art pencils. He began pre-sharpening both ends of every pencil to avoid future problems.
Columnist Dorothy Kilgallen smiles as she is searched prior to entering the courtroom.
A probate courtroom was transformed into an international press room with typewriters, twenty Western Union teletype machines and thirty telephones, some with new direct-dialing (non-operator) service. Experienced teletype operators were always on hand, promising an average of sixty words per minute, though few were prepared for the numerous foreign language requests. One operator grew familiar with the word "geschworenenkandidat," which is "prospective juror" in German.
Some of the thirty telephones installed in the Ruby trial press room.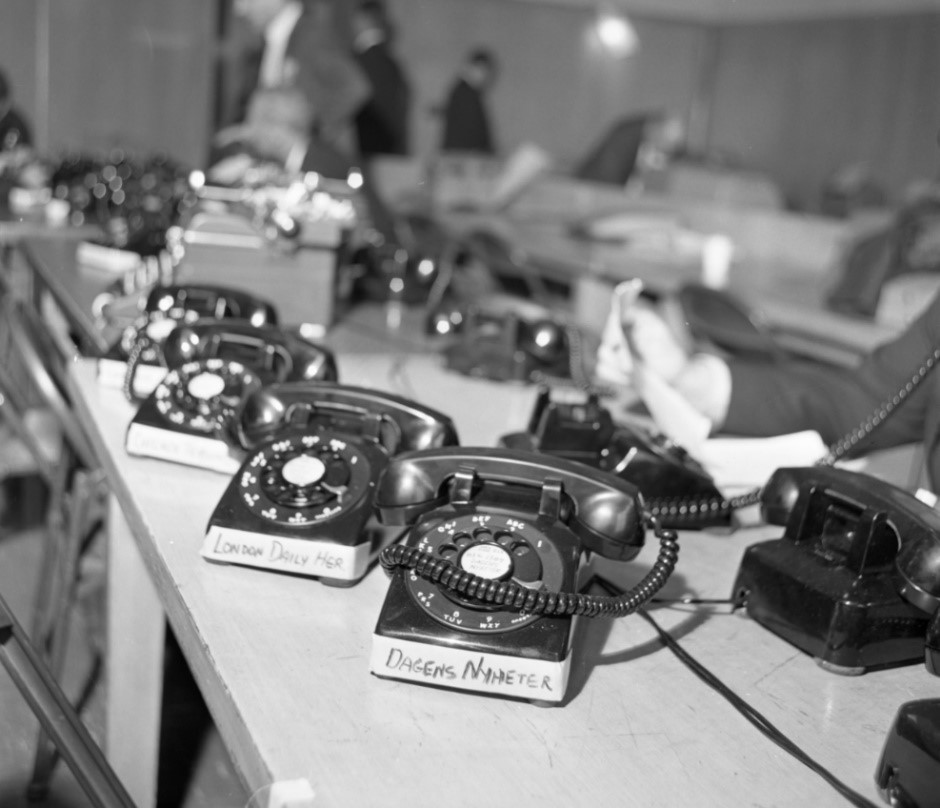 The Dallas Morning News reported that the courthouse had "an international flavor," with Swiss, French, Swedish, British, Polish, German, Australian, Bulgarian, Mexican and Canadian press mingling with local and national journalists in the press room. CBS commentator Eric Sevareid noted at the time that the "camaraderie [of local reporters] both beguiles and astounds the European journalists covering the trial."  There was a definite distinction between the relaxed informality of Dallas reporters accustomed to covering the courthouse and those who flew in specifically to cover the Ruby trial, sometimes arriving with negative preconceived notions about the city. Helen Holmes remembered having a reporter from French weekly magazine L'Express physically removed from her PR office. "He was screaming at me," she recalled in an oral history. "He was yelling at me that he was going to ruin me in Europe because I wasn't being cooperative enough."
Some national and international reporters pushed the boundaries of professionalism during the trial. Defense attorney Phil Burleson often received phone calls in the middle of the night from reporters needing to confirm information for pressing deadlines. Defense investigator Bob Denson abandoned his Dallas office to work out of his home because reporters consistently stopped by with questions. Assistant District Attorney Bill Alexander was vocally critical of what he considered "unfair, sloppy" news stories. In a talk given two weeks after the verdict, he lamented, "they reported what they wanted to see and what they wanted to hear rather than the events that happened."  Echoing some of the sentiments expressed by Dallas D.A. Henry Wade, Alexander went on to say that the press "came late, left early and wrote their reports from what they heard at the Press Club."
Always jockeying for position, there was occasional friction between print, radio and television journalists. Carrying only a portable tape recorder, Gary DeLaune, police reporter for Dallas radio station KLIF, grew frustrated by television technicians wielding large boom microphones. He used the wooden slats of an orange crate to rig a homemade boom mic. "Every day when the network guys would gather around," he recalled, "I got a chair and I'd start putting that slat over so I could get the audio, and these guys would swear at me."  News photographers also got creative since no cameras were allowed in the courtroom. To get good overhead shots without reporters in the way, a few cameramen taped flashes and remote-operated cameras to hallway walls. In a rare moment of solidarity, network television crews worked together to properly light the main hallway for their bulky cameras. "We had one master switch," recalled ABC broadcaster Murphy Martin. "Didn't have to wait for proper lighting or worry about anything like that, and that was the first time that I had been in a situation like that."
Cameramen gather in the courthouse hallway. Note the lights and camera taped to the wall.
The one occasion when cameras were permitted inside the courtroom was on March 14, 1964, for the trial verdict. Martin, a longtime friend of the judge, was the one who finally convinced Brown to televise that significant moment. Martin and Brown established "some ground rules as to how [the press] would conduct themselves."  Unfortunately, before an audience of millions, all decorum broke down as soon as the guilty verdict was read. Martin recalled that cameramen "just jumped up on the furniture."  PR advisor Helen Holmes had recommended that the verdict not be televised, fearing that the jurors would be overwhelmed by reporters. Instead, she was shocked when live cameras caught lead defense attorney Melvin Belli deliver an impromptu and unhinged rant against Dallas, which he declared "a city of shame forevermore."  Holmes remembered, "He had all these bright lights on him, and his face was just sweating. You could practically see the spittle."
Analysis of the trial's unprecedented media coverage was swift in the aftermath. Journalism professor J. Edward Gerald at the University of Minnesota suggested that such "publicity [was] altering the jury system, making it unnecessarily expensive, cumbersome to administer and less trustworthy than justice requires."  The American Bar Association suggested "an urgent need for voluntary restraints" without advocating press censorship or restrictions. The American Civil Liberties Union simply stated "that court proceedings should not be broadcast, televised or photographed."
Just as the Kennedy assassination altered the way in which breaking news stories are covered, the Jack Ruby trial impacted the way in which the media reports on high-profile court cases, right up to the present day. For those who lived through that hectic, historic experience fifty-four years ago, it was, if nothing else, unforgettable. Helen Holmes concluded, "I think almost everybody connected with the Ruby trial, at one time or another, felt the pressure of the press."
Note: This blog quotes interviews from the Oral History Project at The Sixth Floor Museum as well as contemporary newspaper accounts. Access to these and other Museum collections is available by scheduling a research appointment in our Reading Room.