The world was shocked by the astonishing, violent act of the assassination of President John F. Kennedy on November 22, 1963. Many of those grieving chose to express their feelings through song, poetry, art and musical scores — all created to memorialize President Kennedy. The artistic contributions of Kennedy's admirers after his death provide a deeper understanding of how the world felt following such a tragic loss.
Songs have been sung about Kennedy, his assassination or the events surrounding it, such as Mr. John (1964) by songwriter William Spivey. In the Summer of His Years was written by Herb Kretzmer and composed by David Lee just hours after Kennedy's death, and performed by Millicent Martin on the BBC on November 23, 1963. Since then, it has been performed by a number of other artists, including Connie Francis, who donated proceeds from her recording to the J.D. Tippit Benefit Fund, supporting the family of the Dallas police officer who was slain in the Oak Cliff section of the city less than an hour after the assassination.
He Was a Friend of Mine, re-written by The Byrds to lament Kennedy's assassination, appeared on their album Turn! Turn! Turn! in 1965. Son House performed a moving and sad lament for the late president aptly called President Kennedy, also released in 1965. Additional songs in the 1960s include Crucifixion by Phil Ochs in 1966 and Abraham, Martin and John, authored by Dick Holler and performed by Dion in 1968 about American leaders who were assassinated.
Musical scores that were composed after President Kennedy's assassination in 1963 include A City Mourns (for John F. Kennedy) by Dorothy Elliot and The Kennedy March, written by Joe Meek and performed by the Joe Meek Orchestra. In 1964, Remembrance: John Fitzgerald Kennedy by Fred Wirtz and William Steffe was published, and three years later, Oliver Nelson unveiled The Kennedy Dream, a tribute album with eight original tracks, including Day in Dallas, Let the World Go Forth and Jacqueline.
The Kennedy Dream by Oliver Nelson (1967)
President Kennedy was known to enjoy reading poetry, so it is fitting that a number of poignant poems were penned in his memory. One of them, Six White Horses, was written about his funeral by a fifteen-year-old named Candy Geer. The illustrated, published version of this poem is on view through February 19, 2018 as part of Mourning a President, a temporary exhibit about the funeral of John F. Kennedy, on the seventh floor of the Museum.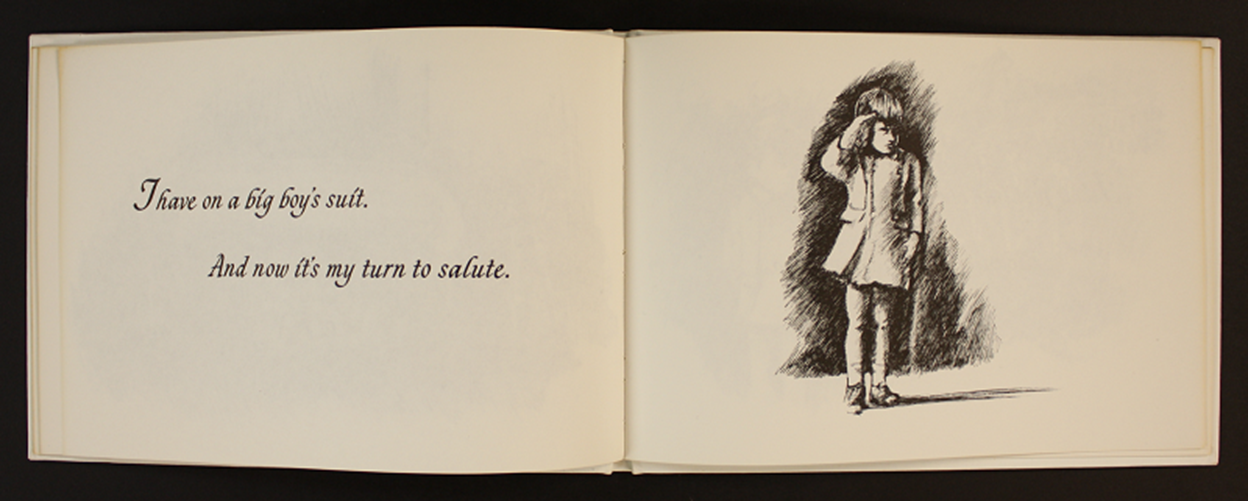 A page of Six White Horses by Candy Geer. Joseph Bastian Collection/The Sixth Floor Museum at Dealey Plaza
Other poems and collections of poems have been written in response to the assassination of John F. Kennedy. November Twenty Six Nineteen Hundred and Sixty Three was authored by Wendell Berry and illustrated by Ben Shahn (1964) and Poems in Memory of John F. Kennedy by Virginia P. Keinz (1967).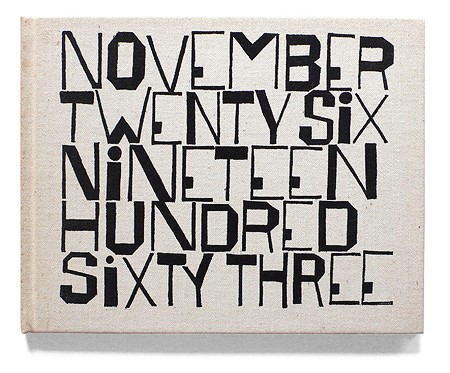 November Twenty Six Nineteen Hundred and Sixty Three by Wendell Berry and Illustrated by Ben Shahn (1964)
To this day, active and creative forms of expression inspired by Kennedy's legacy continue to shape our collective image and memory of the fallen president. The Sixth Floor Museum actively collects many of these multi-dimensional artistic and personal reactions to the assassination. This blog shares just a tiny selection of individual responses from the 1960s decade. The Museum has many artistic pieces not discussed in this blog available for researchers to view, including original art, some of which are on display in the temporary exhibit Mourning a President. If you would like to learn more about other JFK-inspired forms of artistic expression created over the last fifty-four years, please contact the Museum's Reading Room Librarian here, to schedule an appointment or discuss related materials in our collection.