by Stephen Fagin, Curator
In the days following the Kennedy assassination, more than 300 members of the world press crowded the corridors of Dallas police headquarters, shouting questions at suspect Lee Harvey Oswald and pressing law enforcement for opinions on the case. The Warren Commission in 1964 criticized the media for their part in a frenzied, largely unchecked situation that climaxed with Jack Ruby's shooting of Oswald. City leaders, fully aware of Dallas's tainted reputation following the events of that fateful weekend in November 1963, hoped that Ruby's 1964 murder trial would be handled with far more decorum and security.
Recognizing that hundreds of journalists would cover the trial, Sam Bloom, president of a prominent Dallas advertising agency, offered his services to Judge Joe B. Brown of Criminal District Court No. 3. It was unprecedented for a PR firm to represent a judge, and Bloom faced direct criticism when he testified at a change-of-venue hearing prior to the trial. With more than 300 requests for only forty-eight seats reserved for media, Defense attorney Joe Tonahill accused Bloom of favoring reporters "sympathetic to Dallas." Bloom denied this, noting that his firm merely handled logistics and credentials, though Bloom employee Helen Holmes did advise Judge Brown and draft his public statements. Media pressure ultimately led Brown to use a larger courtroom for the trial where at least 150 reporters could be seated.
This photograph, taken through the window of the courtroom door, shows defense attorney
Melvin Belli questioning PR executive Sam Bloom on the witness stand.
The day press credentials were issued, Helen Holmes recalled, "there was a stampede." For added security, journalists were required to wear photographic identification badges, though only the largest news organizations could quickly produce small ID photos for their reporters. The courthouse arranged a checkpoint where everyone, including press, was searched before entry. Though commonplace today, this type of security was new in 1964; some, including syndicated columnist Dorothy Kilgallen, found the whole process comical. Early in the trial, deputy sheriffs confiscated a pocketknife from KRLD-TV sketch artist Ken Hansen, which he needed to sharpen his art pencils. He began pre-sharpening both ends of every pencil to avoid future problems.
Columnist Dorothy Kilgallen smiles as she is searched prior to entering the courtroom.
A probate courtroom was transformed into an international press room with typewriters, twenty Western Union teletype machines and thirty telephones, some with new direct-dialing (non-operator) service. Experienced teletype operators were always on hand, promising an average of sixty words per minute, though few were prepared for the numerous foreign language requests. One operator grew familiar with the word "geschworenenkandidat," which is "prospective juror" in German.
Some of the thirty telephones installed in the Ruby trial press room.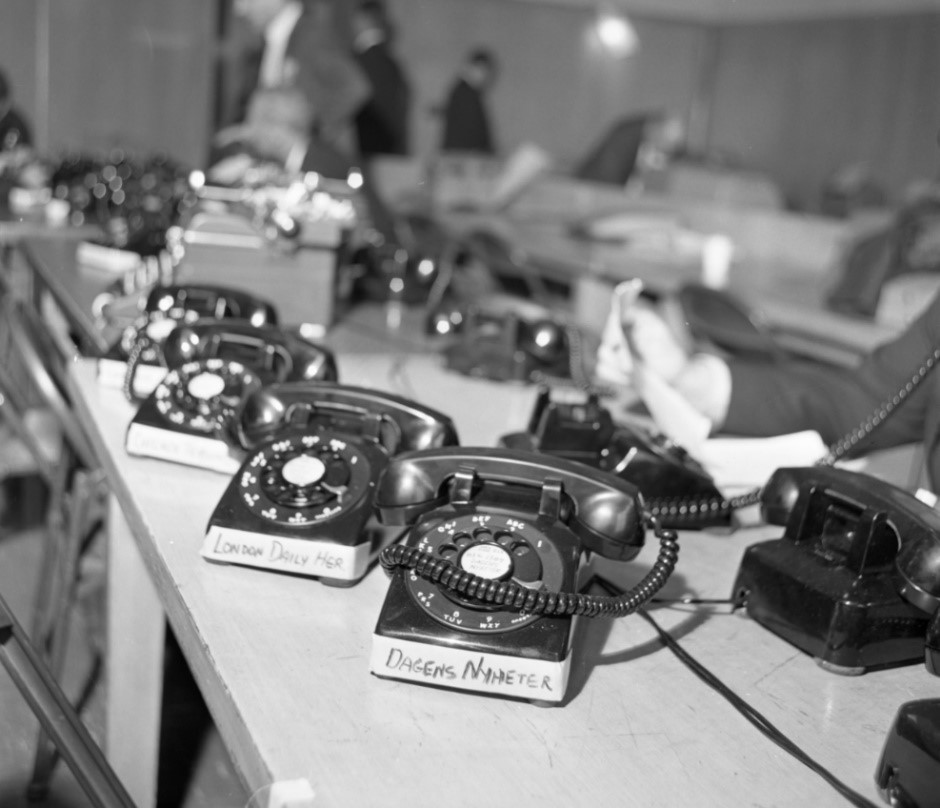 The Dallas Morning News reported that the courthouse had "an international flavor," with Swiss, French, Swedish, British, Polish, German, Australian, Bulgarian, Mexican and Canadian press mingling with local and national journalists in the press room. CBS commentator Eric Sevareid noted at the time that the "camaraderie [of local reporters] both beguiles and astounds the European journalists covering the trial."  There was a definite distinction between the relaxed informality of Dallas reporters accustomed to covering the courthouse and those who flew in specifically to cover the Ruby trial, sometimes arriving with negative preconceived notions about the city. Helen Holmes remembered having a reporter from French weekly magazine L'Express physically removed from her PR office. "He was screaming at me," she recalled in an oral history. "He was yelling at me that he was going to ruin me in Europe because I wasn't being cooperative enough."
Some national and international reporters pushed the boundaries of professionalism during the trial. Defense attorney Phil Burleson often received phone calls in the middle of the night from reporters needing to confirm information for pressing deadlines. Defense investigator Bob Denson abandoned his Dallas office to work out of his home because reporters consistently stopped by with questions. Assistant District Attorney Bill Alexander was vocally critical of what he considered "unfair, sloppy" news stories. In a talk given two weeks after the verdict, he lamented, "they reported what they wanted to see and what they wanted to hear rather than the events that happened."  Echoing some of the sentiments expressed by Dallas D.A. Henry Wade, Alexander went on to say that the press "came late, left early and wrote their reports from what they heard at the Press Club."
Always jockeying for position, there was occasional friction between print, radio and television journalists. Carrying only a portable tape recorder, Gary DeLaune, police reporter for Dallas radio station KLIF, grew frustrated by television technicians wielding large boom microphones. He used the wooden slats of an orange crate to rig a homemade boom mic. "Every day when the network guys would gather around," he recalled, "I got a chair and I'd start putting that slat over so I could get the audio, and these guys would swear at me."  News photographers also got creative since no cameras were allowed in the courtroom. To get good overhead shots without reporters in the way, a few cameramen taped flashes and remote-operated cameras to hallway walls. In a rare moment of solidarity, network television crews worked together to properly light the main hallway for their bulky cameras. "We had one master switch," recalled ABC broadcaster Murphy Martin. "Didn't have to wait for proper lighting or worry about anything like that, and that was the first time that I had been in a situation like that."
Cameramen gather in the courthouse hallway. Note the lights and camera taped to the wall.
The one occasion when cameras were permitted inside the courtroom was on March 14, 1964, for the trial verdict. Martin, a longtime friend of the judge, was the one who finally convinced Brown to televise that significant moment. Martin and Brown established "some ground rules as to how [the press] would conduct themselves."  Unfortunately, before an audience of millions, all decorum broke down as soon as the guilty verdict was read. Martin recalled that cameramen "just jumped up on the furniture."  PR advisor Helen Holmes had recommended that the verdict not be televised, fearing that the jurors would be overwhelmed by reporters. Instead, she was shocked when live cameras caught lead defense attorney Melvin Belli deliver an impromptu and unhinged rant against Dallas, which he declared "a city of shame forevermore."  Holmes remembered, "He had all these bright lights on him, and his face was just sweating. You could practically see the spittle."
Analysis of the trial's unprecedented media coverage was swift in the aftermath. Journalism professor J. Edward Gerald at the University of Minnesota suggested that such "publicity [was] altering the jury system, making it unnecessarily expensive, cumbersome to administer and less trustworthy than justice requires."  The American Bar Association suggested "an urgent need for voluntary restraints" without advocating press censorship or restrictions. The American Civil Liberties Union simply stated "that court proceedings should not be broadcast, televised or photographed."
Just as the Kennedy assassination altered the way in which breaking news stories are covered, the Jack Ruby trial impacted the way in which the media reports on high-profile court cases, right up to the present day. For those who lived through that hectic, historic experience fifty-four years ago, it was, if nothing else, unforgettable. Helen Holmes concluded, "I think almost everybody connected with the Ruby trial, at one time or another, felt the pressure of the press."
Note: This blog quotes interviews from the Oral History Project at The Sixth Floor Museum as well as contemporary newspaper accounts. Access to these and other Museum collections is available by scheduling a research appointment in our Reading Room.