President John F. Kennedy said in his message on the "Occasion of National Library Week" in April 1961,
"[b]ooks and libraries and the will to use them are among the most important tools our nation has to diffuse knowledge and to develop our powers of creative wisdom."
As part of The Sixth Floor Museum's vision to be an impartial destination and forum for exploring the events surrounding the assassination of President Kennedy, the Museum opened the Reading Room in 2010 to meet the needs of researchers around the world. This non-circulating library provides public access to the Museum's vast resources, including rare and out-of-print bibliographic materials; current and historic films, music and photographs; rare artifacts and more than 1,700 oral histories.
An integral component of the Museum's permanent collections, The Reading Room's cache of over 8,000 items continues to expand and evolve to include the latest iterations of scholarly research and trending topics in popular culture.
Over the past eight years, the Reading Room has served diverse needs of 2,000 researchers, from international patrons to individuals, classrooms or groups that visit in person.
In celebration of National Library Week, The Sixth Floor Museum's Reading Room is sharing seven exceptional stories of how a visit to the Reading Room changed the course of a life, helped fulfill a dream or fostered an ongoing relationship. To protect researcher confidentiality, individuals' names are excluded from this blog.
Man Who Marched in Kennedy's Funeral Procession Finds Himself on Film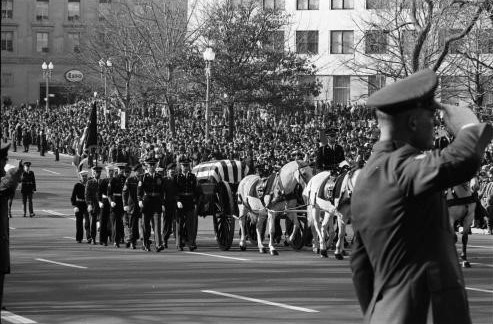 ©Donald Eugene Hughes. Donald Hughes Collection/The Sixth Floor Museum at Dealey Plaza
As a member of the U.S. Army Reserves, this man marched in the funeral procession for President Kennedy, but had little evidence of his involvement. His quest for more information about the funeral led him to the Reading Room, where he examined collections of historic photographs, listened to the oral history interview of another military service member who was in the funeral procession and perused hard-to-find books about the funeral. After searching the Museum's extensive collection of home movies, the Museum's curator located the reservist's unit in a film from the funeral procession. The Museum also documented his story by recording his oral history.
Oral History Collection Informs Dissertation Research on LGBT History of Dallas
Intrigued by the depth of the Museum's Oral History Collection, this doctoral student visited the Reading Room in 2016 and 2017 for resources to support his dissertation on the history of the LGBT community in Dallas. He listened to oral history interviews and the program Gay Rights Movement in Dallas from the Museum's 2006 Call to Action series.
Desire for Understanding Becomes Part-Time Hobby
Donated to the Reading Room collection by a regular patron
and friend of the Museum/The Sixth Floor Museum at Dealey Plaza
At the time of the Kennedy assassination in 1963 and Jack Ruby trial in 1964, this individual managed a temporary Time-Life office out of Dallas hotel suites. Wanting to expand upon her first-hand knowledge, she became a regular visitor to the Reading Room, spending hours reading and listening to oral history interviews about reporters, particularly women, who covered the assassination. Visiting often to access the collections to support her interest in Dallas history and genealogy, she has also donated nearly 250 bibliographic items to the Reading Room, including the Goals for Dallas series with issues dating from 1966 to 1982.
International Visitor Explores Museum Collections
This British woman surprised her husband, a "lifelong JFK fan," with a trip to The Sixth Floor Museum as a gift for their twenty-fifth anniversary. In her Reading Room appointment request she wrote, "it took eight years to save up for this trip and sadly, I can only send him alone, but I know that the sheer excitement and joy it will bring him is enough for me. I can only imagine how he will feel actually being in your wonderful building and at the utter thrill he will have from touring your museum and reading room." Her husband was fascinated with the events surrounding the assassination in Dealey Plaza. After touring the Museum, he spent hours in the Reading Room exploring seminal first-edition works in assassination research that he had never seen before.
Former Parkland Doctor Completes Research for Book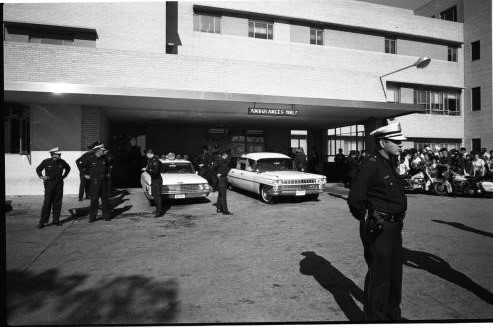 Dallas Times Herald Collection/The Sixth Floor Museum at Dealey Plaza
A former Parkland Memorial Hospital doctor and author did considerable research in the Reading Room in 2014 for his book, to which the Museum's late curator Gary Mack was a contributor. In 2017, the author hosted twenty international delegates from West Lothian, Scotland for a museum tour and question-and-answer session with the Librarian/Archivist.
Scientist Researches Gunshot Dynamics at Assassination Site
A scientist conducted research in the Reading Room by listening to oral history interviews with ballistic experts. He also used the Museum's collection of home movies to inform his article about gunshot-wound dynamics. His findings are soon to be published in an open-access academic journal.           
Program Attendee Turns Museum Donor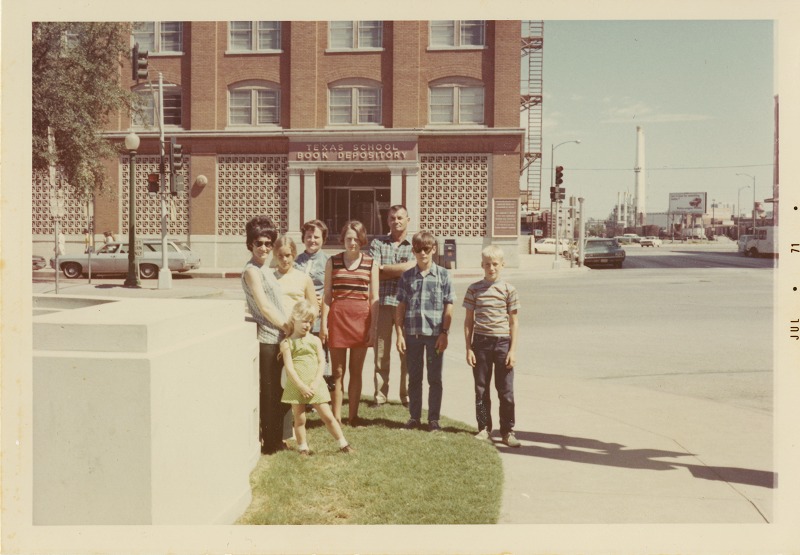 Betty Wisner Collection/ The Sixth Floor Museum at Dealey Plaza
This person's interest was piqued after attending the Museum's Five Days in November public program, and she later visited the Reading Room to listen to the Clint Hill oral history. After learning about the Museum's extensive collections, she was inspired to donate two personal photographs from 1971. One photo depicts her family in front of the former Texas School Book Depository building and another inside the former John F. Kennedy Museum in Dallas, which closed in 1982.
President Kennedy called libraries "…one of the richest and more enduring aspects of our historical heritage." The Sixth Floor Museum at Dealey Plaza is honored to preserve and provide public access to its research library so others can develop their own "powers of creative wisdom." To learn more about the type of materials available email readingroom@jfk.org. The Reading Room is open by appointment, 9:30 a.m. to 4 p.m. Monday through Friday.