June 11, 2020
Fifty-seven years ago on June 11, 1963, President John F. Kennedy delivered an impromptu Report to the American People on Civil Rights, broadcast on both radio and television. This speech, while in part a reaction to riots in Birmingham, Alabama, marked the beginning of a dramatic shift in the president's response to the civil rights movement. For him, no longer was this national issue a passing interest; it had a new focus and presidential commitment to set change in motion. President Kennedy sought much needed help from Martin Luther King Jr., and launched an appeal for national unity as resistance to desegregation fueled social unrest.
On the anniversary of this powerful speech, President Kennedy's words remain ever more striking as they eerily magnify the unresolved civil rights legacies of that decade with the issues of racial injustice we continue to face today. The current outcry spilling across the nation and world are in reaction to yet another brutal and senseless murder of an African American, and the residual impact of a four-hundred-year-old legacy of systemic racial inequality.
President Kennedy's words on June 11, 1963, defined equal rights as intrinsic human rights, declaring that it is an individual and collective moral duty to provide equality to African Americans. These words harnessed inspiration and the call for action from his inaugural Ask Not address and contrast with the state of the nation today. While progress has been made over the last six decades, change has been slow and gradual, and there is much left to be done. The last two weeks of peaceful protests across the country and around the world have awakened us, touched raw nerves and revealed unhealed wounds. They have inspired a world-wide movement to listen, engage, and confront the unspoken biases that have kept us apart.
Today, we at The Sixth Floor Museum re-dedicate ourselves to building stronger civic and community engagement for Dallas, and our fellow citizens. We pledge to hear, to listen to you and to our community. We pledge to offer a safe and open forum for discussion and examination of our shared and unshared history and the legacies of civil rights and social injustices today.
The commitment of The Sixth Floor Museum at Dealey Plaza is to ensure that every aspect of our internal operational practices, our external forms of educational outreach, and our public programming and community engagement activities, all pave the path for social justice.
This is our commitment to building and maintaining a diverse, equitable, accessible and inclusive museum for one and for all.
Nicola Longford, CEO + Board + Staff
September 5, 2019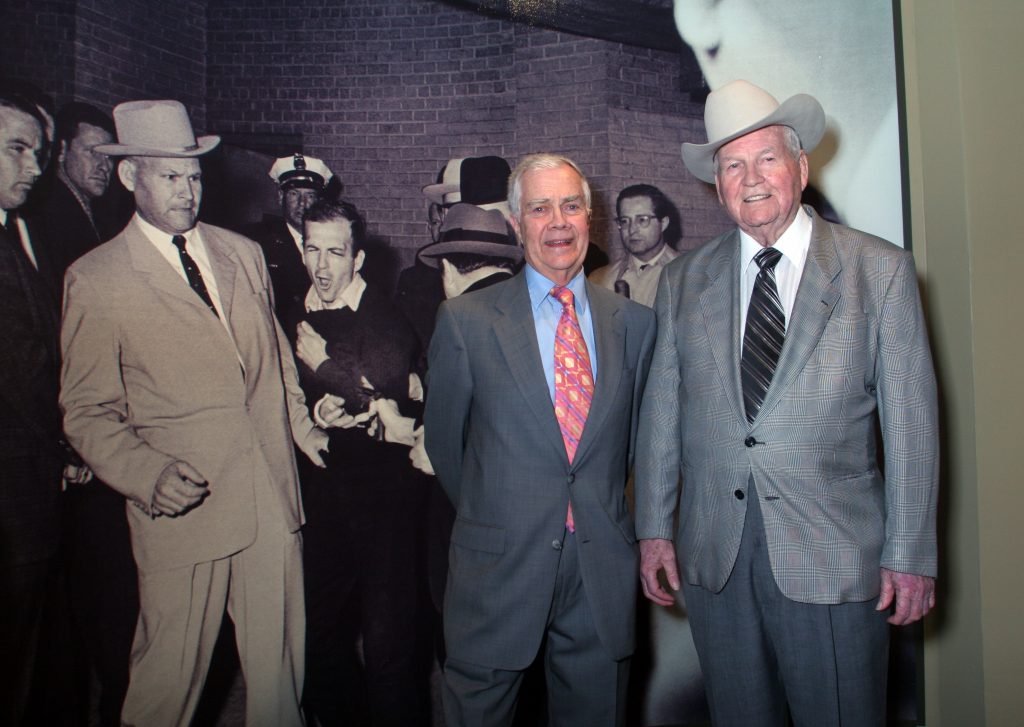 By Stephen Fagin, Curator
Dallas police homicide detective Jim Leavelle recognized the potential for danger on Sunday, November 24, 1963. As suspect Lee Harvey Oswald prepared to make the routine prisoner transfer from city custody at Dallas police headquarters to the Dallas County Jail, Leavelle made a remark that he would vividly recall for the remainder of his long and legendary life: "Lee, I hope if anybody shoots at you [that] they're as good a shot as you are."  Oswald, according to Leavelle, chuckled. It was the only time Leavelle ever saw the alleged assassin of President Kennedy crack a smile. And then, alongside detective L.C. Graves, they made their way downstairs to the basement of police headquarters and stepped into history.
We lost our friend, James R. "Jim" Leavelle on August 29, 2019, just a few days following his 99th birthday. Around the world, people recognize the veteran Texas lawman because of a single photograph that captured a moment in time and came to embody the chaos, violence and uncertainty of a weekend that defined a generation.  Wearing a light-colored suit and cowboy hat, Leavelle twisted his body, still handcuffed to Oswald, with a look of shock and horror on his face. Jack Ruby, local Dallas nightclub owner, had leapt out from a crowd of reporters and shot Oswald at point-blank range. That iconic photograph, taken by Dallas Times Herald staff photographer Bob Jackson, would go on to win the 1964 Pulitzer Prize.
That moment may have made Jim Leavelle famous, but it was his extraordinary life, dry wit and wonderful storytelling that made him a living legend. In my personal experience, I have rarely encountered an assassination researcher, author or dedicated student of the subject who did not meet and visit with Jim Leavelle at some point. Many of them enjoyed lively meals with him at his favorite Dallas restaurant, El Fenix. To say that Jim was giving with his time is an understatement. He was dedicated to honoring interview, program and meeting requests, and he never tired of detailing the same stories over and over again for the benefit of history. Whether it was an audience of one, including at times young elementary school students, or an auditorium full of interested listeners, Jim Leavelle was a gifted storyteller.
He described the shooting of Lee Harvey Oswald like this, during a 2002 oral history with the Museum:
I could see [Jack Ruby's] pistol.  I saw all of that in a flash because remember, I'm alert for these guns because I'm expecting somebody to shoot at him anyhow but not necessarily in the basement….  Of course, I had Oswald right up against me, and I tried to pull him behind me, but all I succeeded in doing was turning his body, so that instead of hitting him dead center, it hit him just about four inches to the left of the navel.  Then, of course, by that time, the officers gathered around there had piled on him and pushed him to the ground.  I reached over and grabbed Ruby by the shoulder, by his left shoulder, and shoved back and down on him, but by the time that happened, the officers had swarmed on him and crushed him to the ground, and so I released him and returned my attention to Oswald….  And when the ambulance pulled in, why, we loaded him in the ambulance, and I crawled in there with him and so did the doctor, and we rode to Parkland with him. 
Jim never subscribed to conspiracy theories, and he often delighted in debating the topic with interested researchers. He even served as a technical consultant to filmmaker Oliver Stone during the making of his 1991 movie, JFK.  He described his on-set experience like this: "Well, I have found out what a technical advisor is.  When they ask you how a certain scene should be played or how it was done…you describe to them the setting of it. If it don't suit their idea, they'll go ahead and do it the way they want to."  Years earlier, Jim even portrayed himself in the 1978 TV movie, Ruby and Oswald.
The Museum will sincerely miss our friend, Jim.  He was truly one of a kind. We extend our sincere condolences to his family and friends, and we are grateful that he shared so many memories with us.
You can see a number of public programs featuring Jim Leavelle on our YouTube Channel.
December 20, 2018
By Stephen Fagin, Curator
The Sixth Floor Museum at Dealey Plaza has lost a dear friend and an important part of early institutional history with the passing of Nancy Goff Cheney. A founding board member of the Dallas County Historical Foundation (which later became The Sixth Floor Museum at Dealey Plaza), Nancy served a vital role as the Dallas County Historical Foundation's direct conduit and liaison to the Kennedy family during the critical development of The Sixth Floor exhibit in the mid 1980s.
Cheney's first encounter with John F. Kennedy took place when the young senator visited Dallas on the 1960 presidential campaign trail; three years later she and one of her daughters, Allison, watched the presidential motorcade pass by on the day of the assassination. In 1979 Allison was responsible for introducing her mother to the Kennedy family after meeting Senator Edward Kennedy at the University of Oklahoma. The Cheney family helped open Ted Kennedy's Dallas campaign office, and Allison worked on Kennedy's staff during his unsuccessful bid for the Democratic presidential nomination in 1980. At the Democratic Convention in New York City that year, the senator invited the family to visit his campaign suite at the Waldorf Astoria.
After learning of Nancy Cheney's connection to the Kennedy family, Lindalyn Adams, a local preservation activist who was spearheading The Sixth Floor Project, briefed her on the plan to open a historical exhibition on the sixth floor of the former Texas School Book Depository building and asked if Nancy would consider passing along information about the Dallas endeavor to Senator Kennedy. Initially, Cheney was hesitant to approach the late president's brother about the exhibit, but out of respect for Adams, she agreed to tour the space and learn more about it. The experience changed her mind, and she immediately agreed to speak with Senator Kennedy in his Washington office.
According to Cheney's oral history with the Museum, when she nervously broached the subject of The Sixth Floor exhibit with Ted Kennedy in his private office, the senator's face "turned the color of a [white] sheet." She explained that hundreds of thousands of individuals visited Dealey Plaza every year in memory of the late president with flowers and prayers, wondering "why Dallas hasn't done something at this place to honor the president." When she finished her presentation, Kennedy replied, "Nancy, I have all the confidence in the world in you, and if you say it's going to be all right, I know that it will be."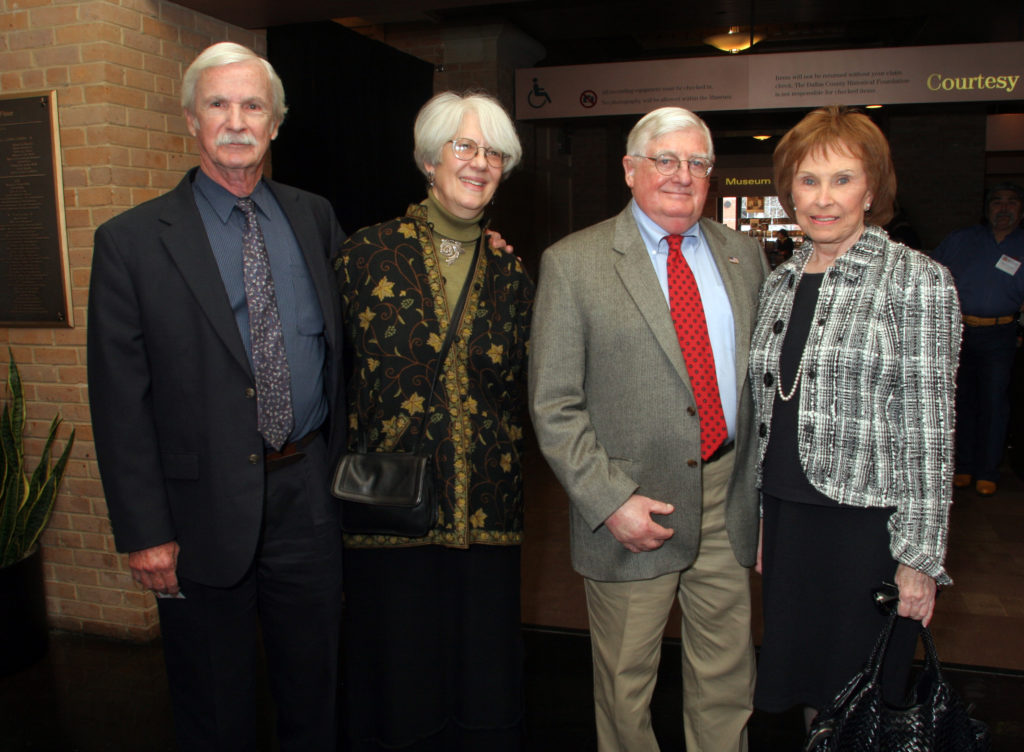 After that meeting, Cheney regularly briefed Melody Miller, the senator's senior aide, who compiled a file for Kennedy's perusal. Before returning to Dallas, Cheney also briefed Senator Kennedy's brother-in-law, Stephen Smith, who volunteered to inform Jacqueline Kennedy Onassis about the planned exhibit in Dallas. When Cheney returned home, she accepted a position on the foundation's board, and, feeling a sense of great personal responsibility because of the faith that the Kennedys had placed in her, decided "to take a very active role in the planning of the exhibit."
In the years since the 1989 opening of The Sixth Floor, Nancy Cheney remained a good friend to our institution and a familiar face at exhibit openings and programs. Her presence here will be missed. The Sixth Floor Museum at Dealey Plaza is grateful for her many contributions to our institutional history, and we offer our sincere condolences to her friends and family members.
June 28, 2018
By Stephen Fagin, Curator
The assassinations of Martin Luther King Jr. and Robert F. Kennedy impacted millions around the globe, bookending for many a five-year period of violence and social unrest that began with the tragic death of President John F. Kennedy on November 22, 1963. Although Martin Luther King Jr. and Robert Kennedy are not often associated with the Dallas/Fort Worth area, which remains so intrinsically linked to the assassination of President Kennedy after nearly fifty-five years, the lives—and deaths—of these extraordinary leaders touched the local community in unique and profound ways.
Robert Kennedy never came to North Texas after his brother's tragic death in 1963. However, while serving as counsel to the Senate Labor Rackets Investigating Committee in 1959, Robert Kennedy spoke in Dallas at a conference of the Texas Junior Bar Association. It was his only known visit to the city.
In 1959, Dr. King visited Fort Worth and spoke to a crowd of 400 at the Majestic Theater. King's only speech in Fort Worth was one block away from where President Kennedy would deliver his last speech at the Hotel Texas four years later. Speaking invitations brought Dr. King to Dallas four times between June 1957 and September 1966. His earliest visit, before a crowd of more than 10,000, took place at Memorial Auditorium—the same venue where Senator John F. Kennedy would speak to local supporters three years later during the 1960 presidential campaign. Dr. King also spoke at the Texas State Fair Music Hall and at Southern Methodist University, where he concluded his remarks to a standing-room-only audience by quoting the same spiritual he cited during the March on Washington: "Free at last. Free at last. Thank God Almighty we are free at last."
Following their assassinations in 1968, both Martin Luther King Jr. and Robert Kennedy were mourned by the local community in large and small ways. Three days after King was assassinated, an interfaith memorial service was held in his memory at the Peoples Baptist Church in Dallas on April 7, 1968. Attended by thousands, the program featured many of the same speakers who had paid tribute to President Kennedy in 1963, including Mayor J. Erik Jonsson, Rabbi Levi Olan and Reverend Louis Saunders, who had performed Lee Harvey Oswald's funeral services in Fort Worth. Prior to this official interfaith service, a group of approximately 300 marched around El Centro College in downtown Dallas in memory of Dr. King.
In Fort Worth, a wave of emotional shock and sorrow spurred concerned civic leaders to create a committee for coordinating city agencies in a unified effort to address race relations. Memorial observances were held at Texas Christian University where 300 students and faculty eulogized Dr. King and established a scholarship for an African American student in his honor. On Palm Sunday, April 7, approximately 2,000 gathered for a citywide memorial service held in the Daniel-Meyer Coliseum at TCU.
Reporting from Memphis, where Dr. King was assassinated, United Press International reporter Louis Cassels briefly turned his thoughts toward Dallas, noting that the Memphis community was experiencing firsthand how Dallas felt following the death of President Kennedy. Acknowledging that "it could happen anywhere," Cassels wrote that "it takes just one hate-filled man with a rifle to plunge a nation into tragedy and a city into shame—as Dallas learned before Memphis."
Cassels was prophetic in the idea that violence could happen anywhere, as the assassination of Robert Kennedy in Los Angeles sadly proved just two months later, on June 5, 1968. Upon news of Robert Kennedy's death, officials in Fort Worth set up a memorial fund to provide an avenue "for those who wanted to express their faith in the ideals of Kennedy." In Dallas, Kennedy was memorialized at an interfaith service similar to that of Dr. King, as hundreds gathered at St. Matthew's Episcopal Cathedral to pay their respects. Elsewhere in the community, the local chapter of sorority Theta Nu Sigma turned their scheduled Citizenship Award Banquet into a tribute to the late senator by specifically honoring African American activists. Jewel Williams, president of the organization, spoke for many in Dallas when she noted that "real mourning is a vital expression that moves people forward and pushes them into the challenges with which they live."
These artifacts are on display as part of Rebel Spirits: Robert F. Kennedy and Martin Luther King Jr., a special temporary exhibit on the Museum's seventh floor. Copies of the news clippings referenced above are also available for viewing at the Rebel Spirits exhibit. On view through September 3, 2018, Rebel Spirits is included with Museum general admission.