March 14, 2018
by Stephen Fagin, Curator
In the days following the Kennedy assassination, more than 300 members of the world press crowded the corridors of Dallas police headquarters, shouting questions at suspect Lee Harvey Oswald and pressing law enforcement for opinions on the case. The Warren Commission in 1964 criticized the media for their part in a frenzied, largely unchecked situation that climaxed with Jack Ruby's shooting of Oswald. City leaders, fully aware of Dallas's tainted reputation following the events of that fateful weekend in November 1963, hoped that Ruby's 1964 murder trial would be handled with far more decorum and security.
Recognizing that hundreds of journalists would cover the trial, Sam Bloom, president of a prominent Dallas advertising agency, offered his services to Judge Joe B. Brown of Criminal District Court No. 3. It was unprecedented for a PR firm to represent a judge, and Bloom faced direct criticism when he testified at a change-of-venue hearing prior to the trial. With more than 300 requests for only forty-eight seats reserved for media, Defense attorney Joe Tonahill accused Bloom of favoring reporters "sympathetic to Dallas." Bloom denied this, noting that his firm merely handled logistics and credentials, though Bloom employee Helen Holmes did advise Judge Brown and draft his public statements. Media pressure ultimately led Brown to use a larger courtroom for the trial where at least 150 reporters could be seated.
This photograph, taken through the window of the courtroom door, shows defense attorney
Melvin Belli questioning PR executive Sam Bloom on the witness stand.
The day press credentials were issued, Helen Holmes recalled, "there was a stampede." For added security, journalists were required to wear photographic identification badges, though only the largest news organizations could quickly produce small ID photos for their reporters. The courthouse arranged a checkpoint where everyone, including press, was searched before entry. Though commonplace today, this type of security was new in 1964; some, including syndicated columnist Dorothy Kilgallen, found the whole process comical. Early in the trial, deputy sheriffs confiscated a pocketknife from KRLD-TV sketch artist Ken Hansen, which he needed to sharpen his art pencils. He began pre-sharpening both ends of every pencil to avoid future problems.
Columnist Dorothy Kilgallen smiles as she is searched prior to entering the courtroom.
A probate courtroom was transformed into an international press room with typewriters, twenty Western Union teletype machines and thirty telephones, some with new direct-dialing (non-operator) service. Experienced teletype operators were always on hand, promising an average of sixty words per minute, though few were prepared for the numerous foreign language requests. One operator grew familiar with the word "geschworenenkandidat," which is "prospective juror" in German.
Some of the thirty telephones installed in the Ruby trial press room.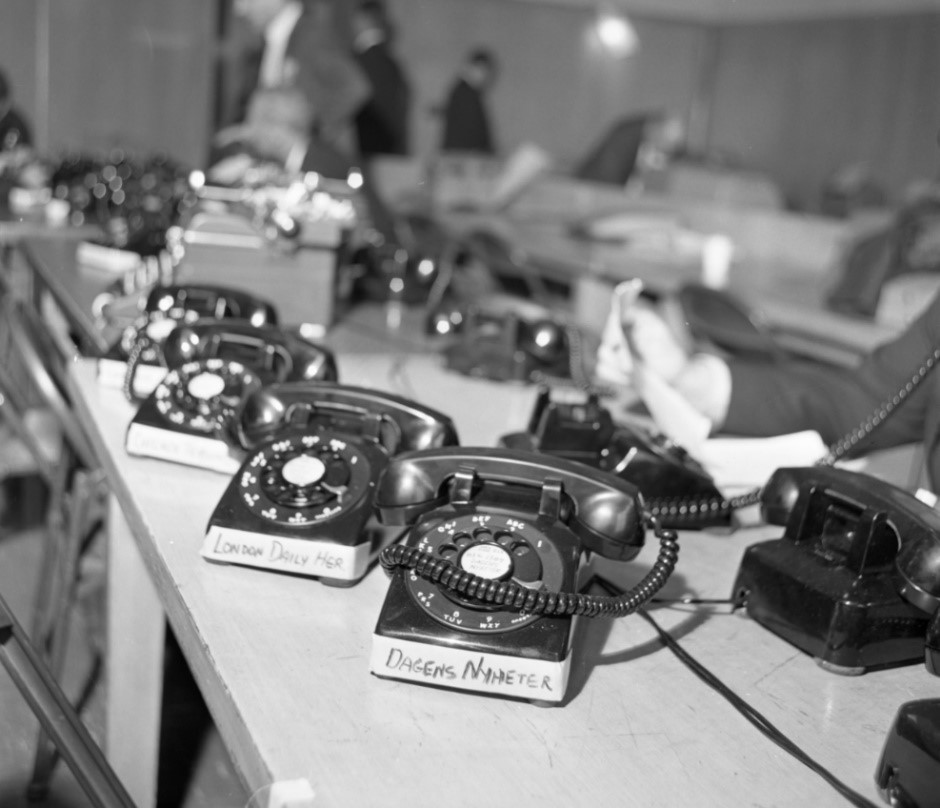 The Dallas Morning News reported that the courthouse had "an international flavor," with Swiss, French, Swedish, British, Polish, German, Australian, Bulgarian, Mexican and Canadian press mingling with local and national journalists in the press room. CBS commentator Eric Sevareid noted at the time that the "camaraderie [of local reporters] both beguiles and astounds the European journalists covering the trial."  There was a definite distinction between the relaxed informality of Dallas reporters accustomed to covering the courthouse and those who flew in specifically to cover the Ruby trial, sometimes arriving with negative preconceived notions about the city. Helen Holmes remembered having a reporter from French weekly magazine L'Express physically removed from her PR office. "He was screaming at me," she recalled in an oral history. "He was yelling at me that he was going to ruin me in Europe because I wasn't being cooperative enough."
Some national and international reporters pushed the boundaries of professionalism during the trial. Defense attorney Phil Burleson often received phone calls in the middle of the night from reporters needing to confirm information for pressing deadlines. Defense investigator Bob Denson abandoned his Dallas office to work out of his home because reporters consistently stopped by with questions. Assistant District Attorney Bill Alexander was vocally critical of what he considered "unfair, sloppy" news stories. In a talk given two weeks after the verdict, he lamented, "they reported what they wanted to see and what they wanted to hear rather than the events that happened."  Echoing some of the sentiments expressed by Dallas D.A. Henry Wade, Alexander went on to say that the press "came late, left early and wrote their reports from what they heard at the Press Club."
Always jockeying for position, there was occasional friction between print, radio and television journalists. Carrying only a portable tape recorder, Gary DeLaune, police reporter for Dallas radio station KLIF, grew frustrated by television technicians wielding large boom microphones. He used the wooden slats of an orange crate to rig a homemade boom mic. "Every day when the network guys would gather around," he recalled, "I got a chair and I'd start putting that slat over so I could get the audio, and these guys would swear at me."  News photographers also got creative since no cameras were allowed in the courtroom. To get good overhead shots without reporters in the way, a few cameramen taped flashes and remote-operated cameras to hallway walls. In a rare moment of solidarity, network television crews worked together to properly light the main hallway for their bulky cameras. "We had one master switch," recalled ABC broadcaster Murphy Martin. "Didn't have to wait for proper lighting or worry about anything like that, and that was the first time that I had been in a situation like that."
Cameramen gather in the courthouse hallway. Note the lights and camera taped to the wall.
The one occasion when cameras were permitted inside the courtroom was on March 14, 1964, for the trial verdict. Martin, a longtime friend of the judge, was the one who finally convinced Brown to televise that significant moment. Martin and Brown established "some ground rules as to how [the press] would conduct themselves."  Unfortunately, before an audience of millions, all decorum broke down as soon as the guilty verdict was read. Martin recalled that cameramen "just jumped up on the furniture."  PR advisor Helen Holmes had recommended that the verdict not be televised, fearing that the jurors would be overwhelmed by reporters. Instead, she was shocked when live cameras caught lead defense attorney Melvin Belli deliver an impromptu and unhinged rant against Dallas, which he declared "a city of shame forevermore."  Holmes remembered, "He had all these bright lights on him, and his face was just sweating. You could practically see the spittle."
Analysis of the trial's unprecedented media coverage was swift in the aftermath. Journalism professor J. Edward Gerald at the University of Minnesota suggested that such "publicity [was] altering the jury system, making it unnecessarily expensive, cumbersome to administer and less trustworthy than justice requires."  The American Bar Association suggested "an urgent need for voluntary restraints" without advocating press censorship or restrictions. The American Civil Liberties Union simply stated "that court proceedings should not be broadcast, televised or photographed."
Just as the Kennedy assassination altered the way in which breaking news stories are covered, the Jack Ruby trial impacted the way in which the media reports on high-profile court cases, right up to the present day. For those who lived through that hectic, historic experience fifty-four years ago, it was, if nothing else, unforgettable. Helen Holmes concluded, "I think almost everybody connected with the Ruby trial, at one time or another, felt the pressure of the press."
Note: This blog quotes interviews from the Oral History Project at The Sixth Floor Museum as well as contemporary newspaper accounts. Access to these and other Museum collections is available by scheduling a research appointment in our Reading Room.
January 29, 2018
In planning Mourning a President, an exhibit about the funeral of John F. Kennedy, it was fitting that an American flag was selected as a key focal point. Prominently displayed is the flag that flew over the U.S. Senate during the period of mourning following the assassination of President Kennedy. This is the first time that this 15- by 10-foot flag, which is part of the Museum's vast collection, has been on view fully unfurled since 1963.

The U.S. Senate wing flag is displayed on the seventh floor of The Sixth Floor Museum at Dealey Plaza.
The largest and most striking object in the temporary exhibit, this flag was hoisted above the Senate wing of the U.S. Capitol building on November 7, 1963 as a matter of routine. When news of the assassination of President John F. Kennedy reached Washington, D.C. on November 22, the flag was lowered to half-staff, and it remained that way until it was lowered on December 22, at the close of the official month of mourning. While this flag did not play a formal role in the funeral, it was a prominent symbol of the nation's grief on the grounds of the U.S. Capitol.
When installing a historic artifact for public viewing, the desire is to make an object as accessible as possible while protecting it from damage – be it from environmental elements such as light or from risks associated with the display methods. The flag provided a unique challenge, due to both its size and age.

A textiles conservator carefully prepares the U.S. Senate wing flag for installation as part of the Mourning a President exhibit
In the exhibit's planning phase, the Museum's Collections staff enlisted a textiles conservator to examine the historic flag to help determine if it could be safely displayed. In February 2017, this critical assessment took place in a public space where Museum visitors were intrigued to witness the process. Assured the flag's physical integrity was intact, staff proceeded with plans to install the flag in the future exhibition. "It's in very good shape structurally. There was some discoloration, mainly in the center of the flag, which is common when textiles are in storage," says Lindsey Richardson, Curator of Collections. "Stains were present on the flag when it was acquired by the Museum, and we can only speculate as to their origins."
It was important that the manner of hanging the flag in the exhibit comply with advisory rules for display and care of the U.S. flag set out in the United States Flag Code, while at the same time ensuring the safety and long-term preservation of the flag as a museum artifact. Mounted from a custom-made rod and sleeve that both support the flag's structure and allow it to extend freely from the top, the fully unfurled flag provides a striking centerpiece to the exhibit. Museum visitors are able to view and appreciate the flag in its entirety, while its safety and preservation needs are addressed by controlled lighting and a barrier rail.
When the exhibit closes, the flag will be cleaned and carefully stored using archival-grade materials, preserved for future generations as an important symbol of the death of one of this great nation's most revered leaders.
The U.S. Senate Wing Flag will be on display as part of the Mourning a President exhibit until February 19, 2018.
Author's Note: In 1954, President Eisenhower issued Proclamation 3044, which established federal guidelines for the display of flags at half-staff for national leaders and other officials as a mark of respect to their memory. The proclamation specified that upon the death of a president or former president, the flag must remain at half-staff for a thirty-day period. The assassination of President John F. Kennedy was the first presidential death following the proclamation, making Kennedy the first for whom the month of mourning was observed.
Additional information about what the American flag symbolizes can be found here.
January 19, 2018
The world was shocked by the astonishing, violent act of the assassination of President John F. Kennedy on November 22, 1963. Many of those grieving chose to express their feelings through song, poetry, art and musical scores — all created to memorialize President Kennedy. The artistic contributions of Kennedy's admirers after his death provide a deeper understanding of how the world felt following such a tragic loss.
Songs have been sung about Kennedy, his assassination or the events surrounding it, such as Mr. John (1964) by songwriter William Spivey. In the Summer of His Years was written by Herb Kretzmer and composed by David Lee just hours after Kennedy's death, and performed by Millicent Martin on the BBC on November 23, 1963. Since then, it has been performed by a number of other artists, including Connie Francis, who donated proceeds from her recording to the J.D. Tippit Benefit Fund, supporting the family of the Dallas police officer who was slain in the Oak Cliff section of the city less than an hour after the assassination.
He Was a Friend of Mine, re-written by The Byrds to lament Kennedy's assassination, appeared on their album Turn! Turn! Turn! in 1965. Son House performed a moving and sad lament for the late president aptly called President Kennedy, also released in 1965. Additional songs in the 1960s include Crucifixion by Phil Ochs in 1966 and Abraham, Martin and John, authored by Dick Holler and performed by Dion in 1968 about American leaders who were assassinated.
Musical scores that were composed after President Kennedy's assassination in 1963 include A City Mourns (for John F. Kennedy) by Dorothy Elliot and The Kennedy March, written by Joe Meek and performed by the Joe Meek Orchestra. In 1964, Remembrance: John Fitzgerald Kennedy by Fred Wirtz and William Steffe was published, and three years later, Oliver Nelson unveiled The Kennedy Dream, a tribute album with eight original tracks, including Day in Dallas, Let the World Go Forth and Jacqueline.
The Kennedy Dream by Oliver Nelson (1967)
President Kennedy was known to enjoy reading poetry, so it is fitting that a number of poignant poems were penned in his memory. One of them, Six White Horses, was written about his funeral by a fifteen-year-old named Candy Geer. The illustrated, published version of this poem is on view through February 19, 2018 as part of Mourning a President, a temporary exhibit about the funeral of John F. Kennedy, on the seventh floor of the Museum.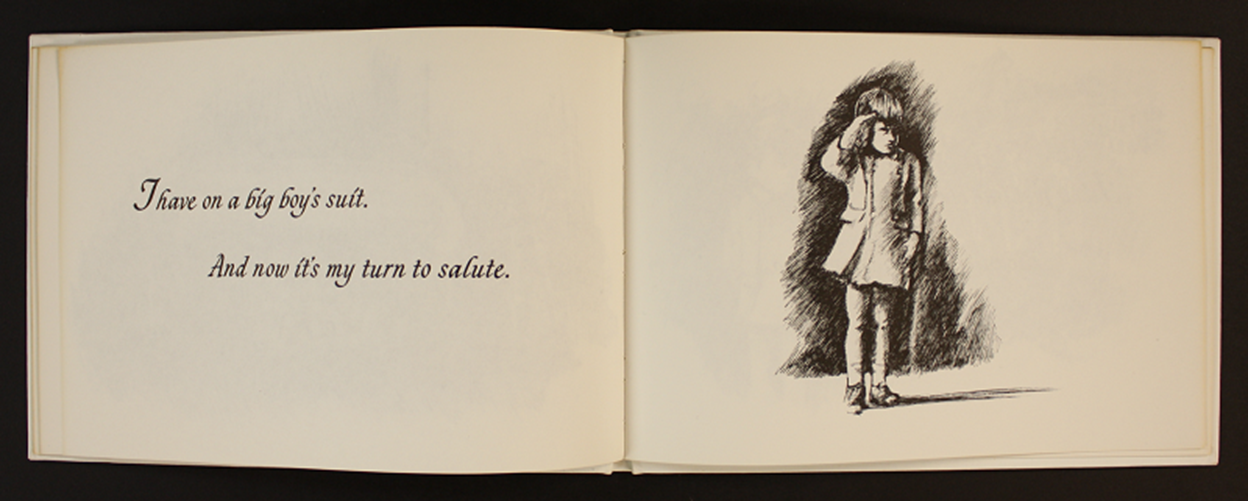 A page of Six White Horses by Candy Geer. Joseph Bastian Collection/The Sixth Floor Museum at Dealey Plaza
Other poems and collections of poems have been written in response to the assassination of John F. Kennedy. November Twenty Six Nineteen Hundred and Sixty Three was authored by Wendell Berry and illustrated by Ben Shahn (1964) and Poems in Memory of John F. Kennedy by Virginia P. Keinz (1967).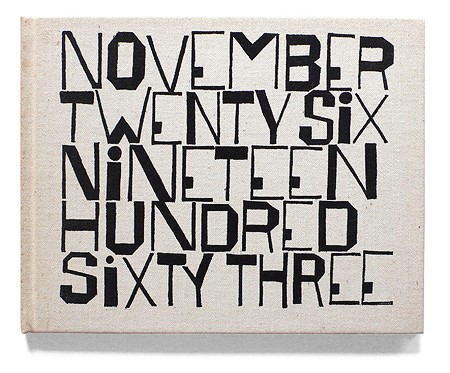 November Twenty Six Nineteen Hundred and Sixty Three by Wendell Berry and Illustrated by Ben Shahn (1964)
To this day, active and creative forms of expression inspired by Kennedy's legacy continue to shape our collective image and memory of the fallen president. The Sixth Floor Museum actively collects many of these multi-dimensional artistic and personal reactions to the assassination. This blog shares just a tiny selection of individual responses from the 1960s decade. The Museum has many artistic pieces not discussed in this blog available for researchers to view, including original art, some of which are on display in the temporary exhibit Mourning a President. If you would like to learn more about other JFK-inspired forms of artistic expression created over the last fifty-four years, please contact the Museum's Reading Room Librarian here, to schedule an appointment or discuss related materials in our collection.
January 4, 2018
Once every ten years, collections staff at The Sixth Floor Museum conduct something called a "wall-to-wall inventory" – it's a way for staff to account for every item in the Museum's permanent collection. In 2016, the Museum received a Museums for America grant from the Institute of Museum and Library Services (IMLS) to help fund such an inventory. Intended to be a three-year project, the Museum started its latest inventory project in October 2016. Our Curator of Collections, Lindsey Richardson, oversees the project. Her first step was to hire two full-time Inventory Technicians – Anne Hanisch and Jennifer Browder. This is the team that will carry our project through from start to finish.
A wall-to-wall inventory is just what it says: a count of every single collections item in the Museum's storage spaces. "Inventory is an important standard in museum collections management because it helps maintain intellectual control over collections," says Lindsey.
"The collection is already really well-organized. There are at least 50,000 items, and we expect that number to increase as we go. This year alone, we have inventoried 15,000 items," adds Anne.
Caption: Anne Hanisch (left) and Jen Browder (right) inventory items at The Sixth Floor Museum at Dealey Plaza.
Lindsey explains, "It's important that we know exactly what we have, where it is, and if there are any storage issues that need to be addressed. In general, the standard has been for museums to conduct a complete wall-to-wall inventory on a regular, cyclical basis – in our case, every 10 years." Thanks to the IMLS grant, The Sixth Floor Museum can add a few extra steps to the usual inventory procedures. "Instead of just counting everything and matching to existing data, we are also processing unnumbered items." Lindsey goes on, "So, at the end of the inventory, every item in our collections should have both a number (that will make tracking and finding it much easier) and a basic record in the database (which makes searching the contents of our collections infinitely easier)."
Jen explains further. "For example, one of the items we've come across is a board game – it didn't have a number. Since the board game is an item, it gets an object number. Each little part that comes with the board game, such as the dice, cards and tokens, also needs to be accounted for, so each is assigned a part number. That way they are still connected to the game as a whole but are also accounted for as individual items in our collection."
Caption: This board game from the 1960s comes with many parts such as dice, cards and playing pieces. Jen and Anne inventoried every single part associated with the object.
Jen also points out the care and attention to detail they and other members of collections staff practice in order to preserve, document and store objects in the collection: "We house every single object in archival materials so that they'll be preserved for as long as possible. Hopefully, these 50+-year-old objects will remain in good shape so that multiple generations after us can still access them and learn from the stories and history they represent."
This type of detail-oriented work can be difficult, but Anne and Jen are up to the challenge. The goal for the three-year project is to account for every item in The Sixth Floor Museum's collection at every location where collections are stored. The team has already made great progress and other members of the collections department are happy to see the connections made between collections items and the improved quality of data for items already inventoried.
Both Jen and Anne are familiar faces at The Sixth Floor Museum. Anne previously worked in the Museum Store + Café, and Jen interned at the Museum while she was in high school. They both knew that they wanted to end up working in collections, and their degrees in history and museum studies have prepared them for the work they are doing at the Museum. They're happy that the work they're doing over the course of this three-year grant will have such a large impact.
"I think people need to understand how large a museum's collection is. What you see on the surface, or what you see on display at the museum, is the tip of the iceberg. Since the museum wants to preserve and make accessible everything in collections, the things on display are the most obvious form of access. The rest, all the other collection items we have in storage, are hidden from view," says Anne, "Because that's the best way to ensure their preservation."
Caption: Anne examines documents from The Sixth Floor Museum's collection.
For the next two years, Jen and Anne will continue to work toward ensuring our collection is completely inventoried, with accurate data and archival, well-organized storage. And if you're wondering about all the interesting objects they get to inventory, they love that part of their job, too.
"The coolest part about our job is we will get to handle every single one of those objects. So, it's a large task, but it's a very important task," says Jen. Anne says it's super-exciting to be working on an IMLS grant, especially for self-proclaimed history nerds like themselves. They wouldn't want to be doing anything else.
This project was made possible in part by the Institute of Museum and Library Services MA30-16-0215-16.
The views, findings, conclusions or recommendations expressed in this article do not necessarily represent those of the Institute of Museum and Library Services.