December 21, 2017
By Stephen Fagin, Curator, The Sixth Floor Museum at Dealey Plaza
As we look ahead to the 55th anniversary of the Kennedy assassination next November, the ongoing Oral History Project at The Sixth Floor Museum at Dealey Plaza continues to gather unique perspectives on President Kennedy and the history and culture of the 1960s. Unfortunately, the passage of time inevitably means that we lose valued storytellers who have contributed memories to this ever-growing archive of "living history." Between December 2016 and December 2017, we recognize the passing of a record number of oral history participants. We would like to acknowledge those who have helped us build a more complete and personal portrait of the time period.
In December 2016, we lost longtime Southern Methodist University professor Marshall Terry. Terry recalled being concerned about political extremism in Dallas in the early 1960s. Local resident Mickey Greer witnessed this firsthand when she saw protestors heckle U.N. Ambassador Adlai Stevenson in October 1963. That negative atmosphere inspired Greer to become more politically and socially active, much like Kennedy campaign volunteer Janet Cormier and civil rights activist Opal Mitchell Lee, who participated in several sit-ins. Future mayor Robert Folsom was president of the Dallas school board in the early years of desegregation. He worked with fellow board member Bill Hunter, whose son was born at St. Paul Hospital in Dallas on November 22, 1963.
Eight-year-old Bill Paxton sits atop a stranger's shoulders while listening to President Kennedy in Fort Worth. Gene Gordon Collection/The Sixth Floor Museum at Dealey Plaza 
The evening before the assassination, President Kennedy spoke at the annual conference of the League of United Latin American Citizens (LULAC) in Houston, where Roy R. Botello captured a color home movie. When the Kennedys arrived in Fort Worth late that night, Bettye Baccus was there to shake their hands. She saw the president again the next morning when he spoke outside the Hotel Texas. Actor Bill Paxton, an eight-year-old in that crowd, sat on a stranger's shoulders for his chance to see President Kennedy. Fort Worth natives Elizabeth Sullivan and Cecile McKenzie were too busy working that day to go to the Hotel Texas. In November of this year, we lost these lifelong friends—both at age 106—within a week of each other.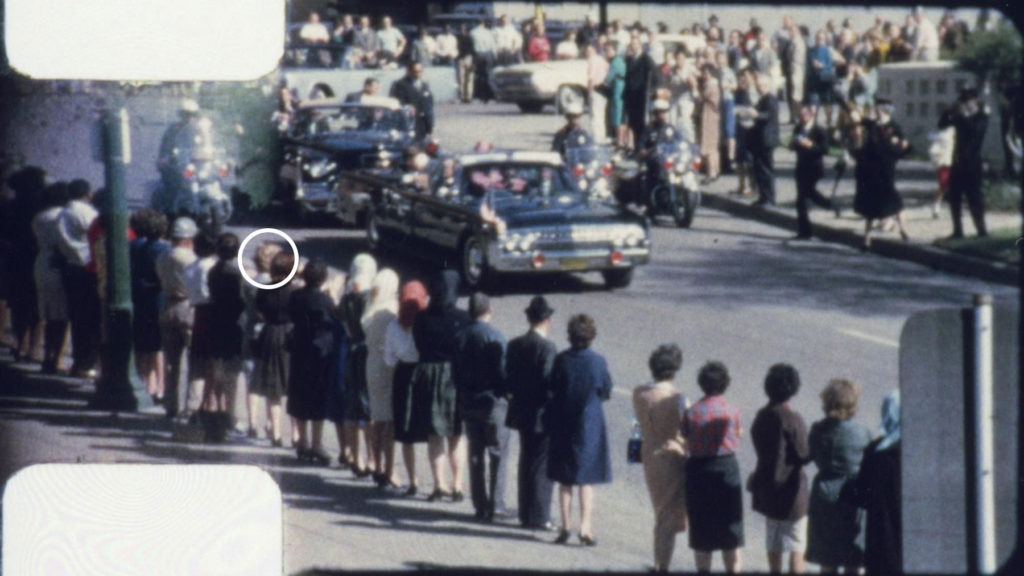 Mary Woodward Pillsworth witnessed the assassination from the north side of Elm Street. Zapruder Collection/The Sixth Floor Museum at Dealey Plaza
From Fort Worth, the Kennedys flew to Dallas Love Field, where high school student Sherry Simmons cheered their arrival. Thousands lined the motorcade route, including WFAA Radio employee Richard Bove, as the parade made its way to Dealey Plaza. Dallas Morning News reporter Mary Woodward Pillsworth was on her lunch break when she witnessed the assassination. On the scene immediately, Dallas County deputy sheriff Eugene Boone searched the nearby rail yards and later discovered a rifle on the sixth floor of the Texas School Book Depository.
Bob Welch captured the only sound recording of President Kennedy's death announcement at Parkland Hospital. He is pictured here as the cameraman. Dallas Times Herald Collection/The Sixth Floor Museum at Dealey Plaza
The motorcade sped toward Parkland Memorial Hospital, as witnessed by Dallas resident Robert S. Richardson. Following close behind was WBAP reporter Bob Welch, delivering one of the first reports of the shooting. At Parkland, Welch captured the only known sound recording of the official announcement of President Kennedy's death. People everywhere soon learned of the assassination, including those gathered at the Dallas Trade Mart for the scheduled presidential luncheon. Longtime Dallas Times Herald women's news editor Vivian Castleberry was there, assigned to cover Jackie Kennedy's visit to the city, along with Jean Kerr, who had been asked to sing the national anthem that day.
Vivian Castleberry takes notes during a moment of prayer at the Dallas Trade Mart luncheon.  William E. Cooper Collection/The Sixth Floor Museum at Dealey Plaza
Lee Harvey Oswald was arrested that afternoon inside the Texas Theatre in Oak Cliff.  Joan Bickerstaff Nichols was on her way to the theater to visit her friend, cashier Julia Postal. In the hours after Oswald's arrest, hundreds of journalists descended on Dallas, including New York Times reporter John Herbers and New York Herald Tribune reporter Maurice "Mickey" Carroll. On Sunday, Carroll witnessed local nightclub owner Jack Ruby shoot Oswald in the basement of police headquarters. One of Ruby's exotic dancers, Joyce Gordon (aka Joy Dale) was among the first to be interviewed on television about her boss. The following day, noted philanthropist Ruth Altshuler was part of the Dallas County Grand Jury that indicted Jack Ruby for the murder. At Ruby's trial in early 1964, KRLD-TV art director Charles Fisher served as a courtroom sketch artist. While Ruby was incarcerated at the Dallas County Jail, he was photographed by UPI freelance photographer Shelly Katz, who had previously covered Sen. John F. Kennedy during the 1960 presidential campaign.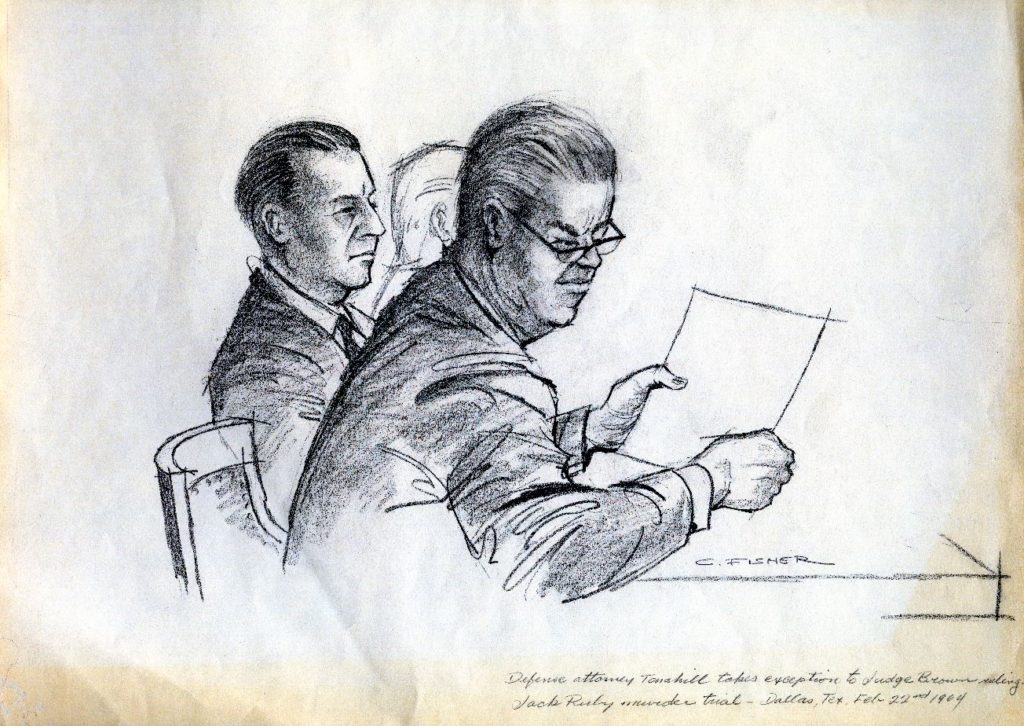 KRLD-TV art director Charles Fisher made this sketch of Jack Ruby and attorney Joe Tonahill during the 1964 Ruby trial. Charles Fisher Collection/The Sixth Floor Museum at Dealey Plaza
Many local residents sought to memorialize President Kennedy and rehabilitate the Dallas image. Music teacher Dorothy G. Elliott wrote a choral piece, "A City Mourns (for John F. Kennedy)," and sent a copy of the sheet music to Mrs. Kennedy. Dallas Times Herald editor Bert Holmes championed the Goals for Dallas project, launched one year after the assassination, while social activist Marjorie Westberry founded a local chapter of the National Organization for Women. Noted architect Philip Johnson ultimately designed the city's official memorial to President Kennedy. Architect and author Frank Welch extensively studied Johnson's career and helped explain the meaning and significance of the John F. Kennedy Memorial. At the site of the assassination, many wanted the Texas School Book Depository torn down, though the building was ultimately preserved and a historical exhibit developed for the sixth floor. National Parks Service administrator Richard Sellars became an exhibit consultant and vocal supporter in the 1980s. In more recent years, SMU associate professor Dennis Simon worked with The Sixth Floor Museum on numerous occasions, including educational workshops exploring civil rights and the cultural impact of U.S. presidents.
Lingering questions about the death of President Kennedy inspired a generation of authors, filmmakers, and researchers. This year we lost Lincoln Endelman, who worked for two decades with Roland Zavada, a Kodak engineer who authenticated the Abraham Zapruder film. Author Jim Marrs wrote about that famous home movie in his 1989 bestseller, Crossfire, part of the basis for Oliver Stone's JFK (1991). Included in Marrs' book is the story of Bethesda Naval Medical Center petty officer Dennis David. His observations of President Kennedy's casket on the night of the assassination became a point of controversy among researchers.
Everyone has a story to share, and we are grateful to these individuals for providing memories that will benefit students, researchers and historians around the world.  If you would like to add your voice to our ongoing Oral History Project, please contact OralHistory@jfk.org.
December 12, 2017
If you're looking for interesting, unique gifts this holiday season, stop by the Museum Store + Café, located adjacent to The Sixth Floor Museum at Dealey Plaza on the corner of Elm and Houston St. in downtown Dallas. You'll find just the right gift for anyone who made your nice list this year, with items you won't find elsewhere. Plus, you can feel good about your purchases knowing they directly support Museum exhibits and programs.
If you're looking for interesting, unique gifts this holiday season, stop by the Museum Store + Café, located adjacent to The Sixth Floor Museum at Dealey Plaza on the corner of Elm and Houston St. in downtown Dallas. You'll find just the right gift for anyone who made your nice list this year, with items you won't find elsewhere. Plus, you can feel good about your purchases knowing they directly support Museum exhibits and programs.
President Kennedy's Favorite Fragrance

Eight & Bob Cologne gift set
The Museum Store + Café offers two of President Kennedy's favorite fragrances. Eight & Bob was introduced onto the market after a young John F. Kennedy met Albert Fouquet, the son of a Parisian socialite, while on a trip to France. Kennedy liked Fouquet's cologne so much that upon his return to the United States, he asked Fouquet to send eight samples of the fragrance to him, and "if your production allows, one for Bob." Hence the name "Eight & Bob." The fragrance comes in a beautiful book display that explains the fragrance's origin story and makes an excellent gift. It is priced at $175.
 Ornaments

Christmas ornaments featuring Dealey Plaza and the JFK Centennial (1917-2017)
The Museum Store + Café has a wide variety of ornaments, including White House ornaments and Texas ornaments made by local artisans. Buy an ornament that reminds you of your trip to the Museum to hang on your own tree, or gift one to a friend!  Whether you would like to remember Dealey Plaza or the John F. Kennedy Centennial, both are available at the Museum Store + Café and come in beautiful boxes perfect for holiday gifting. These ornaments are priced at $24 and $22, respectively.
Louis Sherry Chocolates

Louis Sherry Chocolates, shown here in Orchid and Nile Blue tins
When in the White House, John F. Kennedy's favorite lunch was known to be grilled cheese and tomato soup with Louis Sherry vanilla ice cream for dessert. President Kennedy is said to have gifted a beautiful orchid tin of Louis Sherry's chocolates to Jackie, but she was also fond of the Nile Blue colored tin herself. Both colors are available in two-piece and twelve-piece tins. The smaller tin costs $8.50 and would make a lovely stocking stuffer, while the twelve-piece tin, priced at $35, is a beautiful gift by itself. The Museum Store + Café also stocks the Diana Vreeland red tin if you desire a more festive color.
Caroline Kennedy's Christmas Book

"A Family Christmas" by Caroline Kennedy
Caroline Kennedy provides an exclusive look into Christmas with the Kennedy family in her book: "A Family Christmas." The book would make a beautiful gift, and it is filled to the brim with Kennedy holiday favorites, including poems, songs and traditions that the Kennedy family celebrated together during this season. "A Family Christmas" is priced at $26.95.
Toiletries fit for a President

Caswell-Massey Jockey Club Aftershave and Presidential Bath Soap
The Museum Store also carries Caswell-Massey, a brand that has been crafting fine toiletries since 1752, and supplying them to U.S. Presidents since George Washington. Two box sets including three bar soaps of President Kennedy's favorite fragrance, Jockey Club, or a mix of the three scents preferred by Kennedy, Washington, and Eisenhower are available for $30.  The store also carries aftershave and cologne in President Kennedy's favorite scent, priced at $38 and $44, respectively.
Jackie's Favorite Candles

Rigaud candles in Jackie's favorite scent, Cypres
Jackie was renowned for her exquisite taste and impeccable style. Jackie studied at the Sorbonne in Paris, spoke fluent French, and was known to enjoy luxury French items, like the classic she is credited with bringing to the White House, the Rigaud Candle. Jackie's favorite candle, Cypres, a luscious Mediterranean scent, is perfect for burning during the holidays. Known for their beautiful and strong fragrances, Rigaud candles will delight anyone who receives them, especially those with a taste for the finer things. Priced at $70-$99, depending upon size.
*Prices and availability of above items subject to change.
November 22, 2017
The world was shocked by the assassination of President John F. Kennedy on November 22, 1963, in Dallas, Texas. Reported across the globe, the news of President Kennedy's death eclipsed all other events that took place that day. Here are some things you may not know about that day:
1. Prior to President Kennedy's assassination, top news stories for November 22 included the Coast Guard recovering wreckage from a U2 plane near Key West, the AFL-CIO calling for a strike in favor of a proposed 35-hour workweek, and the reporting of the November 21 death of Robert Stroud, the "Birdman of Alcatraz.
2. The number one New York Times bestseller for fiction that week was The Group by Mary McCarthy. The number one non-fiction bestseller was JFK: The Man and the Myth by Victor Lasky.
3. Flying over central Florida on November 22, Walt Disney selected the site for what would later become the Walt Disney World Resort near Orlando.
4. The Beatles' second studio album, With the Beatles, was released in the United Kingdom on November 22.
5. More than 30 college and professional weekend football games throughout the United States were canceled or postponed on November 22, as were most high school games.
6. Almost 66% of American homes with televisions tuned in at 6:15 p.m. EST on November 22 as the new president, Lyndon B. Johnson, addressed the nation following his return to Washington.
October 27, 2017
Many visitors express curiosity about what goes on behind the scenes at The Sixth Floor Museum at Dealey Plaza, and this new series, "The Sixth Floor Museum: Behind the Scenes," was created to answer those questions. It takes a lot of hard work and daily attention to every detail to protect and preserve the 50,000+ objects in our collection. From a multitude newspaper clippings to the recognizable Hertz sign formerly atop the Texas School Book Depository, there's a myriad of exciting, interesting and unique items. The care of these objects is varied as well, and our Collections staff is up for the challenge of looking after a large array of objects. A number of items are on loan to the Museum, and the staff cares for these objects just as if they were our own. One such object is the FBI model, on display on the sixth floor.
Owned by the National Archives and Records Administration (NARA), the FBI Model is on long-term loan to The Sixth Floor Museum, where it has been on display since 1995. The model was built by the FBI in 1964 to help investigate the Kennedy assassination and was also later used by the Warren Commission and the House Select Committee on Assassinations when they conducted their investigations. There are very strict conditions, especially regarding lighting, for this special object and the Museum is diligent about ensuring these conditions are met.
Recently, Abigail Aldrich, Exhibits Conservator at NARA, stopped by to assess the condition of the model.  Aldrich says that one of the most interesting things about the FBI Model is that because it was developed specifically to assist with a criminal investigation, it was not built to last forever. For example, the shrubs and trees in the model are made with natural sponge, which is very fragile. Over time, tiny pieces might start to come off. Aldrich says this can't be totally avoided, but meticulous care can help slow the aging process.
As a part of her assessment, Aldrich performed what is known as a "condition check" on the FBI Model. To do this, she compared the model's current state to what was previously noted by NARA, checked for areas of concern and ran numerous tests. Light levels, temperature and humidity are monitored to make sure that those levels meet the exacting standards NARA sets in place for all objects on loan. Aldrich says that though she expected there to be significant change since the last time NARA checked the object, she was impressed by its overall condition.
The FBI Model is encased in special UV-filtered glass that keeps as much light as possible out of its case without obstructing one's view of the model. To help prevent damage from light, the Collections department monitors surrounding light levels with both an environmental monitor and a light reader installed inside the FBI model case. If testing reveals that levels are incorrect, staff adjusts the model's exposure to light sources. Sometimes, this means removing or rearranging light around the case.
Very little about the model's condition has changed since the last time it was inspected by NARA. That's a testament to The Sixth Floor Museum's commitment to preservation and to the strong working relationship between NARA and our Collections staff.