November 22, 2017
The world was shocked by the assassination of President John F. Kennedy on November 22, 1963, in Dallas, Texas. Reported across the globe, the news of President Kennedy's death eclipsed all other events that took place that day. Here are some things you may not know about that day:
1. Prior to President Kennedy's assassination, top news stories for November 22 included the Coast Guard recovering wreckage from a U2 plane near Key West, the AFL-CIO calling for a strike in favor of a proposed 35-hour workweek, and the reporting of the November 21 death of Robert Stroud, the "Birdman of Alcatraz.
2. The number one New York Times bestseller for fiction that week was The Group by Mary McCarthy. The number one non-fiction bestseller was JFK: The Man and the Myth by Victor Lasky.
3. Flying over central Florida on November 22, Walt Disney selected the site for what would later become the Walt Disney World Resort near Orlando.
4. The Beatles' second studio album, With the Beatles, was released in the United Kingdom on November 22.
5. More than 30 college and professional weekend football games throughout the United States were canceled or postponed on November 22, as were most high school games.
6. Almost 66% of American homes with televisions tuned in at 6:15 p.m. EST on November 22 as the new president, Lyndon B. Johnson, addressed the nation following his return to Washington.
October 27, 2017
Many visitors express curiosity about what goes on behind the scenes at The Sixth Floor Museum at Dealey Plaza, and this new series, "The Sixth Floor Museum: Behind the Scenes," was created to answer those questions. It takes a lot of hard work and daily attention to every detail to protect and preserve the 50,000+ objects in our collection. From a multitude newspaper clippings to the recognizable Hertz sign formerly atop the Texas School Book Depository, there's a myriad of exciting, interesting and unique items. The care of these objects is varied as well, and our Collections staff is up for the challenge of looking after a large array of objects. A number of items are on loan to the Museum, and the staff cares for these objects just as if they were our own. One such object is the FBI model, on display on the sixth floor.
Owned by the National Archives and Records Administration (NARA), the FBI Model is on long-term loan to The Sixth Floor Museum, where it has been on display since 1995. The model was built by the FBI in 1964 to help investigate the Kennedy assassination and was also later used by the Warren Commission and the House Select Committee on Assassinations when they conducted their investigations. There are very strict conditions, especially regarding lighting, for this special object and the Museum is diligent about ensuring these conditions are met.
Recently, Abigail Aldrich, Exhibits Conservator at NARA, stopped by to assess the condition of the model.  Aldrich says that one of the most interesting things about the FBI Model is that because it was developed specifically to assist with a criminal investigation, it was not built to last forever. For example, the shrubs and trees in the model are made with natural sponge, which is very fragile. Over time, tiny pieces might start to come off. Aldrich says this can't be totally avoided, but meticulous care can help slow the aging process.
As a part of her assessment, Aldrich performed what is known as a "condition check" on the FBI Model. To do this, she compared the model's current state to what was previously noted by NARA, checked for areas of concern and ran numerous tests. Light levels, temperature and humidity are monitored to make sure that those levels meet the exacting standards NARA sets in place for all objects on loan. Aldrich says that though she expected there to be significant change since the last time NARA checked the object, she was impressed by its overall condition.
The FBI Model is encased in special UV-filtered glass that keeps as much light as possible out of its case without obstructing one's view of the model. To help prevent damage from light, the Collections department monitors surrounding light levels with both an environmental monitor and a light reader installed inside the FBI model case. If testing reveals that levels are incorrect, staff adjusts the model's exposure to light sources. Sometimes, this means removing or rearranging light around the case.
Very little about the model's condition has changed since the last time it was inspected by NARA. That's a testament to The Sixth Floor Museum's commitment to preservation and to the strong working relationship between NARA and our Collections staff.
September 15, 2017
By Stephen Fagin, Curator, The Sixth Floor Museum at Dealey Plaza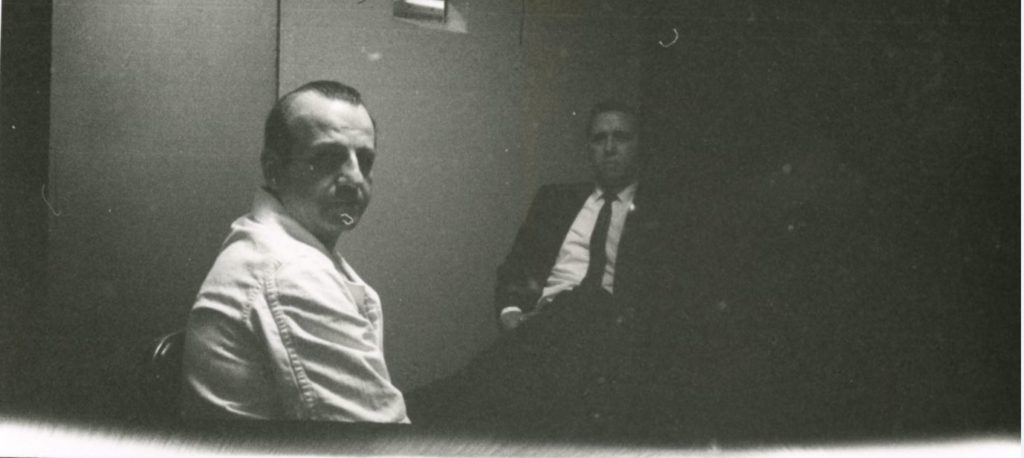 "Whatever happened to Jack Ruby?" It remains one of the most frequently asked questions we receive from Museum visitors and students. Most are surprised to hear that Ruby spent the remainder of his life incarcerated in a building adjacent to Dealey Plaza. After being found guilty of murder with malice on March 14, 1964, Ruby remained in a cell on the sixth floor of the Dallas County Criminal Courts building while his attorneys appealed the verdict, which was ultimately overturned by the Texas Court of Criminal Appeals. Had he not passed away on January 3, 1967, Ruby would have received a new trial in Wichita Falls, Texas later that year.
Jack Ruby was a unique prisoner. In addition to regular jail personnel, Sheriff Bill Decker assigned deputy sheriffs to "babysit" the high-profile prisoner to make sure he stayed safe. "You just had to sit there and hopefully get along with him," recalled deputy sheriff Benny Bob Barrett in his oral history, "and most of us did." Ruby's well known respect for law enforcement continued during his incarceration as he engaged his "babysitters" in conversation, sometimes planning future business opportunities.  "Ruby [had] the idea that he could manufacture this stuff to keep people's hair from coming out, and wanting me to go into business with him," explained Barrett. [He] never gave up his desire to make money."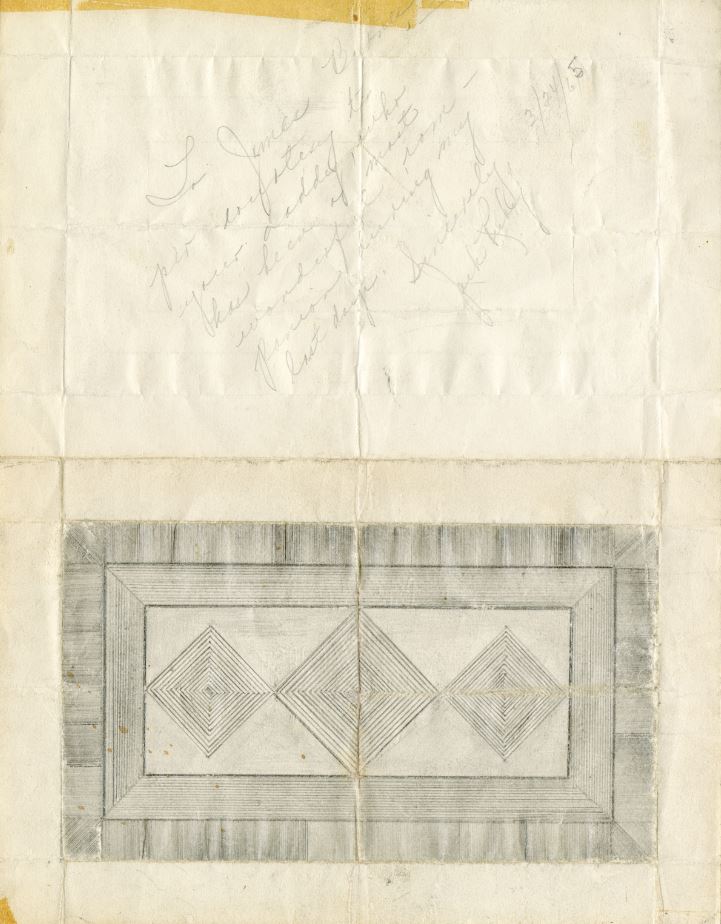 Deputy sheriff Archie Barnes played dominos and other games with Ruby. Ruby once presented Barnes with a geometric drawing—one of countless intricate doodles he made in jail—for the deputy's children. Barnes also recalled, "We both read a lot during this time… and especially on deep nights when the lights wasn't as bright… I got to where I couldn't see good." Ruby loaned Barnes his eyeglasses and later insisted that the deputy keep them.
According to Ruby's optometrist Dr. Thurman Ray, Ruby went through several pairs of glasses while at the Dallas County Jail. Ruby kept "breaking them, flushing them down the commode," said Ray in his oral history. "I always said… 'Only a crazy man would do this.'" Researchers continue to speculate on Jack Ruby's mental state during the final years of his life. Deputies were aware that Ruby was suicidal at times, and Benny Bob Barrett heard that Ruby once "jumped up and stuck his finger in that socket of the light bulb supposedly."
In an oral history recorded less than two months before his death in 1995, Ruby's longtime attorney Phil Burleson bluntly stated that during this period Ruby "was totally out of it" and often made bizarre allegations. Ruby shared with deputy sheriff Al Maddox his fears that he was being injected with cancer cells. While this has persisted as a conspiracy theory for many years, it is medically impossible to contract cancer via injection.
However, as with most aspects of the Kennedy assassination story, there are still lingering questions associated with Jack Ruby, his colorful past which included low-level mafia connections, and the shooting of Lee Harvey Oswald. Following a court appearance during his appeal process, Ruby famously told reporters, "The world will never know the true facts of what occurred, my motives." He further suggested that people in high positions "had so much to gain." This statement, among others made in these final years, continue to interest (and perplex) researchers who believe that there is more to the story of Jack Ruby.
September 6, 2017
By Ani Simmons, Museum Educator
At The Sixth Floor Museum at Dealey Plaza, we strive to engage, connect, and inspire students with education programs that take place at the Museum, at individual schools and through distance learning that connects classrooms across the globe. President John F. Kennedy was an advocate for many important causes like volunteerism and civil rights that still affect our society and continue to be taught in schools today. Far more than the story of a 1963 presidential assassination, these programs help students engage with history, connect with the past, and become inspired to make a difference in the future.
Engage
Engagement is of paramount importance in effective 21st century education. As a museum educator, my goal is to engage students in learning about our collections, then show them how these objects tell a story.  A record, magazine, or photograph might remind them of something they remember from a grandparent's house and spark a conversation. Before they know it, they've learned something and they are asking questions about museum careers!
When you can engage physically with a historic object, you're often able to emotionally connect to the person who used it. One example is our program "History Detectives: 1960s Time Capsules," where students unpack a time capsule based on a real person's story and containing actual 1960s-era objects and documents from the hands-on Education Collection. Students develop understanding of the individual and their unique experience from that time, while increasing the critical thinking skills required of a historian.
By engaging students with the stories of the people who made the history, we help them segue into the overall concept of history. They learn that history is not about memorizing dates and isolated facts; it's examining the people and their choices that resulted in historical events. In this hyper-connected world, a successful program entices students to slow down long enough to engage with people and their stories from the past, and then connect the lessons they learn to the present and future.
Connect
In the Museum's "Living History" programs, Curator and Oral Historian Stephen Fagin interviews a guest with memories of the 1960s in front of a group of students. The students are able to connect emotionally to that history, and then they're given the chance to ask the guest questions – what they wore or what kind of car they drove back in 1963 – however they best connect with that person's story, and then they can become an oral historian for a short while.  Students who attended a "Living History" program said they felt like they had time-traveled back to the 1960s!
Making connections spans all ages, from students to teachers. Teachers who foster connections with concepts they've learned or objects they've examined at the Museum take that sense of discovery and excitement back to their classrooms. Their enthusiasm is contagious!
One of our other programs that's very prescient today is our Civil Rights program, called "Resistance in Dallas: Civil Rights and Kennedy's Legacy."  It focuses on a 28-day protest that occurred in 1964 in downtown Dallas, just months after the assassination of President Kennedy and just blocks from Dealey Plaza. It fascinates teachers and students to learn about Civil Rights events that took place right here at home. While the events in Selma, Alabama and  Jackson, Mississippi are well-known, teachers often don't connect Civil Rights with Dallas. It's transformative for them to see the actual images that document what happened.
Inspire
During teacher workshops, when I get the chance to bring out some of the more powerful artifacts in our collection, like the SCLC Handbook for Freedom Army Recruits, I try to inspire teachers to see themselves as a key influencer in their students' lives. They are not just teaching the students in front of them, but their students' children. When students are taught in a way that impacts and inspires them, they will then teach their own children. It is my job, as a museum educator with access to a vast array of primary sources, to engage and connect teachers to the available resources, then inspire them to use them in a creative and effective way.
I want to inspire teachers to teach ideals that I believe President Kennedy would have supported, ideals that are part of his legacy. If you are a teacher and would like more information about our education programs at The Sixth Floor Museum, contact Ani Simmons at education@jfk.org.