September 6, 2017
By Ani Simmons, Museum Educator
At The Sixth Floor Museum at Dealey Plaza, we strive to engage, connect, and inspire students with education programs that take place at the Museum, at individual schools and through distance learning that connects classrooms across the globe. President John F. Kennedy was an advocate for many important causes like volunteerism and civil rights that still affect our society and continue to be taught in schools today. Far more than the story of a 1963 presidential assassination, these programs help students engage with history, connect with the past, and become inspired to make a difference in the future.
Engage
Engagement is of paramount importance in effective 21st century education. As a museum educator, my goal is to engage students in learning about our collections, then show them how these objects tell a story.  A record, magazine, or photograph might remind them of something they remember from a grandparent's house and spark a conversation. Before they know it, they've learned something and they are asking questions about museum careers!
When you can engage physically with a historic object, you're often able to emotionally connect to the person who used it. One example is our program "History Detectives: 1960s Time Capsules," where students unpack a time capsule based on a real person's story and containing actual 1960s-era objects and documents from the hands-on Education Collection. Students develop understanding of the individual and their unique experience from that time, while increasing the critical thinking skills required of a historian.
By engaging students with the stories of the people who made the history, we help them segue into the overall concept of history. They learn that history is not about memorizing dates and isolated facts; it's examining the people and their choices that resulted in historical events. In this hyper-connected world, a successful program entices students to slow down long enough to engage with people and their stories from the past, and then connect the lessons they learn to the present and future.
Connect
In the Museum's "Living History" programs, Curator and Oral Historian Stephen Fagin interviews a guest with memories of the 1960s in front of a group of students. The students are able to connect emotionally to that history, and then they're given the chance to ask the guest questions – what they wore or what kind of car they drove back in 1963 – however they best connect with that person's story, and then they can become an oral historian for a short while.  Students who attended a "Living History" program said they felt like they had time-traveled back to the 1960s!
Making connections spans all ages, from students to teachers. Teachers who foster connections with concepts they've learned or objects they've examined at the Museum take that sense of discovery and excitement back to their classrooms. Their enthusiasm is contagious!
One of our other programs that's very prescient today is our Civil Rights program, called "Resistance in Dallas: Civil Rights and Kennedy's Legacy."  It focuses on a 28-day protest that occurred in 1964 in downtown Dallas, just months after the assassination of President Kennedy and just blocks from Dealey Plaza. It fascinates teachers and students to learn about Civil Rights events that took place right here at home. While the events in Selma, Alabama and  Jackson, Mississippi are well-known, teachers often don't connect Civil Rights with Dallas. It's transformative for them to see the actual images that document what happened.
Inspire
During teacher workshops, when I get the chance to bring out some of the more powerful artifacts in our collection, like the SCLC Handbook for Freedom Army Recruits, I try to inspire teachers to see themselves as a key influencer in their students' lives. They are not just teaching the students in front of them, but their students' children. When students are taught in a way that impacts and inspires them, they will then teach their own children. It is my job, as a museum educator with access to a vast array of primary sources, to engage and connect teachers to the available resources, then inspire them to use them in a creative and effective way.
I want to inspire teachers to teach ideals that I believe President Kennedy would have supported, ideals that are part of his legacy. If you are a teacher and would like more information about our education programs at The Sixth Floor Museum, contact Ani Simmons at education@jfk.org.
August 4, 2017
Your guide to getting the most out of your visit to the Museum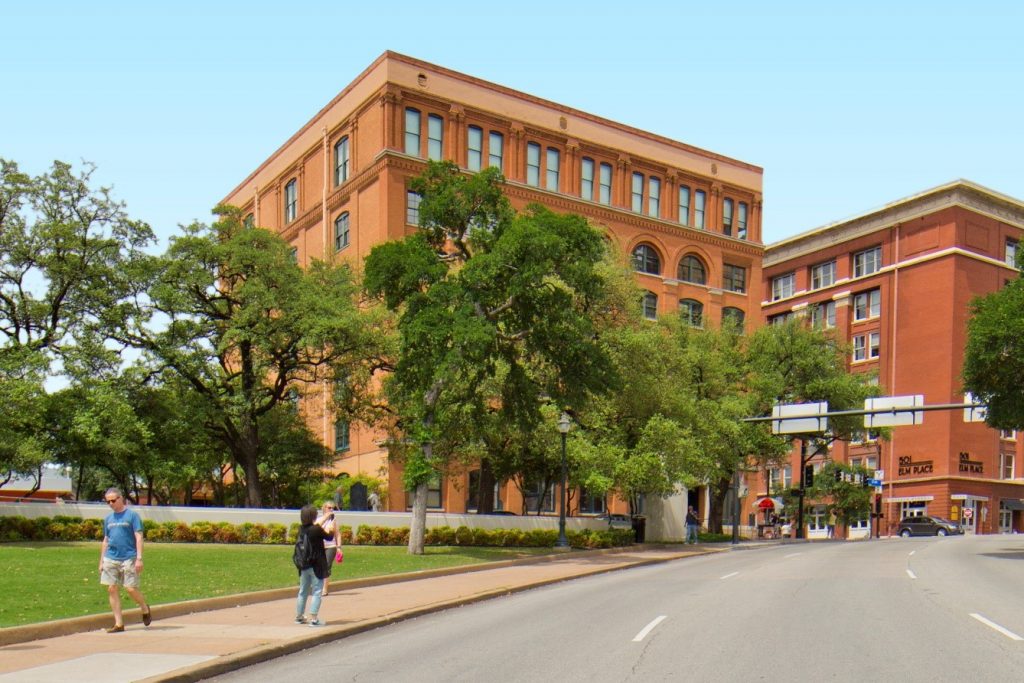 The Sixth Floor Museum at Dealey Plaza welcomes many visitors from all over the globe during the summer months. However, as Dallas locals know, summer is not our most forgiving season, since temperatures sometimes reach triple-digits. We have compiled a list of tips that will help you enjoy your trip to the Museum this summer, no matter how high the heat index.
Wear comfortable clothes
Summers in Dallas are H-O-T! Out-of-towners are often surprised that while the temperature may only be 93, the heat index makes it feel much warmer outside. Thankfully, The Sixth Floor Museum is indoors and air conditioned, but we still recommend dressing for the sweltering heat outside. Comfortable walking shoes, breathable shirts and shorts are recommended.
Buy tickets online
Sometimes the Museum sells out. Summer is a busy time of year and we want to ensure your visit is a special one! You can buy timed tickets online a minimum of two hours in advance at www.jfk.org. Often, buying tickets online helps you better plan your trip and it might minimize your wait time to get into the Museum.
Take note of museum hours
Unlike many museums that are closed on Mondays, The Sixth Floor Museum is open daily. Admission hours are Tuesday – Sunday 10 a.m. to 6 p.m. and Mondays 12 p.m. to 6 p.m. However, if you do arrive early on a Monday, have no fear! The Museum Store + Café is open from 9:30 a.m. to 6 p.m. every day. Located across the street from the Museum at 501 Elm street, it's situated on the corner of N. Houston Street and Elm. Early birds can enjoy coffee from Oak Cliff Coffee Roasters and snack on pastries from Rush Patisserie and sandwiches from Bolsa while they wait.
Visit Museum Store + Café
We strongly recommend a visit to the Museum Store + Café after you view the exhibit as well. In addition to the delectable assortment of edibles listed above, the Café also sells Henry's Ice Cream, a delicious North Texas treat. The merchandise is eclectic, including a wide range of books, collectibles, jewelry and gifts. You'll find items pertaining to President Kennedy's campaign, assassination and legacy. The Museum Store + Café also carries jewelry, books and gifts that evoke Jackie Kennedy's famous personal style, as well as items that center around rich culture of Texas and downtown Dallas.
Get the most out of your day in Big D
Did you know that when you park in The Sixth Floor Museum's parking lot during the day, your parking is valid until 7 p.m.? In addition to visiting the Museum, we recommend getting the most out of your day in Dallas by visiting other nearby institutions or eating a meal at one of the great restaurants in the West End. For this, you will also want to wear comfortable shoes! Many exciting attractions and food destinations are just a 10-15 minute walk away.
Regardless of how you plan your trip around a visit to The Sixth Floor Museum at Dealey Plaza, our goal is to ensure your time in the Museum will be a profound experience with lasting memories. We hope to see you soon at The Sixth Floor Museum!
July 6, 2017
By Stephen Fagin, Curator, The Sixth Floor Museum at Dealey Plaza
The BBC television program Doctor Who holds the Guinness World Record as the longest-running science fiction series in history. Such a record is not terribly surprising considering that this British institution premiered one day after the Kennedy assassination in 1963. Perhaps because of its coincidental connection to the program's 1963 premiere, its historical and pop culture significance, and its malleability for science fiction writers forever pondering "what if," the Kennedy assassination has been curiously linked to Doctor Who for virtually all its history.
Doctor Who, the television program, was developed entirely during the Kennedy years, beginning in March 1962 when the BBC began to explore creating a new science fiction series. Its premiere on Saturday, November 23, 1963, was delayed approximately five minutes by assassination news coverage. Ratings were poor as one might expect, and in a rare move, the BBC decided to rerun that first episode the following week. The assassination occurred during production of the series' second story, "The Daleks." Reportedly, shooting of the series was interrupted and postponed once cast and crew learned that President Kennedy had died.
John F. Kennedy and the assassination were not directly referenced in the series for twenty-five years, though a wax figure of President Kennedy made a brief cameo appearance in the 1970 Third Doctor story, "Spearhead from Space." During its 25th anniversary in 1988, Doctor Who was particularly nostalgic and John F. Kennedy was twice mentioned. The story "Remembrance of the Daleks" took place in November 1963 near the same London junkyard location where the television series began a quarter century earlier. This story opened with a view of the Earth and included a famous quote by John F. Kennedy from his "Strategy for Peace" speech at American University in June 1963—the first and only time his voice is heard in the series' history.
Another 1988 story, entitled "Silver Nemesis" specifically mentioned the Kennedy assassination for the first time. The Doctor, now in his seventh incarnation, revealed that he launched a dangerous artifact into space which, unbeknownst to him, had returned to Earth's orbit once every twenty-five years, triggering some terrible event each time. In 1963, he noted, this would have been the death of President Kennedy.
The assassination again resurfaced in Doctor Who mythology in the very first episode of the re-launched series in 2005. In the premiere, "Rose," the Ninth Doctor is shown standing along Main Street, observing the Kennedy motorcade moments before the assassination.
In reality, the face of actor Christopher Eccleston was Photoshopped into a famous Dallas Morning News photograph taken by Walt Sisco. The implication, however, was that the Doctor was in Dallas when President Kennedy was shot.
Beyond television, President Kennedy and the assassination have been referenced numerous times in the worlds of Doctor Who through original novels and audio-only adventures that fit within the series' official canon. Among these, most notably, is the fan-favorite novel, Who Killed Kennedy (1996). Author David Bishop, writing as an investigative journalist, constructed a complex narrative linking bits and pieces of the series history together, building up to a climax that revealed, once and for all, what actually happened in Dealey Plaza on November 22, 1963, and how the Doctor was directly involved in this significant event.
The 1998 novel Matrix presented an alternate reality in which President Kennedy survived his trip to Dallas but was assassinated three years later while visiting London. And as one might expect from the titles, Kennedy is referenced in two audio adventures: The Conspiracy and 1963: The Space Race. November 2013 marked the fiftieth anniversary of both Doctor Who and the Kennedy assassination.
To once again acknowledge their connection, the Eleventh Doctor novel, Shroud of Sorrow, takes place the dayafter the assassination where an alien entity is trying to use the tragedy as part of a plot to plunge the Earth into grief. The Doctor teams up with an FBI agent and a reporter at The Dallas Morning News to save the day.
It is inevitable that a historical event such as the Kennedy assassination would turn up so many times in a series centered on time travel, yet Doctor Who holds a special distinction because of its November 1963 premiere. It is likely that, in time, President Kennedy and the assassination will again be part of this long-running series' history.  As for when this might happen next, Who knows?
To read the books mentioned in this blog or see other fictional stories related to President Kennedy or the assassination, make an appointment to check out the Museum Reading Room!
December 30, 2016
by Stephen Fagin, Curator, The Sixth Floor Museum at Dealey Plaza
More than fifty-three years after the Kennedy assassination, the ongoing Oral History Project at The Sixth Floor Museum at Dealey Plaza is in a race against time. A seventeen-year-old high school student in 1963 is today 70 years old. As these November anniversaries go by, we sadly lose more of our storytellers each year. As we acknowledge those interview participants who passed away this year, we also applaud their willingness to add such unique perspectives to our ever-growing archive of "living history."
In late December 2015, we lost Dallas Police Lieutenant Rio Sam Pierce, who was in charge of basement security on the day of Lee Harvey Oswald's planned transfer to the Dallas County Jail. Pierce drove his vehicle up the Main Street ramp at the time many believe Jack Ruby gained access to the basement. Ruby's good friend, longtime Dallas Times Herald television editor, Bob Brock passed away this year. Brock spoke with Ruby just one day prior to the Oswald shooting. When Ruby went on trial the following year, young SMU law student George Bramblett, Jr. was there to watch the spectacle unfold. Covering the trial for the Associated Press was photographer Ferd Kaufman, who held the distinction of capturing through his camera lens Presidents Kennedy and Johnson, Lee Harvey Oswald, and Jack Ruby. In fact, Kaufman was one of the first to photograph Oswald after his arrest at the Texas Theatre, where the late Dallas police patrolman Jerry Pollard had helped wrestle Oswald to the ground.
Another photographer who passed away in 2016 was Joe Laird, the last surviving staff photographer at The Dallas Morning News in 1963. Laird photographed the Kennedy motorcade at the corner of Main and Harwood Streets. Near his location was parade spectator Sam Berger, who had sold Abraham Zapruder the Bell and Howell home movie camera that he would use to capture the assassination on film that day.
Following news of the assassination, young Karen Knight Neukom and her family went to Dallas Love Field. Her father had been Senator Kennedy's campaign manager in Wichita County, Texas, during that hard-fought 1960 campaign. The late Harold Vaughan also understood the pressures of campaigning for Kennedy. As the senator's direct link to the African American community in Boston, Vaughan worked on Kennedy's first U.S. Senate campaign in 1953.
Prior to his Texas visit in November 1963, the president supposedly asked Arkansas Sen. John McClellan to quietly survey the conservative political atmosphere in Dallas. His cousin, Sue Crutchfield, who passed away this summer, shared this untold story that might have been lost to history. The Dallas City Council had also voiced concerns, questioning the police chief at length about security preparations. This November we lost Dorothy Roberts, widow of 1963 councilman Bill Roberts. Though the Warren Commission later investigated right-wing activities in Dallas, they ultimately concluded that Oswald acted alone. The late Justice Richard Mosk served on the Warren Commission's staff. He shared his memories with us at a 2013 public program exploring the Commission's efforts.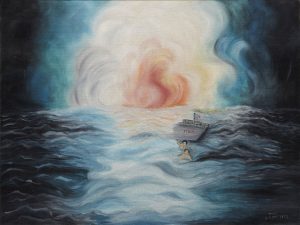 The assassination impacted individuals around the world in profound ways. In Dallas, the Reverend Wally Chappell led a special prayer service for President Kennedy at Ridgewood Park United Methodist Church. Noted Fremont, Ohio, artist Bernadine Stetzel responded to the tragedy through seventy-one paintings depicting President Kennedy's life and death. In 2011, she donated those works to the Museum. We also lost two oral history subjects from the world of entertainment. Actor Alan Young, star of the popular Mister Ed sitcom in 1963, shared his memories of when production shut down on November 22, 1963. The advertising manager for Disneyland, Jack Lindquist, discussed the unscheduled closing of the Anaheim theme park in memory of President Kennedy.
Everyone has a story to share, and we are grateful to these individuals for helping us better understand the moment and the memory of the Kennedy assassination and the 1960s.  If you would like to add your voice to our ongoing Oral History Project, please contact OralHistory@jfk.org.
Stay tuned for an upcoming special blog post in memory of former WBAP reporter Bob Welch.