December 30, 2016
by Stephen Fagin, Curator, The Sixth Floor Museum at Dealey Plaza
More than fifty-three years after the Kennedy assassination, the ongoing Oral History Project at The Sixth Floor Museum at Dealey Plaza is in a race against time. A seventeen-year-old high school student in 1963 is today 70 years old. As these November anniversaries go by, we sadly lose more of our storytellers each year. As we acknowledge those interview participants who passed away this year, we also applaud their willingness to add such unique perspectives to our ever-growing archive of "living history."
In late December 2015, we lost Dallas Police Lieutenant Rio Sam Pierce, who was in charge of basement security on the day of Lee Harvey Oswald's planned transfer to the Dallas County Jail. Pierce drove his vehicle up the Main Street ramp at the time many believe Jack Ruby gained access to the basement. Ruby's good friend, longtime Dallas Times Herald television editor, Bob Brock passed away this year. Brock spoke with Ruby just one day prior to the Oswald shooting. When Ruby went on trial the following year, young SMU law student George Bramblett, Jr. was there to watch the spectacle unfold. Covering the trial for the Associated Press was photographer Ferd Kaufman, who held the distinction of capturing through his camera lens Presidents Kennedy and Johnson, Lee Harvey Oswald, and Jack Ruby. In fact, Kaufman was one of the first to photograph Oswald after his arrest at the Texas Theatre, where the late Dallas police patrolman Jerry Pollard had helped wrestle Oswald to the ground.
Another photographer who passed away in 2016 was Joe Laird, the last surviving staff photographer at The Dallas Morning News in 1963. Laird photographed the Kennedy motorcade at the corner of Main and Harwood Streets. Near his location was parade spectator Sam Berger, who had sold Abraham Zapruder the Bell and Howell home movie camera that he would use to capture the assassination on film that day.
Following news of the assassination, young Karen Knight Neukom and her family went to Dallas Love Field. Her father had been Senator Kennedy's campaign manager in Wichita County, Texas, during that hard-fought 1960 campaign. The late Harold Vaughan also understood the pressures of campaigning for Kennedy. As the senator's direct link to the African American community in Boston, Vaughan worked on Kennedy's first U.S. Senate campaign in 1953.
Prior to his Texas visit in November 1963, the president supposedly asked Arkansas Sen. John McClellan to quietly survey the conservative political atmosphere in Dallas. His cousin, Sue Crutchfield, who passed away this summer, shared this untold story that might have been lost to history. The Dallas City Council had also voiced concerns, questioning the police chief at length about security preparations. This November we lost Dorothy Roberts, widow of 1963 councilman Bill Roberts. Though the Warren Commission later investigated right-wing activities in Dallas, they ultimately concluded that Oswald acted alone. The late Justice Richard Mosk served on the Warren Commission's staff. He shared his memories with us at a 2013 public program exploring the Commission's efforts.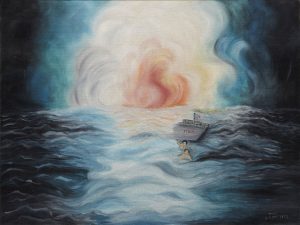 The assassination impacted individuals around the world in profound ways. In Dallas, the Reverend Wally Chappell led a special prayer service for President Kennedy at Ridgewood Park United Methodist Church. Noted Fremont, Ohio, artist Bernadine Stetzel responded to the tragedy through seventy-one paintings depicting President Kennedy's life and death. In 2011, she donated those works to the Museum. We also lost two oral history subjects from the world of entertainment. Actor Alan Young, star of the popular Mister Ed sitcom in 1963, shared his memories of when production shut down on November 22, 1963. The advertising manager for Disneyland, Jack Lindquist, discussed the unscheduled closing of the Anaheim theme park in memory of President Kennedy.
Everyone has a story to share, and we are grateful to these individuals for helping us better understand the moment and the memory of the Kennedy assassination and the 1960s.  If you would like to add your voice to our ongoing Oral History Project, please contact OralHistory@jfk.org.
Stay tuned for an upcoming special blog post in memory of former WBAP reporter Bob Welch.
December 8, 2016
by Stephen Fagin, Curator, The Sixth Floor Museum at Dealey Plaza
Earlier this year I was invited to teach a short-term, non-credit course on the Kennedy assassination as part of Richland College's Emeritus plus 50 program.  Richland, part of the Dallas County Community College District, offers a selection of diverse classes to provide "affordable, quality education to enable individuals 50 and over to stay intellectually challenged and enriched, physically fit and socially connected."
It was an honor to be included, and during the Fall semester I taught a six-hour course entitled "JFK, Dallas and the Power of Memory."  This was spread across four Monday evening classes on the Richland campus on Abrams Road in Dallas.  Much to my surprise, two of the individuals who signed up for the course were "non-rememberers," both born more than a decade after the assassination.  While not commonly known, Dallas County residents of all ages can enroll in Emeritus classes, and I was thrilled to see some young people take advantage of this opportunity.  The rest of the attendees were, on occasion, willing to share their own memories and discuss the impact of this tragic event.  Two of those individuals will soon be recording interviews as part of our ongoing Oral History Project.
During the four classes, we covered a wide variety of topics: Dallas stories related to the 1960 campaign between John F. Kennedy and Richard Nixon, the city's political climate at the time, background on the President's trip to Texas in November 1963, and of course, the assassination itself—told through the personal perspectives of more than a dozen individuals: police officers, reporters, schoolchildren and many others.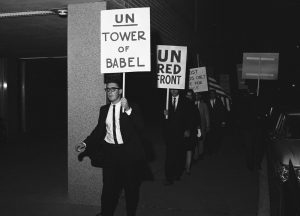 No course on the assassination would be complete without a look at the investigations and lingering questions.  So we spent time on Lee Harvey Oswald, Jack Ruby and the most popular theories and influential literature over the past half century.  Ultimately, we brought the story back to Dallas, concluding with a look at Kennedy memorialization and the creation of The Sixth Floor Museum at Dealey Plaza.
While there were no formal evaluations, I did receive a few comments from those who enrolled in the class.  One of the younger attendees wrote to me, "…[T]hank you for such a fascinating walk through history. When I realized I had registered for a class intended for senior citizens, I was worried I should not have been in there! I'm so glad non-seniors were allowed, even if I don't have any first-hand memories to share."  I was humbled to receive a note from another attendee, a Dallas high school student in 1963: "Anytime someone can take an hour and a half and turn it into 20 min. is in command. Could have even used a couple of more classes on this topic!"
For me, it was a worthwhile and fascinating experience—a rare chance to explore so many facets of the assassination story with the same group of people.  If you are a Dallas County resident—of any age—and would like to take this class, it will be offered again as part of the Emeritus Spring 2017 semester.  I will be teaching "JFK, Dallas, and the Power of Memory" across four Monday evenings, April 17 to May 8.  If you are interested in registering, please visit this website for more information.
December 6, 2016
by Krishna Shenoy, Librarian/Archivist, The Sixth Floor Museum at Dealey Plaza 
This week in 1963, Governor John B. Connally was released from Parkland Memorial Hospital after spending ten days in recovery.
On November 22, 1963, the governor suffered critical wounds while riding in the presidential limousine through Dealey Plaza in downtown Dallas. The Governor was rushed to Parkland Memorial Hospital and doctors treated an entry wound in the back near the right shoulder, a broken rib, an exit wound in the chest, a shattered wrist and wound on his thigh.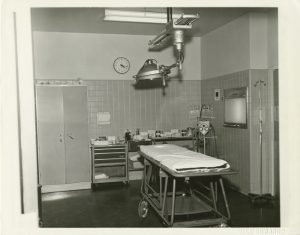 In the immediate aftermath, the Governor's safety at Parkland was a serious concern. The hospital windows were painted black in the area near his room, thick steel plates were installed to deflect possible gunfire, and a guard was posted at the door. Both the public and reporters were eager to hear from Mrs. Connally.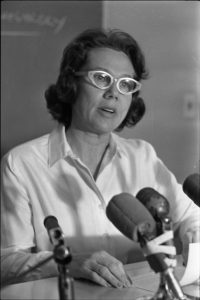 On Sunday, November 24, 1963, Mrs. Connally gave a brief press conference on her husband's condition and the tragedy as she viewed it as a passenger in the presidential limousine. She would later document her experience in a book, From Love Field: Our Final Hours with President John F. Kennedy.
During, Governor Connally's recuperation, the seat of Texas government was temporarily held at Parkland Hospital, and a hand-lettered cardboard sign, reading "Office of the Governor," was hung on the wall outside of the administrative suite which was used as a temporary office during his recovery.

On Tuesday, November 26, 1963, Governor Connally gave a bedside interview to Martin Agronsky of NBC in which he recounted the assassination and reassured a shocked nation, commenting on Lyndon Johnson, "I know of no man I would rather have dealing my hand in this hour of tragedy."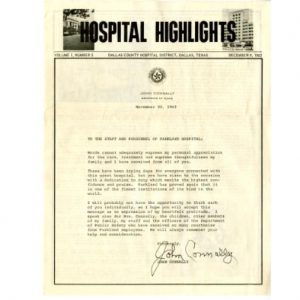 Four days after Governor Connally's release in their hospital newsletter, Parkland published his message to the hospital staff and personnel, conveying his appreciation for the treatment he received during his stay. The unsteady signature was a result of his having to sign with his left hand, since his right wrist was injured and in a sling.
To see more of the Museum's collections and learn the history behind them, visit our online collections database and our Reading Room.
November 27, 2016
Author Harry Hunsicker is a fourth generation native of Dallas. In 2005, he introduced the city to private investigator Lee Henry Oswald in his crime novel Still River (St. Martins Press) to critical acclaim. He followed up in 2006 and 2007 with two more additions, Next Time You Die and Crosshairs, to create a trilogy that captured "the dark heart of the Dallas underworld."
Hunsicker is also the former executive vice president of the Mystery Writers of America, which is why in celebration of National Novel Writing Month, we asked him to talk about the craft of writing.
NANOWRIMO
by Harry Hunsicker, Guest Blogger
November is National Novel Writing Month, sometimes known amongst aspiring scribes by the supremely inelegant abbreviation Nanowrimo. (Just slides off the tongue, doesn't it?)
The goal of Nanowrimo is to write an entire book in one month. For those of you who don't know, a completed manuscript typically runs between 250 and 500 double spaced pages. That's somewhere between 70,000 and 120,000 words. Or, as I like to think of it, two metric tons of coffee.
By the time you read this, if you are participating in Nanowrimo, you will be just past the halfway mark. If you are somewhere near the middle of your first draft, I commend you and urge you to keep going. There are not many better feelings in the world than finally tapping out END on your first novel.
My first book, Still River, a detective novel, took six months to write and didn't really come together in my head until I settled on the name of the protagonist, a Dallas-based investigator named Lee Henry Oswald. Lee Henry, Hank to his friends, is not related to Lee Harvey. The name is just one of many crosses he must bear.
As a life-long resident of Dallas, I wanted my main character to have a name that was instantly relatable to the city. (For a period of time, I considered writing about a hitman called Tom Landry, but I was afraid I'd be run out of town.)
If you chose not to participate in Nanowrimo this year, or if the pace has gotten too hard, or you find yourself stuck for whatever reason, consider this an opportunity to brush up on your craft. Here are some books that I have found helpful over the years. (If you're cooking along, for heaven's sake don't stop to read anything. Just keep going!)
On Writing by Stephen King. Far and away the best volume on writing fiction that I have ever read. Part memoir, part how-to, the text peels back the secrecy on the creative process of one of the most successful novelists of all time.
Lessons from a Lifetime of Writing by David Morrell. In 1972, Morrell, a young college professor, published his debut novel, First Blood, a thriller about a Vietnam veteran named Rambo. Pop culture was never the same, not to mention Sylvester Stallone's career. Lessons is Morrell's ode to the craft, advice on how to tell a story and to tell it well. The essence of his message: Write about what you fear the most.
Save the Cat by Blake Snyder. Beginning writers—and more than a few veterans—often have trouble plotting a story, the what-happens-next part of the process. If that sounds familiar, then grab a copy of this book. Save the Cat is designed for screenwriters but the advice is universal, clearly explained and illustrated with examples from the movies.
The last resource I can offer is a simple but effective bit of advice: Don't ever give up!
To read the Lee Henry Oswald series or see other fictional stories related to President Kennedy or the 1960s, make an appointment to check out the Museum Reading Room!
Guest Blogger Harry Hunsicker's forthcoming novel is The Devil's Country (March 2017; Thomas & Mercer.) His work has been short-listed for the Shamus and Thriller Awards. He can be reached via his website: www.harryhunsicker.com, or on Twitter.