December 30, 2016
by Stephen Fagin, Curator, The Sixth Floor Museum at Dealey Plaza
More than fifty-three years after the Kennedy assassination, the ongoing Oral History Project at The Sixth Floor Museum at Dealey Plaza is in a race against time. A seventeen-year-old high school student in 1963 is today 70 years old. As these November anniversaries go by, we sadly lose more of our storytellers each year. As we acknowledge those interview participants who passed away this year, we also applaud their willingness to add such unique perspectives to our ever-growing archive of "living history."
In late December 2015, we lost Dallas Police Lieutenant Rio Sam Pierce, who was in charge of basement security on the day of Lee Harvey Oswald's planned transfer to the Dallas County Jail. Pierce drove his vehicle up the Main Street ramp at the time many believe Jack Ruby gained access to the basement. Ruby's good friend, longtime Dallas Times Herald television editor, Bob Brock passed away this year. Brock spoke with Ruby just one day prior to the Oswald shooting. When Ruby went on trial the following year, young SMU law student George Bramblett, Jr. was there to watch the spectacle unfold. Covering the trial for the Associated Press was photographer Ferd Kaufman, who held the distinction of capturing through his camera lens Presidents Kennedy and Johnson, Lee Harvey Oswald, and Jack Ruby. In fact, Kaufman was one of the first to photograph Oswald after his arrest at the Texas Theatre, where the late Dallas police patrolman Jerry Pollard had helped wrestle Oswald to the ground.
Another photographer who passed away in 2016 was Joe Laird, the last surviving staff photographer at The Dallas Morning News in 1963. Laird photographed the Kennedy motorcade at the corner of Main and Harwood Streets. Near his location was parade spectator Sam Berger, who had sold Abraham Zapruder the Bell and Howell home movie camera that he would use to capture the assassination on film that day.
Following news of the assassination, young Karen Knight Neukom and her family went to Dallas Love Field. Her father had been Senator Kennedy's campaign manager in Wichita County, Texas, during that hard-fought 1960 campaign. The late Harold Vaughan also understood the pressures of campaigning for Kennedy. As the senator's direct link to the African American community in Boston, Vaughan worked on Kennedy's first U.S. Senate campaign in 1953.
Prior to his Texas visit in November 1963, the president supposedly asked Arkansas Sen. John McClellan to quietly survey the conservative political atmosphere in Dallas. His cousin, Sue Crutchfield, who passed away this summer, shared this untold story that might have been lost to history. The Dallas City Council had also voiced concerns, questioning the police chief at length about security preparations. This November we lost Dorothy Roberts, widow of 1963 councilman Bill Roberts. Though the Warren Commission later investigated right-wing activities in Dallas, they ultimately concluded that Oswald acted alone. The late Justice Richard Mosk served on the Warren Commission's staff. He shared his memories with us at a 2013 public program exploring the Commission's efforts.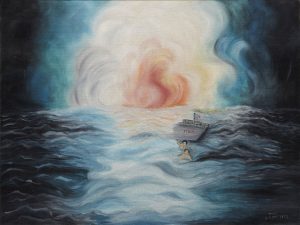 The assassination impacted individuals around the world in profound ways. In Dallas, the Reverend Wally Chappell led a special prayer service for President Kennedy at Ridgewood Park United Methodist Church. Noted Fremont, Ohio, artist Bernadine Stetzel responded to the tragedy through seventy-one paintings depicting President Kennedy's life and death. In 2011, she donated those works to the Museum. We also lost two oral history subjects from the world of entertainment. Actor Alan Young, star of the popular Mister Ed sitcom in 1963, shared his memories of when production shut down on November 22, 1963. The advertising manager for Disneyland, Jack Lindquist, discussed the unscheduled closing of the Anaheim theme park in memory of President Kennedy.
Everyone has a story to share, and we are grateful to these individuals for helping us better understand the moment and the memory of the Kennedy assassination and the 1960s.  If you would like to add your voice to our ongoing Oral History Project, please contact OralHistory@jfk.org.
Stay tuned for an upcoming special blog post in memory of former WBAP reporter Bob Welch.
December 6, 2016
by Krishna Shenoy, Librarian/Archivist, The Sixth Floor Museum at Dealey Plaza 
This week in 1963, Governor John B. Connally was released from Parkland Memorial Hospital after spending ten days in recovery.
On November 22, 1963, the governor suffered critical wounds while riding in the presidential limousine through Dealey Plaza in downtown Dallas. The Governor was rushed to Parkland Memorial Hospital and doctors treated an entry wound in the back near the right shoulder, a broken rib, an exit wound in the chest, a shattered wrist and wound on his thigh.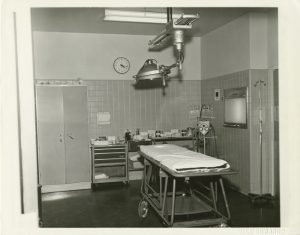 In the immediate aftermath, the Governor's safety at Parkland was a serious concern. The hospital windows were painted black in the area near his room, thick steel plates were installed to deflect possible gunfire, and a guard was posted at the door. Both the public and reporters were eager to hear from Mrs. Connally.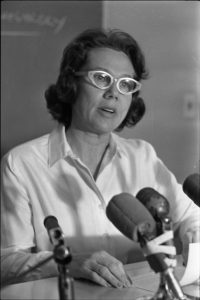 On Sunday, November 24, 1963, Mrs. Connally gave a brief press conference on her husband's condition and the tragedy as she viewed it as a passenger in the presidential limousine. She would later document her experience in a book, From Love Field: Our Final Hours with President John F. Kennedy.
During, Governor Connally's recuperation, the seat of Texas government was temporarily held at Parkland Hospital, and a hand-lettered cardboard sign, reading "Office of the Governor," was hung on the wall outside of the administrative suite which was used as a temporary office during his recovery.

On Tuesday, November 26, 1963, Governor Connally gave a bedside interview to Martin Agronsky of NBC in which he recounted the assassination and reassured a shocked nation, commenting on Lyndon Johnson, "I know of no man I would rather have dealing my hand in this hour of tragedy."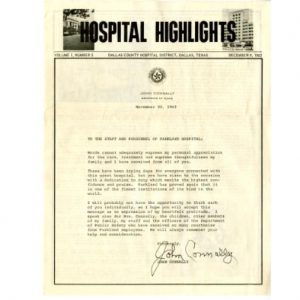 Four days after Governor Connally's release in their hospital newsletter, Parkland published his message to the hospital staff and personnel, conveying his appreciation for the treatment he received during his stay. The unsteady signature was a result of his having to sign with his left hand, since his right wrist was injured and in a sling.
To see more of the Museum's collections and learn the history behind them, visit our online collections database and our Reading Room.
October 31, 2016
by Stephen Fagin, Curator, The Sixth Floor Museum at Dealey Plaza
Who are you going to be for Halloween this year? If you were a youngster in October 1963, you might decide to go as a monster, a witch, Donald Duck, Bugs Bunny, that brand new superhero Spider-Man, or perhaps John or Jackie Kennedy. While not at the top of the Halloween costume list, a fair number of young people did indeed go trick-or-treating as the President and First Lady less than a month before the assassination.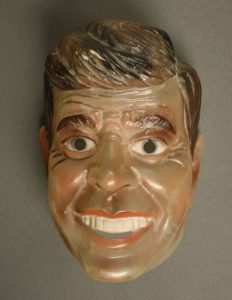 There were different types of John and Jackie Kennedy masks on the market. In our collections at The Sixth Floor Museum at Dealey Plaza, for example, we have a semi-translucent John F. Kennedy mask that was meant to blend in with the skin tone of the person wearing the mask—though the effect is deeply unsettling.
For children, the best option was a boxed costume by Ben Cooper, Inc. of New York. Cooper, a onetime costume designer for the legendary Ziegfeld Follies, launched his Halloween costume company in 1937. By the early 1960s, Ben Cooper, Inc. was one of the most prominent manufacturers of costumes in the United States. The company produced classics such as Frankenstein and the Mummy, as well as popular licensed characters including Howdy Doody, Gumby, Bozo the Clown, George Jetson, and a wide range of Disney characters. One particularly relevant costume at the time was simply called "American Hero Astronaut."
For Halloween 1963, Ben Cooper, Inc. seized upon the broad popular appeal of the Kennedys and created children's costumes called "Mr. President" and "First Lady." Each came with a vinyl face mask with string and a one-piece rayon costume. As part of the Magic-Glo brand, the masks glowed in the dark when exposed to "electric light or sunlight for two or three minutes before wearing." (We tried this with the masks in our collection, but sadly they no longer glow.)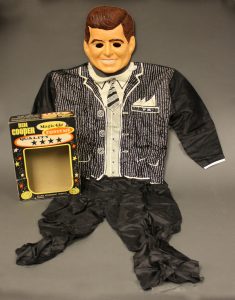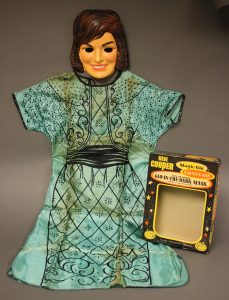 Our "First Lady" costume has an original price sticker for $1.79, which is about $14 today. Ben Cooper costumes tended to be pricier options for parents, yet the company was known for their quality. Packaging on "Mr. President" and "First Lady" boasted that they were "double stitched for longer wear" and "treated to temporarily retard flame."
Eight-year-old David Sherman of Rochester, New York, was a big fan of President Kennedy. "I think he was only two years maybe older than my dad," he recalled in an oral history interview.  "It was a White House that was like our house." For Halloween 1963, he decided he wanted to go as the President. "I just purchased it, or you know, my loving parents did….  I remember being really cold because I got sick afterwards." Weather reports showed a low in the upper 30s in Rochester, but David resisted wearing a heavy coat that night. "I went door to door as the President. I think people liked it.  I think people laughed." On November 22, 1963, young David thought back to his Kennedy mask when he heard the tragic news. He remembered, "I went into my room, and I just broke down and cried."
Once designed and manufactured, Ben Cooper costumes would typically be sold year after year. After the assassination, however, thousands of surplus "Mr. President" and "First Lady" masks were destroyed, and the costume was never offered for sale again. Today they are of great interest to Kennedy collectors and Halloween enthusiasts. Beyond that, they offer a unique glimpse at the movie-star-like popularity of the Kennedys during their brief time in the White House.
Explore our online collections database to see other interesting pop-culture artifacts in the Museum's collection.
August 27, 2016
by Krishna Shenoy, Librarian/Archivist, The Sixth Floor Museum at Dealey Plaza
In the immediate aftermath of a national tragedy, the reaction of a president can set the tone for how a nation will heal and the magnitude of the scars that will remain. In the hours after the assassination of President Kennedy, that task was given to Lyndon B. Johnson.
Only two hours after the fatal shot, on Air Force One, Johnson took the oath of office with Mrs. Kennedy by his side. When the plane landed in Washington, D.C., his statement to the American people was brief: "This is a sad time for all people. We have suffered a loss that cannot be weighed. For me, it is a deep, personal tragedy. I know the world shares the sorrow that Mrs. Kennedy and her family bear. I will do my best; that is all I can do. I ask for your help…and God's." In his book Flawed Giant, historian Robert Dallek called Johnson a "master therapist, soothing the nation with sincerity and wisdom."
In Washington, Johnson found himself with the burden of moving a grieving nation forward. On November 23, 1963, (the day after the assassination) after viewing the fallen President's body with other Congressional leaders, Johnson issued a proclamation declaring November 25, 1963, as a National Day of Mourning for President Kennedy. On that day, schools, businesses and government offices closed in observance. Many watched the funeral on television, while others followed Johnson's call to attend memorial services. Johnson's actions and words promoted feelings of continuity and unity.
One week after the assassination, on November 29, Johnson issued an executive order appointing a commission (Warren Commission) to "evaluate all the facts and circumstances surrounding such assassination, including the subsequent violent death of the man charged with the assassination, and to report to me its findings and conclusions." Johnson believed it essential to provide the nation with a convincing explanation of why and how Kennedy was killed. "A troubled, puzzled and outraged nation wanted to know the facts," he wrote in his memoirs.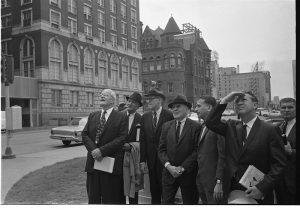 Ten months later in 1964, the Warren Commission submitted a report concluding that Oswald had acted alone and there was no evidence of a conspiracy. Johnson could not have predicted that despite his attempt to assuage the public with this investigation, the findings would ultimately exacerbate the nation's wound and leave scars of suspicion and doubt in the minds of people for decades to come.
Visit the Museum's Reading Room to learn more about the days following the assassination, Lyndon B. Johnson or any of the books mentioned.