June 22, 2016
by Amy Yen, Marketing Manager, The Sixth Floor Museum at Dealey Plaza
If you thought teachers took the whole summer off, you'd be wrong. A group of educators spent an afternoon at the Museum last week at the first teacher workshop for our new exhibit, A Time For Greatness: The 1960 Kennedy Campaign.
"We're so thrilled that we are able to offer an exhibit about the 1960 presidential election during the 2016 presidential election year. We are able to expand the conversation and curriculum that we are able to offer teachers, and make direct connections from both of these historic election years," said Ani Simmons, Education Programs Coordinator at The Sixth Floor Museum.
This workshop is just one of many teacher workshops and education programs offered by the Museum throughout the year to help educators teach their students about this critical time in history.
"Our goal with teacher workshops is really to show educators and their students how they can learn something new outside the four walls of the classroom," said Ani.
"I think Kennedy's legacy is something all generations need to know about. The lessons we can learn from him go on and on," said Julie Hershenberg, a Government and Political Science instructor at Collin College and original member of the Museum's Teacher Advisory Committee.
"Today we're discussing this phenomenal exhibit about the 1960 election and it's just perfect with students asking lots of questions about this year's election. I think it's important they see how Kennedy handled his election and see the issues that are still prevalent today."
The teachers participated in a Q&A with Museum curator Stephen Fagin, who discussed the particular historic significance of the 1960 election, which is often considered the first modern day presidential campaign. It is noted for being the first election to feature televised debates, something Kennedy used to great success.
"I thought the media emphasis from 1960, especially the importance of TV, is definitely is applicable to my lessons," said David Crocker, who teaches US History & Psychology at Juan Seguin High School in Arlington. "I also thought it was important to see how Kennedy's campaign targeted all different groups, like the ad in the exhibit where Jackie [Kennedy] was speaking Spanish. You can definitely see how that reflects to elections today."
Teachers also sampled TEKS-aligned education programs being offered in conjunction with the exhibit and toured the exhibit to see artifacts, photographs and video from the 1960 election for themselves.
"It's important we find these connections in history and compare them to what's happening now," said David. "Being able to relate the 1960 election to what's going on with Hillary and Trump help the kids see that oh, this isn't something new. These issues have come up before and we're still debating them, all these years later."
To some teachers, there were more tangible benefits to seeing the new exhibit.
"I took pictures from the exhibit that I'm going to put into my own lessons for the fall semester," said Julie. "And I loved the mock campaign headquarters. Obviously I took a selfie."
The next A Time For Greatness teacher workshop is July 19. Visit JFK.org/ATimeForGreatness to see more exhibit exclusive educational programming.
June 15, 2016
Looking for a last minute Father's Day gift for the hero in your life? Get inspired by John F. Kennedy's tale of heroism!
In 1943, 17 years before he was elected president, Lieutenant John F. Kennedy's motor torpedo boat PT-109 was sunk in the Pacific Theater during World War II. Kennedy, clenching a life jacket strap between his teeth to tow one injured crewmember, swam for four hours to lead survivors to a nearby island. Kennedy's actions made him a hero and later framed the political narrative of his presidential campaign in 1960. In fact, the story of PT-109 was so powerful, it became a cultural phenomenon, inspiring books, movies, replicas and toys.
This Father's Day, pay a visit to The Sixth Floor Museum Store and pick up some of our special PT-109-inspired gifts for Dad!
Canvas Daypack
$35
This military-inspired backpack features heavyweight water resistant canvas, zipper pockets, a hang loop and adjustable padded backpack straps. Perfect for your dad to hit the great outdoors!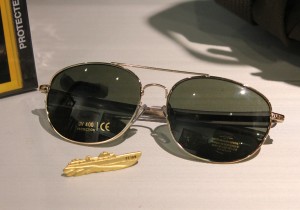 Aviator Sunglasses
$20
These classic, military-style aviator glasses are just like the ones worn by Kennedy in pictures from his time on PT-109. A cool gift for a cool dad.
PT-109 Gold-Plated Pin or Tie Bar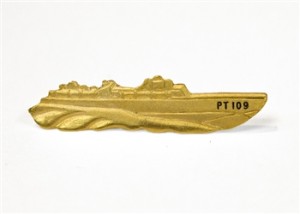 $16/$18
These commemorative gold-plated pins are replicas of the ones distributed to Kennedy supporters during his 1960 campaign as a symbol of his character and courage. Also available as a tie bar. A perfect accessory for the heroic dad in your life.
PT 109: An American Epic of War, Survival, and the Destiny of John F. Kennedy, by William Doyle
$29.95
Best-selling author William Doyle chronicles the thrilling account of the sinking of PT-109 and explores how this extraordinary episode shaped Kennedy's character and career.
National Geographic's The Search For Kennedy's PT109
$24
This National Geographic special, directed by Peter Getzels, documents both the original PT-109 story and Dr. Robert Ballard's search for the boat wreckage, which was eventually located in May 2002. Inspire your dad with this astonishing story!

The Sixth Floor Museum Store is located at 501 Elm Street, across the street from the Museum, and is open daily from 9:30 a.m. – 6 p.m. Many items are available online at store.jfk.org.
May 29, 2016
by Stephen Fagin, Curator, The Sixth Floor Museum at Dealey Plaza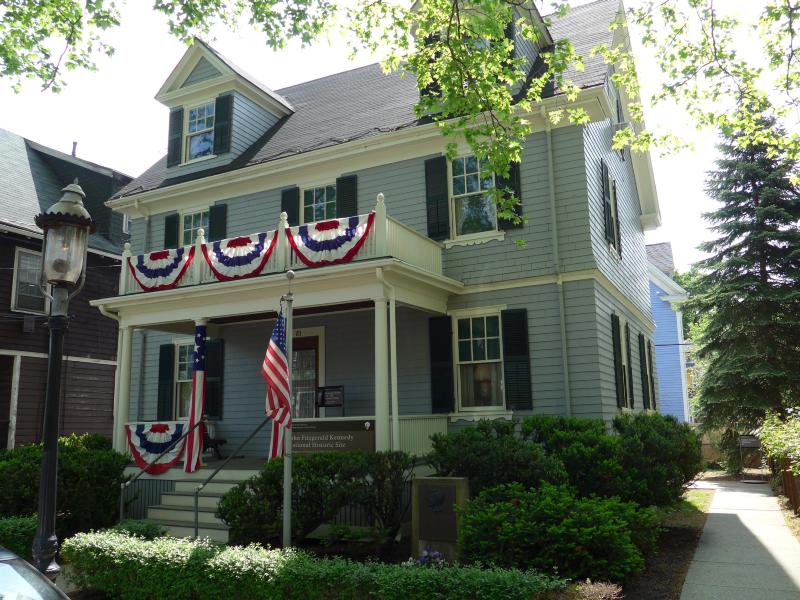 It was ninety-nine years ago, in a two-story, nine-room house at 83 Beals Street in Brookline, Massachusetts, that John Fitzgerald Kennedy was born to businessman Joseph P. Kennedy, Sr. and Rose Fitzgerald-Kennedy on Tuesday, May 29, 1917.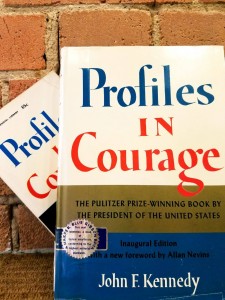 As we look ahead to the Kennedy Centennial in 2017—marking the one hundredth anniversary of President Kennedy's birth—it is worth looking back at that significant year, 1917, and the world that greeted the infant who would become the first president born in the 20th century.
When John F. Kennedy was a mere six days old, the first-ever Pulitzer Prizes were awarded. They began when newspaper publisher Joseph Pulitzer allocated in his will $250,000 to Columbia University to establish awards covering journalism, letters and drama, education, and traveling scholarships. Those first prizes were awarded on June 4, 1917. Forty years later, Senator John F. Kennedy received the Pulitzer Prize in Biography for his best-selling book, Profiles in Courage, the stories of eight U.S. senators noted for their bravery and integrity.
On October 19, 1917, Dallas Love Field opened in Dallas, Texas. The site, recognized worldwide following the Kennedy assassination in 1963, looked quite a bit different 46 years earlier. The 700-acre Love Field was established as an Air Service Field to train pilots after the United States entered World War I. The 136th Aero Squadron was the first unit stationed at Love Field. The airport would later be used for training and ferrying during World War II, while young John F. Kennedy was serving in the U.S. Naval Reserve.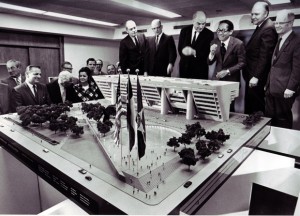 Of course, John F. Kennedy was not the only notable figure born in 1917. Other individuals who share the president's birth year include actor and entertainer Desi Arnaz (a future Kennedy supporter); jazz singer Ella Fitzgerald (who performed at President Kennedy's famous Madison Square Garden birthday salute in 1962); award-winning architect I. M. Pei (who later designed the John F. Kennedy Library and Dallas City Hall); Rat Pack star Dean Martin (who campaigned for Kennedy in 1960); Special Assistant to the President Lawrence O'Brien (who was traveling with President Kennedy on the Texas trip); and Doctor Who creator Sydney Newman (who had the premiere episode of his long-running BBC series delayed by assassination news coverage on November 23, 1963).
Also born in 1917, in the city of Floresville, Texas, was another significant figure: future Texas Governor John B. Connally.
May 27, 2016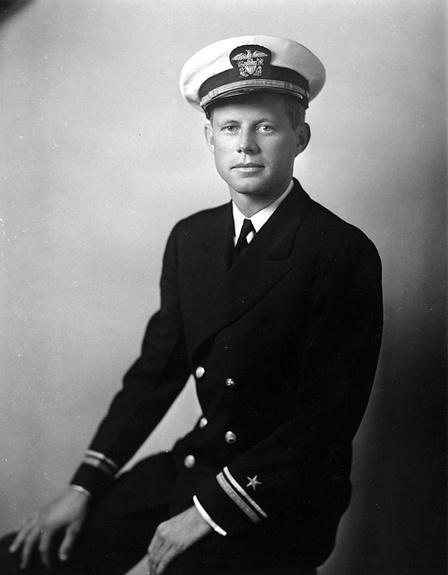 This weekend, we celebrate Memorial Day and honor those who gave their lives serving our country. Sunday also coincides with President Kennedy's 99th birthday. That is perhaps appropriate considering the president's great support of the military. Kennedy himself served in the United States Naval Reserve during World War II. "I can imagine a no more rewarding career," he said, while speaking at the U.S. Naval Academy in 1963.
Less than two months before the birth of the future President John F. Kennedy in 1917, the United States officially declared war on the German Empire, three years into World War I. President Woodrow Wilson, who had just started his second term in March, spoke before a joint session of Congress on April 2, 1917. Although he had advocated neutrality, recent world events prompted him to push for U.S. entry, declaring it to be the "war to end war." World War I would conclude the following year with the Armistice of Compiègne—ending the fight on the Western Front—between the Allies and Germany on November 11, 1918.
43 years later, President Kennedy would recognize those who "flew and fought in the skies over Europe" at a reunion of World War I veterans. He wrote: "The courage and spirit of those who led the way established a proud tradition for the airmen who followed in World War II, Korea, and the Cold War of today."
Like President Kennedy, we take this weekend to show our appreciation for all those who have served and are serving our nation.
In honor of President Kennedy's 99th birthday, we will be offering 99 cent ice cream (the President's favorite food) at the Museum Store+Café all Memorial Day weekend. In addition, the Museum will have extended holiday hours on Monday, May 30, and will be open 10 a.m. to 6 p.m.
From all of us at the Museum, have a happy and safe holiday weekend!