August 4, 2016

by Lindsey Richardson, Curator of Collections, The Sixth Floor Museum at Dealey Plaza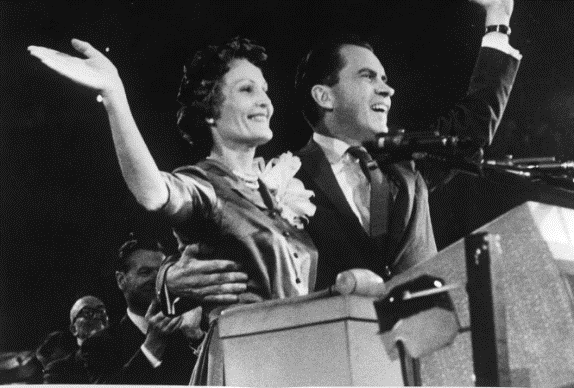 Jacqueline Kennedy and Pat Nixon both supported their husband's campaigns to become President of the United States, but they did so in very different ways.
In early 1960, Jackie Kennedy discovered that she was pregnant. She had had difficulties in the past and her doctor recommended that she take it easy. Because of this, Jackie did not take to the campaign trail at her husband's side very often, in fact less so as the year progressed.  Kennedy's sisters accompanied him on the campaign trail in her stead.
Although she did not accompany him on campaign stops around the country, Jackie supported her husband's campaign in other ways. She did cover stories for magazines such as Look or Life in the months leading up to the election, and in October 1960 she sat down for a number of television spots and commercials including an interview with leading pediatrician Dr. Benjamin Spock. Jackie also recorded the first American presidential campaign commercial in the Spanish language. It's included in the video that accompanies our exhibit A Time for Greatness.
Perhaps Jackie's greatest contribution and success as a partner to her husband during his presidential campaign was through her syndicated column "Campaign Wife" that ran weekly in newspapers across the country from September 17 to November 1, 1960. Using personal stories and her own perspective on campaign issues, Jackie wrote primarily for the audience of women who were interested in her role as the candidate's wife. She addressed a wide variety of topics, including writing about her interest in education as a campaign issue, responding to remarks about her appearance, and encouraging voters to "Call for Kennedy" and to arrange debate-watching parties.
Pat Nixon was in many ways a younger version of the then-current First Lady, Mamie Eisenhower. She had a great deal of enthusiastic support from many women and girls, as demonstrated by the many versions of the pin to the right that proliferated during the campaign, and the vocal supporters who greeted her during campaign stops.
At the Republican National Convention in July, Richard Nixon promised that he would visit all 50 states before Election Day. This was the first federal election in which 50 states would vote – Alaska and Hawaii had both joined the union in 1959 – so this was a big promise for a candidate to make. He did visit all 50 states and Pat accompanied him.
Although Pat was accustomed to traveling with her husband – she had made many trips with Nixon during his Vice Presidential trips from 1952 to 1960 – she had already made her strategy of political campaigning clear to members of the press: "I don't answer political questions." She told an Associated Press reporter in 1960 that she liked to keep her role "strictly to handshaking and small talk." She said she didn't want to know any secrets of state: "I wouldn't want the responsibility of knowing."
In the end, Kennedy very narrowly defeated Nixon, and Jackie Kennedy became First Lady. Eventually Pat Nixon also became First Lady and both women influenced public perception of the White House, their husbands' presidencies, and popular opinions both of themselves and of their husbands.
Don't forget to check out our full 1960 election exhibit, A Time For Greatness, on display until November 13 in our Seventh Floor Gallery. If you're at the Museum this Friday, stick around for our Gallery Talk on the 1960s Campaign Wives at noon! It's free with Museum admission or $5 for the talk and exhibit admission.

>
July 29, 2016
by Krishna Shenoy, Librarian/Archivist
Money in politics can often be a lightning rod issue during a presidential election, casting a reflection of a candidate's character and influence. Today, we live with unprecedented access and discovery of a candidate's fundraising operations – large or small contributors, soft money versus hard money– but that was not always the case.
While disclosure of campaign finance information was enacted in 1910, it was not enforced until 1967. However, in 1958, when little information concerning campaign finance was available, a group called the Citizens' Research Foundation (CRF), a non-partisan, nonprofit organization, began collecting financial data on national-level politics. The Foundation issued a series of studies on presidential campaign financing, starting with the 1960 presidential election. This original, staple-bound issue of Financing the 1960 Election (which sold for 50 cents at the time) from our collection gives details about the financial operations related to Richard Nixon and John F. Kennedy.
In campaigns, no expense is spared when votes are at stake. During the 1960 election, Vice-President Nixon made a $35,000 flight to Alaska and Ohio, the weekend before the election, which paid off for Nixon, when most had predicted both states to go to the Democrats. The campaign staff of Senator Kennedy included a speech professor to teach the candidate voice control, a psychologist to evaluate the size, composition and reactions of campaign crowds, and an official photographer (Jacques Lowe). Both candidates hired stenographic teams to catch and transcribe ever word the candidate uttered to make accurate transcripts available to reporters within minutes after a speech.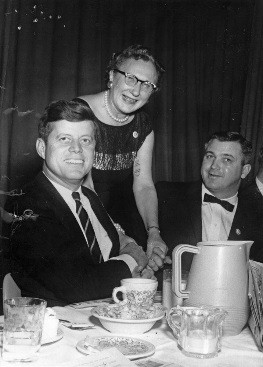 Such expenses revealed the high stakes and great lengths each candidate went to gain the winning edge. Financing these endeavors was no easy task. In 1960, both political parties attempted to broaden their financial base with fundraising drives and dinners. In Syracuse, the "Kennedy for President Club" gave trading stamps in return for contributions at the rate of 10 stamps per dollar. The CRF study reported 213 (142 Republican and 71 Democratic) fundraising dinners, luncheons, breakfasts and cocktails parties. Other fundraising innovations included the Republican party's "Dinner with Ike," a series of dinners being held simultaneously in numerous cities and linked via television, with a price per plate ranging from $5 to $100. As Charles Grutzner, New York Times columnist and reporter once said, "The knife and fork are mighty implements in the Presidential campaign."
In 1860, Abraham Lincoln's winning general election campaign reportedly cost about $100,000, and his opponent Stephen Douglas's campaign about $50,000. One hundred years later, John Kennedy's campaign spent about $9.7 million to defeat Nixon, whose campaign cost about $10.1 million. In 2012, Barack Obama spent $985 million to defeat Mitt Romney, who himself spent $992 million.  Our current election in 2016 is bound to exceed these numbers and in 2017, after the final tally is done, we will pause to consider what the rising cost of presidential campaigns means for the direction of our democracy.
To learn more about the 1960 election, click on JFK.org/ATimeForGreatness or visit the Museum's Reading Room and its latest exhibit, A Time For Greatness: The 1960 Kennedy Campaign, open through November 13.
July 27, 2016

by Stephen Fagin, Curator, The Sixth Floor Museum at Dealey Plaza
July 15, 1960. Los Angeles Memorial Sports Arena. Standing before an audience of 52,000 people—with an additional 35 million tuned in via television—John F. Kennedy spoke of revolution.
The young and charismatic Massachusetts senator was referring to changes in technology, urban growth, medicine, human rights, and intellectual and moral strength. "It is a time, in short," he said, "for a new generation of leadership—new men to cope with new problems and new opportunities."
Kennedy had experienced a remarkable journey from declaring his candidacy in January to the Democratic National Convention in Los Angeles, from July 11 to 15, 1960. He had steadfastly battled critics of his age, his Catholicism, and his perceived inexperience. While far in the lead by the time he reached L.A., Kennedy was still a few dozen short of the delegate total needed to secure the nomination. It was time for his political opponents to pounce.
Long considered potential candidates, Senate Majority Leader Lyndon Johnson of Texas and two-time Democratic presidential nominee Adlai Stevenson officially announced their candidacies. Adlai Stevenson's supporters were quite vocal, and he was loved in Southern California. A ring of enthusiastic Stevenson backers wrapped all around the sports arena, increasing in size and in volume as the convention continued. Meanwhile, Lyndon Johnson challenged Kennedy to a televised debate before a joint session of the Texas and Massachusetts delegations.
Reportedly, Kennedy was nervous entering the debate, yet he handled the audience with his characteristically potent mix of wit and charm. "I come here today full of admiration for Senator Johnson," he concluded, "strongly in support of him—for majority leader of the United States Senate." For many, the Kennedy/Johnson debate demonstrated that Johnson had little viability as a candidate outside of the South.
Ultimately, John F. Kennedy's hopes all rested on winning on the first ballot. His younger brother, Bobby, proved a fierce and untiring campaign manager as he and his team secured and counted votes one by one. It was tense, frantic, and down to the wire. Twelve Democratic candidates received votes on the first ballot. John F. Kennedy emerged as the winner with 53% of the vote, followed by Lyndon Johnson with 27%.
To the surprise of many, including brother Bobby, Kennedy asked Johnson to join him on the ticket—and Johnson accepted. This strategic alliance broadened support for the Democratic ticket and may have eventually handed Kennedy a narrow victory over Republican nominee Richard Nixon.
On stage that July 15, before Kennedy spoke of revolution and change, he thanked his fellow Democrats, including Stevenson, Hubert Humphrey, and Stuart Symington (who came in third on the ballot). "I feel a lot safer now that they are on my side again," Kennedy joked. And then Kennedy sought to capture the imagination of a nation as he laid forth his vision for the 1960s: "I believe the times demand new invention, innovation, imagination, decision. I am asking each of you to be pioneers on that New Frontier."

>
July 21, 2016

by Lindsey Richardson, Curator of Collections, The Sixth Floor Museum at Dealey Plaza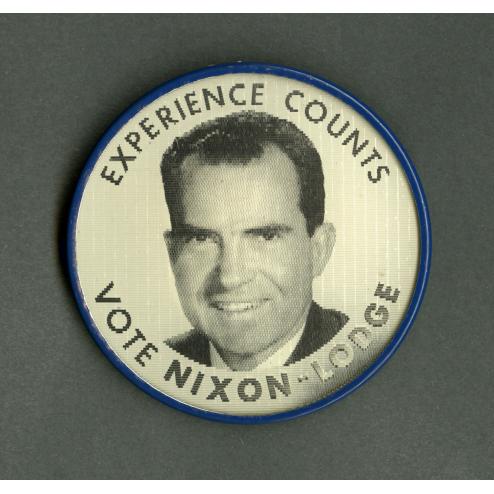 As the 1960 presidential campaign crept closer, Richard Nixon's star seemed at last to be on the rise: he had an illustrious political career as a Congressman and Vice President, he was the next-in-line to a popular president, and he had demonstrated that he wasn't afraid of the Soviets and knew how to take a hard line against communism. But Nixon's nomination for president was made more difficult by two men: his own party's sitting president, Dwight Eisenhower, and his political rival, Nelson Rockefeller.
Eisenhower proved an obstacle mainly because of his lack of enthusiasm for Richard Nixon. He rarely made speeches or campaign appearances on behalf of his vice president and once, when asked about Nixon's contribution to the Eisenhower administration, he snapped, "If you give me a week, I might think of one."
Some have said this remark was meant to remind the reporter who asked the question to ask at the next weekly press conference, but many interpreted it as a damning assessment of Nixon. Even when speaking at the Republication National Convention in July 1960, Eisenhower didn't mention Richard Nixon by name. His support always appeared conspicuously half-hearted.
Nelson Rockefeller, elected governor of New York in 1958, was the son of a wealthy American family. 'Rocky' as he was known, was an excellent campaigner, with a large, organized staff and lots of money.  Rockefeller represented the liberal wing of the Republican Party, pushing state legislation that was pro-labor and pro-civil rights. While this agenda satisfied some of his supporters, it alienated large numbers of other voters, particularly outside of New York.
In December 1959, he announced that he would not run for president and that he would not accept a vice-presidential nomination. This would seem to clear the way for Nixon, but Rockefeller wasn't completely out of the race yet. While he wasn't going to be on the Republican ticket, Rockefeller still wanted to influence the Republican Party platform. He wanted to push Nixon and fellow Republicans toward more liberal ideals. To that end, he met with Nixon days before the convention to add a more liberal slant to the party platform, particularly on issues of civil rights and national defense. This secret overnight meeting enraged some within the party, although it pleased liberals.
The Republican National Convention, which met in Chicago that summer, roiled with disunity in part because of the last-minute changes to the platform. Despite eleventh-hour bids in support of Barry Goldwater and Nelson Rockefeller, however, Richard Nixon was named the Republican nominee for president.
Nixon's nomination set the stage for his race against Democrat John F. Kennedy in the 1960 presidential election. Both Nixon and Kennedy were nominated over other close rivals and in spite of fractures within their parties. Those intra-party disagreements later manifested nationwide in a historically-close election outcome – the popular vote was decided by less than .1%. The race went to Kennedy, although many wondered if Nixon had chosen to challenge the results, whether he might have been declared president in 1960.
To learn more about what happened in the 1960 election after the conventions, visit our exhibit, A Time For Greatness, on display at the Museum until November 13, or visit JFK.org/ATimeForGreatness.

>