July 18, 2016

by Lindsey Richardson, Curator of Collections, The Sixth Floor Museum at Dealey Plaza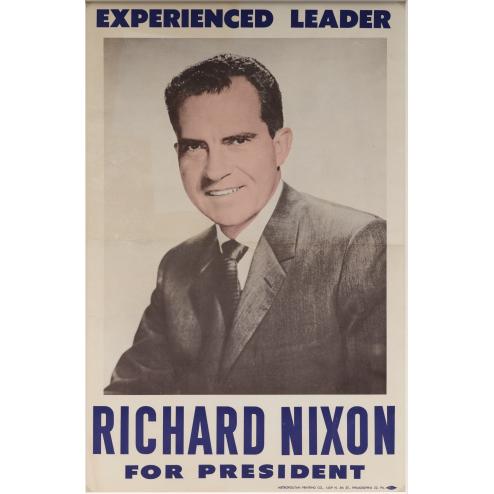 In hindsight, it seems inevitable that Richard M. Nixon would run against John F. Kennedy in the 1960 presidential election, that the two would appear together in the country's first televised presidential debates, and that Kennedy would win by an astonishingly narrow margin, to become the first American president of the 1960s.
Neither candidate was his party's assured nominee at the beginning of the primary season, however, and the outcome of the election could easily have gone the other way. Back in 1959, Nixon and Kennedy were both young politicians, much younger than the outgoing president (or any other president in recent memory), and neither of them were as yet marked by the major historical events that would later be associated with their names and presidencies. Here, at the start of this year's Republican National Convention, we take a look at how Richard Nixon came to be Kennedy's opponent by winning the Republican nomination in the 1960 election.
In 1959, as voters began to consider the presidential election looming ahead of them, Richard Nixon was the Vice President of the United States. He was second-in-command to the wildly popular President Dwight D. Eisenhower. It would seem obvious that he would be the Republican Party's nominee for president in the 1960 race, but in fact, Nixon's path to that nomination was much bumpier than you might expect.
Nixon and Eisenhower had never "clicked." A U.S. Senator in 1952, Nixon was Eisenhower's running mate on the Republican ticket, but a scandal involving accusations of improprieties related to a fund set up by some of Nixon's political backers led to a crisis. Eisenhower distanced himself from Nixon and Nixon's status as his running mate hung in the balance.
To save his political career, Nixon went on national television and made an unprecedented appeal to the American public. To an estimated audience of more than 60 million people, he explained his personal finances in great detail, describing his income, expenses and gifts, including that of a small dog that was named Checkers by his children. Nixon laid bare his family life and finances, and in return he asked voters to contact the Republican National Committee on his behalf.
"The Checkers speech," as it became known, was effective – Nixon's supporters contacted the RNC as asked, and despite
Eisenhower's continued hesitation, Nixon was made the vice presidential nominee.
From 1952 to 1960, Richard Nixon was one of the busiest vice presidents America had ever had. He traveled a great deal both domestically and abroad, and he campaigned – tirelessly and successfully – for Republicans every campaign year. In the summer of 1959, Nixon flew to Moscow to open an American cultural exhibition. While giving Soviet Union leader Nikita Khrushchev a tour of the exhibition – in fact, standing in a model of an up-to-the-minute modern American kitchen – Nixon and Khrushchev's tempers flared and they engaged in a heated debate about capitalism versus communism. Their exchange was photographed and reported by the group of journalists accompanying the two leaders through the exhibit, and "the kitchen debate" became a sensation, at least in U.S. newspapers. Nixon's reputation as a Cold Warrior was assured.
Learn about the rest of Nixon's road to the nomination later this week. For more about what happened in the 1960 election after the conventions, visit our exhibit, A Time For Greatness, on display at the Museum until November 13, or visit JFK.org/ATimeForGreatness.

>
June 22, 2016

by Amy Yen, Marketing Manager, The Sixth Floor Museum at Dealey Plaza
If you thought teachers took the whole summer off, you'd be wrong. A group of educators spent an afternoon at the Museum last week at the first teacher workshop for our new exhibit, A Time For Greatness: The 1960 Kennedy Campaign.
"We're so thrilled that we are able to offer an exhibit about the 1960 presidential election during the 2016 presidential election year. We are able to expand the conversation and curriculum that we are able to offer teachers, and make direct connections from both of these historic election years," said Ani Simmons, Education Programs Coordinator at The Sixth Floor Museum.
This workshop is just one of many teacher workshops and education programs offered by the Museum throughout the year to help educators teach their students about this critical time in history.
"Our goal with teacher workshops is really to show educators and their students how they can learn something new outside the four walls of the classroom," said Ani.
"I think Kennedy's legacy is something all generations need to know about. The lessons we can learn from him go on and on," said Julie Hershenberg, a Government and Political Science instructor at Collin College and original member of the Museum's Teacher Advisory Committee.
"Today we're discussing this phenomenal exhibit about the 1960 election and it's just perfect with students asking lots of questions about this year's election. I think it's important they see how Kennedy handled his election and see the issues that are still prevalent today."
The teachers participated in a Q&A with Museum curator Stephen Fagin, who discussed the particular historic significance of the 1960 election, which is often considered the first modern day presidential campaign. It is noted for being the first election to feature televised debates, something Kennedy used to great success.
"I thought the media emphasis from 1960, especially the importance of TV, is definitely is applicable to my lessons," said David Crocker, who teaches US History & Psychology at Juan Seguin High School in Arlington. "I also thought it was important to see how Kennedy's campaign targeted all different groups, like the ad in the exhibit where Jackie [Kennedy] was speaking Spanish. You can definitely see how that reflects to elections today."
Teachers also sampled TEKS-aligned education programs being offered in conjunction with the exhibit and toured the exhibit to see artifacts, photographs and video from the 1960 election for themselves.
"It's important we find these connections in history and compare them to what's happening now," said David. "Being able to relate the 1960 election to what's going on with Hillary and Trump help the kids see that oh, this isn't something new. These issues have come up before and we're still debating them, all these years later."
To some teachers, there were more tangible benefits to seeing the new exhibit.
"I took pictures from the exhibit that I'm going to put into my own lessons for the fall semester," said Julie. "And I loved the mock campaign headquarters. Obviously I took a selfie."
The next A Time For Greatness teacher workshop is July 19. Visit JFK.org/ATimeForGreatness to see more exhibit exclusive educational programming.

>
June 9, 2016
For our new exhibit A Time For Greatness, The 1960 Kennedy Campaign, we're getting talkative! Join members of our curatorial staff every other Friday at noon throughout the summer and fall for 30-minute informal Gallery Talks related to our exhibit. Talks are free with Museum admission or $5 if you just want to come for the talk and to see the exhibit. We kick off the series this Friday with Highlights from A Time For Greatness. Here are all the topics we'll cover in our series:
Highlights from A Time for Greatness
June 10, June 23, July 22, September 30
Photographs and artifacts tell unique and sometimes surprising stories. Join our collections staff inside our new temporary exhibit as we highlight our favorite—and most interesting—objects and images from the 1960 campaign, including materials from Senator Kennedy's visit to the Dallas-Fort Worth area in September 1960.
When LBJ and Lady Bird Came to Dallas in 1960
July 8, September 16
In the final days of the 1960 campaign, Senate Majority Leader Lyndon Johnson and his wife Lady Bird were accosted by demonstrators while visiting Dallas. This incident gained national media attention at the time, and it would return immediately after the assassination in 1963 as a powerful example of the city's volatile political atmosphere. Through photographs, newspaper accounts, and Museum oral histories, we will explore this extraordinary encounter at the Adolphus Hotel on November 4, 1960—the myth and the reality—and the long-term impact that this incident had on the public perception of Dallas, Texas.
1960 Campaign Wives
August 5, October 14
Mrs. Nixon and Mrs. Kennedy both supported their husbands as they campaigned for president but did so in very different ways. Mrs. Nixon accompanied her husband everywhere and he referred to her in almost every speech. Mrs. Kennedy hated campaigning and avoided it when possible – aided in part by her pregnancy. We will explore these two unique women and their personalities through film clips from the campaign trail as well as 1960 magazines and photographs from the Museum's collections.
Coffee with the Curators
August 19, November 11
There is much more to the story of the 1960 campaign than we were able to tell in our A Time for Greatness exhibit. Join our curatorial staff for an informal question-and-answer session as we explore many of the topics touched on in the exhibit as well as new areas that our audience would like to discuss.
PT-109 and the 1960 Campaign
September 2, October 28
On August 2, 1943, Lt. John F. Kennedy's motor torpedo boat PT-109 was sunk in the Pacific Theater. Kennedy, clenching a life jacket strap between his teeth to tow one injured crewmember, swam for four hours to lead survivors to a nearby island. This dramatic tale of World War II heroism framed Senator Kennedy's political narrative as he ran for president in 1960. We will discuss the impact that the PT-109 story had on Kennedy's life and career, including a special screening of a five-minute 1960 campaign commercial hosted by actor Henry Fonda.
See the full schedule of Gallery Talks here! Visit JFK.org/ATimeForGreatness to RSVP or for more information about exclusive exhibit programming.
June 7, 2016

by Katie Womack, Collections Manager, The Sixth Floor Museum at Dealey Plaza
Now that our new exhibit, A Time for Greatness: The 1960 Kennedy Campaign, has officially opened, it's time to relax (just a little!) and take a look back at the installation process. While the few weeks prior to an exhibition opening are a flurry of activity in the gallery, the work of installation planning begins long before any walls are built or artifacts are installed.
Early on in the development of this exhibition, staff from the Curatorial and Collections departments began formulating a concept for A Time for Greatness, determining the "story" that would be told through artifacts chosen from our collections, text and video. For this exhibit, which focuses on John F. Kennedy's 1960 presidential campaign, we also wanted to provide visitors with an interactive experience and the concept of an interactive mock Kennedy Campaign Headquarters was born.
At this point, collections items were also being selected for the exhibition and space planning was beginning to take place. Figuring out where to put the walls and making sure there are enough space to accommodate everything we wanted to display–especially in a 1901 structure with columns and windows everywhere–can be a challenge! After many sketches, discussions and a morning spent applying tape to the floor to mimic the wall configuration, we finalized the layout.
We also needed to plan for and prepare collections materials for display in the gallery. All of the campaign posters needed to be framed and several also required conservation treatment.
Small objects and magazines would need to be displayed in cases; for this show we had some cases fabricated and some were generously loaned to us by our friends at the Amon Carter museum. Other items, such as a group of campaign pins, were carefully installed by staff in a shadowbox frame. Staff used archival materials to construct mounts for items such as bumper stickers and magazines and we devised a plan to hang an original, 11-foot-long(!) 1960 Kennedy-Johnson banner using rare earth magnets. Photographs from Kennedy's September 1960 campaign stops in North Texas were reproduced at varying sizes and images of collections items were used in text panels.
Once our amazing Operations team built the walls in the gallery, we were able to get in the space and start working! First on the agenda was the interactive Kennedy Campaign Headquarters. It was so much fun to move the vintage furniture and office accessories we had purchased especially for the exhibit into the gallery and see that part of the exhibit transform into a little slice of 1960. It's been so cool since the exhibit opened to see so many fun photos of visitors "working" at Campaign Headquarters!
The week before the exhibit opened we worked with fine art handlers to move the pedestals into place, hang the campaign posters from the collection, install artifacts in the pedestals and hang the text panels and photographs. After getting the video portion up and running and doing some last-minute paint touch-ups, the show was finally ready.
Our team worked so hard on this new exhibit and we could not be more proud to show it to you! Come see A Time for Greatness for yourself and share your pics from Campaign Headquarters and meeting Kennedy on the campaign trail using hashtag #JFK1960!
Learn more about the exhibit and upcoming exclusive exhibit programming at JFK.org/ATimeForGreatness.

>