January 29, 2018
In planning Mourning a President, an exhibit about the funeral of John F. Kennedy, it was fitting that an American flag was selected as a key focal point. Prominently displayed is the flag that flew over the U.S. Senate during the period of mourning following the assassination of President Kennedy. This is the first time that this 15- by 10-foot flag, which is part of the Museum's vast collection, has been on view fully unfurled since 1963.

The U.S. Senate wing flag is displayed on the seventh floor of The Sixth Floor Museum at Dealey Plaza.
The largest and most striking object in the temporary exhibit, this flag was hoisted above the Senate wing of the U.S. Capitol building on November 7, 1963 as a matter of routine. When news of the assassination of President John F. Kennedy reached Washington, D.C. on November 22, the flag was lowered to half-staff, and it remained that way until it was lowered on December 22, at the close of the official month of mourning. While this flag did not play a formal role in the funeral, it was a prominent symbol of the nation's grief on the grounds of the U.S. Capitol.
When installing a historic artifact for public viewing, the desire is to make an object as accessible as possible while protecting it from damage – be it from environmental elements such as light or from risks associated with the display methods. The flag provided a unique challenge, due to both its size and age.

A textiles conservator carefully prepares the U.S. Senate wing flag for installation as part of the Mourning a President exhibit
In the exhibit's planning phase, the Museum's Collections staff enlisted a textiles conservator to examine the historic flag to help determine if it could be safely displayed. In February 2017, this critical assessment took place in a public space where Museum visitors were intrigued to witness the process. Assured the flag's physical integrity was intact, staff proceeded with plans to install the flag in the future exhibition. "It's in very good shape structurally. There was some discoloration, mainly in the center of the flag, which is common when textiles are in storage," says Lindsey Richardson, Curator of Collections. "Stains were present on the flag when it was acquired by the Museum, and we can only speculate as to their origins."
It was important that the manner of hanging the flag in the exhibit comply with advisory rules for display and care of the U.S. flag set out in the United States Flag Code, while at the same time ensuring the safety and long-term preservation of the flag as a museum artifact. Mounted from a custom-made rod and sleeve that both support the flag's structure and allow it to extend freely from the top, the fully unfurled flag provides a striking centerpiece to the exhibit. Museum visitors are able to view and appreciate the flag in its entirety, while its safety and preservation needs are addressed by controlled lighting and a barrier rail.
When the exhibit closes, the flag will be cleaned and carefully stored using archival-grade materials, preserved for future generations as an important symbol of the death of one of this great nation's most revered leaders.
The U.S. Senate Wing Flag will be on display as part of the Mourning a President exhibit until February 19, 2018.
Author's Note: In 1954, President Eisenhower issued Proclamation 3044, which established federal guidelines for the display of flags at half-staff for national leaders and other officials as a mark of respect to their memory. The proclamation specified that upon the death of a president or former president, the flag must remain at half-staff for a thirty-day period. The assassination of President John F. Kennedy was the first presidential death following the proclamation, making Kennedy the first for whom the month of mourning was observed.
Additional information about what the American flag symbolizes can be found here.
January 4, 2018
Once every ten years, collections staff at The Sixth Floor Museum conduct something called a "wall-to-wall inventory" – it's a way for staff to account for every item in the Museum's permanent collection. In 2016, the Museum received a Museums for America grant from the Institute of Museum and Library Services (IMLS) to help fund such an inventory. Intended to be a three-year project, the Museum started its latest inventory project in October 2016. Our Curator of Collections, Lindsey Richardson, oversees the project. Her first step was to hire two full-time Inventory Technicians – Anne Hanisch and Jennifer Browder. This is the team that will carry our project through from start to finish.
A wall-to-wall inventory is just what it says: a count of every single collections item in the Museum's storage spaces. "Inventory is an important standard in museum collections management because it helps maintain intellectual control over collections," says Lindsey.
"The collection is already really well-organized. There are at least 50,000 items, and we expect that number to increase as we go. This year alone, we have inventoried 15,000 items," adds Anne.
Caption: Anne Hanisch (left) and Jen Browder (right) inventory items at The Sixth Floor Museum at Dealey Plaza.
Lindsey explains, "It's important that we know exactly what we have, where it is, and if there are any storage issues that need to be addressed. In general, the standard has been for museums to conduct a complete wall-to-wall inventory on a regular, cyclical basis – in our case, every 10 years." Thanks to the IMLS grant, The Sixth Floor Museum can add a few extra steps to the usual inventory procedures. "Instead of just counting everything and matching to existing data, we are also processing unnumbered items." Lindsey goes on, "So, at the end of the inventory, every item in our collections should have both a number (that will make tracking and finding it much easier) and a basic record in the database (which makes searching the contents of our collections infinitely easier)."
Jen explains further. "For example, one of the items we've come across is a board game – it didn't have a number. Since the board game is an item, it gets an object number. Each little part that comes with the board game, such as the dice, cards and tokens, also needs to be accounted for, so each is assigned a part number. That way they are still connected to the game as a whole but are also accounted for as individual items in our collection."
Caption: This board game from the 1960s comes with many parts such as dice, cards and playing pieces. Jen and Anne inventoried every single part associated with the object.
Jen also points out the care and attention to detail they and other members of collections staff practice in order to preserve, document and store objects in the collection: "We house every single object in archival materials so that they'll be preserved for as long as possible. Hopefully, these 50+-year-old objects will remain in good shape so that multiple generations after us can still access them and learn from the stories and history they represent."
This type of detail-oriented work can be difficult, but Anne and Jen are up to the challenge. The goal for the three-year project is to account for every item in The Sixth Floor Museum's collection at every location where collections are stored. The team has already made great progress and other members of the collections department are happy to see the connections made between collections items and the improved quality of data for items already inventoried.
Both Jen and Anne are familiar faces at The Sixth Floor Museum. Anne previously worked in the Museum Store + Café, and Jen interned at the Museum while she was in high school. They both knew that they wanted to end up working in collections, and their degrees in history and museum studies have prepared them for the work they are doing at the Museum. They're happy that the work they're doing over the course of this three-year grant will have such a large impact.
"I think people need to understand how large a museum's collection is. What you see on the surface, or what you see on display at the museum, is the tip of the iceberg. Since the museum wants to preserve and make accessible everything in collections, the things on display are the most obvious form of access. The rest, all the other collection items we have in storage, are hidden from view," says Anne, "Because that's the best way to ensure their preservation."
Caption: Anne examines documents from The Sixth Floor Museum's collection.
For the next two years, Jen and Anne will continue to work toward ensuring our collection is completely inventoried, with accurate data and archival, well-organized storage. And if you're wondering about all the interesting objects they get to inventory, they love that part of their job, too.
"The coolest part about our job is we will get to handle every single one of those objects. So, it's a large task, but it's a very important task," says Jen. Anne says it's super-exciting to be working on an IMLS grant, especially for self-proclaimed history nerds like themselves. They wouldn't want to be doing anything else.
This project was made possible in part by the Institute of Museum and Library Services MA30-16-0215-16.
The views, findings, conclusions or recommendations expressed in this article do not necessarily represent those of the Institute of Museum and Library Services.
October 27, 2017
Many visitors express curiosity about what goes on behind the scenes at The Sixth Floor Museum at Dealey Plaza, and this new series, "The Sixth Floor Museum: Behind the Scenes," was created to answer those questions. It takes a lot of hard work and daily attention to every detail to protect and preserve the 50,000+ objects in our collection. From a multitude newspaper clippings to the recognizable Hertz sign formerly atop the Texas School Book Depository, there's a myriad of exciting, interesting and unique items. The care of these objects is varied as well, and our Collections staff is up for the challenge of looking after a large array of objects. A number of items are on loan to the Museum, and the staff cares for these objects just as if they were our own. One such object is the FBI model, on display on the sixth floor.
Owned by the National Archives and Records Administration (NARA), the FBI Model is on long-term loan to The Sixth Floor Museum, where it has been on display since 1995. The model was built by the FBI in 1964 to help investigate the Kennedy assassination and was also later used by the Warren Commission and the House Select Committee on Assassinations when they conducted their investigations. There are very strict conditions, especially regarding lighting, for this special object and the Museum is diligent about ensuring these conditions are met.
Recently, Abigail Aldrich, Exhibits Conservator at NARA, stopped by to assess the condition of the model.  Aldrich says that one of the most interesting things about the FBI Model is that because it was developed specifically to assist with a criminal investigation, it was not built to last forever. For example, the shrubs and trees in the model are made with natural sponge, which is very fragile. Over time, tiny pieces might start to come off. Aldrich says this can't be totally avoided, but meticulous care can help slow the aging process.
As a part of her assessment, Aldrich performed what is known as a "condition check" on the FBI Model. To do this, she compared the model's current state to what was previously noted by NARA, checked for areas of concern and ran numerous tests. Light levels, temperature and humidity are monitored to make sure that those levels meet the exacting standards NARA sets in place for all objects on loan. Aldrich says that though she expected there to be significant change since the last time NARA checked the object, she was impressed by its overall condition.
The FBI Model is encased in special UV-filtered glass that keeps as much light as possible out of its case without obstructing one's view of the model. To help prevent damage from light, the Collections department monitors surrounding light levels with both an environmental monitor and a light reader installed inside the FBI model case. If testing reveals that levels are incorrect, staff adjusts the model's exposure to light sources. Sometimes, this means removing or rearranging light around the case.
Very little about the model's condition has changed since the last time it was inspected by NARA. That's a testament to The Sixth Floor Museum's commitment to preservation and to the strong working relationship between NARA and our Collections staff.
August 4, 2017
Your guide to getting the most out of your visit to the Museum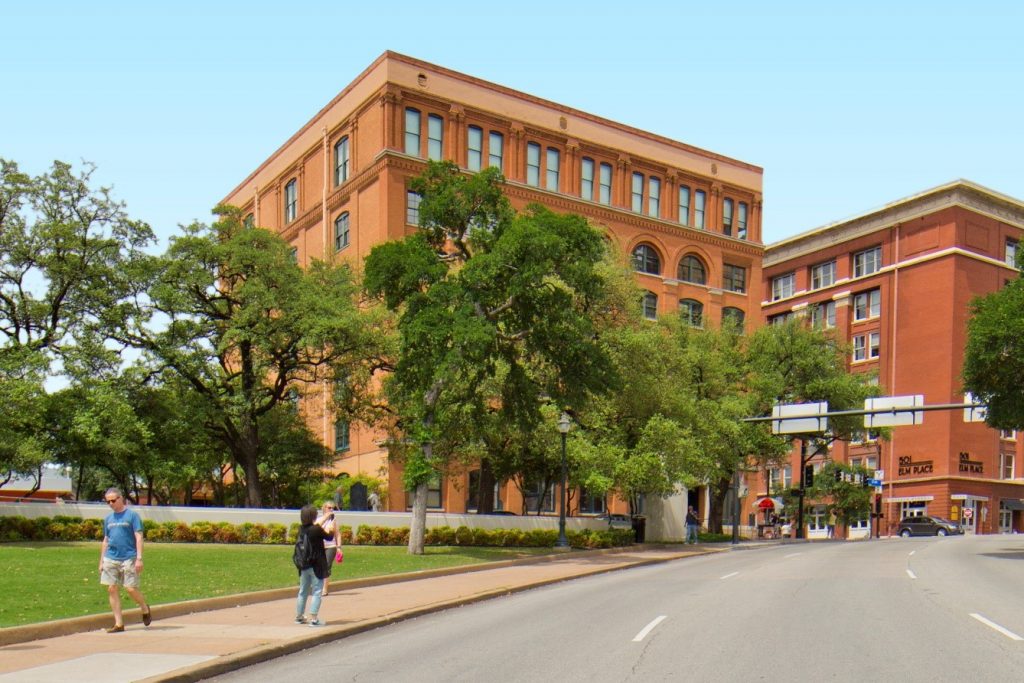 The Sixth Floor Museum at Dealey Plaza welcomes many visitors from all over the globe during the summer months. However, as Dallas locals know, summer is not our most forgiving season, since temperatures sometimes reach triple-digits. We have compiled a list of tips that will help you enjoy your trip to the Museum this summer, no matter how high the heat index.
Wear comfortable clothes
Summers in Dallas are H-O-T! Out-of-towners are often surprised that while the temperature may only be 93, the heat index makes it feel much warmer outside. Thankfully, The Sixth Floor Museum is indoors and air conditioned, but we still recommend dressing for the sweltering heat outside. Comfortable walking shoes, breathable shirts and shorts are recommended.
Buy tickets online
Sometimes the Museum sells out. Summer is a busy time of year and we want to ensure your visit is a special one! You can buy timed tickets online a minimum of two hours in advance at www.jfk.org. Often, buying tickets online helps you better plan your trip and it might minimize your wait time to get into the Museum.
Take note of museum hours
Unlike many museums that are closed on Mondays, The Sixth Floor Museum is open daily. Admission hours are Tuesday – Sunday 10 a.m. to 6 p.m. and Mondays 12 p.m. to 6 p.m. However, if you do arrive early on a Monday, have no fear! The Museum Store + Café is open from 9:30 a.m. to 6 p.m. every day. Located across the street from the Museum at 501 Elm street, it's situated on the corner of N. Houston Street and Elm. Early birds can enjoy coffee from Oak Cliff Coffee Roasters and snack on pastries from Rush Patisserie and sandwiches from Bolsa while they wait.
Visit Museum Store + Café
We strongly recommend a visit to the Museum Store + Café after you view the exhibit as well. In addition to the delectable assortment of edibles listed above, the Café also sells Henry's Ice Cream, a delicious North Texas treat. The merchandise is eclectic, including a wide range of books, collectibles, jewelry and gifts. You'll find items pertaining to President Kennedy's campaign, assassination and legacy. The Museum Store + Café also carries jewelry, books and gifts that evoke Jackie Kennedy's famous personal style, as well as items that center around rich culture of Texas and downtown Dallas.
Get the most out of your day in Big D
Did you know that when you park in The Sixth Floor Museum's parking lot during the day, your parking is valid until 7 p.m.? In addition to visiting the Museum, we recommend getting the most out of your day in Dallas by visiting other nearby institutions or eating a meal at one of the great restaurants in the West End. For this, you will also want to wear comfortable shoes! Many exciting attractions and food destinations are just a 10-15 minute walk away.
Regardless of how you plan your trip around a visit to The Sixth Floor Museum at Dealey Plaza, our goal is to ensure your time in the Museum will be a profound experience with lasting memories. We hope to see you soon at The Sixth Floor Museum!