July 8, 2016
The Museum WILL be open Saturday, July 9, from 10 a.m. – 6 p.m. If you had a ticket for Friday, July 8, we will honor it for Saturday or a later date, or if preferred, provide a full refund.
Our thoughts remain with the Dallas P.D., DART P.D., their families and our city as we honor the heroic officers who were injured and who gave their lives in the line of duty on Thursday night. We encourage you to visit our online Memory Book and share personal reflections during this trying time. Guests are also invited to sign the Memory Books in our main exhibit.
If you would like to support those affected by the shootings and their families, please donate to the Line of Duty Fund at The Dallas Foundation.
July 8, 2016
Due to the ongoing police investigation in downtown Dallas, The Sixth Floor Museum is closed today. Our thoughts are with Dallas and DART P.D. and their families.
June 28, 2016
Employee Spotlight: Jan Masterson
Title: Collections Cataloguer
Worked at the Museum: 3 years
Hometown: Nashville, TN
1) You recently changed positions from our Guest Services team to Collections. Tell me a little about how that happened.
My background is actually in Collections. That's what I worked in in other museums and that's what I went to grad school for. We moved here for my husband's job a few years ago and I was actually hired as seasonal staff during the 50th Anniversary, and then I got hired on to the Guest Services team permanently. But when the Collections position came up, it was perfect for me.
2) Tell me about your new position.
I'm working on cataloguing different parts of our collections. For example, I was working on some photographs of President Kennedy a week before the assassination when he was visiting a U.S. Navy ship in Florida. Right now, I'm working on some magazines from the 1960s and even one from 1995 when Rose Kennedy passed away.
3) What is cataloguing all about & why is it important?
Cataloguing is about capturing all the pertinent data about the item. The date, description of the item, donor information and the historical significance of an item. We also either scan & photograph it to have a visual record in the database. We try to get as much information as possible about the item, so that they can be searched for and found by researchers on our website. We have only catalogued about half of the more than 50,000 items in our collections. It takes a lot of time to catalogue, so we just have to slowly work our way through it.
4) What's your favorite part about your new position and working at the Museum?
I love getting to handle the objects and investigating their significance. For example, yesterday I was working on a copy of a job application turned in by Lee Harvey Oswald from October 1963, and there was this handwritten note on the back from the interviewer about what a former employer told him. Basically, he was not recommended for the job. It's just cool to see this little insight into what was happening in the past.
My favorite part about working at the Museum is the people I get to work with. It's not such an enormous staff that you don't know who people are. I enjoy that this is such a pivotal moment in U.S. history and getting to help tell that story.
5) What's something cool that's happened to you since you started working here?
A couple of weeks ago, I was working Admissions and I met this man who was a former Dallas police officer and he told me he was on the force in 1963, although he was not in Dealey Plaza when the assassination happened. But he was close to J.D. Tippit, so I immediately thought it would be great to ask him to participate in our Oral History Project. So I got his information and hopefully we'll be able to capture his story. It's pretty cool to get to meet people who have a connection with this place and what happened here.
6) Secret hobby/passion?
I knit! I keep a project with me everywhere. I keep one in the car in case I get stuck in traffic. I always have one with me and three sitting on my couch in the midst of being completed. I'm working on a skirt for my cousin's 7 year old daughter and I'm working on two baby hats. And I'm making a turtle!
7) If you were a superhero, what would your superpower be?

To fly. It'd be cool to go wherever you want, whenever you want. Plus, you can skip traffic!
Want to join Jan on our team? Keep an eye on JFK.org/Careers for open positions, or follow us on Twitter @sixthflrmuseum for updates!
May 27, 2016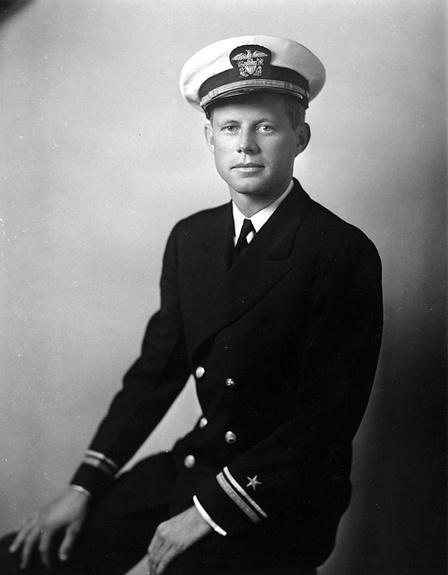 This weekend, we celebrate Memorial Day and honor those who gave their lives serving our country. Sunday also coincides with President Kennedy's 99th birthday. That is perhaps appropriate considering the president's great support of the military. Kennedy himself served in the United States Naval Reserve during World War II. "I can imagine a no more rewarding career," he said, while speaking at the U.S. Naval Academy in 1963.
Less than two months before the birth of the future President John F. Kennedy in 1917, the United States officially declared war on the German Empire, three years into World War I. President Woodrow Wilson, who had just started his second term in March, spoke before a joint session of Congress on April 2, 1917. Although he had advocated neutrality, recent world events prompted him to push for U.S. entry, declaring it to be the "war to end war." World War I would conclude the following year with the Armistice of Compiègne—ending the fight on the Western Front—between the Allies and Germany on November 11, 1918.
43 years later, President Kennedy would recognize those who "flew and fought in the skies over Europe" at a reunion of World War I veterans. He wrote: "The courage and spirit of those who led the way established a proud tradition for the airmen who followed in World War II, Korea, and the Cold War of today."
Like President Kennedy, we take this weekend to show our appreciation for all those who have served and are serving our nation.
In honor of President Kennedy's 99th birthday, we will be offering 99 cent ice cream (the President's favorite food) at the Museum Store+Café all Memorial Day weekend. In addition, the Museum will have extended holiday hours on Monday, May 30, and will be open 10 a.m. to 6 p.m.
From all of us at the Museum, have a happy and safe holiday weekend!