December 21, 2017
By Stephen Fagin, Curator, The Sixth Floor Museum at Dealey Plaza
As we look ahead to the 55th anniversary of the Kennedy assassination next November, the ongoing Oral History Project at The Sixth Floor Museum at Dealey Plaza continues to gather unique perspectives on President Kennedy and the history and culture of the 1960s. Unfortunately, the passage of time inevitably means that we lose valued storytellers who have contributed memories to this ever-growing archive of "living history." Between December 2016 and December 2017, we recognize the passing of a record number of oral history participants. We would like to acknowledge those who have helped us build a more complete and personal portrait of the time period.
In December 2016, we lost longtime Southern Methodist University professor Marshall Terry. Terry recalled being concerned about political extremism in Dallas in the early 1960s. Local resident Mickey Greer witnessed this firsthand when she saw protestors heckle U.N. Ambassador Adlai Stevenson in October 1963. That negative atmosphere inspired Greer to become more politically and socially active, much like Kennedy campaign volunteer Janet Cormier and civil rights activist Opal Mitchell Lee, who participated in several sit-ins. Future mayor Robert Folsom was president of the Dallas school board in the early years of desegregation. He worked with fellow board member Bill Hunter, whose son was born at St. Paul Hospital in Dallas on November 22, 1963.
Eight-year-old Bill Paxton sits atop a stranger's shoulders while listening to President Kennedy in Fort Worth. Gene Gordon Collection/The Sixth Floor Museum at Dealey Plaza 
The evening before the assassination, President Kennedy spoke at the annual conference of the League of United Latin American Citizens (LULAC) in Houston, where Roy R. Botello captured a color home movie. When the Kennedys arrived in Fort Worth late that night, Bettye Baccus was there to shake their hands. She saw the president again the next morning when he spoke outside the Hotel Texas. Actor Bill Paxton, an eight-year-old in that crowd, sat on a stranger's shoulders for his chance to see President Kennedy. Fort Worth natives Elizabeth Sullivan and Cecile McKenzie were too busy working that day to go to the Hotel Texas. In November of this year, we lost these lifelong friends—both at age 106—within a week of each other.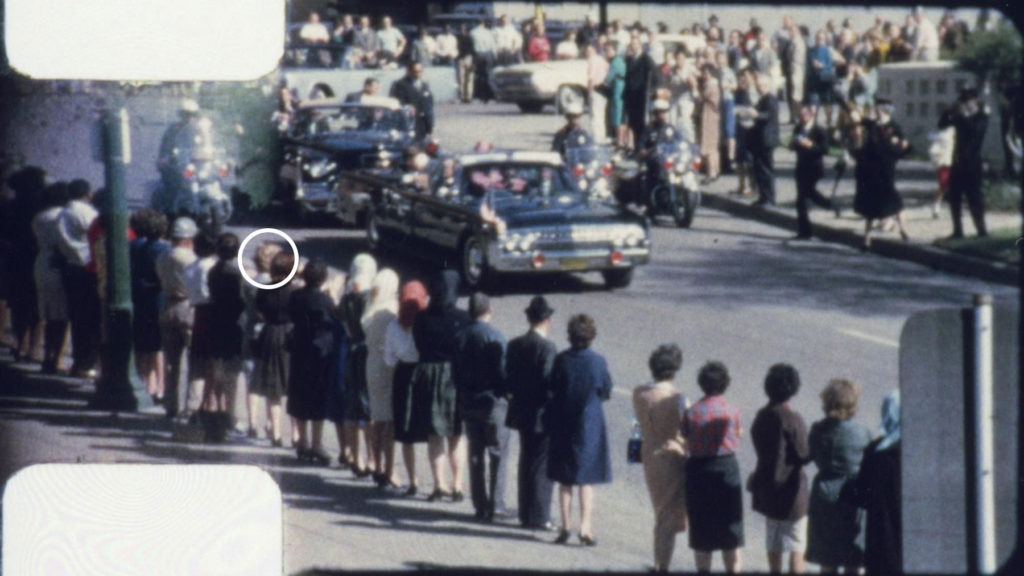 Mary Woodward Pillsworth witnessed the assassination from the north side of Elm Street. Zapruder Collection/The Sixth Floor Museum at Dealey Plaza
From Fort Worth, the Kennedys flew to Dallas Love Field, where high school student Sherry Simmons cheered their arrival. Thousands lined the motorcade route, including WFAA Radio employee Richard Bove, as the parade made its way to Dealey Plaza. Dallas Morning News reporter Mary Woodward Pillsworth was on her lunch break when she witnessed the assassination. On the scene immediately, Dallas County deputy sheriff Eugene Boone searched the nearby rail yards and later discovered a rifle on the sixth floor of the Texas School Book Depository.
Bob Welch captured the only sound recording of President Kennedy's death announcement at Parkland Hospital. He is pictured here as the cameraman. Dallas Times Herald Collection/The Sixth Floor Museum at Dealey Plaza
The motorcade sped toward Parkland Memorial Hospital, as witnessed by Dallas resident Robert S. Richardson. Following close behind was WBAP reporter Bob Welch, delivering one of the first reports of the shooting. At Parkland, Welch captured the only known sound recording of the official announcement of President Kennedy's death. People everywhere soon learned of the assassination, including those gathered at the Dallas Trade Mart for the scheduled presidential luncheon. Longtime Dallas Times Herald women's news editor Vivian Castleberry was there, assigned to cover Jackie Kennedy's visit to the city, along with Jean Kerr, who had been asked to sing the national anthem that day.
Vivian Castleberry takes notes during a moment of prayer at the Dallas Trade Mart luncheon.  William E. Cooper Collection/The Sixth Floor Museum at Dealey Plaza
Lee Harvey Oswald was arrested that afternoon inside the Texas Theatre in Oak Cliff.  Joan Bickerstaff Nichols was on her way to the theater to visit her friend, cashier Julia Postal. In the hours after Oswald's arrest, hundreds of journalists descended on Dallas, including New York Times reporter John Herbers and New York Herald Tribune reporter Maurice "Mickey" Carroll. On Sunday, Carroll witnessed local nightclub owner Jack Ruby shoot Oswald in the basement of police headquarters. One of Ruby's exotic dancers, Joyce Gordon (aka Joy Dale) was among the first to be interviewed on television about her boss. The following day, noted philanthropist Ruth Altshuler was part of the Dallas County Grand Jury that indicted Jack Ruby for the murder. At Ruby's trial in early 1964, KRLD-TV art director Charles Fisher served as a courtroom sketch artist. While Ruby was incarcerated at the Dallas County Jail, he was photographed by UPI freelance photographer Shelly Katz, who had previously covered Sen. John F. Kennedy during the 1960 presidential campaign.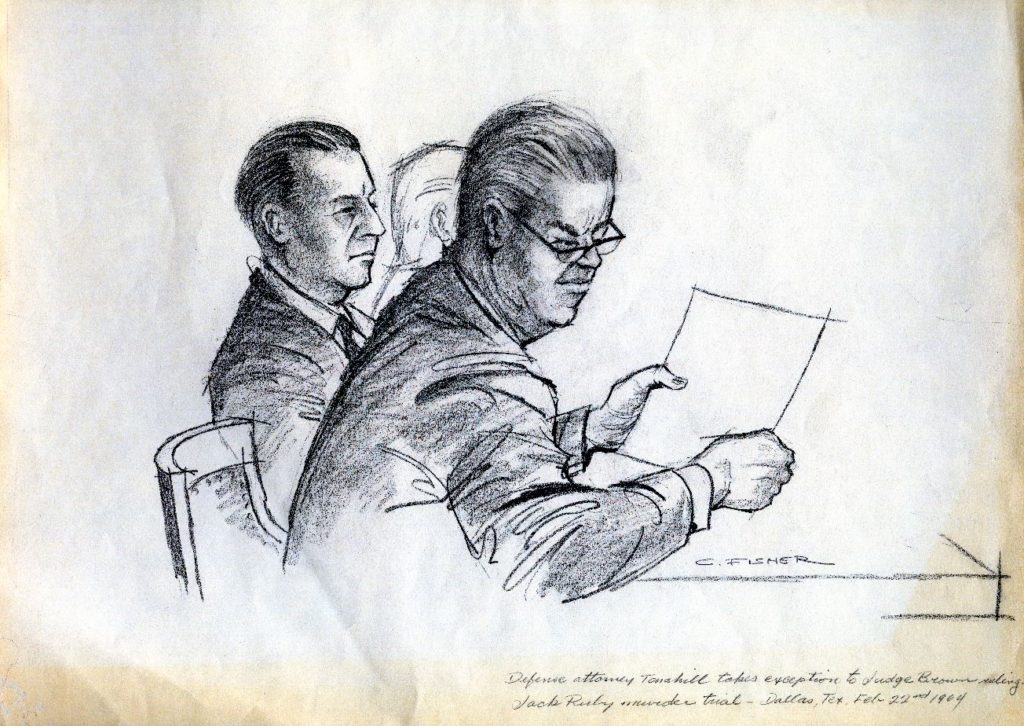 KRLD-TV art director Charles Fisher made this sketch of Jack Ruby and attorney Joe Tonahill during the 1964 Ruby trial. Charles Fisher Collection/The Sixth Floor Museum at Dealey Plaza
Many local residents sought to memorialize President Kennedy and rehabilitate the Dallas image. Music teacher Dorothy G. Elliott wrote a choral piece, "A City Mourns (for John F. Kennedy)," and sent a copy of the sheet music to Mrs. Kennedy. Dallas Times Herald editor Bert Holmes championed the Goals for Dallas project, launched one year after the assassination, while social activist Marjorie Westberry founded a local chapter of the National Organization for Women. Noted architect Philip Johnson ultimately designed the city's official memorial to President Kennedy. Architect and author Frank Welch extensively studied Johnson's career and helped explain the meaning and significance of the John F. Kennedy Memorial. At the site of the assassination, many wanted the Texas School Book Depository torn down, though the building was ultimately preserved and a historical exhibit developed for the sixth floor. National Parks Service administrator Richard Sellars became an exhibit consultant and vocal supporter in the 1980s. In more recent years, SMU associate professor Dennis Simon worked with The Sixth Floor Museum on numerous occasions, including educational workshops exploring civil rights and the cultural impact of U.S. presidents.
Lingering questions about the death of President Kennedy inspired a generation of authors, filmmakers, and researchers. This year we lost Lincoln Endelman, who worked for two decades with Roland Zavada, a Kodak engineer who authenticated the Abraham Zapruder film. Author Jim Marrs wrote about that famous home movie in his 1989 bestseller, Crossfire, part of the basis for Oliver Stone's JFK (1991). Included in Marrs' book is the story of Bethesda Naval Medical Center petty officer Dennis David. His observations of President Kennedy's casket on the night of the assassination became a point of controversy among researchers.
Everyone has a story to share, and we are grateful to these individuals for providing memories that will benefit students, researchers and historians around the world.  If you would like to add your voice to our ongoing Oral History Project, please contact OralHistory@jfk.org.
December 30, 2016

by Stephen Fagin, Curator, The Sixth Floor Museum at Dealey Plaza
More than fifty-three years after the Kennedy assassination, the ongoing Oral History Project at The Sixth Floor Museum at Dealey Plaza is in a race against time. A seventeen-year-old high school student in 1963 is today 70 years old. As these November anniversaries go by, we sadly lose more of our storytellers each year. As we acknowledge those interview participants who passed away this year, we also applaud their willingness to add such unique perspectives to our ever-growing archive of "living history."
In late December 2015, we lost Dallas Police Lieutenant Rio Sam Pierce, who was in charge of basement security on the day of Lee Harvey Oswald's planned transfer to the Dallas County Jail. Pierce drove his vehicle up the Main Street ramp at the time many believe Jack Ruby gained access to the basement. Ruby's good friend, longtime Dallas Times Herald television editor, Bob Brock passed away this year. Brock spoke with Ruby just one day prior to the Oswald shooting. When Ruby went on trial the following year, young SMU law student George Bramblett, Jr. was there to watch the spectacle unfold. Covering the trial for the Associated Press was photographer Ferd Kaufman, who held the distinction of capturing through his camera lens Presidents Kennedy and Johnson, Lee Harvey Oswald, and Jack Ruby. In fact, Kaufman was one of the first to photograph Oswald after his arrest at the Texas Theatre, where the late Dallas police patrolman Jerry Pollard had helped wrestle Oswald to the ground.
Another photographer who passed away in 2016 was Joe Laird, the last surviving staff photographer at The Dallas Morning News in 1963. Laird photographed the Kennedy motorcade at the corner of Main and Harwood Streets. Near his location was parade spectator Sam Berger, who had sold Abraham Zapruder the Bell and Howell home movie camera that he would use to capture the assassination on film that day.
Following news of the assassination, young Karen Knight Neukom and her family went to Dallas Love Field. Her father had been Senator Kennedy's campaign manager in Wichita County, Texas, during that hard-fought 1960 campaign. The late Harold Vaughan also understood the pressures of campaigning for Kennedy. As the senator's direct link to the African American community in Boston, Vaughan worked on Kennedy's first U.S. Senate campaign in 1953.
Prior to his Texas visit in November 1963, the president supposedly asked Arkansas Sen. John McClellan to quietly survey the conservative political atmosphere in Dallas. His cousin, Sue Crutchfield, who passed away this summer, shared this untold story that might have been lost to history. The Dallas City Council had also voiced concerns, questioning the police chief at length about security preparations. This November we lost Dorothy Roberts, widow of 1963 councilman Bill Roberts. Though the Warren Commission later investigated right-wing activities in Dallas, they ultimately concluded that Oswald acted alone. The late Justice Richard Mosk served on the Warren Commission's staff. He shared his memories with us at a 2013 public program exploring the Commission's efforts.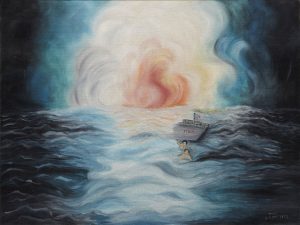 The assassination impacted individuals around the world in profound ways. In Dallas, the Reverend Wally Chappell led a special prayer service for President Kennedy at Ridgewood Park United Methodist Church. Noted Fremont, Ohio, artist Bernadine Stetzel responded to the tragedy through seventy-one paintings depicting President Kennedy's life and death. In 2011, she donated those works to the Museum. We also lost two oral history subjects from the world of entertainment. Actor Alan Young, star of the popular Mister Ed sitcom in 1963, shared his memories of when production shut down on November 22, 1963. The advertising manager for Disneyland, Jack Lindquist, discussed the unscheduled closing of the Anaheim theme park in memory of President Kennedy.
Everyone has a story to share, and we are grateful to these individuals for helping us better understand the moment and the memory of the Kennedy assassination and the 1960s.  If you would like to add your voice to our ongoing Oral History Project, please contact OralHistory@jfk.org.
Stay tuned for an upcoming special blog post in memory of former WBAP reporter Bob Welch.

>