August 4, 2017
Your guide to getting the most out of your visit to the Museum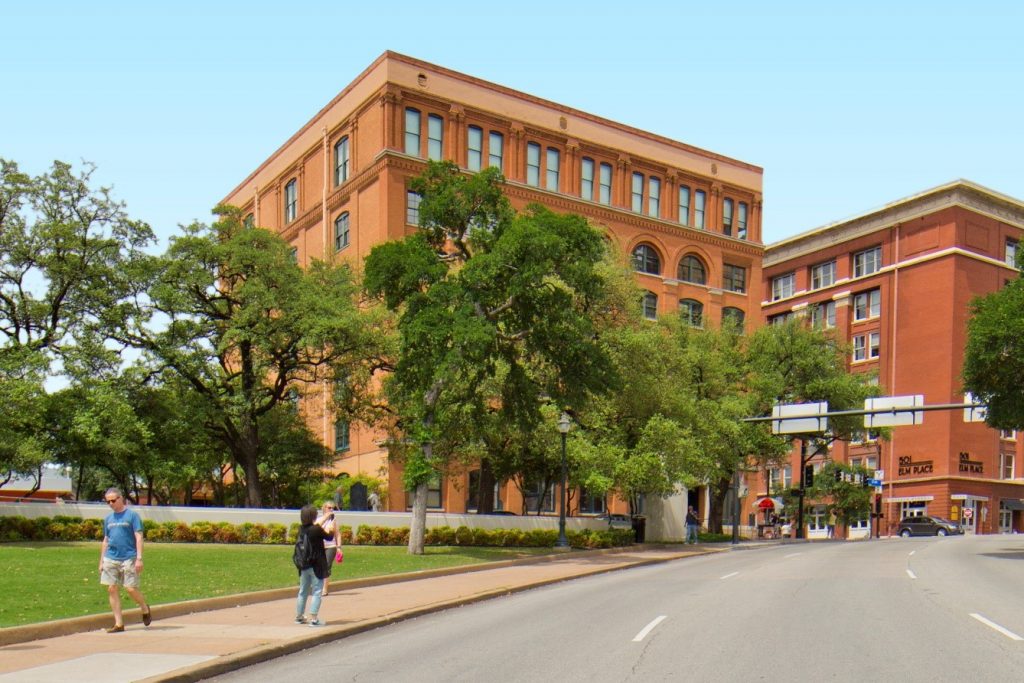 The Sixth Floor Museum at Dealey Plaza welcomes many visitors from all over the globe during the summer months. However, as Dallas locals know, summer is not our most forgiving season, since temperatures sometimes reach triple-digits. We have compiled a list of tips that will help you enjoy your trip to the Museum this summer, no matter how high the heat index.
Wear comfortable clothes
Summers in Dallas are H-O-T! Out-of-towners are often surprised that while the temperature may only be 93, the heat index makes it feel much warmer outside. Thankfully, The Sixth Floor Museum is indoors and air conditioned, but we still recommend dressing for the sweltering heat outside. Comfortable walking shoes, breathable shirts and shorts are recommended.
Buy tickets online
Sometimes the Museum sells out. Summer is a busy time of year and we want to ensure your visit is a special one! You can buy timed tickets online a minimum of two hours in advance at www.jfk.org. Often, buying tickets online helps you better plan your trip and it might minimize your wait time to get into the Museum.
Take note of museum hours
Unlike many museums that are closed on Mondays, The Sixth Floor Museum is open daily. Admission hours are Tuesday – Sunday 10 a.m. to 6 p.m. and Mondays 12 p.m. to 6 p.m. However, if you do arrive early on a Monday, have no fear! The Museum Store + Café is open from 9:30 a.m. to 6 p.m. every day. Located across the street from the Museum at 501 Elm street, it's situated on the corner of N. Houston Street and Elm. Early birds can enjoy coffee from Oak Cliff Coffee Roasters and snack on pastries from Rush Patisserie and sandwiches from Bolsa while they wait.
Visit Museum Store + Café
We strongly recommend a visit to the Museum Store + Café after you view the exhibit as well. In addition to the delectable assortment of edibles listed above, the Café also sells Henry's Ice Cream, a delicious North Texas treat. The merchandise is eclectic, including a wide range of books, collectibles, jewelry and gifts. You'll find items pertaining to President Kennedy's campaign, assassination and legacy. The Museum Store + Café also carries jewelry, books and gifts that evoke Jackie Kennedy's famous personal style, as well as items that center around rich culture of Texas and downtown Dallas.
Get the most out of your day in Big D
Did you know that when you park in The Sixth Floor Museum's parking lot during the day, your parking is valid until 7 p.m.? In addition to visiting the Museum, we recommend getting the most out of your day in Dallas by visiting other nearby institutions or eating a meal at one of the great restaurants in the West End. For this, you will also want to wear comfortable shoes! Many exciting attractions and food destinations are just a 10-15 minute walk away.
Regardless of how you plan your trip around a visit to The Sixth Floor Museum at Dealey Plaza, our goal is to ensure your time in the Museum will be a profound experience with lasting memories. We hope to see you soon at The Sixth Floor Museum!
July 20, 2016

This week, The Sixth Floor Museum partnered with our friends at 29 Pieces for a teacher workshop on respect and presidential elections. 29 Pieces took the educators through their Respect Project lesson and even gave the teachers a chance to participate in the Respect Art Project, which will place 25,000 pieces of art about compassion and respect around Dallas during the 2016 election season. We sat down with Karen Blessen, founder of 29 Pieces, to talk about our partnership and an exciting upcoming project.
Q: Can you tell me a little about the workshop today?
A: Today at The Sixth Floor Museum, we are doing a workshop on the Dallas Respect Project. We are going to ask everyone to take the lesson back to their classes and do it with their kids. They will create circular posters on the theme of respect and compassion, and then we'll ask them to take their artwork out into the community and display it starting September 16, so the whole city is covered with these messages about respect and compassion.
Q: Why do you think respect and compassion is so important to talk about with both students and teachers, especially now?
A: Well, they are always important. At this moment in time, there are so many emotions igniting and there are so many discussions going on, whether it's along racial lines, religious lines, whether it's about immigration or gender. There are so many thoughts about me versus them. One of the ways to unite is to learn to respect each other. And by respect, I don't mean like what your mother used to say, you have to respect me, I mean listening to each other, being open to take it in.
Q: Why did you decide to partner with the Museum?
A: There's a really deep reason that we make such great partners, with the Dallas Love Project and now with the Respect Project and the Pulitzer Centennial event in September. At the core of each of our organizations is a tragic event. Of course the Kennedy assassination for the Museum, which rocked the whole world. For 29 Pieces, it was a young man who was shot and killed in front of my home in Lakewood in August of 2000. It was a senseless killing over an attempted carjacking that barely got any media attention. So it didn't rock the whole world, but it rocked the world of all the people who knew the victim, the shooter and the people in my neighborhood. I think both of our organizations exist as ways to confront, talk about, deal with tragedy and try to make it a less violent and more peaceful world.
Q: You mentioned our joint event in September. Tell us a little about that.
A: On September 21, International Day of Peace, The Sixth Floor Museum and 29 Pieces will be coming together to host a panel discussion with some of the most decorated combat photographers alive, and it will be part of the Pulitzer Centennial. We will have five Pulitzer Prize-winning photographers and one photographer from Israel who won an international womens photography award. We're coming together to talk about the illusion and disillusion of war, and we're honoring these photographers who have witnessed this and ask them why they put themselves in harm's way, what has it done to them, what effect it's had on their own lives and what wisdom they've gleaned from their experiences that they can share.
Q: Why photographers?
A: They are so willing and so courageous in a way that I could never be. They're willing to into the volcano to really make all of us see what's going on in the world. They're living witnesses to what we maybe never would see or want to see, unless they make us. They're telling the story, which is part of both of our missions as well.
Q: Why is it important for our organizations like ours to come together to work on projects like these?
A: I think it's really important that organizations come together to work on topical projects because there's a strength in joining forces. It displays a unity publicly, it's not just one of us that's concerned about these issues, it's all of us. Just that demonstration is a powerful statement.
Stay tuned to JFK.org/events for more information about our International Day of Peace event!

>
May 25, 2016
To officially open our new exhibit, A Time For Greatness: The 1960 Kennedy Campaign, this week we brought in noted presidential historian David Pietrusza, author of 1960: LBJ vs. JFK vs. Nixon, along with several other books about notable presidential campaigns.
You've written several books about presidential electoral history. What intrigued you most about 1960?
You have these three guys that everybody knows, Kennedy, Nixon & Johnson, that were so different from each other & they all mean so much to people today. These guys have shaped our entire lives.
Your book talks about all 3 candidates from the 1960 election. Without getting into the actual politics, do you see any parallels with candidates from this year's election?
Our candidates this year are clearly…unparalleled. She wouldn't like the comparison, but in a way, Hillary is a little like Nixon. She comes back from adversity. But as for Trump…no, no comparisons. There's no one like him.
Having researched so many presidents, what makes Kennedy stand out? Why is he so memorable?
He's martyred, first of all. That certainly cements him in our memory. He's also incredibly charming and glib and smart and photogenic. His father worked in Hollywood, he'd been to Hollywood, he saw how stars are made. He was our greatest star president in terms of persona.
What advice would you give young historians?
Read, read a lot. Go to YouTube and go watch old documentaries. Go past the cat videos and all that and go for the good stuff. There's so many old documentaries that are so fantastic, like Project XX or Robert Ryan's CBS documentary on World War I. Keep reading and watching and you'll start connecting the dots for yourself, and that's where the fun really begins.
Your favorite president ever?
I think it's Calvin Coolidge. I like his style and his accomplishments. I was always very shy as a child and even now. You get me going on history and I'll talk your ear off, but aside from that, I understand what Coolidge had to go through to get elected. When I started knocking on doors to get elected to City Council, I learned it's very hard to do that and to offer yourself up without selling out your values. I think he did that. He presented himself in a way that generated trust. There's something to be said about integrity.
A Time For Greatness is open through November 13. Learn more at JFK.org/ATimeForGreatness.