July 6, 2017
By Stephen Fagin, Curator, The Sixth Floor Museum at Dealey Plaza
The BBC television program Doctor Who holds the Guinness World Record as the longest-running science fiction series in history. Such a record is not terribly surprising considering that this British institution premiered one day after the Kennedy assassination in 1963. Perhaps because of its coincidental connection to the program's 1963 premiere, its historical and pop culture significance, and its malleability for science fiction writers forever pondering "what if," the Kennedy assassination has been curiously linked to Doctor Who for virtually all its history.
Doctor Who, the television program, was developed entirely during the Kennedy years, beginning in March 1962 when the BBC began to explore creating a new science fiction series. Its premiere on Saturday, November 23, 1963, was delayed approximately five minutes by assassination news coverage. Ratings were poor as one might expect, and in a rare move, the BBC decided to rerun that first episode the following week. The assassination occurred during production of the series' second story, "The Daleks." Reportedly, shooting of the series was interrupted and postponed once cast and crew learned that President Kennedy had died.
John F. Kennedy and the assassination were not directly referenced in the series for twenty-five years, though a wax figure of President Kennedy made a brief cameo appearance in the 1970 Third Doctor story, "Spearhead from Space." During its 25th anniversary in 1988, Doctor Who was particularly nostalgic and John F. Kennedy was twice mentioned. The story "Remembrance of the Daleks" took place in November 1963 near the same London junkyard location where the television series began a quarter century earlier. This story opened with a view of the Earth and included a famous quote by John F. Kennedy from his "Strategy for Peace" speech at American University in June 1963—the first and only time his voice is heard in the series' history.
Another 1988 story, entitled "Silver Nemesis" specifically mentioned the Kennedy assassination for the first time. The Doctor, now in his seventh incarnation, revealed that he launched a dangerous artifact into space which, unbeknownst to him, had returned to Earth's orbit once every twenty-five years, triggering some terrible event each time. In 1963, he noted, this would have been the death of President Kennedy.
The assassination again resurfaced in Doctor Who mythology in the very first episode of the re-launched series in 2005. In the premiere, "Rose," the Ninth Doctor is shown standing along Main Street, observing the Kennedy motorcade moments before the assassination.
In reality, the face of actor Christopher Eccleston was Photoshopped into a famous Dallas Morning News photograph taken by Walt Sisco. The implication, however, was that the Doctor was in Dallas when President Kennedy was shot.
Beyond television, President Kennedy and the assassination have been referenced numerous times in the worlds of Doctor Who through original novels and audio-only adventures that fit within the series' official canon. Among these, most notably, is the fan-favorite novel, Who Killed Kennedy (1996). Author David Bishop, writing as an investigative journalist, constructed a complex narrative linking bits and pieces of the series history together, building up to a climax that revealed, once and for all, what actually happened in Dealey Plaza on November 22, 1963, and how the Doctor was directly involved in this significant event.
The 1998 novel Matrix presented an alternate reality in which President Kennedy survived his trip to Dallas but was assassinated three years later while visiting London. And as one might expect from the titles, Kennedy is referenced in two audio adventures: The Conspiracy and 1963: The Space Race. November 2013 marked the fiftieth anniversary of both Doctor Who and the Kennedy assassination.
To once again acknowledge their connection, the Eleventh Doctor novel, Shroud of Sorrow, takes place the dayafter the assassination where an alien entity is trying to use the tragedy as part of a plot to plunge the Earth into grief. The Doctor teams up with an FBI agent and a reporter at The Dallas Morning News to save the day.
It is inevitable that a historical event such as the Kennedy assassination would turn up so many times in a series centered on time travel, yet Doctor Who holds a special distinction because of its November 1963 premiere. It is likely that, in time, President Kennedy and the assassination will again be part of this long-running series' history.  As for when this might happen next, Who knows?
To read the books mentioned in this blog or see other fictional stories related to President Kennedy or the assassination, make an appointment to check out the Museum Reading Room!
November 27, 2016
Author Harry Hunsicker is a fourth generation native of Dallas. In 2005, he introduced the city to private investigator Lee Henry Oswald in his crime novel Still River (St. Martins Press) to critical acclaim. He followed up in 2006 and 2007 with two more additions, Next Time You Die and Crosshairs, to create a trilogy that captured "the dark heart of the Dallas underworld."
Hunsicker is also the former executive vice president of the Mystery Writers of America, which is why in celebration of National Novel Writing Month, we asked him to talk about the craft of writing.
NANOWRIMO
by Harry Hunsicker, Guest Blogger
November is National Novel Writing Month, sometimes known amongst aspiring scribes by the supremely inelegant abbreviation Nanowrimo. (Just slides off the tongue, doesn't it?)
The goal of Nanowrimo is to write an entire book in one month. For those of you who don't know, a completed manuscript typically runs between 250 and 500 double spaced pages. That's somewhere between 70,000 and 120,000 words. Or, as I like to think of it, two metric tons of coffee.
By the time you read this, if you are participating in Nanowrimo, you will be just past the halfway mark. If you are somewhere near the middle of your first draft, I commend you and urge you to keep going. There are not many better feelings in the world than finally tapping out END on your first novel.
My first book, Still River, a detective novel, took six months to write and didn't really come together in my head until I settled on the name of the protagonist, a Dallas-based investigator named Lee Henry Oswald. Lee Henry, Hank to his friends, is not related to Lee Harvey. The name is just one of many crosses he must bear.
As a life-long resident of Dallas, I wanted my main character to have a name that was instantly relatable to the city. (For a period of time, I considered writing about a hitman called Tom Landry, but I was afraid I'd be run out of town.)
If you chose not to participate in Nanowrimo this year, or if the pace has gotten too hard, or you find yourself stuck for whatever reason, consider this an opportunity to brush up on your craft. Here are some books that I have found helpful over the years. (If you're cooking along, for heaven's sake don't stop to read anything. Just keep going!)
On Writing by Stephen King. Far and away the best volume on writing fiction that I have ever read. Part memoir, part how-to, the text peels back the secrecy on the creative process of one of the most successful novelists of all time.
Lessons from a Lifetime of Writing by David Morrell. In 1972, Morrell, a young college professor, published his debut novel, First Blood, a thriller about a Vietnam veteran named Rambo. Pop culture was never the same, not to mention Sylvester Stallone's career. Lessons is Morrell's ode to the craft, advice on how to tell a story and to tell it well. The essence of his message: Write about what you fear the most.
Save the Cat by Blake Snyder. Beginning writers—and more than a few veterans—often have trouble plotting a story, the what-happens-next part of the process. If that sounds familiar, then grab a copy of this book. Save the Cat is designed for screenwriters but the advice is universal, clearly explained and illustrated with examples from the movies.
The last resource I can offer is a simple but effective bit of advice: Don't ever give up!
To read the Lee Henry Oswald series or see other fictional stories related to President Kennedy or the 1960s, make an appointment to check out the Museum Reading Room!
Guest Blogger Harry Hunsicker's forthcoming novel is The Devil's Country (March 2017; Thomas & Mercer.) His work has been short-listed for the Shamus and Thriller Awards. He can be reached via his website: www.harryhunsicker.com, or on Twitter.
August 27, 2016
by Krishna Shenoy, Librarian/Archivist, The Sixth Floor Museum at Dealey Plaza
In the immediate aftermath of a national tragedy, the reaction of a president can set the tone for how a nation will heal and the magnitude of the scars that will remain. In the hours after the assassination of President Kennedy, that task was given to Lyndon B. Johnson.
Only two hours after the fatal shot, on Air Force One, Johnson took the oath of office with Mrs. Kennedy by his side. When the plane landed in Washington, D.C., his statement to the American people was brief: "This is a sad time for all people. We have suffered a loss that cannot be weighed. For me, it is a deep, personal tragedy. I know the world shares the sorrow that Mrs. Kennedy and her family bear. I will do my best; that is all I can do. I ask for your help…and God's." In his book Flawed Giant, historian Robert Dallek called Johnson a "master therapist, soothing the nation with sincerity and wisdom."
In Washington, Johnson found himself with the burden of moving a grieving nation forward. On November 23, 1963, (the day after the assassination) after viewing the fallen President's body with other Congressional leaders, Johnson issued a proclamation declaring November 25, 1963, as a National Day of Mourning for President Kennedy. On that day, schools, businesses and government offices closed in observance. Many watched the funeral on television, while others followed Johnson's call to attend memorial services. Johnson's actions and words promoted feelings of continuity and unity.
One week after the assassination, on November 29, Johnson issued an executive order appointing a commission (Warren Commission) to "evaluate all the facts and circumstances surrounding such assassination, including the subsequent violent death of the man charged with the assassination, and to report to me its findings and conclusions." Johnson believed it essential to provide the nation with a convincing explanation of why and how Kennedy was killed. "A troubled, puzzled and outraged nation wanted to know the facts," he wrote in his memoirs.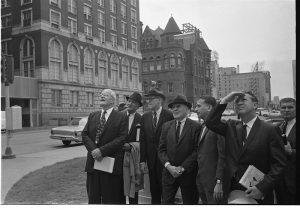 Ten months later in 1964, the Warren Commission submitted a report concluding that Oswald had acted alone and there was no evidence of a conspiracy. Johnson could not have predicted that despite his attempt to assuage the public with this investigation, the findings would ultimately exacerbate the nation's wound and leave scars of suspicion and doubt in the minds of people for decades to come.
Visit the Museum's Reading Room to learn more about the days following the assassination, Lyndon B. Johnson or any of the books mentioned.
July 29, 2016
by Krishna Shenoy, Librarian/Archivist
Money in politics can often be a lightning rod issue during a presidential election, casting a reflection of a candidate's character and influence. Today, we live with unprecedented access and discovery of a candidate's fundraising operations – large or small contributors, soft money versus hard money– but that was not always the case.
While disclosure of campaign finance information was enacted in 1910, it was not enforced until 1967. However, in 1958, when little information concerning campaign finance was available, a group called the Citizens' Research Foundation (CRF), a non-partisan, non-profit organization, began collecting financial data on national-level politics. The Foundation issued a series of studies on presidential campaign financing, starting with the 1960 presidential election. This original, staple-bound issue of Financing the 1960 Election (which sold for 50 cents at the time) from our collection gives details about the financial operations related to Richard Nixon and John F. Kennedy.
In campaigns, no expense is spared when votes are at stake. During the 1960 election, Vice-President Nixon made a $35,000 flight to Alaska and Ohio, the weekend before the election, which paid off for Nixon, when most had predicted both states to go to the Democrats. The campaign staff of Senator Kennedy included a speech professor to teach the candidate voice control, a psychologist to evaluate the size, composition and reactions of campaign crowds, and an official photographer (Jacques Lowe). Both candidates hired stenographic teams to catch and transcribe ever word the candidate uttered to make accurate transcripts available to reporters within minutes after a speech.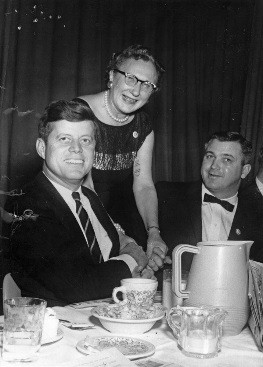 Such expenses revealed the high stakes and great lengths each candidate went to gain the winning edge. Financing these endeavors was no easy task. In 1960, both political parties attempted to broaden their financial base with fundraising drives and dinners. In Syracuse, the "Kennedy for President Club" gave trading stamps in return for contributions at the rate of 10 stamps per dollar. The CRF study reported 213 (142 Republican and 71 Democratic) fundraising dinners, luncheons, breakfasts and cocktails parties. Other fundraising innovations included the Republican party's "Dinner with Ike," a series of dinners being held simultaneously in numerous cities and linked via television, with a price per plate ranging from $5 to $100. As Charles Grutzner, New York Times columnist and reporter once said, "The knife and fork are mighty implements in the Presidential campaign."
In 1860, Abraham Lincoln's winning general election campaign reportedly cost about $100,000, and his opponent Stephen Douglas's campaign about $50,000. One hundred years later, John Kennedy's campaign spent about $9.7 million to defeat Nixon, whose campaign cost about $10.1 million. In 2012, Barack Obama spent $985 million to defeat Mitt Romney, who himself spent $992 million.  Our current election in 2016 is bound to exceed these numbers and in 2017, after the final tally is done, we will pause to consider what the rising cost of presidential campaigns means for the direction of our democracy.
To learn more about the 1960 election, click on JFK.org/ATimeForGreatness or visit the Museum's Reading Room and its latest exhibit, A Time For Greatness: The 1960 Kennedy Campaign, open through November 13.