September 10, 2021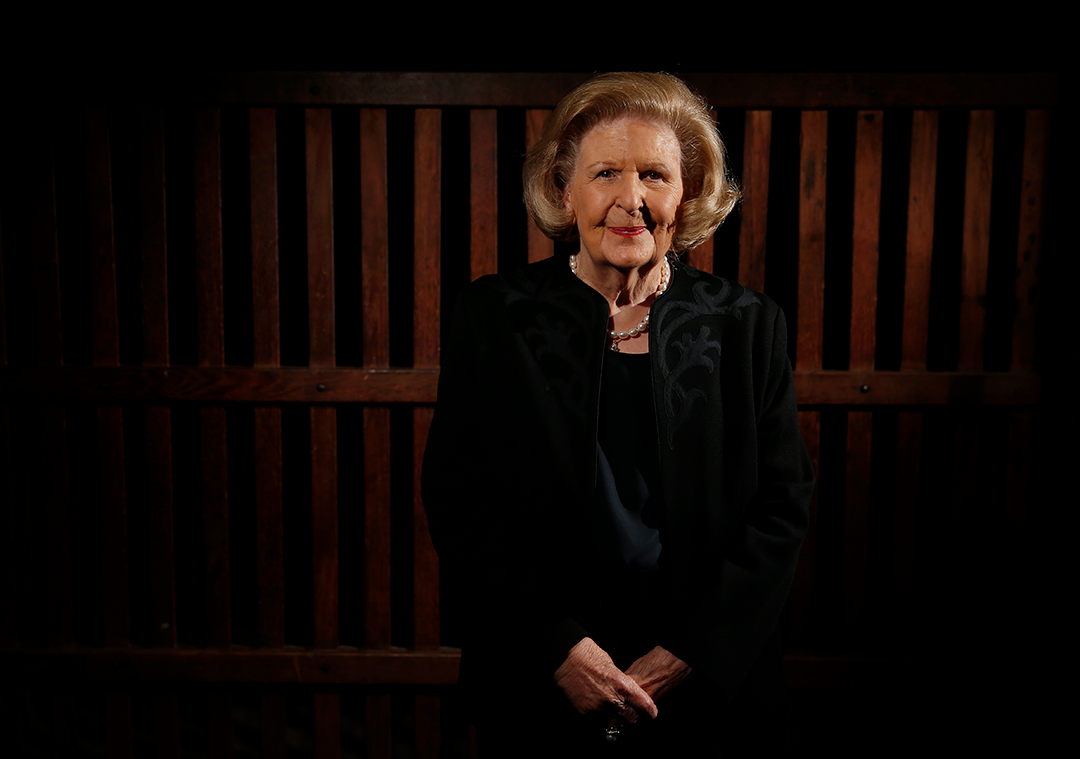 The vast majority of the millions of visitors to The Sixth Floor Museum at Dealey Plaza over the past thirty-two years probably would not recognize Lindalyn Adams. However, few can argue that were it not for this extraordinary champion of historic preservation, today there would probably not be a museum inside the former Texas School Book Depository building at the site of the Kennedy assassination. Anyone who has ever had a meaningful visit to the sixth floor and looked out those arched windows at the landscape of Dealey Plaza owes her a debt of gratitude.
It was with overwhelming sadness that we lost Lindalyn on September 8, 2021, yet we celebrate the remarkable legacy that she leaves behind. Her achievements are too plentiful to list, though they include work with virtually every local historical institution from the Dallas Historical Society to Dallas Heritage Village to the Old Red Courthouse. In 2019, Dallas County officially recognized Lindalyn Adams as "Dallas County's First Lady of Historic Preservation."
Lindalyn's long association with our Museum began with a tour of the empty sixth floor space in March 1977, at a time when the former Depository building was still in danger of being torn down. After Dallas County purchased the structure later that year, Public Works Director Judson Shook asked her to spearhead an effort to create a tasteful historical display about the Kennedy assassination. Little did she know at the time that she would ultimately serve as the project's driving force, community champion and cheerleader through more than a decade of challenging development. Alongside historian Conover Hunt, Lindalyn began touring prominent individuals through the dusty warehouse to solicit support for the controversial project. Over time, the grassroots team would interface with, as Conover Hunt colorfully recalled, "politicians, community volunteers, original participants in the events of 1963, museum and historic preservation professionals, international media, leaders in government investigations, conspiracy fanatics, Kennedy liberals, anti-Kennedy conservatives, academic historians, sociologists, and a few psychiatrists and psychotics." Lindalyn was intimately involved in every aspect of the exhibition's development and proudly led the newly created non-profit Dallas County Historical Foundation during its earliest years. The end result of these herculean efforts was The Sixth Floor exhibit, which opened to the public on February 20, 1989.
As chair emerita of the Dallas County Historical Foundation, Lindalyn Adams has always been—and will forever be—part of our Museum family. She enthusiastically attended numerous programs and exhibit openings over the years as she watched the empty sixth floor that she toured back in 1977 transform into an internationally recognized accredited historical institution. More than just creating The Sixth Floor Museum, however, Lindalyn Adams actively contributed to helping Dallas come to terms with those dark memories from 1963. With her dedicated team, she helped place the Kennedy assassination within the proper context of 20th century American history and culture, and in doing so she aided a wounded community internalize one of the most tragic moments in its modern history. The results of her efforts were seen from the very beginning. In the Memory Books at the conclusion of the exhibit, one of our first visitors wrote that, after the Kennedy assassination, she felt ashamed to live in the community. "Today in '89 on the 6th Floor," she wrote over twenty-five years after the tragedy, "I'm proud to be a Dallasite."
With every public program, educational initiative, exhibit and special event, we will continue to honor the extraordinary legacy of Lindalyn Adams. And we will greatly miss her presence here.
April 4, 2018
By Dr. W. Marvin Dulaney, Associate Professor Emeritus of History at the University of Texas, Arlington
Fifty years ago, on April 4th, the civil rights movement ended. That was the day that James Earl Ray assassinated Dr. Martin Luther King in Memphis, Tennessee and ended Dr. King's larger- than-life role in and influence on the civil rights movement.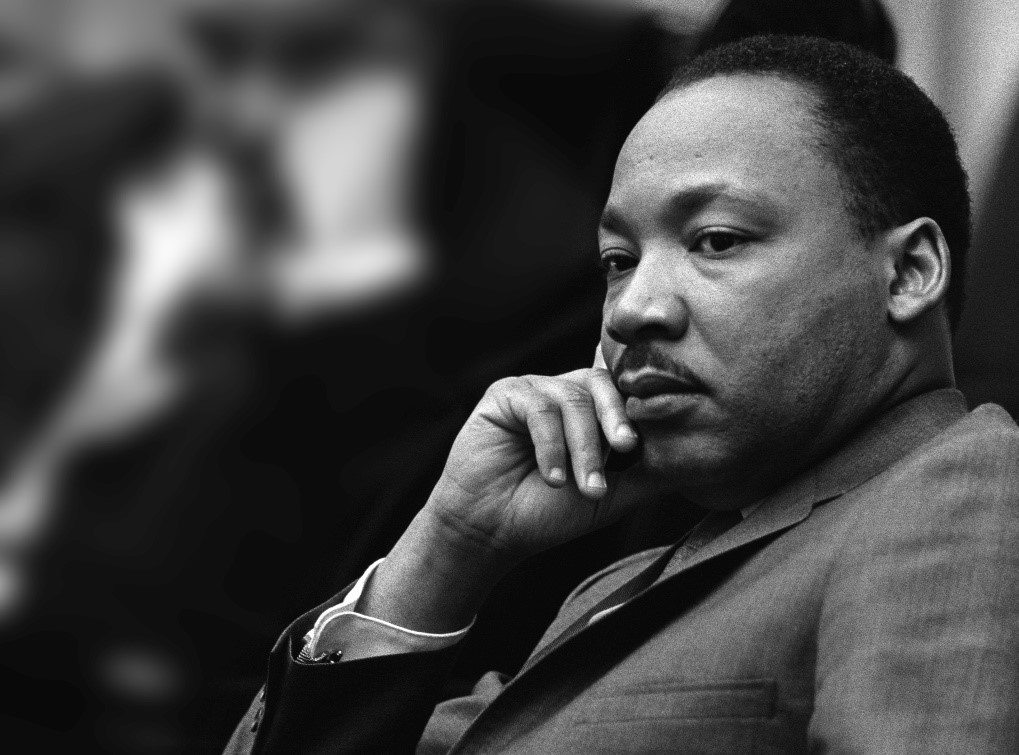 Photo credit: Yoichi Okamoto/LBJ Presidential Library and Museum
Of course, some historians, as well as others, argue that the civil rights movement ended before Dr. King's assassination. They cite the backlash that the movement endured after Stokely Carmichael, the chairman of the Student Nonviolent Coordinating Committee (SNCC), made his infamous "Black Power" speech in Greenwood, Mississippi during the "March Against Fear" in 1966. Dr. King was on the stage with Carmichael when he gave the speech and tried to change the shouts by the crowd from "Black Power" to "Freedom Now," but failed. "Black Power" became the new slogan of the movement and it alienated many whites who supported and participated in the movement as well as many of the foundations and organizations that provided financial support to the movement. Opponents of the "Black Power" slogan equated it with black violence against whites. Given the ongoing use of violence by whites against blacks to maintain white power and white supremacy, it was logical for the opponents of Black Power to conclude that the movement would evolve to their worst fear. But they were wrong.
Several of Dr. King's biographers also argue that the movement ended in April 1967 when Dr. King gave his famous "Beyond Vietnam: A Time to Break Silence" speech at Riverside Baptist Church in New York opposing the war in Vietnam. In the speech, Dr. King indicted the United States as "the greatest purveyor of violence in the world" and noted that the U.S. government sent young black, brown and poor men to Vietnam to fight in an imperialistic war, but did nothing to improve their lives at home. The Johnson administration, most of the media and even some of Dr. King's allies in the civil rights movement condemned him as a traitor for speaking out against the war. His critics condemned him and warned him that he should stay away from foreign policy and confine his efforts to fighting only for "civil rights."
In 1968, despite the continued resistance to civil rights by those who opposed the movement as well as the actions by the federal government to undermine Dr. King and the movement itself, Dr. King had not given up on it. In his last book, Where Do We Go from Here: Chaos or Community? (1967), Dr. King wrote about expanding the movement from civil rights to human rights and addressing the fundamental issue of economic justice. He wrote that the wealthiest country in the world should address poverty by providing every citizen a livable income, affordable housing and a decent standard of living. He expanded his efforts to address the nation's rampant poverty by supporting the sanitation workers' strike in Memphis and by planning a Poor People's March in Washington, D.C. for the spring of 1968. He also believed that a government and society dominated by institutional racism should provide "affirmative action" to provide special support to those whose lives had been historically circumscribed by individual and institutional racism.

Where Do We Go from Here: Chaos or Community? by Dr. Martin Luther King Jr, 1967
But Dr. King's assassination ended not only his efforts to expand the movement from civil rights to human rights; it ended the movement itself.
With the assassination of Dr. King, the fissures in the civil rights movement expanded and broke it. White Americans acted on Richard Nixon's "southern strategy" in 1968 to elect him president. For African Americans, the assassination of Dr. King sent a clear message: his strategy of moral suasion, nonviolent social change and his efforts to form a "beloved community" were pipe dreams. Many young African Americans increasingly supported organizations that advocated "Black Power" and "Black Nationalism." While the FBI and the media sought to paint organizations and individuals who advocated these two ideas as violent, anti-American revolutionaries, young African Americans like me (I was 18 in 1968) rallied behind these ideas as the natural evolution of the ongoing struggle for black liberation.
Indeed, the assassination of Dr. King made it very clear to my generation that "loving your enemies," "turning the other cheek" and adopting nonviolence as tactics would get us killed. While we loved and honored Dr. King, we saw that the resistance to his very mild and legitimate demands for the nation to honor its own creed of equality of opportunity, voting rights and basic human rights were demands that the nation could not fulfill. Armed self defense and even urban guerilla warfare seemed more plausible as strategies and tactics to win our freedom and to change the inherent racism in American society than moral suasion.
Based on the "wars of national liberation" that we saw being waged in Vietnam, Angola, Mozambique and in other colonized nations in Africa and Asia, we romanticized that we could do the same thing in the United States. But after COINTELPRO (Counter Intelligence Program) and the bloody war that the FBI and the police carried out against the Black Panther Party for Self Defense and other Black Nationalist organizations after Dr. King's assassination, we came to our senses. We realized that the civil rights movement was over, but we had to survive in order to take the movement to the next level. In addition, we knew that we had to educate the next generation to continue the struggle beyond civil rights.
We adopted the slogan: "a luta continua" (the struggle continues) from FRELIMO (Frente de Libertação de Moçambique (Mozambique Liberation Front) in honor of Dr. King who gave his life and inspired us to find new ways to fight oppression, racism and white supremacy. Indeed, as we have seen, the civil rights movement is over, but we continue to struggle against some of the same issues (political disfranchisement, police brutality and economic discrimination) that confronted Dr. King.
The views and opinions reflected in the Museum's Guest Blog are those expressly of the author alone, and not of The Sixth Floor Museum at Dealey Plaza.
January 19, 2018
The world was shocked by the astonishing, violent act of the assassination of President John F. Kennedy on November 22, 1963. Many of those grieving chose to express their feelings through song, poetry, art and musical scores — all created to memorialize President Kennedy. The artistic contributions of Kennedy's admirers after his death provide a deeper understanding of how the world felt following such a tragic loss.
Songs have been sung about Kennedy, his assassination or the events surrounding it, such as Mr. John (1964) by songwriter William Spivey. In the Summer of His Years was written by Herb Kretzmer and composed by David Lee just hours after Kennedy's death, and performed by Millicent Martin on the BBC on November 23, 1963. Since then, it has been performed by a number of other artists, including Connie Francis, who donated proceeds from her recording to the J.D. Tippit Benefit Fund, supporting the family of the Dallas police officer who was slain in the Oak Cliff section of the city less than an hour after the assassination.
He Was a Friend of Mine, re-written by The Byrds to lament Kennedy's assassination, appeared on their album Turn! Turn! Turn! in 1965. Son House performed a moving and sad lament for the late president aptly called President Kennedy, also released in 1965. Additional songs in the 1960s include Crucifixion by Phil Ochs in 1966 and Abraham, Martin and John, authored by Dick Holler and performed by Dion in 1968 about American leaders who were assassinated.
Musical scores that were composed after President Kennedy's assassination in 1963 include A City Mourns (for John F. Kennedy) by Dorothy Elliot and The Kennedy March, written by Joe Meek and performed by the Joe Meek Orchestra. In 1964, Remembrance: John Fitzgerald Kennedy by Fred Wirtz and William Steffe was published, and three years later, Oliver Nelson unveiled The Kennedy Dream, a tribute album with eight original tracks, including Day in Dallas, Let the World Go Forth and Jacqueline.
The Kennedy Dream by Oliver Nelson (1967)
President Kennedy was known to enjoy reading poetry, so it is fitting that a number of poignant poems were penned in his memory. One of them, Six White Horses, was written about his funeral by a fifteen-year-old named Candy Geer. The illustrated, published version of this poem is on view through February 19, 2018 as part of Mourning a President, a temporary exhibit about the funeral of John F. Kennedy, on the seventh floor of the Museum.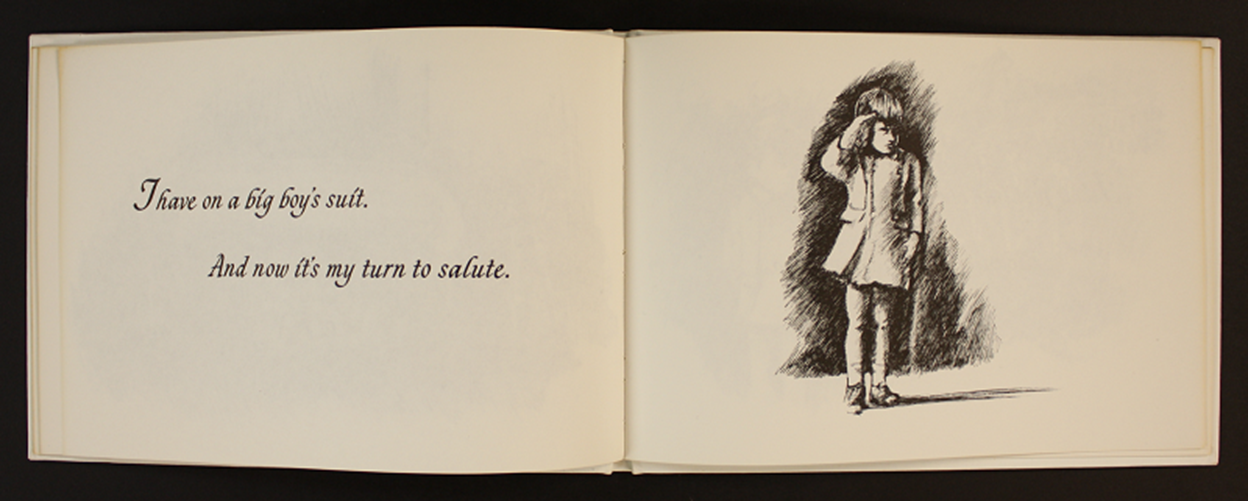 A page of Six White Horses by Candy Geer. Joseph Bastian Collection/The Sixth Floor Museum at Dealey Plaza
Other poems and collections of poems have been written in response to the assassination of John F. Kennedy. November Twenty Six Nineteen Hundred and Sixty Three was authored by Wendell Berry and illustrated by Ben Shahn (1964) and Poems in Memory of John F. Kennedy by Virginia P. Keinz (1967).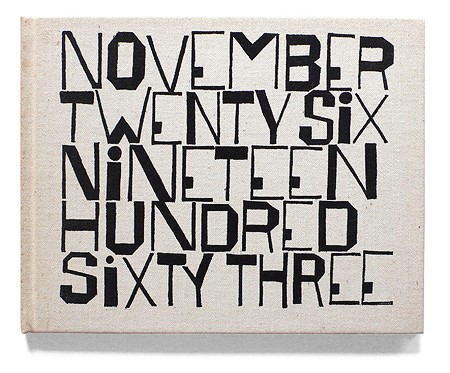 November Twenty Six Nineteen Hundred and Sixty Three by Wendell Berry and Illustrated by Ben Shahn (1964)
To this day, active and creative forms of expression inspired by Kennedy's legacy continue to shape our collective image and memory of the fallen president. The Sixth Floor Museum actively collects many of these multi-dimensional artistic and personal reactions to the assassination. This blog shares just a tiny selection of individual responses from the 1960s decade. The Museum has many artistic pieces not discussed in this blog available for researchers to view, including original art, some of which are on display in the temporary exhibit Mourning a President. If you would like to learn more about other JFK-inspired forms of artistic expression created over the last fifty-four years, please contact the Museum's Reading Room Librarian here, to schedule an appointment or discuss related materials in our collection.
December 12, 2017
If you're looking for interesting, unique gifts this holiday season, stop by the Museum Store + Café, located adjacent to The Sixth Floor Museum at Dealey Plaza on the corner of Elm and Houston St. in downtown Dallas. You'll find just the right gift for anyone who made your nice list this year, with items you won't find elsewhere. Plus, you can feel good about your purchases knowing they directly support Museum exhibits and programs.
If you're looking for interesting, unique gifts this holiday season, stop by the Museum Store + Café, located adjacent to The Sixth Floor Museum at Dealey Plaza on the corner of Elm and Houston St. in downtown Dallas. You'll find just the right gift for anyone who made your nice list this year, with items you won't find elsewhere. Plus, you can feel good about your purchases knowing they directly support Museum exhibits and programs.
President Kennedy's Favorite Fragrance

Eight & Bob Cologne gift set
The Museum Store + Café offers two of President Kennedy's favorite fragrances. Eight & Bob was introduced onto the market after a young John F. Kennedy met Albert Fouquet, the son of a Parisian socialite, while on a trip to France. Kennedy liked Fouquet's cologne so much that upon his return to the United States, he asked Fouquet to send eight samples of the fragrance to him, and "if your production allows, one for Bob." Hence the name "Eight & Bob." The fragrance comes in a beautiful book display that explains the fragrance's origin story and makes an excellent gift. It is priced at $175.
 Ornaments

Christmas ornaments featuring Dealey Plaza and the JFK Centennial (1917-2017)
The Museum Store + Café has a wide variety of ornaments, including White House ornaments and Texas ornaments made by local artisans. Buy an ornament that reminds you of your trip to the Museum to hang on your own tree, or gift one to a friend!  Whether you would like to remember Dealey Plaza or the John F. Kennedy Centennial, both are available at the Museum Store + Café and come in beautiful boxes perfect for holiday gifting. These ornaments are priced at $24 and $22, respectively.
Louis Sherry Chocolates

Louis Sherry Chocolates, shown here in Orchid and Nile Blue tins
When in the White House, John F. Kennedy's favorite lunch was known to be grilled cheese and tomato soup with Louis Sherry vanilla ice cream for dessert. President Kennedy is said to have gifted a beautiful orchid tin of Louis Sherry's chocolates to Jackie, but she was also fond of the Nile Blue colored tin herself. Both colors are available in two-piece and twelve-piece tins. The smaller tin costs $8.50 and would make a lovely stocking stuffer, while the twelve-piece tin, priced at $35, is a beautiful gift by itself. The Museum Store + Café also stocks the Diana Vreeland red tin if you desire a more festive color.
Caroline Kennedy's Christmas Book

"A Family Christmas" by Caroline Kennedy
Caroline Kennedy provides an exclusive look into Christmas with the Kennedy family in her book: "A Family Christmas." The book would make a beautiful gift, and it is filled to the brim with Kennedy holiday favorites, including poems, songs and traditions that the Kennedy family celebrated together during this season. "A Family Christmas" is priced at $26.95.
Toiletries fit for a President

Caswell-Massey Jockey Club Aftershave and Presidential Bath Soap
The Museum Store also carries Caswell-Massey, a brand that has been crafting fine toiletries since 1752, and supplying them to U.S. Presidents since George Washington. Two box sets including three bar soaps of President Kennedy's favorite fragrance, Jockey Club, or a mix of the three scents preferred by Kennedy, Washington, and Eisenhower are available for $30.  The store also carries aftershave and cologne in President Kennedy's favorite scent, priced at $38 and $44, respectively.
Jackie's Favorite Candles

Rigaud candles in Jackie's favorite scent, Cypres
Jackie was renowned for her exquisite taste and impeccable style. Jackie studied at the Sorbonne in Paris, spoke fluent French, and was known to enjoy luxury French items, like the classic she is credited with bringing to the White House, the Rigaud Candle. Jackie's favorite candle, Cypres, a luscious Mediterranean scent, is perfect for burning during the holidays. Known for their beautiful and strong fragrances, Rigaud candles will delight anyone who receives them, especially those with a taste for the finer things. Priced at $70-$99, depending upon size.
*Prices and availability of above items subject to change.