September 6, 2017
By Ani Simmons, Museum Educator
At The Sixth Floor Museum at Dealey Plaza, we strive to engage, connect, and inspire students with education programs that take place at the Museum, at individual schools and through distance learning that connects classrooms across the globe. President John F. Kennedy was an advocate for many important causes like volunteerism and civil rights that still affect our society and continue to be taught in schools today. Far more than the story of a 1963 presidential assassination, these programs help students engage with history, connect with the past, and become inspired to make a difference in the future.
Engage
Engagement is of paramount importance in effective 21st century education. As a museum educator, my goal is to engage students in learning about our collections, then show them how these objects tell a story.  A record, magazine, or photograph might remind them of something they remember from a grandparent's house and spark a conversation. Before they know it, they've learned something and they are asking questions about museum careers!
When you can engage physically with a historic object, you're often able to emotionally connect to the person who used it. One example is our program "History Detectives: 1960s Time Capsules," where students unpack a time capsule based on a real person's story and containing actual 1960s-era objects and documents from the hands-on Education Collection. Students develop understanding of the individual and their unique experience from that time, while increasing the critical thinking skills required of a historian.
By engaging students with the stories of the people who made the history, we help them segue into the overall concept of history. They learn that history is not about memorizing dates and isolated facts; it's examining the people and their choices that resulted in historical events. In this hyper-connected world, a successful program entices students to slow down long enough to engage with people and their stories from the past, and then connect the lessons they learn to the present and future.
Connect
In the Museum's "Living History" programs, Curator and Oral Historian Stephen Fagin interviews a guest with memories of the 1960s in front of a group of students. The students are able to connect emotionally to that history, and then they're given the chance to ask the guest questions – what they wore or what kind of car they drove back in 1963 – however they best connect with that person's story, and then they can become an oral historian for a short while.  Students who attended a "Living History" program said they felt like they had time-traveled back to the 1960s!
Making connections spans all ages, from students to teachers. Teachers who foster connections with concepts they've learned or objects they've examined at the Museum take that sense of discovery and excitement back to their classrooms. Their enthusiasm is contagious!
One of our other programs that's very prescient today is our Civil Rights program, called "Resistance in Dallas: Civil Rights and Kennedy's Legacy."  It focuses on a 28-day protest that occurred in 1964 in downtown Dallas, just months after the assassination of President Kennedy and just blocks from Dealey Plaza. It fascinates teachers and students to learn about Civil Rights events that took place right here at home. While the events in Selma, Alabama and  Jackson, Mississippi are well-known, teachers often don't connect Civil Rights with Dallas. It's transformative for them to see the actual images that document what happened.
Inspire
During teacher workshops, when I get the chance to bring out some of the more powerful artifacts in our collection, like the SCLC Handbook for Freedom Army Recruits, I try to inspire teachers to see themselves as a key influencer in their students' lives. They are not just teaching the students in front of them, but their students' children. When students are taught in a way that impacts and inspires them, they will then teach their own children. It is my job, as a museum educator with access to a vast array of primary sources, to engage and connect teachers to the available resources, then inspire them to use them in a creative and effective way.
I want to inspire teachers to teach ideals that I believe President Kennedy would have supported, ideals that are part of his legacy. If you are a teacher and would like more information about our education programs at The Sixth Floor Museum, contact Ani Simmons at education@jfk.org.
August 4, 2017
Your guide to getting the most out of your visit to the Museum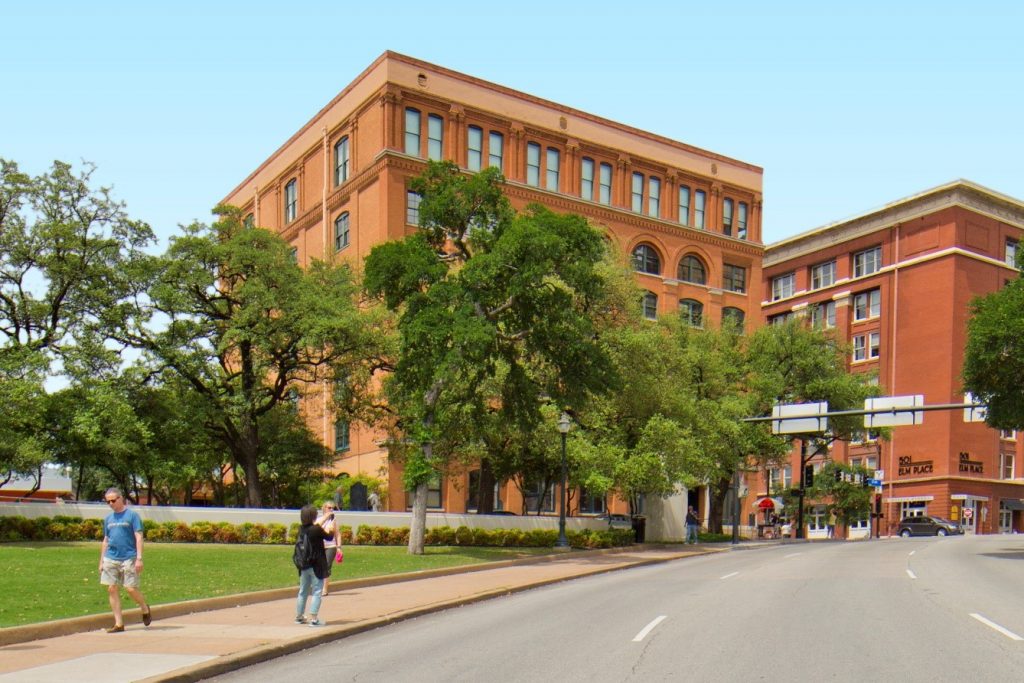 The Sixth Floor Museum at Dealey Plaza welcomes many visitors from all over the globe during the summer months. However, as Dallas locals know, summer is not our most forgiving season, since temperatures sometimes reach triple-digits. We have compiled a list of tips that will help you enjoy your trip to the Museum this summer, no matter how high the heat index.
Wear comfortable clothes
Summers in Dallas are H-O-T! Out-of-towners are often surprised that while the temperature may only be 93, the heat index makes it feel much warmer outside. Thankfully, The Sixth Floor Museum is indoors and air conditioned, but we still recommend dressing for the sweltering heat outside. Comfortable walking shoes, breathable shirts and shorts are recommended.
Buy tickets online
Sometimes the Museum sells out. Summer is a busy time of year and we want to ensure your visit is a special one! You can buy timed tickets online a minimum of two hours in advance at www.jfk.org. Often, buying tickets online helps you better plan your trip and it might minimize your wait time to get into the Museum.
Take note of museum hours
Unlike many museums that are closed on Mondays, The Sixth Floor Museum is open daily. Admission hours are Tuesday – Sunday 10 a.m. to 6 p.m. and Mondays 12 p.m. to 6 p.m. However, if you do arrive early on a Monday, have no fear! The Museum Store + Café is open from 9:30 a.m. to 6 p.m. every day. Located across the street from the Museum at 501 Elm street, it's situated on the corner of N. Houston Street and Elm. Early birds can enjoy coffee from Oak Cliff Coffee Roasters and snack on pastries from Rush Patisserie and sandwiches from Bolsa while they wait.
Visit Museum Store + Café
We strongly recommend a visit to the Museum Store + Café after you view the exhibit as well. In addition to the delectable assortment of edibles listed above, the Café also sells Henry's Ice Cream, a delicious North Texas treat. The merchandise is eclectic, including a wide range of books, collectibles, jewelry and gifts. You'll find items pertaining to President Kennedy's campaign, assassination and legacy. The Museum Store + Café also carries jewelry, books and gifts that evoke Jackie Kennedy's famous personal style, as well as items that center around rich culture of Texas and downtown Dallas.
Get the most out of your day in Big D
Did you know that when you park in The Sixth Floor Museum's parking lot during the day, your parking is valid until 7 p.m.? In addition to visiting the Museum, we recommend getting the most out of your day in Dallas by visiting other nearby institutions or eating a meal at one of the great restaurants in the West End. For this, you will also want to wear comfortable shoes! Many exciting attractions and food destinations are just a 10-15 minute walk away.
Regardless of how you plan your trip around a visit to The Sixth Floor Museum at Dealey Plaza, our goal is to ensure your time in the Museum will be a profound experience with lasting memories. We hope to see you soon at The Sixth Floor Museum!
November 21, 2016
by Kevin Kendro, Guest Blogger, The City of Irving
Ruth Paine and Marina Oswald met at a party in February 22, 1963. Exactly nine-months later, on November 22, 1963, Marina's husband, Lee Harvey Oswald, was arrested for assassinating President John F. Kennedy.
Ruth and Marina
Ruth Hyde Paine became a Quaker while she was in high school in the early 1950s. She believed strongly in the Quaker philosophy. One Quaker belief is that people must be able to communicate with their enemies in order to better understand them and thereby reduce disagreements that lead to war. America's greatest enemy during the 1950s was the Soviet Union. While attending college Ruth took courses in the Russian language because she hoped that at some point she might be able to, in some small way, help with relations between the U. S. and the U.S.S.R.
Ruth had little reason for using her Russian language skills when she moved to Irving, Texas, in 1959. However, in early 1963, a friend of hers, who was acquainted with a number of Russian émigrés in the Dallas area, thought Ruth might enjoy practicing her Russian and invited her to a gathering of his Russian friends at his house.
She met Lee Oswald at the party, but found his conversation too political. She found Marina Oswald in one of the bedrooms of the home and struck up a conversation with her in Russian. The two young mothers, both with small children and in troubled marriages, hit it off immediately.
Over the next months, Ruth visited Marina at the Oswalds' apartment on Neely Street in Dallas and had the Oswalds come to dinner at her house on 5th Street in Irving. When Lee lost his job in Dallas in April 1963, he decided to move to New Orleans and look for work.  Ruth offered her home as a place for Marina and her daughter June to stay until Oswald found a job and got settled in New Orleans. For two weeks in May, Marina, Ruth and their children enjoyed a pleasant time together in Ruth's home.
Then Lee called to say he'd found a job and an apartment in New Orleans and was ready for her to come join him. Ruth Paine drove Marina and June to New Orleans the next day.
In September of 1963 Lee lost his job in New Orleans. Marina, now eight months pregnant, moved back in with Ruth in Irving until her husband could find a new job and place to live. During this time Lee is alleged to have gone to Mexico City. Back in Irving, Marina found she enjoyed living in Ruth's tidy suburban home when compared to the run-down apartments she had shared with Lee. She and Ruth developed a strong bond as they helped each other in caring for their children. Marina had her second daughter at Parkland Hospital in October, while she was staying with Ruth.
Lee Harvey Oswald returned to Dallas in early October 1963, and, on a tip that Ruth received from one of her neighbors, he got a job at the Texas School Book Depository.
Throughout the fall of 1963 Oswald spent the work week in a rooming house in the Oak Cliff section of Dallas just outside of downtown. On Friday evenings he caught a ride to Irving and spent the weekends with his wife and children at Ruth Paine's house.
This was the standard routine throughout October and November until Thursday, November 21. On that day Ruth came home to find Marina and Lee standing in her front yard.  Marina told Ruth that she thought he had come out to apologize for a fight they had over the phone earlier in the week.
Lee Harvey Oswald stayed that night at the Paine house. He left for work the next morning carrying a package.
After its investigation of the assassination, the Warren Commission concluded that Oswald came to Irving Thursday evening to retrieve a rifle he had stored in the garage of Mrs. Paine's house and that he had used it to kill President Kennedy during a motorcade through downtown Dallas on Friday afternoon.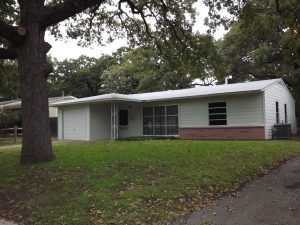 Ruth Paine House Museum      
The City of Irving purchased the Ruth Paine House in 2009 to preserve its historical significance. The house has been restored to its 1963 look and now serves as a museum that tells the story of Ruth and Marina's friendship and the events that occurred there that swept the small home and its occupants up in the whirlwind of history.
For more information about the museum please go to http://cityofirving.org/490/Museums or call 972-721-3729.
Guest blogger Kevin Kendro is the archivist for the City of Irving.
July 8, 2016
Due to the ongoing police investigation in downtown Dallas, The Sixth Floor Museum is closed today. Our thoughts are with Dallas and DART P.D. and their families.