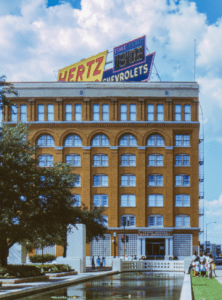 Fragments presents architectural elements from the historic Texas School Book Depository building that explore the building's 120-year history. Most famous for being the site of the assassination of President Kennedy in November 1963, the building's story began as a warehouse at the turn of the 20th century. It evolved into an administrative site for Dallas County and, finally, a museum that preserves the memory of the assassination, the legacy of President Kennedy—and their effects on the city of Dallas and the country.
This installation, presented in English and Spanish, is made up of 33 objects. It marks the passage of time from the building's founding to its present, and by doing so, considers its future.
Included with Museum admission
Fragments (Fragmentos) presenta elementos arquitectónicos del histórico edificio Texas School Book Depository que exploran los 120 años de historia del edificio. Famoso más que nada por ser el sitio del asesinato del presidente Kennedy en noviembre de 1963, el edificio empezó su historia como almacén a principios del siglo XX. Con el tiempo se convirtió en un sitio administrativo del condado de Dallas y, por último, en un museo que preserva la memoria del asesinato, el legado del presidente Kennedy—y sus efectos sobre la ciudad de Dallas y el país.
La instalación, conformada de 33 objetos, marca el paso del tiempo desde la inauguración del edificio hasta su presente, y al hacerlo, considera su futuro.
Incluida con la entrada al museo