by Krishna Shenoy, Librarian/Archivist
Money in politics can often be a lightning rod issue during a presidential election, casting a reflection of a candidate's character and influence. Today, we live with unprecedented access and discovery of a candidate's fundraising operations – large or small contributors, soft money versus hard money– but that was not always the case.
While disclosure of campaign finance information was enacted in 1910, it was not enforced until 1967. However, in 1958, when little information concerning campaign finance was available, a group called the Citizens' Research Foundation (CRF), a non-partisan, nonprofit organization, began collecting financial data on national-level politics. The Foundation issued a series of studies on presidential campaign financing, starting with the 1960 presidential election. This original, staple-bound issue of Financing the 1960 Election (which sold for 50 cents at the time) from our collection gives details about the financial operations related to Richard Nixon and John F. Kennedy.
In campaigns, no expense is spared when votes are at stake. During the 1960 election, Vice-President Nixon made a $35,000 flight to Alaska and Ohio, the weekend before the election, which paid off for Nixon, when most had predicted both states to go to the Democrats. The campaign staff of Senator Kennedy included a speech professor to teach the candidate voice control, a psychologist to evaluate the size, composition and reactions of campaign crowds, and an official photographer (Jacques Lowe). Both candidates hired stenographic teams to catch and transcribe ever word the candidate uttered to make accurate transcripts available to reporters within minutes after a speech.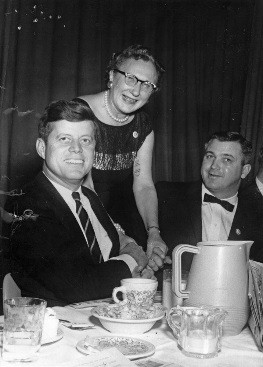 Such expenses revealed the high stakes and great lengths each candidate went to gain the winning edge. Financing these endeavors was no easy task. In 1960, both political parties attempted to broaden their financial base with fundraising drives and dinners. In Syracuse, the "Kennedy for President Club" gave trading stamps in return for contributions at the rate of 10 stamps per dollar. The CRF study reported 213 (142 Republican and 71 Democratic) fundraising dinners, luncheons, breakfasts and cocktails parties. Other fundraising innovations included the Republican party's "Dinner with Ike," a series of dinners being held simultaneously in numerous cities and linked via television, with a price per plate ranging from $5 to $100. As Charles Grutzner, New York Times columnist and reporter once said, "The knife and fork are mighty implements in the Presidential campaign."
In 1860, Abraham Lincoln's winning general election campaign reportedly cost about $100,000, and his opponent Stephen Douglas's campaign about $50,000. One hundred years later, John Kennedy's campaign spent about $9.7 million to defeat Nixon, whose campaign cost about $10.1 million. In 2012, Barack Obama spent $985 million to defeat Mitt Romney, who himself spent $992 million.  Our current election in 2016 is bound to exceed these numbers and in 2017, after the final tally is done, we will pause to consider what the rising cost of presidential campaigns means for the direction of our democracy.
To learn more about the 1960 election, click on JFK.org/ATimeForGreatness or visit the Museum's Reading Room and its latest exhibit, A Time For Greatness: The 1960 Kennedy Campaign, open through November 13.