by Stephen Fagin, Curator, The Sixth Floor Museum at Dealey Plaza
Who are you going to be for Halloween this year? If you were a youngster in October 1963, you might decide to go as a monster, a witch, Donald Duck, Bugs Bunny, that brand new superhero Spider-Man, or perhaps John or Jackie Kennedy. While not at the top of the Halloween costume list, a fair number of young people did indeed go trick-or-treating as the President and First Lady less than a month before the assassination.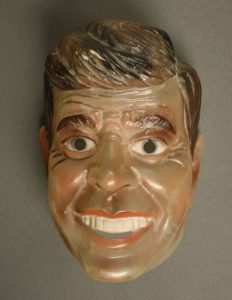 There were different types of John and Jackie Kennedy masks on the market. In our collections at The Sixth Floor Museum at Dealey Plaza, for example, we have a semi-translucent John F. Kennedy mask that was meant to blend in with the skin tone of the person wearing the mask—though the effect is deeply unsettling.
For children, the best option was a boxed costume by Ben Cooper, Inc. of New York. Cooper, a onetime costume designer for the legendary Ziegfeld Follies, launched his Halloween costume company in 1937. By the early 1960s, Ben Cooper, Inc. was one of the most prominent manufacturers of costumes in the United States. The company produced classics such as Frankenstein and the Mummy, as well as popular licensed characters including Howdy Doody, Gumby, Bozo the Clown, George Jetson, and a wide range of Disney characters. One particularly relevant costume at the time was simply called "American Hero Astronaut."
For Halloween 1963, Ben Cooper, Inc. seized upon the broad popular appeal of the Kennedys and created children's costumes called "Mr. President" and "First Lady." Each came with a vinyl face mask with string and a one-piece rayon costume. As part of the Magic-Glo brand, the masks glowed in the dark when exposed to "electric light or sunlight for two or three minutes before wearing." (We tried this with the masks in our collection, but sadly they no longer glow.)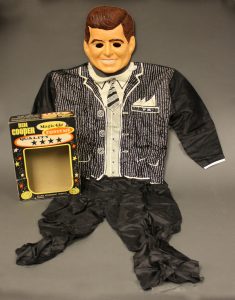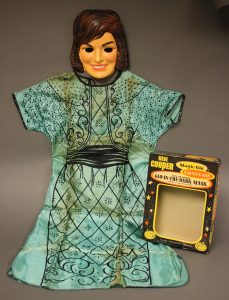 Our "First Lady" costume has an original price sticker for $1.79, which is about $14 today. Ben Cooper costumes tended to be pricier options for parents, yet the company was known for their quality. Packaging on "Mr. President" and "First Lady" boasted that they were "double stitched for longer wear" and "treated to temporarily retard flame."
Eight-year-old David Sherman of Rochester, New York, was a big fan of President Kennedy. "I think he was only two years maybe older than my dad," he recalled in an oral history interview.  "It was a White House that was like our house." For Halloween 1963, he decided he wanted to go as the President. "I just purchased it, or you know, my loving parents did….  I remember being really cold because I got sick afterwards." Weather reports showed a low in the upper 30s in Rochester, but David resisted wearing a heavy coat that night. "I went door to door as the President. I think people liked it.  I think people laughed." On November 22, 1963, young David thought back to his Kennedy mask when he heard the tragic news. He remembered, "I went into my room, and I just broke down and cried."
Once designed and manufactured, Ben Cooper costumes would typically be sold year after year. After the assassination, however, thousands of surplus "Mr. President" and "First Lady" masks were destroyed, and the costume was never offered for sale again. Today they are of great interest to Kennedy collectors and Halloween enthusiasts. Beyond that, they offer a unique glimpse at the movie-star-like popularity of the Kennedys during their brief time in the White House.
Explore our online collections database to see other interesting pop-culture artifacts in the Museum's collection.

>