by Lindsey Richardson, Curator of Collections, The Sixth Floor Museum at Dealey Plaza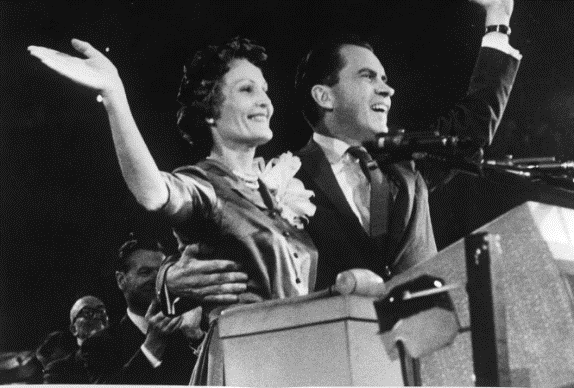 Jacqueline Kennedy and Pat Nixon both supported their husband's campaigns to become President of the United States, but they did so in very different ways.
In early 1960, Jackie Kennedy discovered that she was pregnant. She had had difficulties in the past and her doctor recommended that she take it easy. Because of this, Jackie did not take to the campaign trail at her husband's side very often, in fact less so as the year progressed.  Kennedy's sisters accompanied him on the campaign trail in her stead.
Although she did not accompany him on campaign stops around the country, Jackie supported her husband's campaign in other ways. She did cover stories for magazines such as Look or Life in the months leading up to the election, and in October 1960 she sat down for a number of television spots and commercials including an interview with leading pediatrician Dr. Benjamin Spock. Jackie also recorded the first American presidential campaign commercial in the Spanish language. It's included in the video that accompanies our exhibit A Time for Greatness.
Perhaps Jackie's greatest contribution and success as a partner to her husband during his presidential campaign was through her syndicated column "Campaign Wife" that ran weekly in newspapers across the country from September 17 to November 1, 1960. Using personal stories and her own perspective on campaign issues, Jackie wrote primarily for the audience of women who were interested in her role as the candidate's wife. She addressed a wide variety of topics, including writing about her interest in education as a campaign issue, responding to remarks about her appearance, and encouraging voters to "Call for Kennedy" and to arrange debate-watching parties.
Pat Nixon was in many ways a younger version of the then-current First Lady, Mamie Eisenhower. She had a great deal of enthusiastic support from many women and girls, as demonstrated by the many versions of the pin to the right that proliferated during the campaign, and the vocal supporters who greeted her during campaign stops.
At the Republican National Convention in July, Richard Nixon promised that he would visit all 50 states before Election Day. This was the first federal election in which 50 states would vote – Alaska and Hawaii had both joined the union in 1959 – so this was a big promise for a candidate to make. He did visit all 50 states and Pat accompanied him.
Although Pat was accustomed to traveling with her husband – she had made many trips with Nixon during his Vice Presidential trips from 1952 to 1960 – she had already made her strategy of political campaigning clear to members of the press: "I don't answer political questions." She told an Associated Press reporter in 1960 that she liked to keep her role "strictly to handshaking and small talk." She said she didn't want to know any secrets of state: "I wouldn't want the responsibility of knowing."
In the end, Kennedy very narrowly defeated Nixon, and Jackie Kennedy became First Lady. Eventually Pat Nixon also became First Lady and both women influenced public perception of the White House, their husbands' presidencies, and popular opinions both of themselves and of their husbands.
Don't forget to check out our full 1960 election exhibit, A Time For Greatness, on display until November 13 in our Seventh Floor Gallery. If you're at the Museum this Friday, stick around for our Gallery Talk on the 1960s Campaign Wives at noon! It's free with Museum admission or $5 for the talk and exhibit admission.

>