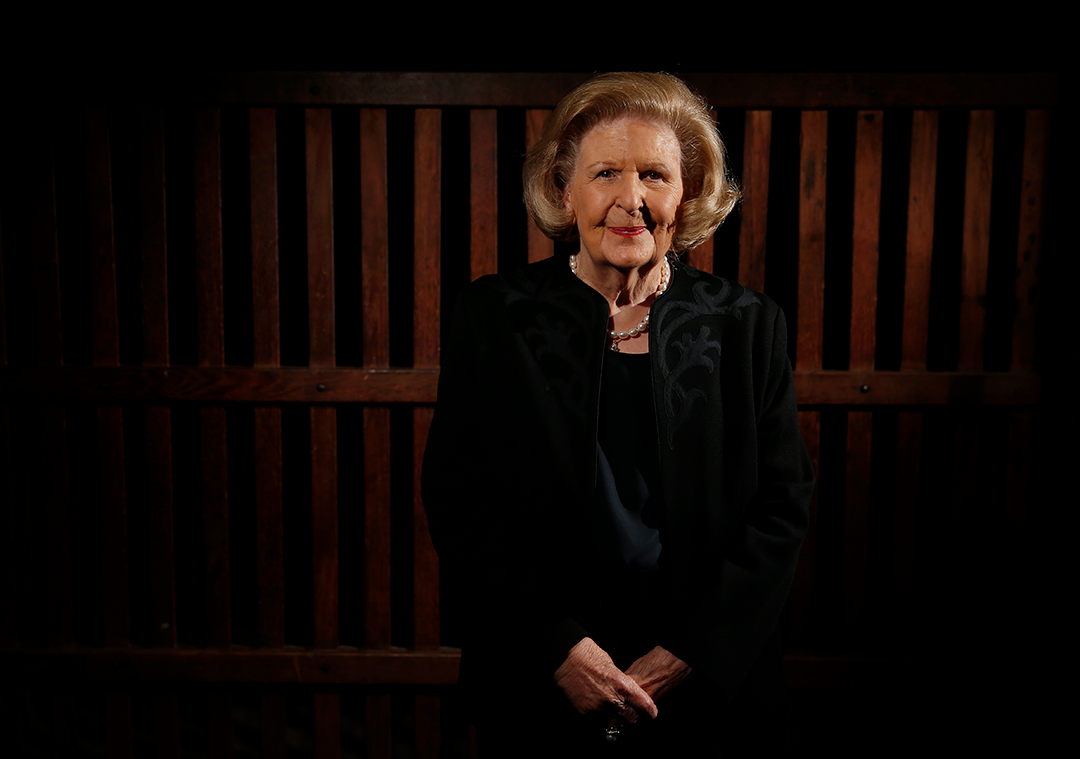 The vast majority of the millions of visitors to The Sixth Floor Museum at Dealey Plaza over the past thirty-two years probably would not recognize Lindalyn Adams. However, few can argue that were it not for this extraordinary champion of historic preservation, today there would probably not be a museum inside the former Texas School Book Depository building at the site of the Kennedy assassination. Anyone who has ever had a meaningful visit to the sixth floor and looked out those arched windows at the landscape of Dealey Plaza owes her a debt of gratitude.
It was with overwhelming sadness that we lost Lindalyn on September 8, 2021, yet we celebrate the remarkable legacy that she leaves behind. Her achievements are too plentiful to list, though they include work with virtually every local historical institution from the Dallas Historical Society to Dallas Heritage Village to the Old Red Courthouse. In 2019, Dallas County officially recognized Lindalyn Adams as "Dallas County's First Lady of Historic Preservation."
Lindalyn's long association with our Museum began with a tour of the empty sixth floor space in March 1977, at a time when the former Depository building was still in danger of being torn down. After Dallas County purchased the structure later that year, Public Works Director Judson Shook asked her to spearhead an effort to create a tasteful historical display about the Kennedy assassination. Little did she know at the time that she would ultimately serve as the project's driving force, community champion and cheerleader through more than a decade of challenging development. Alongside historian Conover Hunt, Lindalyn began touring prominent individuals through the dusty warehouse to solicit support for the controversial project. Over time, the grassroots team would interface with, as Conover Hunt colorfully recalled, "politicians, community volunteers, original participants in the events of 1963, museum and historic preservation professionals, international media, leaders in government investigations, conspiracy fanatics, Kennedy liberals, anti-Kennedy conservatives, academic historians, sociologists, and a few psychiatrists and psychotics." Lindalyn was intimately involved in every aspect of the exhibition's development and proudly led the newly created non-profit Dallas County Historical Foundation during its earliest years. The end result of these herculean efforts was The Sixth Floor exhibit, which opened to the public on February 20, 1989.
As chair emerita of the Dallas County Historical Foundation, Lindalyn Adams has always been—and will forever be—part of our Museum family. She enthusiastically attended numerous programs and exhibit openings over the years as she watched the empty sixth floor that she toured back in 1977 transform into an internationally recognized accredited historical institution. More than just creating The Sixth Floor Museum, however, Lindalyn Adams actively contributed to helping Dallas come to terms with those dark memories from 1963. With her dedicated team, she helped place the Kennedy assassination within the proper context of 20th century American history and culture, and in doing so she aided a wounded community internalize one of the most tragic moments in its modern history. The results of her efforts were seen from the very beginning. In the Memory Books at the conclusion of the exhibit, one of our first visitors wrote that, after the Kennedy assassination, she felt ashamed to live in the community. "Today in '89 on the 6th Floor," she wrote over twenty-five years after the tragedy, "I'm proud to be a Dallasite."
With every public program, educational initiative, exhibit and special event, we will continue to honor the extraordinary legacy of Lindalyn Adams. And we will greatly miss her presence here.