Looking for a last minute Father's Day gift for the hero in your life? Get inspired by John F. Kennedy's tale of heroism!
In 1943, 17 years before he was elected president, Lieutenant John F. Kennedy's motor torpedo boat PT-109 was sunk in the Pacific Theater during World War II. Kennedy, clenching a life jacket strap between his teeth to tow one injured crewmember, swam for four hours to lead survivors to a nearby island. Kennedy's actions made him a hero and later framed the political narrative of his presidential campaign in 1960. In fact, the story of PT-109 was so powerful, it became a cultural phenomenon, inspiring books, movies, replicas and toys.
This Father's Day, pay a visit to The Sixth Floor Museum Store and pick up some of our special PT-109-inspired gifts for Dad!
Canvas Daypack
$35
This military-inspired backpack features heavyweight water resistant canvas, zipper pockets, a hang loop and adjustable padded backpack straps. Perfect for your dad to hit the great outdoors!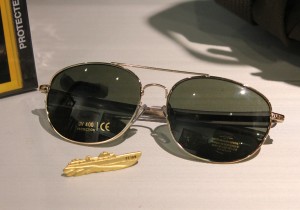 Aviator Sunglasses
$20
These classic, military-style aviator glasses are just like the ones worn by Kennedy in pictures from his time on PT-109. A cool gift for a cool dad.
PT-109 Gold-Plated Pin or Tie Bar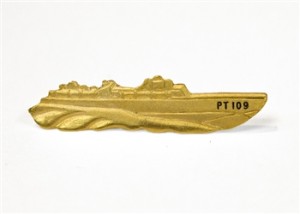 $16/$18
These commemorative gold-plated pins are replicas of the ones distributed to Kennedy supporters during his 1960 campaign as a symbol of his character and courage. Also available as a tie bar. A perfect accessory for the heroic dad in your life.
PT 109: An American Epic of War, Survival, and the Destiny of John F. Kennedy, by William Doyle
$29.95
Best-selling author William Doyle chronicles the thrilling account of the sinking of PT-109 and explores how this extraordinary episode shaped Kennedy's character and career.
National Geographic's The Search For Kennedy's PT109
$24
This National Geographic special, directed by Peter Getzels, documents both the original PT-109 story and Dr. Robert Ballard's search for the boat wreckage, which was eventually located in May 2002. Inspire your dad with this astonishing story!

The Sixth Floor Museum Store is located at 501 Elm Street, across the street from the Museum, and is open daily from 9:30 a.m. – 6 p.m. Many items are available online at store.jfk.org.

>