by Stephen Fagin, Curator, The Sixth Floor Museum at Dealey Plaza
Earlier this year I was invited to teach a short-term, non-credit course on the Kennedy assassination as part of Richland College's Emeritus plus 50 program.  Richland, part of the Dallas County Community College District, offers a selection of diverse classes to provide "affordable, quality education to enable individuals 50 and over to stay intellectually challenged and enriched, physically fit and socially connected."
It was an honor to be included, and during the Fall semester I taught a six-hour course entitled "JFK, Dallas and the Power of Memory."  This was spread across four Monday evening classes on the Richland campus on Abrams Road in Dallas.  Much to my surprise, two of the individuals who signed up for the course were "non-rememberers," both born more than a decade after the assassination.  While not commonly known, Dallas County residents of all ages can enroll in Emeritus classes, and I was thrilled to see some young people take advantage of this opportunity.  The rest of the attendees were, on occasion, willing to share their own memories and discuss the impact of this tragic event.  Two of those individuals will soon be recording interviews as part of our ongoing Oral History Project.
During the four classes, we covered a wide variety of topics: Dallas stories related to the 1960 campaign between John F. Kennedy and Richard Nixon, the city's political climate at the time, background on the President's trip to Texas in November 1963, and of course, the assassination itself—told through the personal perspectives of more than a dozen individuals: police officers, reporters, schoolchildren and many others.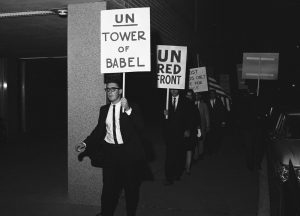 No course on the assassination would be complete without a look at the investigations and lingering questions.  So we spent time on Lee Harvey Oswald, Jack Ruby and the most popular theories and influential literature over the past half century.  Ultimately, we brought the story back to Dallas, concluding with a look at Kennedy memorialization and the creation of The Sixth Floor Museum at Dealey Plaza.
While there were no formal evaluations, I did receive a few comments from those who enrolled in the class.  One of the younger attendees wrote to me, "…[T]hank you for such a fascinating walk through history. When I realized I had registered for a class intended for senior citizens, I was worried I should not have been in there! I'm so glad non-seniors were allowed, even if I don't have any first-hand memories to share."  I was humbled to receive a note from another attendee, a Dallas high school student in 1963: "Anytime someone can take an hour and a half and turn it into 20 min. is in command. Could have even used a couple of more classes on this topic!"
For me, it was a worthwhile and fascinating experience—a rare chance to explore so many facets of the assassination story with the same group of people.  If you are a Dallas County resident—of any age—and would like to take this class, it will be offered again as part of the Emeritus Spring 2017 semester.  I will be teaching "JFK, Dallas, and the Power of Memory" across four Monday evenings, April 17 to May 8.  If you are interested in registering, please visit this website for more information.