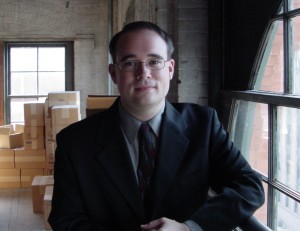 DALLAS, TEXAS – March 7, 2016: The Sixth Floor Museum at Dealey Plaza announced today that associate curator Stephen Fagin has been promoted to full curator. As curator, Fagin will play an integral role fulfilling the Museum's mission to chronicle and interpret the assassination and legacy of President John F. Kennedy, providing content expertise in the development, growth, research and interpretation of the Museum's collections, exhibits and programs, while serving as a recognized authority on the subject. Fagin also manages the Museum's Oral History Collection, more than 1,500 personal accounts of the assassination, the 1960s, civil rights and other topics.
"I am thrilled to announce Stephen's expanded role at The Sixth Floor Museum," said Nicola Longford, executive director. "His long-time commitment to the Museum, and his expertise will continue to enhance the understanding of President Kennedy's assassination, life and legacy while providing a solid historical framework for visitors, particularly younger generations, to learn about a tumultuous period in 20th century history that continues to resonate today."
Fagin first joined the Museum as an intern in 2000, and shortly thereafter was hired in the position of oral history coordinator then oral historian, advancing to associate curator in 2009. Stephen holds a BA in English and History from Southern Methodist University and an MA in Museum Studies from the University of Oklahoma. He is the author of Assassination and Commemoration: JFK, Dallas, and The Sixth Floor Museum (2013, University of Oklahoma Press).
[Download a print-friendly version of this press release]
>