April 4, 2018
By Dr. W. Marvin Dulaney, Associate Professor Emeritus of History at the University of Texas, Arlington
Fifty years ago, on April 4th, the civil rights movement ended. That was the day that James Earl Ray assassinated Dr. Martin Luther King in Memphis, Tennessee and ended Dr. King's larger- than-life role in and influence on the civil rights movement.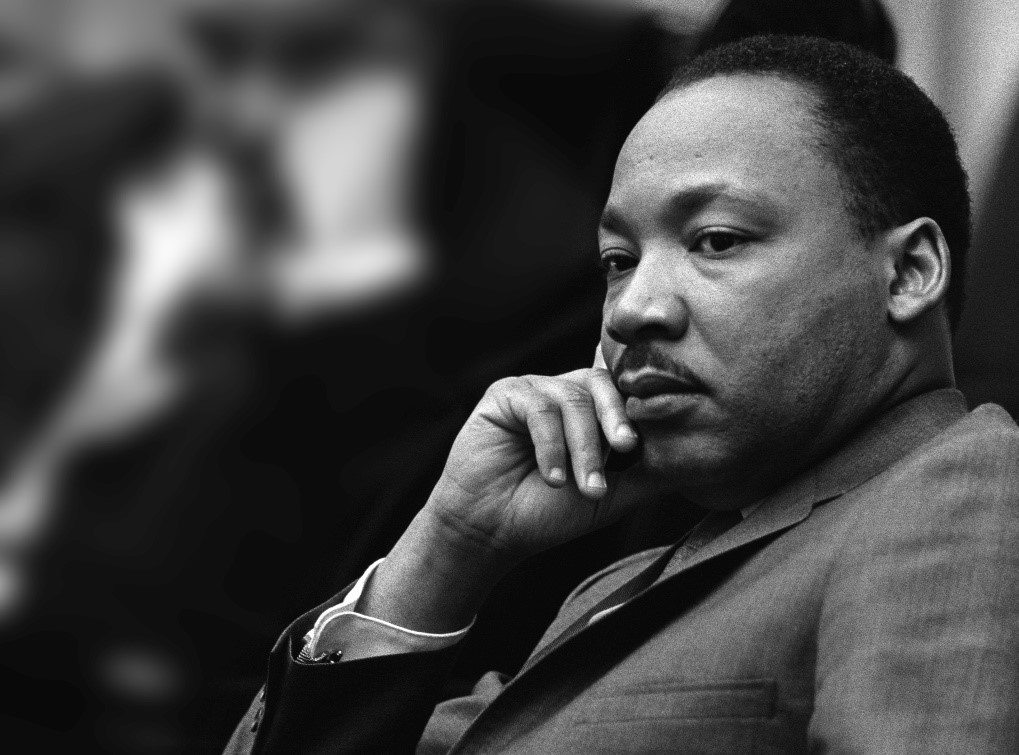 Photo credit: Yoichi Okamoto/LBJ Presidential Library and Museum
Of course, some historians, as well as others, argue that the civil rights movement ended before Dr. King's assassination. They cite the backlash that the movement endured after Stokely Carmichael, the chairman of the Student Nonviolent Coordinating Committee (SNCC), made his infamous "Black Power" speech in Greenwood, Mississippi during the "March Against Fear" in 1966. Dr. King was on the stage with Carmichael when he gave the speech and tried to change the shouts by the crowd from "Black Power" to "Freedom Now," but failed. "Black Power" became the new slogan of the movement and it alienated many whites who supported and participated in the movement as well as many of the foundations and organizations that provided financial support to the movement. Opponents of the "Black Power" slogan equated it with black violence against whites. Given the ongoing use of violence by whites against blacks to maintain white power and white supremacy, it was logical for the opponents of Black Power to conclude that the movement would evolve to their worst fear. But they were wrong.
Several of Dr. King's biographers also argue that the movement ended in April 1967 when Dr. King gave his famous "Beyond Vietnam: A Time to Break Silence" speech at Riverside Baptist Church in New York opposing the war in Vietnam. In the speech, Dr. King indicted the United States as "the greatest purveyor of violence in the world" and noted that the U.S. government sent young black, brown and poor men to Vietnam to fight in an imperialistic war, but did nothing to improve their lives at home. The Johnson administration, most of the media and even some of Dr. King's allies in the civil rights movement condemned him as a traitor for speaking out against the war. His critics condemned him and warned him that he should stay away from foreign policy and confine his efforts to fighting only for "civil rights."
In 1968, despite the continued resistance to civil rights by those who opposed the movement as well as the actions by the federal government to undermine Dr. King and the movement itself, Dr. King had not given up on it. In his last book, Where Do We Go from Here: Chaos or Community? (1967), Dr. King wrote about expanding the movement from civil rights to human rights and addressing the fundamental issue of economic justice. He wrote that the wealthiest country in the world should address poverty by providing every citizen a livable income, affordable housing and a decent standard of living. He expanded his efforts to address the nation's rampant poverty by supporting the sanitation workers' strike in Memphis and by planning a Poor People's March in Washington, D.C. for the spring of 1968. He also believed that a government and society dominated by institutional racism should provide "affirmative action" to provide special support to those whose lives had been historically circumscribed by individual and institutional racism.

Where Do We Go from Here: Chaos or Community? by Dr. Martin Luther King Jr, 1967
But Dr. King's assassination ended not only his efforts to expand the movement from civil rights to human rights; it ended the movement itself.
With the assassination of Dr. King, the fissures in the civil rights movement expanded and broke it. White Americans acted on Richard Nixon's "southern strategy" in 1968 to elect him president. For African Americans, the assassination of Dr. King sent a clear message: his strategy of moral suasion, nonviolent social change and his efforts to form a "beloved community" were pipe dreams. Many young African Americans increasingly supported organizations that advocated "Black Power" and "Black Nationalism." While the FBI and the media sought to paint organizations and individuals who advocated these two ideas as violent, anti-American revolutionaries, young African Americans like me (I was 18 in 1968) rallied behind these ideas as the natural evolution of the ongoing struggle for black liberation.
Indeed, the assassination of Dr. King made it very clear to my generation that "loving your enemies," "turning the other cheek" and adopting nonviolence as tactics would get us killed. While we loved and honored Dr. King, we saw that the resistance to his very mild and legitimate demands for the nation to honor its own creed of equality of opportunity, voting rights and basic human rights were demands that the nation could not fulfill. Armed self defense and even urban guerilla warfare seemed more plausible as strategies and tactics to win our freedom and to change the inherent racism in American society than moral suasion.
Based on the "wars of national liberation" that we saw being waged in Vietnam, Angola, Mozambique and in other colonized nations in Africa and Asia, we romanticized that we could do the same thing in the United States. But after COINTELPRO (Counter Intelligence Program) and the bloody war that the FBI and the police carried out against the Black Panther Party for Self Defense and other Black Nationalist organizations after Dr. King's assassination, we came to our senses. We realized that the civil rights movement was over, but we had to survive in order to take the movement to the next level. In addition, we knew that we had to educate the next generation to continue the struggle beyond civil rights.
We adopted the slogan: "a luta continua" (the struggle continues) from FRELIMO (Frente de Libertação de Moçambique (Mozambique Liberation Front) in honor of Dr. King who gave his life and inspired us to find new ways to fight oppression, racism and white supremacy. Indeed, as we have seen, the civil rights movement is over, but we continue to struggle against some of the same issues (political disfranchisement, police brutality and economic discrimination) that confronted Dr. King.
The views and opinions reflected in the Museum's Guest Blog are those expressly of the author alone, and not of The Sixth Floor Museum at Dealey Plaza.
November 27, 2016

Author Harry Hunsicker is a fourth generation native of Dallas. In 2005, he introduced the city to private investigator Lee Henry Oswald in his crime novel Still River (St. Martins Press) to critical acclaim. He followed up in 2006 and 2007 with two more additions, Next Time You Die and Crosshairs, to create a trilogy that captured "the dark heart of the Dallas underworld."
Hunsicker is also the former executive vice president of the Mystery Writers of America, which is why in celebration of National Novel Writing Month, we asked him to talk about the craft of writing.
NANOWRIMO
by Harry Hunsicker, Guest Blogger
November is National Novel Writing Month, sometimes known amongst aspiring scribes by the supremely inelegant abbreviation Nanowrimo. (Just slides off the tongue, doesn't it?)
The goal of Nanowrimo is to write an entire book in one month. For those of you who don't know, a completed manuscript typically runs between 250 and 500 double spaced pages. That's somewhere between 70,000 and 120,000 words. Or, as I like to think of it, two metric tons of coffee.
By the time you read this, if you are participating in Nanowrimo, you will be just past the halfway mark. If you are somewhere near the middle of your first draft, I commend you and urge you to keep going. There are not many better feelings in the world than finally tapping out END on your first novel.
My first book, Still River, a detective novel, took six months to write and didn't really come together in my head until I settled on the name of the protagonist, a Dallas-based investigator named Lee Henry Oswald. Lee Henry, Hank to his friends, is not related to Lee Harvey. The name is just one of many crosses he must bear.
As a life-long resident of Dallas, I wanted my main character to have a name that was instantly relatable to the city. (For a period of time, I considered writing about a hitman called Tom Landry, but I was afraid I'd be run out of town.)
If you chose not to participate in Nanowrimo this year, or if the pace has gotten too hard, or you find yourself stuck for whatever reason, consider this an opportunity to brush up on your craft. Here are some books that I have found helpful over the years. (If you're cooking along, for heaven's sake don't stop to read anything. Just keep going!)
On Writing by Stephen King. Far and away the best volume on writing fiction that I have ever read. Part memoir, part how-to, the text peels back the secrecy on the creative process of one of the most successful novelists of all time.
Lessons from a Lifetime of Writing by David Morrell. In 1972, Morrell, a young college professor, published his debut novel, First Blood, a thriller about a Vietnam veteran named Rambo. Pop culture was never the same, not to mention Sylvester Stallone's career. Lessons is Morrell's ode to the craft, advice on how to tell a story and to tell it well. The essence of his message: Write about what you fear the most.
Save the Cat by Blake Snyder. Beginning writers—and more than a few veterans—often have trouble plotting a story, the what-happens-next part of the process. If that sounds familiar, then grab a copy of this book. Save the Cat is designed for screenwriters but the advice is universal, clearly explained and illustrated with examples from the movies.
The last resource I can offer is a simple but effective bit of advice: Don't ever give up!
To read the Lee Henry Oswald series or see other fictional stories related to President Kennedy or the 1960s, make an appointment to check out the Museum Reading Room!
Guest Blogger Harry Hunsicker's forthcoming novel is The Devil's Country (March 2017; Thomas & Mercer.) His work has been short-listed for the Shamus and Thriller Awards. He can be reached via his website: www.harryhunsicker.com, or on Twitter.

>
June 1, 2016

by Tish Brewer, Guest Blogger, The Center for Art Conservation
I had the pleasure of working on several objects for A Time For Greatness, the upcoming exhibition at The Sixth Floor Museum, providing conservation treatment to structurally stabilize them, as well as improve them aesthetically for display.  Many people don't realize the intricate work that goes into getting these pieces of the past ready for viewing.
The Challenge
These artifacts–campaign posters and broadsides, newspapers, and other widely dispersed materials–were meant to be somewhat ephemeral when created. Having been produced quickly and cheaply for wide distribution, they are often made with paper fibers of poor quality. These materials do not often age well, due to a combination of inherent vice (the tendency of objects to deteriorate due to instability of components within) and storage/environmental conditions. They are also handled frequently, making physical damage quite common from rolling and unrolling, hanging, and general use.
Typical issues decades later involve heavy wear including overall surface soil, abraded paper and media, complex tearing, losses to support, weakened or broken fold lines, varying degrees of discoloration, permanent creasing or bending of paper fibers, and distortion. Other common issues are a result of prior repair during or after frequent use and handling, such as tape attachments with associated staining, partial backings or mounts, and clumsy inpainting.
Conservation treatment of these objects was varied but generally involved dry surface cleaning, removal of tape attachments and backing materials, reduction of residual adhesives, overall washing when needed, mending of tears, filling of losses to the paper support, and inpainting of fills as well as tears when necessary. Treatment is as non-invasive as possible while also taking into account desired aesthetics. An important part of what we do is making sure that any repairs we make are reversible.
Reversing the Damage
In the photo above, a large election poster is being immersion washed, after surface cleaning and extensive pressure-sensitive tape removal. The poster was then fully dried, and an extensive scarf tear was aligned from the front (seen in the photo below) before mending from within using wheat starch paste, followed by mending from the reverse using strips of Japanese tissue adhered with paste. All mends can be easily reversed in the future using water.
A smaller broadside had significant orange-brown stains in all corners due to tapes applied long ago.  These stains were treated with solvents over a suction platen to reduce them as much as possible.
Filling the Gaps
Localized treatment of staining was followed by washing, mending, and the creation of fills. Mends and fills were done with Japanese tissue, which comes in a range of weights, and is quite strong due to the long paper fibers. Some tissues are thin enough to read through, and others are more appropriate for overall stabilization of paper objects. They can be toned either before or after application, torn in strips for mending, or perforated in specific shapes for fills.
Another large poster had extensive insect damage, which was inappropriately repaired by adhering large swaths of copy paper to the reverse. After removing the repairs using heat, and reducing the adhesives as much as possible, the poster was washed and the reverse was lined overall with Japanese tissue. A detail of the loss after backing removal and prior to lining is seen below.
When part of the art is missing, we often inpaint to fill in what is gone using watercolors, colored pencils, and/or pastels, after applying an isolating layer (again, for reversibility). With the Nixon broadside seen below, I went between inpainting under the microscope with a tiny brush and inpainting with naked eyes using colored pencils. New media was applied in small dots to match the original printing pattern.
This is just a sample of the work done by my team to ensure the amazing pieces that you'll see in A Time For Greatness are as close as they can be to what they looked like back in 1960. To learn more about the exhibit, visit JFK.org/ATimeForGreatness.
Guest blogger Tish Brewer is a paper conservator at The Center for Art Conservation in Dallas, TX.

>