August 4, 2017
Your guide to getting the most out of your visit to the Museum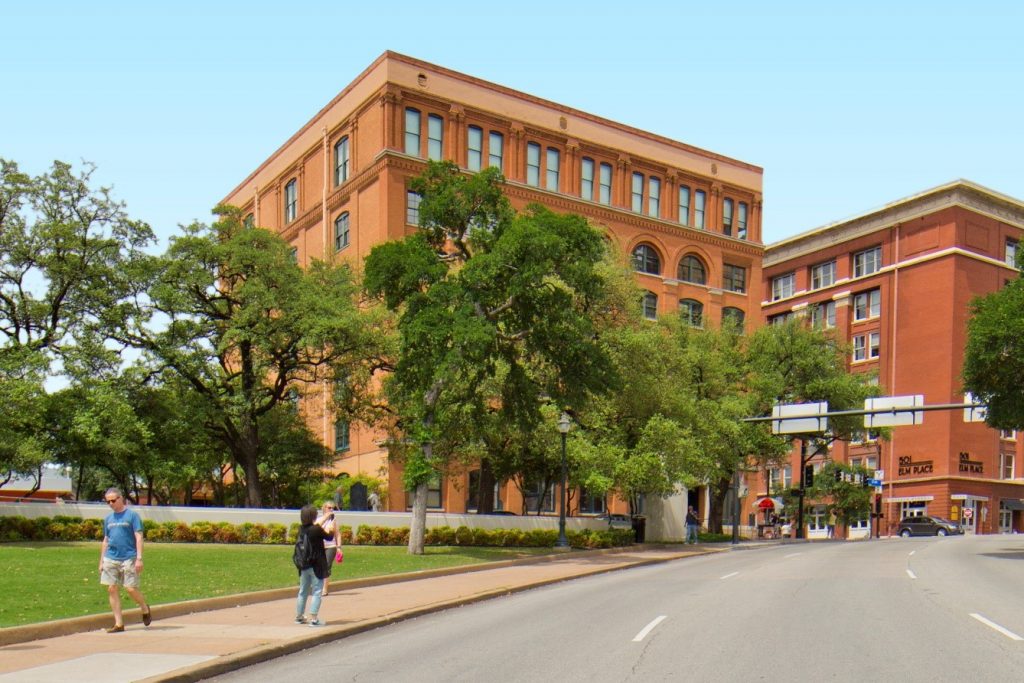 The Sixth Floor Museum at Dealey Plaza welcomes many visitors from all over the globe during the summer months. However, as Dallas locals know, summer is not our most forgiving season, since temperatures sometimes reach triple-digits. We have compiled a list of tips that will help you enjoy your trip to the Museum this summer, no matter how high the heat index.
Wear comfortable clothes
Summers in Dallas are H-O-T! Out-of-towners are often surprised that while the temperature may only be 93, the heat index makes it feel much warmer outside. Thankfully, The Sixth Floor Museum is indoors and air conditioned, but we still recommend dressing for the sweltering heat outside. Comfortable walking shoes, breathable shirts and shorts are recommended.
Buy tickets online
Sometimes the Museum sells out. Summer is a busy time of year and we want to ensure your visit is a special one! You can buy timed tickets online a minimum of two hours in advance at www.jfk.org. Often, buying tickets online helps you better plan your trip and it might minimize your wait time to get into the Museum.
Take note of museum hours
Unlike many museums that are closed on Mondays, The Sixth Floor Museum is open daily. Admission hours are Tuesday – Sunday 10 a.m. to 6 p.m. and Mondays 12 p.m. to 6 p.m. However, if you do arrive early on a Monday, have no fear! The Museum Store + Café is open from 9:30 a.m. to 6 p.m. every day. Located across the street from the Museum at 501 Elm street, it's situated on the corner of N. Houston Street and Elm. Early birds can enjoy coffee from Oak Cliff Coffee Roasters and snack on pastries from Rush Patisserie and sandwiches from Bolsa while they wait.
Visit Museum Store + Café
We strongly recommend a visit to the Museum Store + Café after you view the exhibit as well. In addition to the delectable assortment of edibles listed above, the Café also sells Henry's Ice Cream, a delicious North Texas treat. The merchandise is eclectic, including a wide range of books, collectibles, jewelry and gifts. You'll find items pertaining to President Kennedy's campaign, assassination and legacy. The Museum Store + Café also carries jewelry, books and gifts that evoke Jackie Kennedy's famous personal style, as well as items that center around rich culture of Texas and downtown Dallas.
Get the most out of your day in Big D
Did you know that when you park in The Sixth Floor Museum's parking lot during the day, your parking is valid until 7 p.m.? In addition to visiting the Museum, we recommend getting the most out of your day in Dallas by visiting other nearby institutions or eating a meal at one of the great restaurants in the West End. For this, you will also want to wear comfortable shoes! Many exciting attractions and food destinations are just a 10-15 minute walk away.
Regardless of how you plan your trip around a visit to The Sixth Floor Museum at Dealey Plaza, our goal is to ensure your time in the Museum will be a profound experience with lasting memories. We hope to see you soon at The Sixth Floor Museum!
December 30, 2016
by Stephen Fagin, Curator, The Sixth Floor Museum at Dealey Plaza
More than fifty-three years after the Kennedy assassination, the ongoing Oral History Project at The Sixth Floor Museum at Dealey Plaza is in a race against time. A seventeen-year-old high school student in 1963 is today 70 years old. As these November anniversaries go by, we sadly lose more of our storytellers each year. As we acknowledge those interview participants who passed away this year, we also applaud their willingness to add such unique perspectives to our ever-growing archive of "living history."
In late December 2015, we lost Dallas Police Lieutenant Rio Sam Pierce, who was in charge of basement security on the day of Lee Harvey Oswald's planned transfer to the Dallas County Jail. Pierce drove his vehicle up the Main Street ramp at the time many believe Jack Ruby gained access to the basement. Ruby's good friend, longtime Dallas Times Herald television editor, Bob Brock passed away this year. Brock spoke with Ruby just one day prior to the Oswald shooting. When Ruby went on trial the following year, young SMU law student George Bramblett, Jr. was there to watch the spectacle unfold. Covering the trial for the Associated Press was photographer Ferd Kaufman, who held the distinction of capturing through his camera lens Presidents Kennedy and Johnson, Lee Harvey Oswald, and Jack Ruby. In fact, Kaufman was one of the first to photograph Oswald after his arrest at the Texas Theatre, where the late Dallas police patrolman Jerry Pollard had helped wrestle Oswald to the ground.
Another photographer who passed away in 2016 was Joe Laird, the last surviving staff photographer at The Dallas Morning News in 1963. Laird photographed the Kennedy motorcade at the corner of Main and Harwood Streets. Near his location was parade spectator Sam Berger, who had sold Abraham Zapruder the Bell and Howell home movie camera that he would use to capture the assassination on film that day.
Following news of the assassination, young Karen Knight Neukom and her family went to Dallas Love Field. Her father had been Senator Kennedy's campaign manager in Wichita County, Texas, during that hard-fought 1960 campaign. The late Harold Vaughan also understood the pressures of campaigning for Kennedy. As the senator's direct link to the African American community in Boston, Vaughan worked on Kennedy's first U.S. Senate campaign in 1953.
Prior to his Texas visit in November 1963, the president supposedly asked Arkansas Sen. John McClellan to quietly survey the conservative political atmosphere in Dallas. His cousin, Sue Crutchfield, who passed away this summer, shared this untold story that might have been lost to history. The Dallas City Council had also voiced concerns, questioning the police chief at length about security preparations. This November we lost Dorothy Roberts, widow of 1963 councilman Bill Roberts. Though the Warren Commission later investigated right-wing activities in Dallas, they ultimately concluded that Oswald acted alone. The late Justice Richard Mosk served on the Warren Commission's staff. He shared his memories with us at a 2013 public program exploring the Commission's efforts.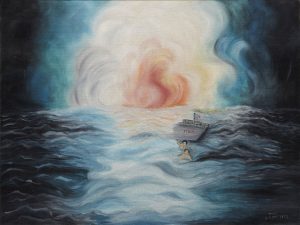 The assassination impacted individuals around the world in profound ways. In Dallas, the Reverend Wally Chappell led a special prayer service for President Kennedy at Ridgewood Park United Methodist Church. Noted Fremont, Ohio, artist Bernadine Stetzel responded to the tragedy through seventy-one paintings depicting President Kennedy's life and death. In 2011, she donated those works to the Museum. We also lost two oral history subjects from the world of entertainment. Actor Alan Young, star of the popular Mister Ed sitcom in 1963, shared his memories of when production shut down on November 22, 1963. The advertising manager for Disneyland, Jack Lindquist, discussed the unscheduled closing of the Anaheim theme park in memory of President Kennedy.
Everyone has a story to share, and we are grateful to these individuals for helping us better understand the moment and the memory of the Kennedy assassination and the 1960s.  If you would like to add your voice to our ongoing Oral History Project, please contact OralHistory@jfk.org.
Stay tuned for an upcoming special blog post in memory of former WBAP reporter Bob Welch.
December 8, 2016
by Stephen Fagin, Curator, The Sixth Floor Museum at Dealey Plaza
Earlier this year I was invited to teach a short-term, non-credit course on the Kennedy assassination as part of Richland College's Emeritus plus 50 program.  Richland, part of the Dallas County Community College District, offers a selection of diverse classes to provide "affordable, quality education to enable individuals 50 and over to stay intellectually challenged and enriched, physically fit and socially connected."
It was an honor to be included, and during the Fall semester I taught a six-hour course entitled "JFK, Dallas and the Power of Memory."  This was spread across four Monday evening classes on the Richland campus on Abrams Road in Dallas.  Much to my surprise, two of the individuals who signed up for the course were "non-rememberers," both born more than a decade after the assassination.  While not commonly known, Dallas County residents of all ages can enroll in Emeritus classes, and I was thrilled to see some young people take advantage of this opportunity.  The rest of the attendees were, on occasion, willing to share their own memories and discuss the impact of this tragic event.  Two of those individuals will soon be recording interviews as part of our ongoing Oral History Project.
During the four classes, we covered a wide variety of topics: Dallas stories related to the 1960 campaign between John F. Kennedy and Richard Nixon, the city's political climate at the time, background on the President's trip to Texas in November 1963, and of course, the assassination itself—told through the personal perspectives of more than a dozen individuals: police officers, reporters, schoolchildren and many others.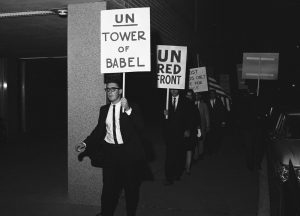 No course on the assassination would be complete without a look at the investigations and lingering questions.  So we spent time on Lee Harvey Oswald, Jack Ruby and the most popular theories and influential literature over the past half century.  Ultimately, we brought the story back to Dallas, concluding with a look at Kennedy memorialization and the creation of The Sixth Floor Museum at Dealey Plaza.
While there were no formal evaluations, I did receive a few comments from those who enrolled in the class.  One of the younger attendees wrote to me, "…[T]hank you for such a fascinating walk through history. When I realized I had registered for a class intended for senior citizens, I was worried I should not have been in there! I'm so glad non-seniors were allowed, even if I don't have any first-hand memories to share."  I was humbled to receive a note from another attendee, a Dallas high school student in 1963: "Anytime someone can take an hour and a half and turn it into 20 min. is in command. Could have even used a couple of more classes on this topic!"
For me, it was a worthwhile and fascinating experience—a rare chance to explore so many facets of the assassination story with the same group of people.  If you are a Dallas County resident—of any age—and would like to take this class, it will be offered again as part of the Emeritus Spring 2017 semester.  I will be teaching "JFK, Dallas, and the Power of Memory" across four Monday evenings, April 17 to May 8.  If you are interested in registering, please visit this website for more information.
August 31, 2016
by Ani Simmons, Education Program Coordinator, The Sixth Floor Museum at Dealey Plaza
Teachers! Congrats on surviving the first week back to school with students! As a former teacher, I know this is always a great week of meeting new students and an exhausting week as you look ahead to the next 180 days of instruction.
Here at The Sixth Floor Museum, we have lots of resources to enhance your school year and hopefully, you'll be able to take advantage of some of them.
In addition to our permanent exhibit, which tells the story of President Kennedy's assassination and its impact, we have 2 special temporary exhibits this year that are certain to fit into your curriculum. Of course, you can book a school visit to the Museum at anytime.
A Time For Greatness: The 1960 Kennedy Campaign, through November 13, 2016
It's the final few months of our special election year exhibit about one of the closest elections in U.S. history, Kennedy's victory over Richard Nixon in 1960. Don't miss this in-depth look at what is often considered to be the first modern day presidential campaign—noted for being the first election to feature a televised debate, the first to include all 50 states and the first to elect a president born in the 20th century.
Check out our TEK-aligned education program and lesson plans available at JFK.org/ATimeForGreatness, and don't forget to book your trip to visit the exhibit before it closes after Election Day!
Amending America: The Bill of Rights, A National Archives and Records Administration Traveling Exhibit, January 24 – March 16, 2017
This special spring exhibit marks the 225th Anniversary of the ratification of the Bill of Rights. Students will learn about how the first 10 amendments came to be and how each amendment protects our citizens.
Amending America: The Bill of Rights was created by the National Archives and Records Administration, Washington, D.C. The national tour is presented in part by AT&T, History®, Seedlings Foundation, and the National Archives Foundation.
Stay tuned for public and education programs and pre/post-visit lesson information!
Did you know you can get more out of your visit to the Museum by adding a 50-minute in-depth program presented by the Museum's Educator and Curatorial staff? Programs are primary-source based and cover Texas standards related to critical thinking, primary sources and general social studies skills in grades 5-12. (National Standards can be found here.) Our Core Education Programs cover topics such as:
Civil rights
Elections and politics
The Space Race and the Cold War
Crime scene investigation and law enforcement
Oral histories
Most programs are available 3 ways: at the Museum, at your school or via distance learning (DL) and range in price from $50 to $125. Visit JFK.org/education to see detailed program information and book today!
Primary Source Research Opportunities
Do you have a student (or several) interested in being part of the National History Day competition in 2017? The theme, Taking a Stand in History, has lots of connection possibilities to The Sixth Floor Museum! Find out more by checking out our FREE research library, the Reading Room, and the topical resource guides that our librarian has created just for you and your students who are interested in several popular topics, including: Civil Rights, Cuba, Presidents Kennedy and Johnson, reporters, investigators and eyewitnesses to the Kennedy assassination and many more!
We offer teacher workshops mainly in the summer months; however, with special temporary exhibits we often offer teacher previews and workshops on the day before of the first day of the exhibit opening! Join our teacher email list and be the first to know about these special workshops and other special events throughout the year. Email education@jfk.org and ask to be put on the educator email list!
Teacher Exclusives
Did you know, as an educator, you can get discounted admission to the Museum with a valid educator ID? See President Kennedy's story for just $8.50 year-round!
As a bonus, educators also get a 10% discount at the Museum Store+Café!
It is my pleasure to do what I can to make your job easier! Let me know how I can help! Please feel free to contact me at education@jfk.org or visit JFK.org/education anytime for more information about all we have to offer!
Have a great year and we'll see you at the museum!