September 5, 2019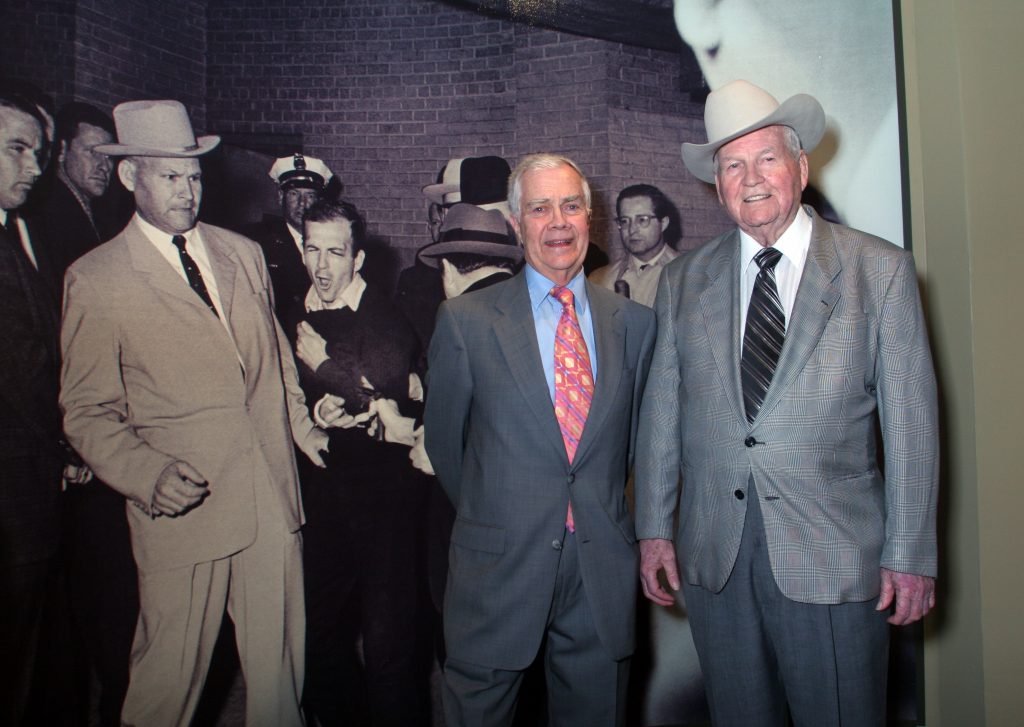 By Stephen Fagin, Curator
Dallas police homicide detective Jim Leavelle recognized the potential for danger on Sunday, November 24, 1963. As suspect Lee Harvey Oswald prepared to make the routine prisoner transfer from city custody at Dallas police headquarters to the Dallas County Jail, Leavelle made a remark that he would vividly recall for the remainder of his long and legendary life: "Lee, I hope if anybody shoots at you [that] they're as good a shot as you are."  Oswald, according to Leavelle, chuckled. It was the only time Leavelle ever saw the alleged assassin of President Kennedy crack a smile. And then, alongside detective L.C. Graves, they made their way downstairs to the basement of police headquarters and stepped into history.
We lost our friend, James R. "Jim" Leavelle on August 29, 2019, just a few days following his 99th birthday. Around the world, people recognize the veteran Texas lawman because of a single photograph that captured a moment in time and came to embody the chaos, violence and uncertainty of a weekend that defined a generation.  Wearing a light-colored suit and cowboy hat, Leavelle twisted his body, still handcuffed to Oswald, with a look of shock and horror on his face. Jack Ruby, local Dallas nightclub owner, had leapt out from a crowd of reporters and shot Oswald at point-blank range. That iconic photograph, taken by Dallas Times Herald staff photographer Bob Jackson, would go on to win the 1964 Pulitzer Prize.
That moment may have made Jim Leavelle famous, but it was his extraordinary life, dry wit and wonderful storytelling that made him a living legend. In my personal experience, I have rarely encountered an assassination researcher, author or dedicated student of the subject who did not meet and visit with Jim Leavelle at some point. Many of them enjoyed lively meals with him at his favorite Dallas restaurant, El Fenix. To say that Jim was giving with his time is an understatement. He was dedicated to honoring interview, program and meeting requests, and he never tired of detailing the same stories over and over again for the benefit of history. Whether it was an audience of one, including at times young elementary school students, or an auditorium full of interested listeners, Jim Leavelle was a gifted storyteller.
He described the shooting of Lee Harvey Oswald like this, during a 2002 oral history with the Museum:
I could see [Jack Ruby's] pistol.  I saw all of that in a flash because remember, I'm alert for these guns because I'm expecting somebody to shoot at him anyhow but not necessarily in the basement….  Of course, I had Oswald right up against me, and I tried to pull him behind me, but all I succeeded in doing was turning his body, so that instead of hitting him dead center, it hit him just about four inches to the left of the navel.  Then, of course, by that time, the officers gathered around there had piled on him and pushed him to the ground.  I reached over and grabbed Ruby by the shoulder, by his left shoulder, and shoved back and down on him, but by the time that happened, the officers had swarmed on him and crushed him to the ground, and so I released him and returned my attention to Oswald….  And when the ambulance pulled in, why, we loaded him in the ambulance, and I crawled in there with him and so did the doctor, and we rode to Parkland with him. 
Jim never subscribed to conspiracy theories, and he often delighted in debating the topic with interested researchers. He even served as a technical consultant to filmmaker Oliver Stone during the making of his 1991 movie, JFK.  He described his on-set experience like this: "Well, I have found out what a technical advisor is.  When they ask you how a certain scene should be played or how it was done…you describe to them the setting of it. If it don't suit their idea, they'll go ahead and do it the way they want to."  Years earlier, Jim even portrayed himself in the 1978 TV movie, Ruby and Oswald.
The Museum will sincerely miss our friend, Jim.  He was truly one of a kind. We extend our sincere condolences to his family and friends, and we are grateful that he shared so many memories with us.
You can see a number of public programs featuring Jim Leavelle on our YouTube Channel.
December 20, 2018
By Stephen Fagin, Curator
The Sixth Floor Museum at Dealey Plaza has lost a dear friend and an important part of early institutional history with the passing of Nancy Goff Cheney. A founding board member of the Dallas County Historical Foundation (which later became The Sixth Floor Museum at Dealey Plaza), Nancy served a vital role as the Dallas County Historical Foundation's direct conduit and liaison to the Kennedy family during the critical development of The Sixth Floor exhibit in the mid 1980s.
Cheney's first encounter with John F. Kennedy took place when the young senator visited Dallas on the 1960 presidential campaign trail; three years later she and one of her daughters, Allison, watched the presidential motorcade pass by on the day of the assassination. In 1979 Allison was responsible for introducing her mother to the Kennedy family after meeting Senator Edward Kennedy at the University of Oklahoma. The Cheney family helped open Ted Kennedy's Dallas campaign office, and Allison worked on Kennedy's staff during his unsuccessful bid for the Democratic presidential nomination in 1980. At the Democratic Convention in New York City that year, the senator invited the family to visit his campaign suite at the Waldorf Astoria.
After learning of Nancy Cheney's connection to the Kennedy family, Lindalyn Adams, a local preservation activist who was spearheading The Sixth Floor Project, briefed her on the plan to open a historical exhibition on the sixth floor of the former Texas School Book Depository building and asked if Nancy would consider passing along information about the Dallas endeavor to Senator Kennedy. Initially, Cheney was hesitant to approach the late president's brother about the exhibit, but out of respect for Adams, she agreed to tour the space and learn more about it. The experience changed her mind, and she immediately agreed to speak with Senator Kennedy in his Washington office.
According to Cheney's oral history with the Museum, when she nervously broached the subject of The Sixth Floor exhibit with Ted Kennedy in his private office, the senator's face "turned the color of a [white] sheet." She explained that hundreds of thousands of individuals visited Dealey Plaza every year in memory of the late president with flowers and prayers, wondering "why Dallas hasn't done something at this place to honor the president." When she finished her presentation, Kennedy replied, "Nancy, I have all the confidence in the world in you, and if you say it's going to be all right, I know that it will be."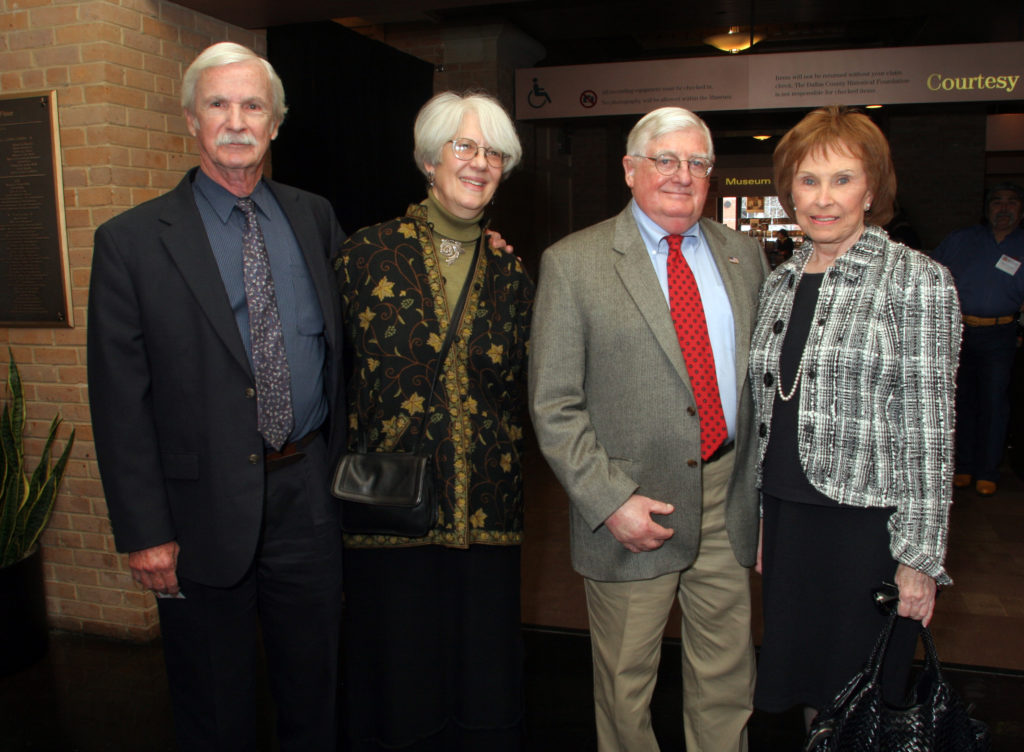 After that meeting, Cheney regularly briefed Melody Miller, the senator's senior aide, who compiled a file for Kennedy's perusal. Before returning to Dallas, Cheney also briefed Senator Kennedy's brother-in-law, Stephen Smith, who volunteered to inform Jacqueline Kennedy Onassis about the planned exhibit in Dallas. When Cheney returned home, she accepted a position on the foundation's board, and, feeling a sense of great personal responsibility because of the faith that the Kennedys had placed in her, decided "to take a very active role in the planning of the exhibit."
In the years since the 1989 opening of The Sixth Floor, Nancy Cheney remained a good friend to our institution and a familiar face at exhibit openings and programs. Her presence here will be missed. The Sixth Floor Museum at Dealey Plaza is grateful for her many contributions to our institutional history, and we offer our sincere condolences to her friends and family members.
April 13, 2018
President John F. Kennedy said in his message on the "Occasion of National Library Week" in April 1961,
"[b]ooks and libraries and the will to use them are among the most important tools our nation has to diffuse knowledge and to develop our powers of creative wisdom."
As part of The Sixth Floor Museum's vision to be an impartial destination and forum for exploring the events surrounding the assassination of President Kennedy, the Museum opened the Reading Room in 2010 to meet the needs of researchers around the world. This non-circulating library provides public access to the Museum's vast resources, including rare and out-of-print bibliographic materials; current and historic films, music and photographs; rare artifacts and more than 1,700 oral histories.
An integral component of the Museum's permanent collections, The Reading Room's cache of over 8,000 items continues to expand and evolve to include the latest iterations of scholarly research and trending topics in popular culture.
Over the past eight years, the Reading Room has served diverse needs of 2,000 researchers, from international patrons to individuals, classrooms or groups that visit in person.
In celebration of National Library Week, The Sixth Floor Museum's Reading Room is sharing seven exceptional stories of how a visit to the Reading Room changed the course of a life, helped fulfill a dream or fostered an ongoing relationship. To protect researcher confidentiality, individuals' names are excluded from this blog.
Man Who Marched in Kennedy's Funeral Procession Finds Himself on Film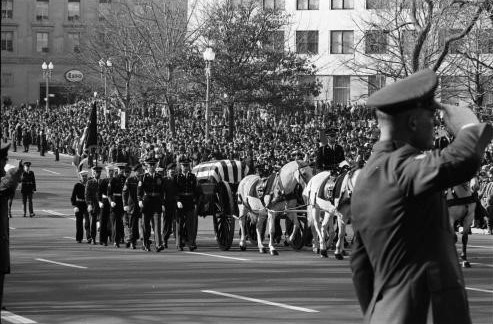 ©Donald Eugene Hughes. Donald Hughes Collection/The Sixth Floor Museum at Dealey Plaza
As a member of the U.S. Army Reserves, this man marched in the funeral procession for President Kennedy, but had little evidence of his involvement. His quest for more information about the funeral led him to the Reading Room, where he examined collections of historic photographs, listened to the oral history interview of another military service member who was in the funeral procession and perused hard-to-find books about the funeral. After searching the Museum's extensive collection of home movies, the Museum's curator located the reservist's unit in a film from the funeral procession. The Museum also documented his story by recording his oral history.
Oral History Collection Informs Dissertation Research on LGBT History of Dallas
Intrigued by the depth of the Museum's Oral History Collection, this doctoral student visited the Reading Room in 2016 and 2017 for resources to support his dissertation on the history of the LGBT community in Dallas. He listened to oral history interviews and the program Gay Rights Movement in Dallas from the Museum's 2006 Call to Action series.
Desire for Understanding Becomes Part-Time Hobby
Donated to the Reading Room collection by a regular patron
and friend of the Museum/The Sixth Floor Museum at Dealey Plaza
At the time of the Kennedy assassination in 1963 and Jack Ruby trial in 1964, this individual managed a temporary Time-Life office out of Dallas hotel suites. Wanting to expand upon her first-hand knowledge, she became a regular visitor to the Reading Room, spending hours reading and listening to oral history interviews about reporters, particularly women, who covered the assassination. Visiting often to access the collections to support her interest in Dallas history and genealogy, she has also donated nearly 250 bibliographic items to the Reading Room, including the Goals for Dallas series with issues dating from 1966 to 1982.
International Visitor Explores Museum Collections
This British woman surprised her husband, a "lifelong JFK fan," with a trip to The Sixth Floor Museum as a gift for their twenty-fifth anniversary. In her Reading Room appointment request she wrote, "it took eight years to save up for this trip and sadly, I can only send him alone, but I know that the sheer excitement and joy it will bring him is enough for me. I can only imagine how he will feel actually being in your wonderful building and at the utter thrill he will have from touring your museum and reading room." Her husband was fascinated with the events surrounding the assassination in Dealey Plaza. After touring the Museum, he spent hours in the Reading Room exploring seminal first-edition works in assassination research that he had never seen before.
Former Parkland Doctor Completes Research for Book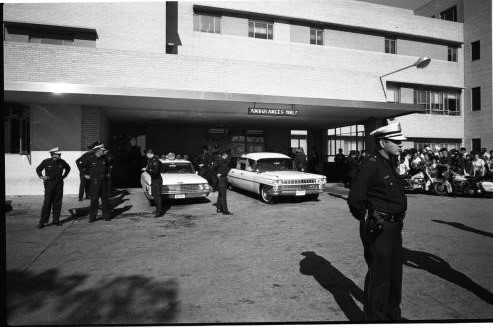 Dallas Times Herald Collection/The Sixth Floor Museum at Dealey Plaza
A former Parkland Memorial Hospital doctor and author did considerable research in the Reading Room in 2014 for his book, to which the Museum's late curator Gary Mack was a contributor. In 2017, the author hosted twenty international delegates from West Lothian, Scotland for a museum tour and question-and-answer session with the Librarian/Archivist.
Scientist Researches Gunshot Dynamics at Assassination Site
A scientist conducted research in the Reading Room by listening to oral history interviews with ballistic experts. He also used the Museum's collection of home movies to inform his article about gunshot-wound dynamics. His findings are soon to be published in an open-access academic journal.           
Program Attendee Turns Museum Donor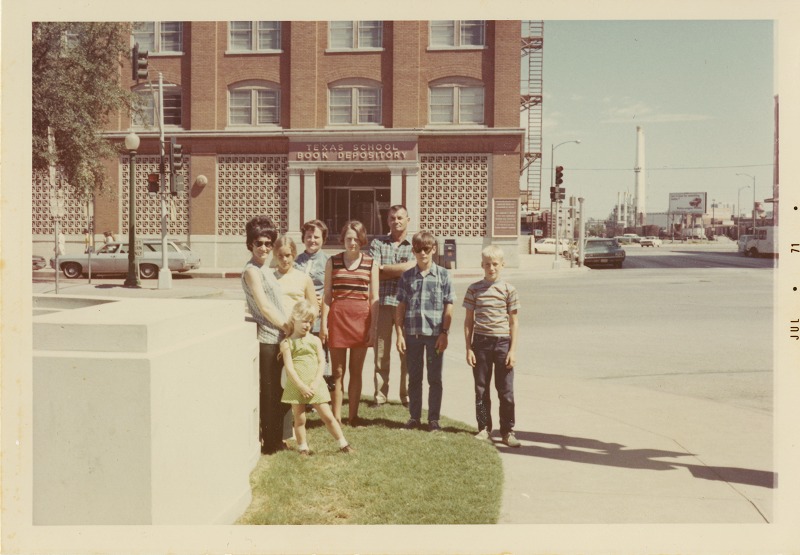 Betty Wisner Collection/ The Sixth Floor Museum at Dealey Plaza
This person's interest was piqued after attending the Museum's Five Days in November public program, and she later visited the Reading Room to listen to the Clint Hill oral history. After learning about the Museum's extensive collections, she was inspired to donate two personal photographs from 1971. One photo depicts her family in front of the former Texas School Book Depository building and another inside the former John F. Kennedy Museum in Dallas, which closed in 1982.
President Kennedy called libraries "…one of the richest and more enduring aspects of our historical heritage." The Sixth Floor Museum at Dealey Plaza is honored to preserve and provide public access to its research library so others can develop their own "powers of creative wisdom." To learn more about the type of materials available email readingroom@jfk.org. The Reading Room is open by appointment, 9:30 a.m. to 4 p.m. Monday through Friday.
April 4, 2018
By Dr. W. Marvin Dulaney, Associate Professor Emeritus of History at the University of Texas, Arlington
Fifty years ago, on April 4th, the civil rights movement ended. That was the day that James Earl Ray assassinated Dr. Martin Luther King in Memphis, Tennessee and ended Dr. King's larger- than-life role in and influence on the civil rights movement.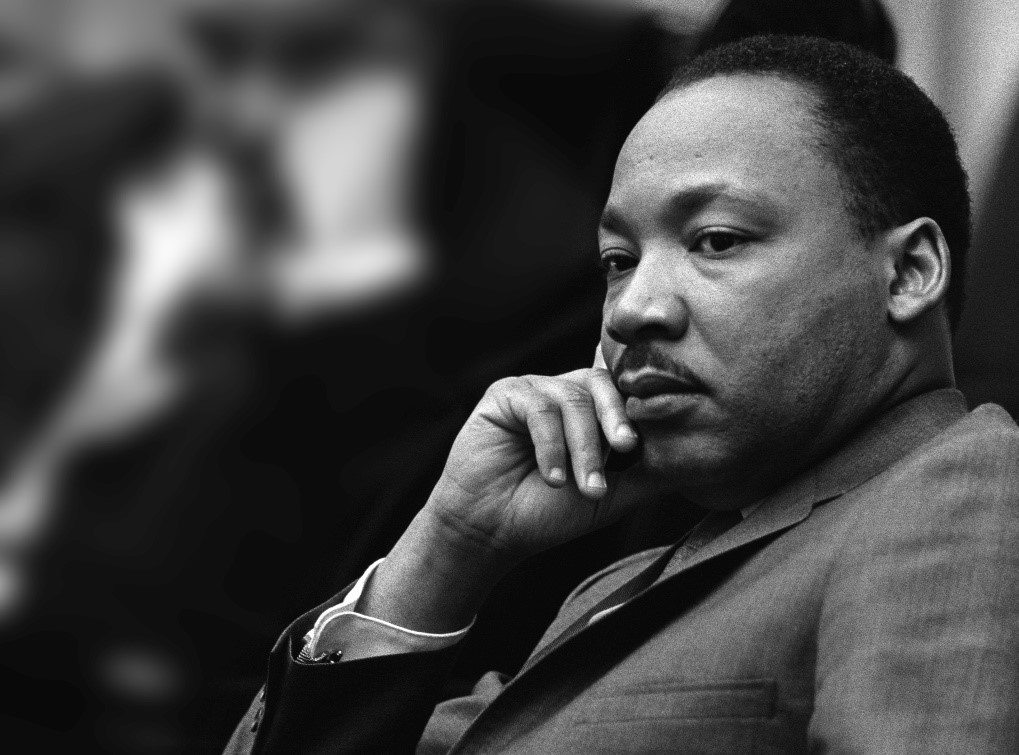 Photo credit: Yoichi Okamoto/LBJ Presidential Library and Museum
Of course, some historians, as well as others, argue that the civil rights movement ended before Dr. King's assassination. They cite the backlash that the movement endured after Stokely Carmichael, the chairman of the Student Nonviolent Coordinating Committee (SNCC), made his infamous "Black Power" speech in Greenwood, Mississippi during the "March Against Fear" in 1966. Dr. King was on the stage with Carmichael when he gave the speech and tried to change the shouts by the crowd from "Black Power" to "Freedom Now," but failed. "Black Power" became the new slogan of the movement and it alienated many whites who supported and participated in the movement as well as many of the foundations and organizations that provided financial support to the movement. Opponents of the "Black Power" slogan equated it with black violence against whites. Given the ongoing use of violence by whites against blacks to maintain white power and white supremacy, it was logical for the opponents of Black Power to conclude that the movement would evolve to their worst fear. But they were wrong.
Several of Dr. King's biographers also argue that the movement ended in April 1967 when Dr. King gave his famous "Beyond Vietnam: A Time to Break Silence" speech at Riverside Baptist Church in New York opposing the war in Vietnam. In the speech, Dr. King indicted the United States as "the greatest purveyor of violence in the world" and noted that the U.S. government sent young black, brown and poor men to Vietnam to fight in an imperialistic war, but did nothing to improve their lives at home. The Johnson administration, most of the media and even some of Dr. King's allies in the civil rights movement condemned him as a traitor for speaking out against the war. His critics condemned him and warned him that he should stay away from foreign policy and confine his efforts to fighting only for "civil rights."
In 1968, despite the continued resistance to civil rights by those who opposed the movement as well as the actions by the federal government to undermine Dr. King and the movement itself, Dr. King had not given up on it. In his last book, Where Do We Go from Here: Chaos or Community? (1967), Dr. King wrote about expanding the movement from civil rights to human rights and addressing the fundamental issue of economic justice. He wrote that the wealthiest country in the world should address poverty by providing every citizen a livable income, affordable housing and a decent standard of living. He expanded his efforts to address the nation's rampant poverty by supporting the sanitation workers' strike in Memphis and by planning a Poor People's March in Washington, D.C. for the spring of 1968. He also believed that a government and society dominated by institutional racism should provide "affirmative action" to provide special support to those whose lives had been historically circumscribed by individual and institutional racism.

Where Do We Go from Here: Chaos or Community? by Dr. Martin Luther King Jr, 1967
But Dr. King's assassination ended not only his efforts to expand the movement from civil rights to human rights; it ended the movement itself.
With the assassination of Dr. King, the fissures in the civil rights movement expanded and broke it. White Americans acted on Richard Nixon's "southern strategy" in 1968 to elect him president. For African Americans, the assassination of Dr. King sent a clear message: his strategy of moral suasion, nonviolent social change and his efforts to form a "beloved community" were pipe dreams. Many young African Americans increasingly supported organizations that advocated "Black Power" and "Black Nationalism." While the FBI and the media sought to paint organizations and individuals who advocated these two ideas as violent, anti-American revolutionaries, young African Americans like me (I was 18 in 1968) rallied behind these ideas as the natural evolution of the ongoing struggle for black liberation.
Indeed, the assassination of Dr. King made it very clear to my generation that "loving your enemies," "turning the other cheek" and adopting nonviolence as tactics would get us killed. While we loved and honored Dr. King, we saw that the resistance to his very mild and legitimate demands for the nation to honor its own creed of equality of opportunity, voting rights and basic human rights were demands that the nation could not fulfill. Armed self defense and even urban guerilla warfare seemed more plausible as strategies and tactics to win our freedom and to change the inherent racism in American society than moral suasion.
Based on the "wars of national liberation" that we saw being waged in Vietnam, Angola, Mozambique and in other colonized nations in Africa and Asia, we romanticized that we could do the same thing in the United States. But after COINTELPRO (Counter Intelligence Program) and the bloody war that the FBI and the police carried out against the Black Panther Party for Self Defense and other Black Nationalist organizations after Dr. King's assassination, we came to our senses. We realized that the civil rights movement was over, but we had to survive in order to take the movement to the next level. In addition, we knew that we had to educate the next generation to continue the struggle beyond civil rights.
We adopted the slogan: "a luta continua" (the struggle continues) from FRELIMO (Frente de Libertação de Moçambique (Mozambique Liberation Front) in honor of Dr. King who gave his life and inspired us to find new ways to fight oppression, racism and white supremacy. Indeed, as we have seen, the civil rights movement is over, but we continue to struggle against some of the same issues (political disfranchisement, police brutality and economic discrimination) that confronted Dr. King.
The views and opinions reflected in the Museum's Guest Blog are those expressly of the author alone, and not of The Sixth Floor Museum at Dealey Plaza.